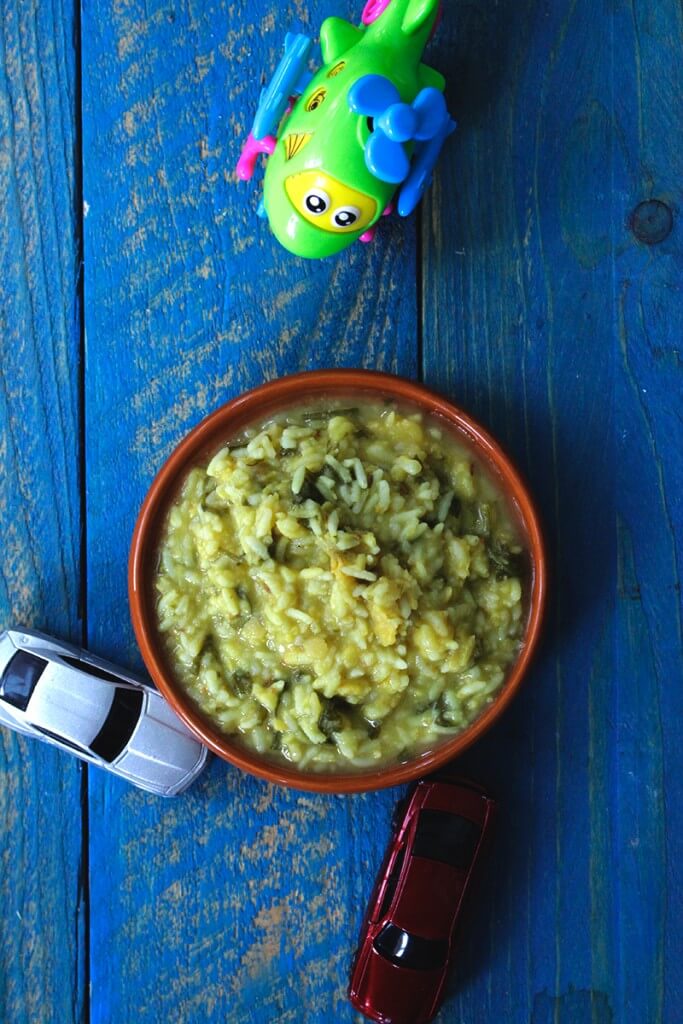 Palak and methi are a must have for me in winters. In peak summers my mom tells me to avoid methi because it causes heat and so I make up for it in winters. We had this amazing palak- methi khichidi at a restaurant recently. It was well spiced and loaded with ghee. I could not make the same version for Sarah but I did add some spice to ours after I took out her share. I love khichidis because they are easy to make and one-pot meals. A papad and pickle is all you need to enjoy your khichidi and that makes life a lot easy. The fragrance of methi is what makes this khichidi special. Sarah loved it, in fact she tried our spicy version too and though it made her teary she still wanted more of the spiced version. Do give this recipe a try this winter and its one dish the whole family can enjoy together. You can try the methi version or palak version exclusively but together they make a greater combo. I have used two kinds of lentils- the pigeon lentil and split green gram lentils. Personally pigeon lentil is my favourite but since its known for its cruciferous properties I have added half a cup of split green gram lentils too.
Ingredients for Palak-Methi Khichidi
Spinach (Palak)- 2 bunches
Fenugreek leaves (Methi)- 2 bunches
Rice- 1 cup
Pigeon lentils- 1/2 cup
Green gram lentils- 1/2 cup
Garlic- 4 cloves
Ginger- 1 inch piece
Onion- 2
Turmeric powder- 1/4 tsp
Salt- to taste
Ghee- 2 tbsp
Cumin seeds – 1 tsp
Directions
Separate the palak and methi from their stalks and wash them. Chop the palak coarsely. Wash and soak the lentils in 1 cup of water for 15 minutes. Heat ghee in a pressure cooker. Add the cumin seeds first. When they splutter, add the chopped onions, garlic and ginger. Saute till the onion browns and spice up the khichidi with some turmeric and salt. Add the spinach and methi and saute them for 3 minutes before adding the washed lentils and rice. Add 4 cups of water and pressure cook the khichidi up to 3 whistles. Once the pressure settles, add 1 cup water to loosen up the khichidi and serve with a dollop of ghee. For the adults I would temper the khichidi with some chopped onions, green chillies, ginger and garlic. I also add a bit of garam masala for adults.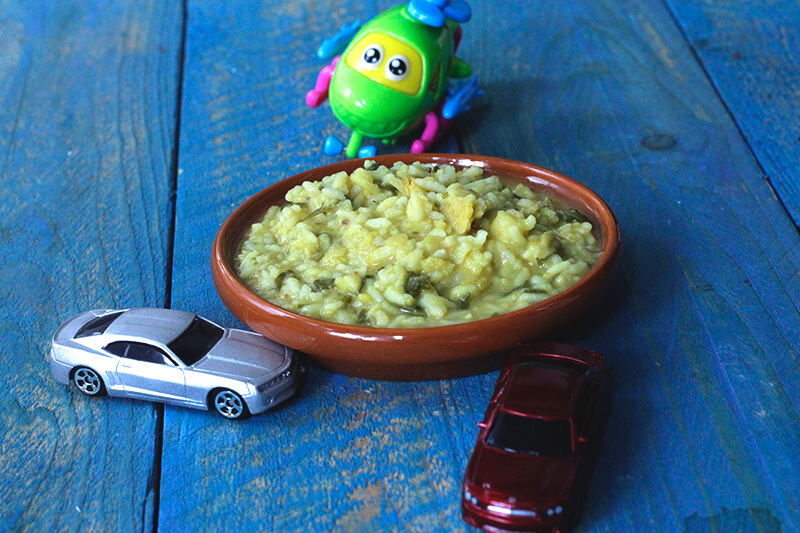 Sarah was silent throughout the shoot today, I have a feeling she is learning to maneuver the camera because when I try showing her the pics she sort of scrolls them with great ease and is eager to click. Kids are so inquisitive, I tell you. She is all energetic these days maybe its these experiments making her stronger I think. Its fun listening to her talk gibberish these days with a lot of gestures. I hope the khichidi recipe will entice you to cook this for your little one. And till we meet again- which is tomorrow stay tuned for more exciting posts from the zombie momma. Guten Nacht people.