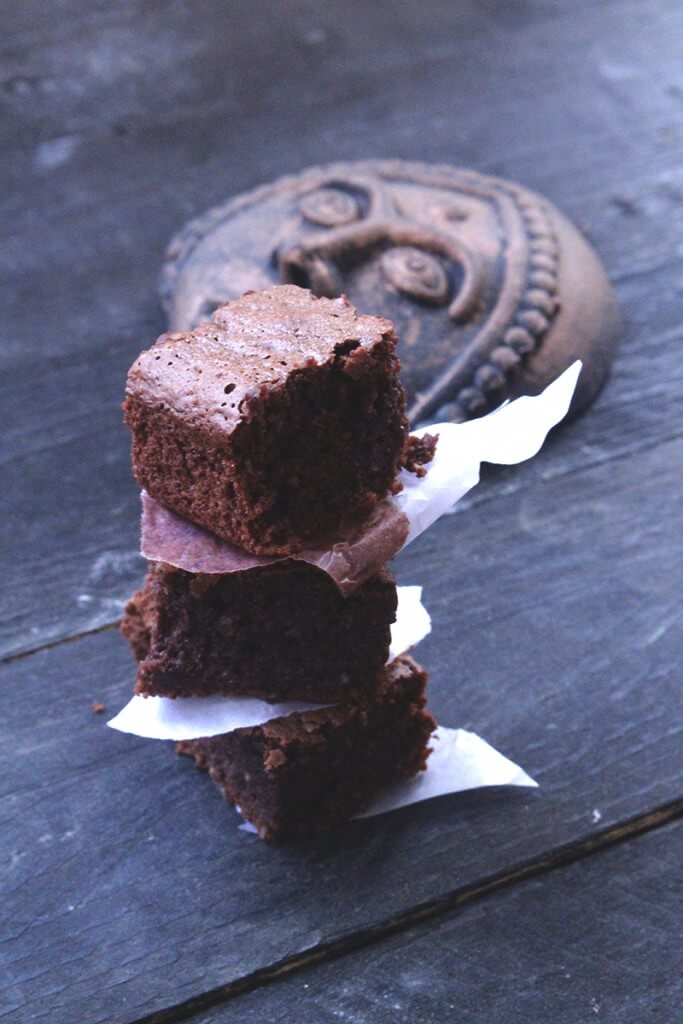 Chocolate and me ain't friends and when it comes to coconut oil, I am ashamed to admit this but I am one of those few Keralite, who can live without coconut oil. But then today things were quite different. I was down with virals for the past 3 days and all throughout my fever, I was craving for sweets. I ate all the chocolate, bananas and cookies and home and every time I dozed off I woke up craving for more sweets. So when my temperature hit normalcy I decided it was time to bake. I knew I had some cooking chocolate in my pantry but never did I know we would be out of flour and butter. I made a call to the local grocer but I knew he would not deliver things on time. This being my last opportunity to bake and click in peace I began looking out for a recipe that could help me bake something sweet with the ingredients I had- which was sugar, eggs and chocolate. And voila! I remembered this pack of almond meal hidden under my bed(yep I have a bed with a huge storage unit) and the the recipe I had required coconut oil which was always on my counter top. And we whisked – Sarah and me, poured the batter into the cake tin, baked and every thing turned out perfect in the end. Sarah went out for a stroll with my maid and I did few decent clicks with the limited light at my disposal. So despite the troubling tonsils, comp that conks off every 15 minutes, and sever power shortage, I did just fine and ended up here with a decent post. What more could one ask for today? Simple pleasures of life :)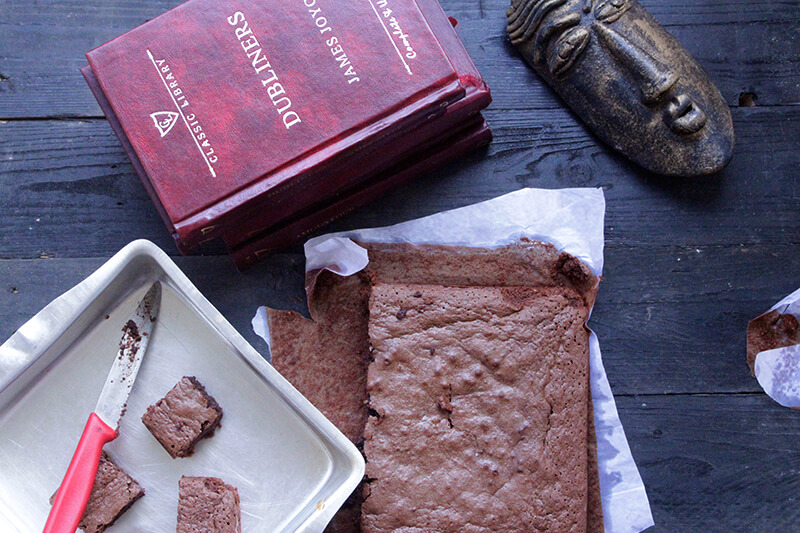 I am not a fan of tedious baking, so I understand when friends tell me they hate the cleaning and measurements that goes into baking and how intimidating it can be at times. For all of you who face this issue this is the kind of baking you may want to do. As for my verdict on these brownies, they reminded me of the bounty bars with coconut filling. If you loved those as a kid, this one is just for you. If you are aversive to coconut oil, substitute with olive oil or sunflower oil. And just as I was done baking, that craving to have sweets sort of died off. I guess this is the best one could do to avoid calories, to cook or bake what one loves the most and that should take care of one's calorie intake.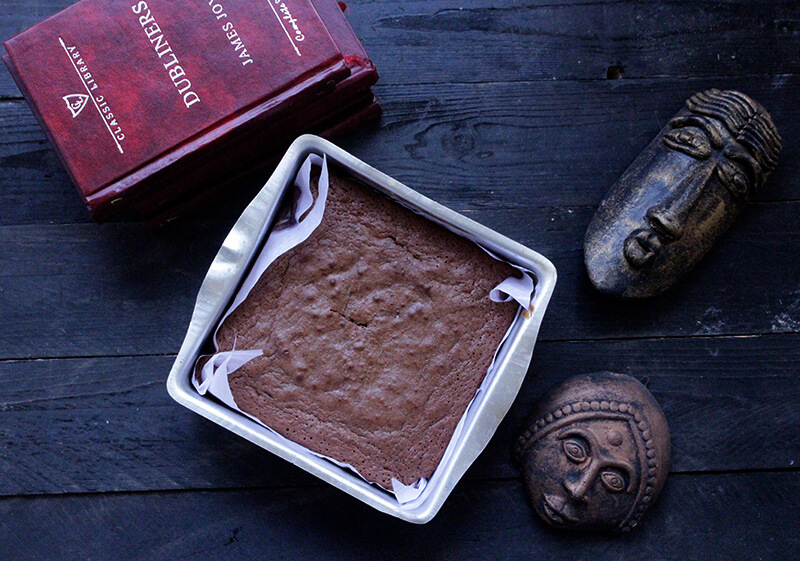 I am finding myself falling sick a lot more than often these days and people around me tell me I lost weight, though I don't feel convinced. But the erratic weather in Bangalore is affecting me these days and I am getting down with fever, cold and allergies. Though I work in a kitchen these days, food is the last thing on our mind when we cook, which has also led to me being negligent about my eating and I guess its acting on my immune system. I am hoping to get back on track and with a full time maid at home, I am in a much better position that I was a month ago. So I guess I can eat clean and sleep peacefully, and regain my health again. By the way we have an active marathon runner these days who has taken up his diet and exercise regime seriously. I wish I could join him but I guess I am Ms. lazy bones when compared to hubby dear. So for now, I will try eating paelo :) and as for exercise, we do a lot of exercise in restaurant kitchens trust me ;)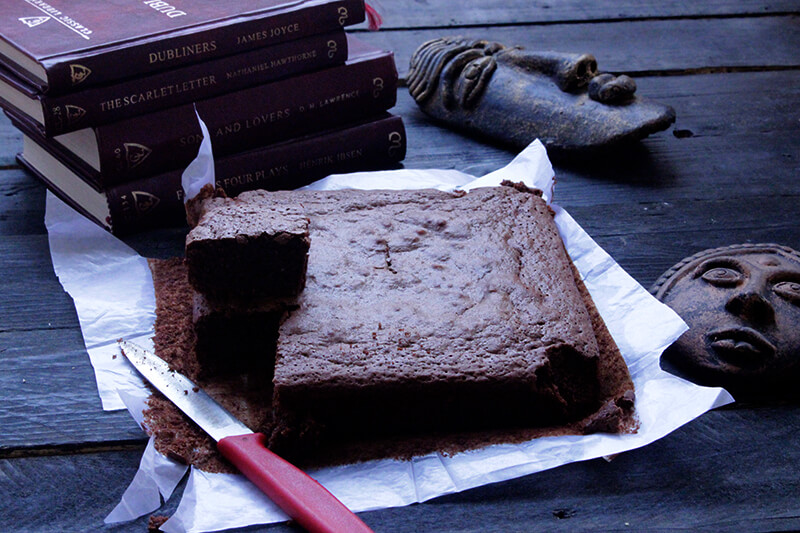 Ingredients for Flourless Brownies with Coconut Oil
Dark chocolate chips/chunks- 1 cup (I used white chocolate though)
Coconut oil- 1/2 cup
Eggs- 4
Sugar- 1 cup (I used demera sugar)
Cocoa powder- 1/2 cup (I used hersheys)
Almond meal- 1/2 cup
Salt- 1/2 tsp
Vanilla extract- 2 tsp
Directions
Heat the chocolate chunks with the coconut oil till it melt. I did this is the microwave oven. Pause every 30 seconds and stir the mixture to avoid the chocolate from burning. In a bowl, whisk the eggs and sugar together. Add the melted chocolate and coconut oil after this and whisk the mixture together. Fold in the slat, almond meal and cocoa powder after this and whisk the batter once again. Finally add the vanilla essence and run the batter again with the whisk. Preheat the oven at 180 degrees while prepping the batter and line a 9 x 9 baking tin with parchment paper. Pour in the batter into the tin and bake for 30 minutes till a toothpick inserted comes out clean. Let the brownie cool down for 15 minutes and then slice them up. Serve them just as it is or with a dollop of your favourite ice cream. I think tender coconut ice cream would be a perfect match with the nutty flavour of the brownie complementing the cream.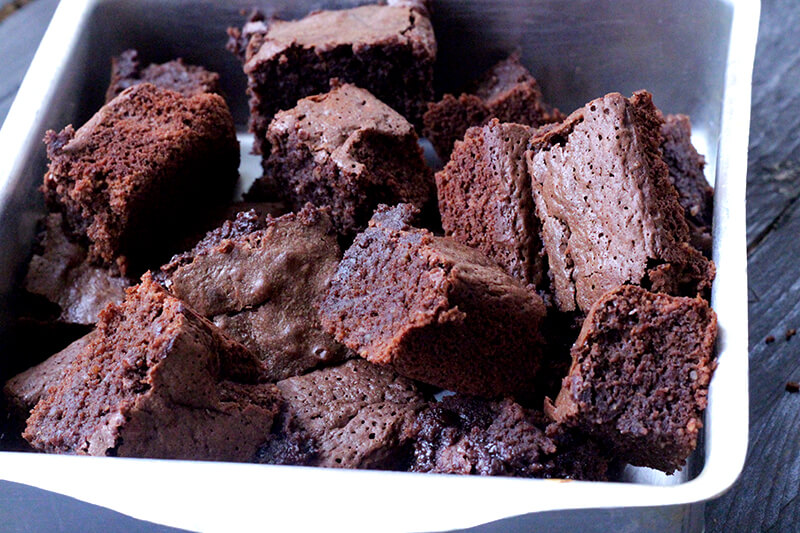 Sarah had her share smashing the brownie and she did manage to dirty the floor and her clothes in the process. I gave few to my neighbours and have 4-6 pieces left for few friends and my hubby who will drop in some time. I can't wait to bake another batch tomorrow, this time I plan to use some quinoa and olive oil, lets see if I can do something new. But the moral of this story is that never say never and there's no excuses for not baking, you can always do a lot with the very little at your disposal. And on that note, stay blessed, eat healthy.