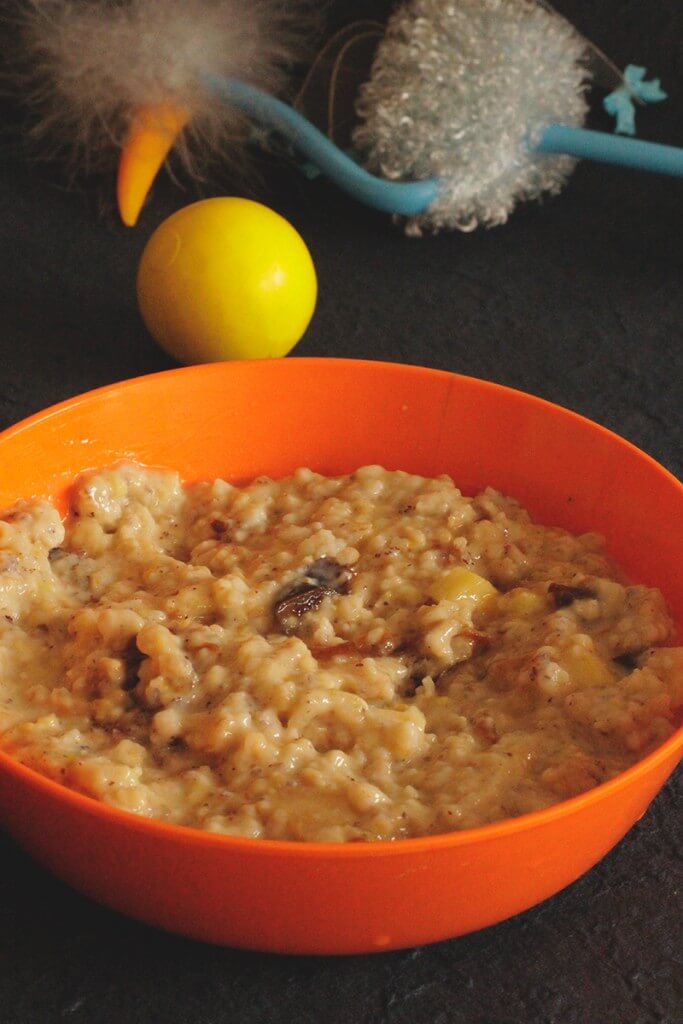 What a day it has been. Sarah is down with cold and slight wheezing. She was active despite her sickness and made a mess out of the kitchen, throwing pots and pan and screaming at me while I made some 100 tuna cutlets for an order. I regret not having a help at times but then I am sure even if I had help, I would still do what I love to do so I guess Sarah plays the role of a matron with me. She forces me to take rest, insists on feeding me. But when it comes to eating with a sore throat, I am sure kids give us mothers a tough time. Luckily I had the multi grain powder ground yesterday and Sarah had it with warm milk. The other meal I made today was this warm oats with prunes and apples. Sarah was constipated fro quite some time and ever since I started her on oats her bowel system in back on track. We make it a point to feed her oats daily with lentils, veggies, fruits or meat. Prunes is also supposedly good to relieve constipation so I see to it that she has prunes twice a week. So despite, the cols and cough, she had all her meals today, played hide and seek and broke a nail paint bottle. My kitchen floor is green today.
Ingredients for Prune Apple Oats
Oats- 1 cup
Milk- 1/2 cup
Apple- 1
Prunes- 3
Sugar- 3 tsp
Cinnamon powder- a dash
Direction
Peel and core the apple. In a saucepan heat the milk with sugar. Cook the oats with the diced apple and prunes. Cook the oats as per package instructions. Add the cinnamon powder towards the end of cooking. Bring the oats to final boil and take it off the flame. I add some fresh cream or honey at times. I pureed the oats today because Sarah was finding it hard to swallow with her swollen tonsils. She loved it and I am happy she had a bowl.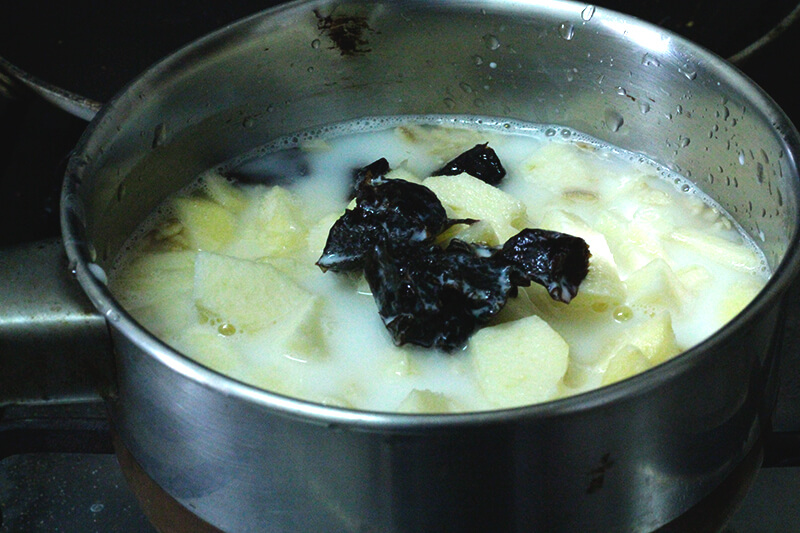 And I have survived another day of this challenge and succeeded in feeding Sarah. I guess the days to come will have more recipes for meals to be prepared when toddlers fall sick. Sarah liked the cutlets so maybe I can try a cutlet tomorrow. Stay tuned for more updates and I know people feel this page is crowded with toddler recipes alone but its weekend already! and I will get back with some Christmas treat. Do come back and write to me so that I get your feedback.