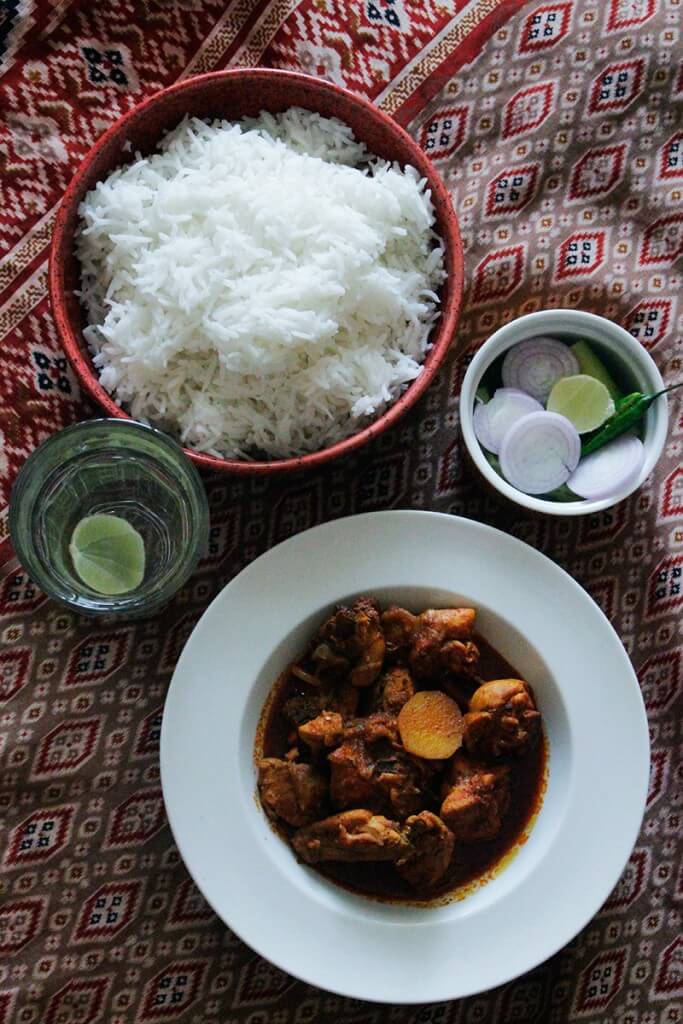 I have a weakness for the colour red and vindaloo, laal maas and rogan josh top my list of favourite curries for this reason. Off the three I love chicken vindaloo the most. I have never enjoyed myself at work like I do these days. That does not mean I cook day in and night and I get to do stuff I love. Its often boring to make the same thing over and over. But then I have slowly come to realise the more you cook the same dish the more you want to perfect it and this process is interesting in itself. I am learning quite a lot about restaurant business these days. And I must admit its not easy to deal with people all the time. When I was a blogger or home caterer, I had just me, food and a camera to deal with. My clients listened to me, I could take a day off when I wanted to. Restaurant is a different ball game. You have unexpected guests, with stupid demands at late hours and you are open 7 days a week. You get stubborn kids on your tables asking for red and white pasta in the same plate, employees who are sick and tired and yet up for work 7 days a week and their moods reflect in their dishes that day. And those unending indents to write, gas to watch out for, requirements from other departments to fulfill and not to forget the food that needs to get made despite all these highs and lows. I watched the movie 'burnt' before joining Lumiere and I now realise how people from this industry could relate to this movie. Despite all the frustrations and setbacks, there is a team that strives to bring food on each table for their guests. These unseen faces, you have never met, make or break your day. They go wrong at time, and mostly they are smart to cover it up. They survive a lot of pressure to give you what you ask for, endure heat, burns, cuts and yet get thrilled to stand up for their next challenge. For some its a passion and others a livelihood. My world is filled with people like these and what connects us all is just food. We love talking about food, family, songs, movies. We dread the upcoming summer that will make our kitchen a lot warmer than it is right now. But we love what we do. And on our day off we cook and read cookbooks looking out for inspiration.
Today being my day off I decided to try this recipe shared by my dear colleague Ken. Ken tells me this is grandmother's recipe and he doesn't mind me sharing it. I watched him make Vindaloo many times but when since he does it in large quantity, scaling it down to 1/2 kg chicken was quite difficult. I must admit, vindaloo tastes best with pork and beef but I was in mood to have my chicken curry in these flavours. That exceptional flavour that separates this dish from any other is the use of drumstick tree bark. Its more like the green peel from the trees bark. This lends a slight bitter flavour to this curry that has a mustard, fenugreek paste to add to the bitter part but the vinegar helps to cover this discomfort. There are many versions to vindaloo and this is my friend's version. Hope you will try it and write to me.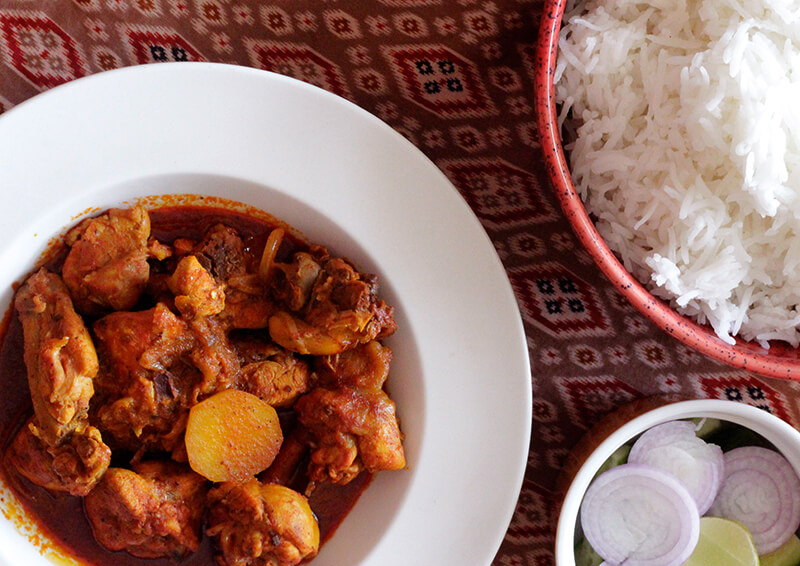 Ingredients for Chicken Vindaloo
Chicken- 600 g
Potatoes- 150 g
Drumstick peel- 1 small piece ( take off the outer cover of the peel)
Garlic- 12 cloves
Cinnamon- 1/4 inch
Ginger- 1 inch piece
Kashmiri Chili- 15
Mustard seeds- 1 tsp
Fenugreek seeds- 1/2 tsp
Onions- 2
Cloves- 2
Cardamom-1
Peppercorns- 1/2 tsp
Cumin seeds- 1 tsp
Fennel seeds- 1 1/2 tsp
Coriander seeds- 1 tbsp
Chili powder- 1 tsp
Turmeric powder- 1/2 tsp
Vinegar- 2-3 tbsp
Salt- to taste
Oil- 2 tsp
Directions
Roast the cumin, mustard, fennel, coriander, cinnamon, Kashmiri chillies, turmeric powder, chili powder, cardamom, cloves, for 2-3 minutes. Grind them with the drumstick peel, ginger, garlic and vinegar to a fine paste in a grinder. Heat oil in a pan and saute the onions. When the onion start to brown add the ground paste and saute till they are well roasted. Add the chicken and potatoes followed by salt and cook till the potatoes and chicken are well cooked. Add more salt if you want to. I add a little vinegar to because I like it tangy. If you find the gravy bitter add a little vinegar and salt. This curry tastes better the day after it is prepared so if you have guests coming you can prepare it a day before. Serve with rice and a side salad. Rotis are a great option but I love this curry with rice.