I was making tuna cutlets for a client recently and Sarah asked me for a cutlet. I was shaping them so I let her taste them. It was spicy and she asked for water soon after. But after her drink, she asked me for the tuna cutlet again. I realised just because she did not eat meat and fish in the curry form did not mean she did not like them in other forms. She loves cold cuts and sausages though I don't give it to her. But from the one time I shared it with her I realised she loves meats in the processed form. So I made a new batch minus the spices and she loved it. I guess she likes the crisp coating, we did too as kids. And mom made these cutlets throughout my childhood. Every christmas, easter and birthday had tuna cutlets for sure. And I hated fish except in the form of cutlets. So I am guessing its the same with Sarah. This is very easy to make though I am sure making cutlets is not an easy chore to many. But trust me this is easy. If you can get your tuna cleaned nicely, this should be an easy task. Plus you can store these cutlets breaded for a week and by that I mean the adults can have them on and on. For Sarah I fried them for two days. Add some grated carrots, beets each time you do these, introduce new flavours of veggies and your kid will have fish and veggies at one go. I have shallow fried mine so they don't look gorgeous like mom's also the breadcrumbs were home made and I am not happy with their coating but the cutlets did not break, which to me is good enough. Isn't her toy train cute?
Ingredients for Tuna Cutlet ( Makes 20 cutlets)
Tuna- 200g (without skin and bones)
Potatoes- 100 g
Onion- 2
Ginger- a small piece
Garlic- 5 cloves
Coriander leaves chopped- 1 cup
Curry leaves- 6-8 leaves
Turmeric powder- 1/2 tsp
Salt- to taste
Lemon juice- 1 tsp
Egg whites- 2
All purpose flour- 1/2 cup
Bread crumbs- 1/2 cup
Oil- 2 tbsp + for frying
Directions
Heat oil in a pan and add finely chopped curry leaves. Saute them for 2 minutes and add finely chopped onions, ginger and garlic. Meanwhile boil the potatoes till they have cooked. Pressure cooking might make the potatoes too starchy because they tend to overcook so I prefer boiling. Once the onions have browned, add turmeric powder and salt. Now add the tuna and cook the tuna in the spices. For adults I separate some tuna after this and cook separately adding chili powder and pepper. For kids I continue without any spices. Once the tuna has cooked switch off the flame and let the tuna cool. Peel the potatoes meanwhile and mash them. Once the tuna has cooled, add the mashed potatoes to the tuna along with chopped coriander leaves. Check the salt level because adding potatoes will reduce the salt in tuna so you might need to add more. Now mix the tuna and potatoes together and see that the mix is tight and not watery. If the mix is watery, cook the mix to reduce water content or add some bread crumbs and make the mix tight. Add the lemon juice and mix once again so that mix is ready to be shaped. Shape the cutlets to oval or round shaped cutlets. Now to bread these cutlets keep three ready and heat the oil for frying meanwhile. In the first bowl keep the all purpose flour ready, the second bowl will have whisked egg whites and the last bowl will have bread crumbs. Coat the cutlets in the flour first, egg whites second and bread crumbs in the end. After this point you can refrigerate the tuna cutlets if you want to else drop them into the oil. Remember to lower the heat at this point and fry the cutlets till they brown evenly on both sides. Deep frying is good but I was short of oil so I shallow fried this time.
Hope you will try these tuna cutlets soon and let me know if you little one loved this. Sarah is back to herself which means I get some time to experiment new stuff. It's day 25 and I am happy we have fared well so far. Till we meet again ciao!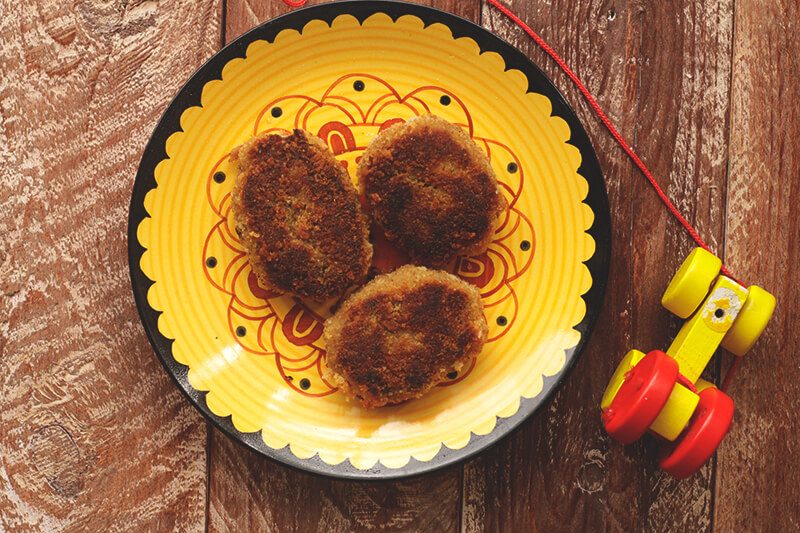 Tuna cutlets