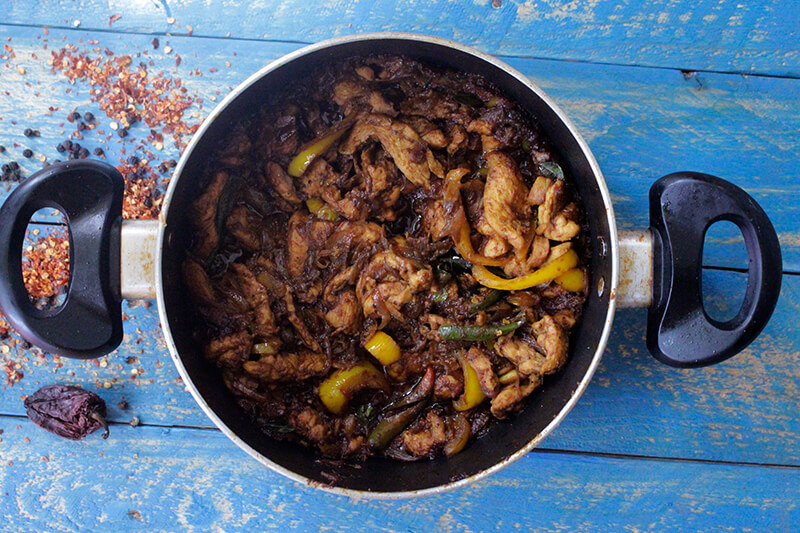 As kids when we asked mom to make us chili chicken, she would dismiss the Chinese style and prepare this dish. She was dead against coating the chicken in APF or corn flour. She also was not a great fan of soy sauce and ketchup. Mom told us about this version of Chili chicken she once tasted at a restaurant in Trivandrum , that she loved and she perhaps tried recreating it each time we asked her for chili chicken. After I got married, my hubby told me his dad made a special chili chicken that was close to this version of mom's so I guess there was a version of chili chicken like this in Kerala that inspired our folks. This version of mine is overly spiced. I have 5 kinds of chilies in here- green chilies, crushed chilies, chili powder, Kashmiri chili powder and pepper. Together they make this dish truly chili chicken of the hottest kind. The highlight but, is the use of coconut oil, that lends this dish the 'nadan tag'. This is what we malayalees describe as 'touchings' because it pairs well with drinks and therefore is the ideal dish for bachelors and spice lovers and boozy folks. I added bell peppers to use up the leftovers but I am glad I did this because it lend this dish a sweet note. Sarah loved watching me shoot this and insisted on having a bite. I had to wash a piece of chicken in water but it was still too spicy for her but poor thing ate silently.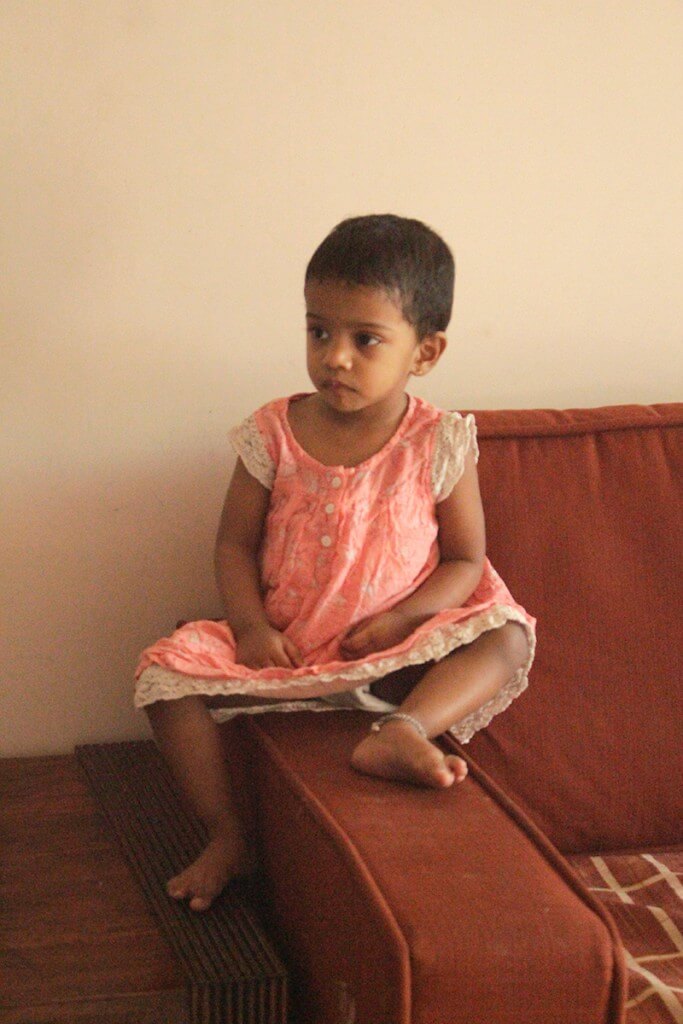 I am planning pork and beef in the same flavours, I think this recipe needs to be tweaked a bit more on various levels. So you can soon find my variations of the same with red meats. Till then how about trying the chicken version?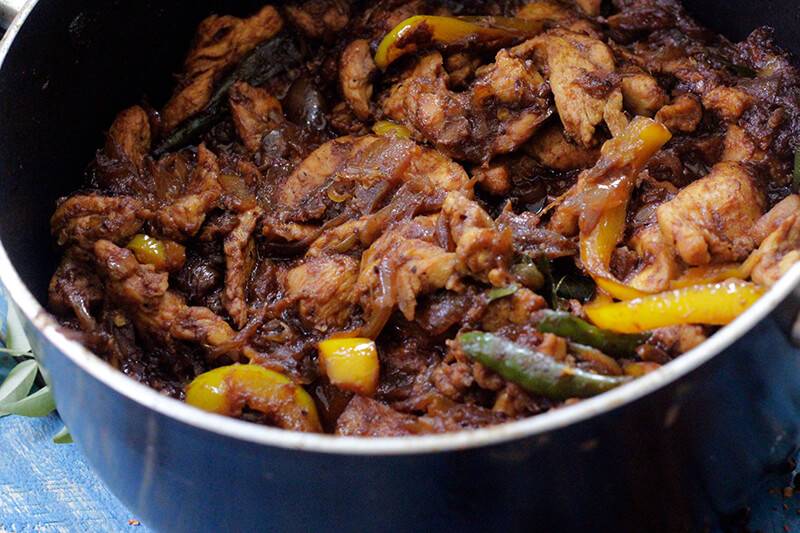 And if you find it too spicy add some tomato ketchup instead of the puree, the sweetness from ketchup will make your curry bearable. Our favourite combo as kids were this chili chicken with rice and moru curry. The tangy buttermilk ensured the heat in the curry is toned down sufficiently.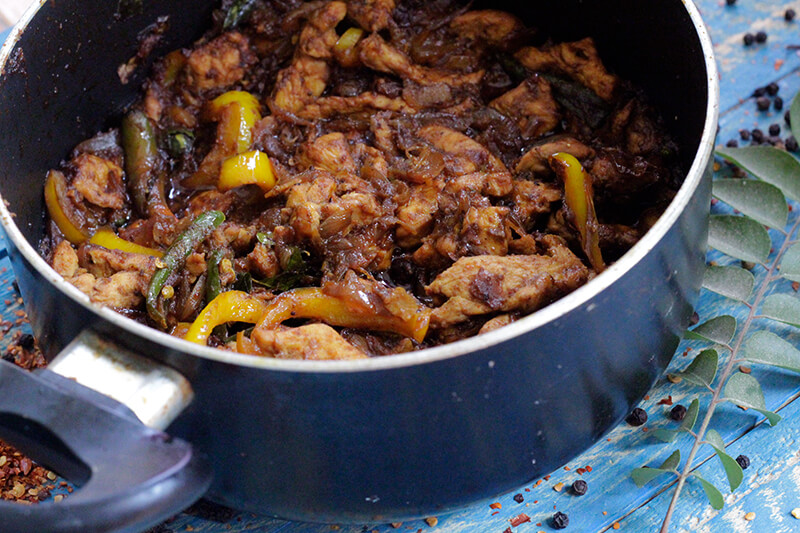 So stay tuned for more posts. I have few on my mind for Easter but you know how busy restaurants can get. That reminds me, I need to hit back to the kitchen, my break is gonna end in 30 minutes and I need to run! I have some exciting recipes with the breads from Lumiere bakery. I made awesome sandwiches last Sunday for breakfast and these buns look gorgeous. Stay tuned to read more about them and my experiences of working at a Restaurant kitchen. Till then stay blessed, eat healthy.
Ingredients for Chili Chicken Kerala Style
Chicken breasts- 700 g
Curry leaves- 1 sprig
Yellow bell pepper- 1
Onion- 2
Ginger- 50 g
Garlic- 50 g
Green Chili- 50 g
Coconut oil- 50 ml
Pepper- 1 tbsp
Chili flakes- 1 tsp
Garam masala- 1 tsp
Kashmiri Chili powder- 1 tbsp
Chili powder- 1 tsp
Turmeric powder- 1 tsp
Tomato puree- 2 tbsp
Salt- 1 tsp
Chopped cilantro- 1/2 cup
Directions
Wash and cut the chicken breast into long strips. Heat oil in a wok and add the curry leaves followed by sliced onions first. Saute till the onion softens, and add minced ginger and garlic and when it starts to brown add the slit green chilies. Saute for 2-3 minutes and add the spice powders. Roast the powders with gravy base for 2-3 minutes and add the chicken followed by salt. Cook the chicken with the spices for 4-5 minutes. Cover the wok with a lid and reduce the flame. Do not add any water at this point. After 5 minutes add the diced bell peppers and tomato puree and give the wok a toss. Let the chili chicken simmer for 4-5 minutes. Try to make the curry semi-dry with a little gravy in this time. If this dish is too dry it will be a bit too spicy but it should not be watery either. If you have thick tomato based gravy and cooked chicken, garnish this dish with some chopped cilantro and you are done. Serve with rotis or rice.
Caution: This curry can be extremely spicy so reduce the spice levels when you prepare this chili chicken. Use of coconut oil lends this dish a special flavour.