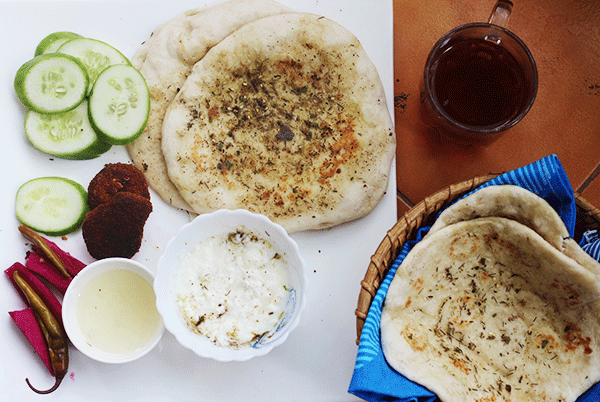 I love Middle Eastern cuisine and my hubby finds it mild, bland and over rated. So when I was asked to do a sample of Manakeesh for an order, I was excited. Manakeesh for those who are new to the term is a Middle Eastern flat bread which is baked in an oven or on a 'saj' (inverted wok). This bread has zaatar powder sprinkled on top and you can also use topping like cheese and minced meat on top of this bread. So in other words it is a Middle Eastern foccaccia or pizza except for that it isn't as bready ( if there is such a word, else I coin it)But my kiddo was down with fever again and I was not sure if I could prep the sample on time. Both hubby and me were sleep deprived for a week with the kiddo being sick and we both worked throughout the week without a break. So I was not sure if I wanted to do a sample on a Saturday morning. Another qualm I had was whether it was cost effective to replicate this recipe for a large group because the power supply in my apartment was unreliable and I don't own a commercial oven. And that's when I remembered having seen a video of mankeesh being prepared on an inverted wok. I saw this once on a show in TLC featuring Lebanon as well. I began hunting for recipes but was disappointed to learn that everyone baked these breads in an oven and the guys who did this on an inverted wok did share pics but no directions were provided. But I wasn't going to give up. I had done pita bread and pizzas on skillets and naan in a pressure cooker. So I decided to record this for people who struggle without an oven. When you get excited about a problem and immerse yourself to the core it suddenly starts to look like a game. And when you succeed it is so satisfying. I was happy with the results. I have sourced the recipe from thekitchn.com but the method they used was baking in an oven which I substituted with the 'saj' method of cooking over an inverted wok.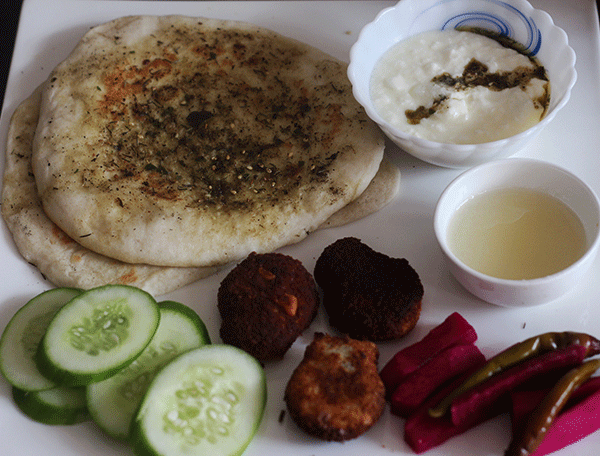 Ingredients for Manakeesh ( Recipe Courtesy: thekitchn.com)
Luke warm water- 1 cup
Flour- 3 cups
Instant yeast- 2 1/4 tsp
Sugar- 1 tsp
Salt- 1 tsp
Olive oil- 2 tbsp
Zaatar powder- 6 tbsp ( 1/4 cup sumac powder + 2 tbsp thyme+ 2 tbsp oregano+ 1 tsp salt+ 2 tbsp sesame seeds)
Olive oil for the zaatar application- 1/2 cup
Accompaniments with Manakeesh
Muhammil (Arabic pickle)- 4 pieces
Labneh with zaatar powder- 1/4 cup
Sliced cucumbers- 4
Chicken Nuggets- 4
Aioli- 3 tsp
Black tea with lemon- 1 cup
Directions
Mix the flour and salt in a bowl and prepare the yeast by adding it to a cup with lukewarm water and sugar. Let the yeast stand for 10 minutes till it gets activated. Once it is activated add it to the flour and start kneading by bringing the elements in the bowl together slowly. When you have formed a sticky dough take the dough out of the bowl and work on your counter top. Once the dough is a firm and pliable transfer it to an oiled bowl and let it rest for an hour till it doubles. Prepare the zaatar topping by mixing all the ingredients mentioned in a bowl.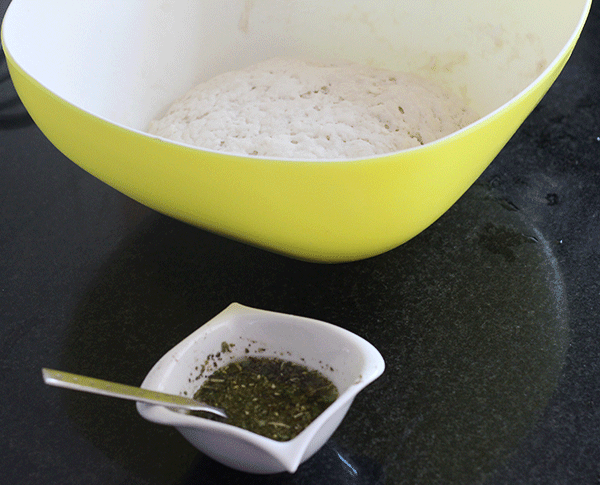 After the dough has risen make medium size balls out of the dough. These measurements will yield 8 medium sized breads. Heat a wok inverted on the stove top and start rolling the dough. Once it is a medium sized disc apply the zaatar mix. I was short of the zaatar ingredients so mine was not a thick smear. But I find the generous topping unbearable, I like it mild. But you can add more of it if you like it that way. You could sprinkle cheese or cooked minced meat too. If you do this in an oven you don't need cooked minced meat but since this method is on a stove top I recommend cooked spiced minced meat if you plan to use them. Drop the rolled out bread on to the inverted wok and maintain a medium flame. You will notice the bread rising in seconds. You generally need not flip it over but my hubby insisted and I did it.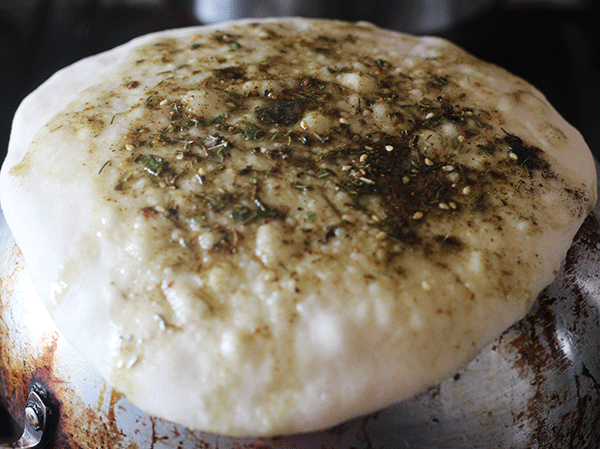 This does take away a bit of the topping but we got the browned top. It is not adviseable to do this if you use cheese or meat. The bread cooks in 3-4 minutes. If you use an oven and prefer baking preheat at 200 degree celsius and bake the bread for 8 minutes. My aim was to do this for a mass scale production and hence I chose the Saj method.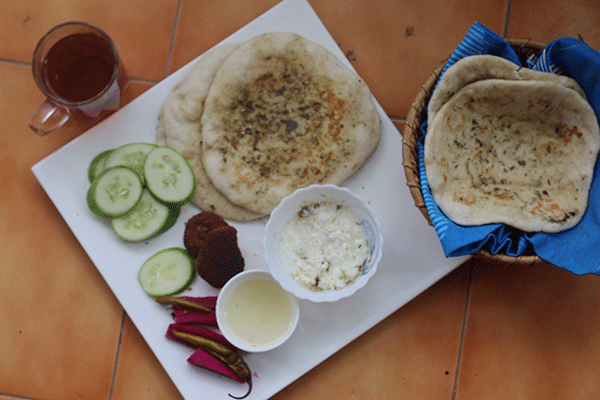 Now if you want more topping I am sure you can smear some more before serving. We had this with labneh which is a hung curd preparation with some zaatar powder sprinkled over. I have muhamil all throughout the year so some pickled beets and chilies graced this occasion. Since we are meat lovers and it was a Saturday breakfast we had few chicken nuggets as well. But even otherwise this is a filling meal. I started on my aioli (the garlic dip) but we lost power supply in between so I could not whisk it up to the creamy consistency but the half done aioli (which was eggless) wasn't bad either. I missed the olives but had some cucumbers and hubby dear said he loved it. Yes!!! he loved a middle eastern meal which was vegetarian if not for the nuggets. I am happy. Oh and do have some black tea with lemon goes well with this meal.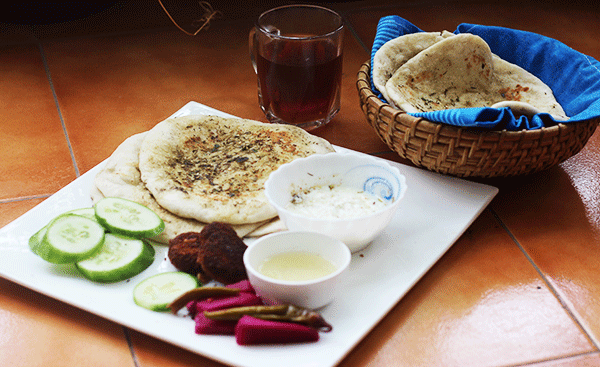 Can't wait to try the meat and cheese version and we prefer the saj because its quick and can do larger numbers which means it is gonna be a regular hit at our parties. Can't wait to make them for mom next week she misses Arabic food. I am not happy with the pics coz this is what happens when I do a photo shoot.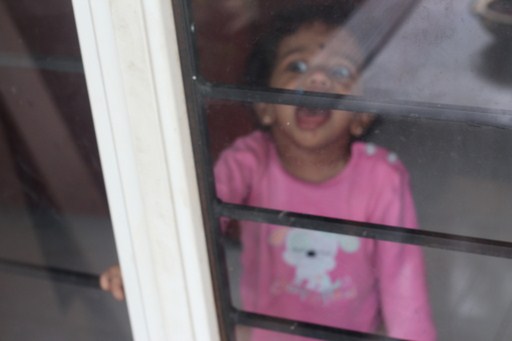 Yep and I still managed to cook these up with her clinging to me, banging her head and threatening me :) so I am mighty please with myself. Do try this manakeesh recipe and write to me. Till then stay blessed, eat healthy.