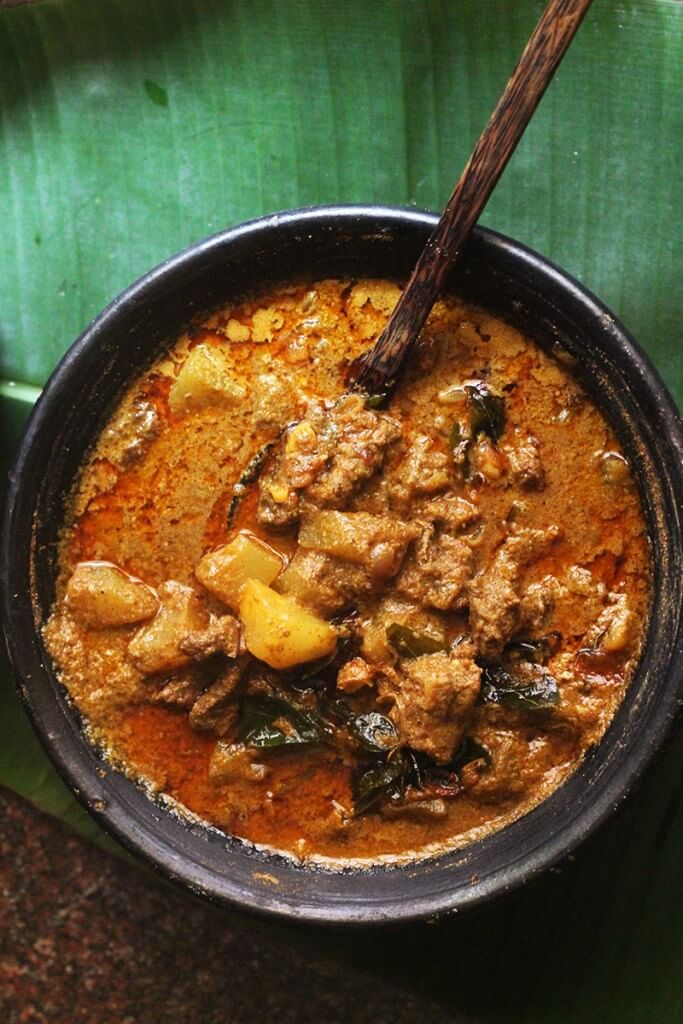 When I did this recipe 2 years back, I was surprised by the responses I received from my readers, friends and family. Everyone looked equally surprised with the combination of meat and ash gourd. Ash gourd is something you add to sambar or moru curry. He/she is the junior grade actor who is often invisible . And here was a curry where he/she was a supporting actor at times confusing us who was a better performer- the meat or the ash gourd. I was confused between the choice of meat for this curry. I decided to use beef over pork and chicken ( oooh I am the casting director here). I have made this many times ever since, but I have never been happy with the pics. I still am not but I guess it deserves to be out there. What captured my attention when I saw this recipe for the first time was the recipe author's mention about this dish being a specialty of Trichur ( a.k.a Thrissur). I immediately ran to my mom who hails from Meloor, Chalakudi and claims to be a royal Trichurite ( I have no clue if such a term exists but I coin it so) and she said she had not had a curry like this before ( which means she doubts the veracity of this dish being from Thrissur). However mom can never accept defeat so she insisted we attempt making this curry.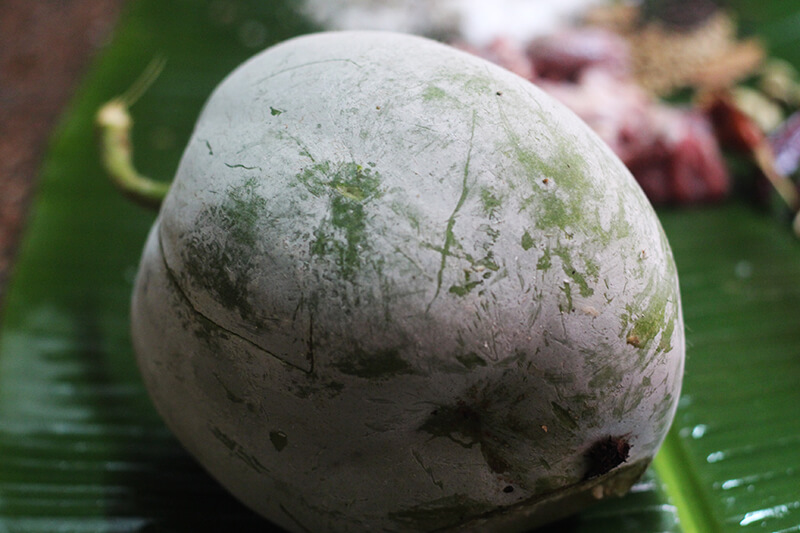 Now as I always say in my posts my mom's side of the family are experts when it comes to cooking meats with tubers and other veggies and mom did not even bother asking me to google the recipe, she just went ahead and made this curry. For those of you who are used to the roasted coconut gravy (varatharacha curry) this is the same base with ash gourd and meat. I am a firm believer in the power of gourds these days. After Sarah was born, I had every possible gourd throughout the week because gourds soothes one's tummy. Though I had given up on meat for months before my delivery, I did manage tasting the gravy with ash gourd pieces and I would say I was happy to find a new way to cook ash gourd. The meat was just a bonus. So here's our version of Kumbalanga erachi curry. The photos are from my recent attempt back home in Cochin.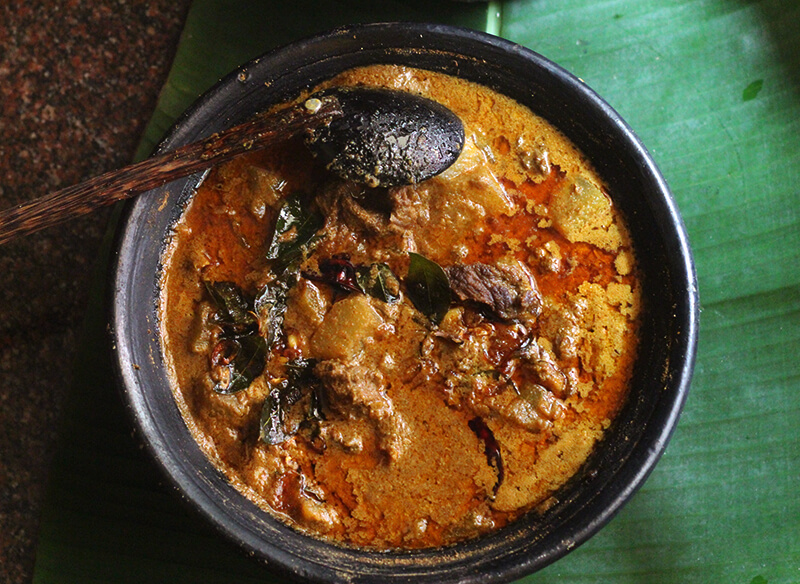 Ingredients for Kumbalanga erachi curry
For the Beef curry
Kumbalanga/ Ash gourd- 250 gm
Beef- 350 gm
Salt- to taste
Onion- 1 big
Garlic- 4-6 pods
Ginger- 1 inch piece
Green Chillies- 4-6
Curry leaves- 1 stalk
Oil- 4 tbsp
Garam masala- 1 tsp
Turmeric powder- 1 tsp
Coriander powder- 1 tsp
Chili powder- 1 tsp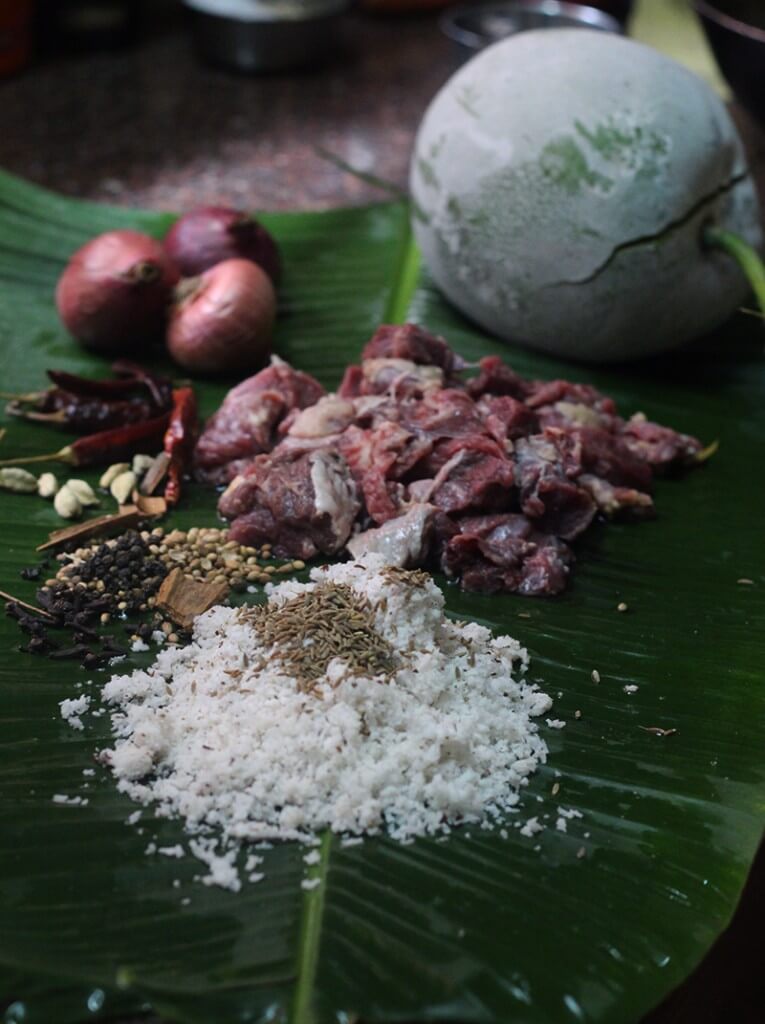 For the roasted coconut gravy

Grated coconut- 2 cups
Coriander powder- 2 tbsp
Dry red chillies- 6
Turmeric powder- 2 tsp
Garam masala- 2 tsp
Directions
Dry roast the ingredients mentioned under roasted coconut gravy. Start with dry roasting the coconut till its golden brown, then add the spice powders and roast till the coconut turn dark brown and smells roasted. Be careful not to burn the coconut in this process. Grind this roasted coconut to a paste in a grinder using very little water .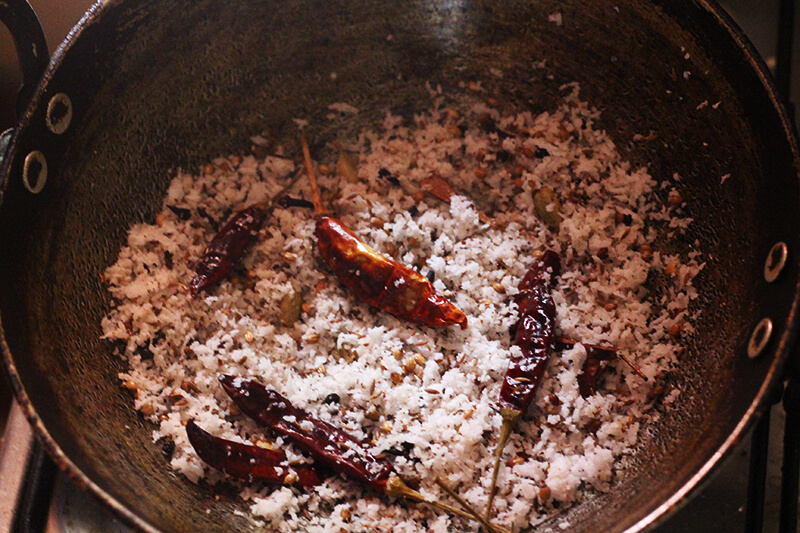 Now to cook the meat, heat oil in a pressure cooker and saute the minced garlic and ginger till they turn golden yellow. Now add the sliced onions, curry leaves and chilies and saute for another 5 minutes. Add the spices and saute till the spices are roasted before adding the beef and salt. Add one cup water and pressure cook the beef till its nice and tender. It took me 5 whistles for this, it could be more or less depending on how tender the meat is. Once the pressure settles open the cooker and add the ash gourd. Now add the roasted coconut paste to the beef and ash gourd and let the curry simmer for 10-15 minutes,this is to infuse the roasted gravy into the meat and ash gourd.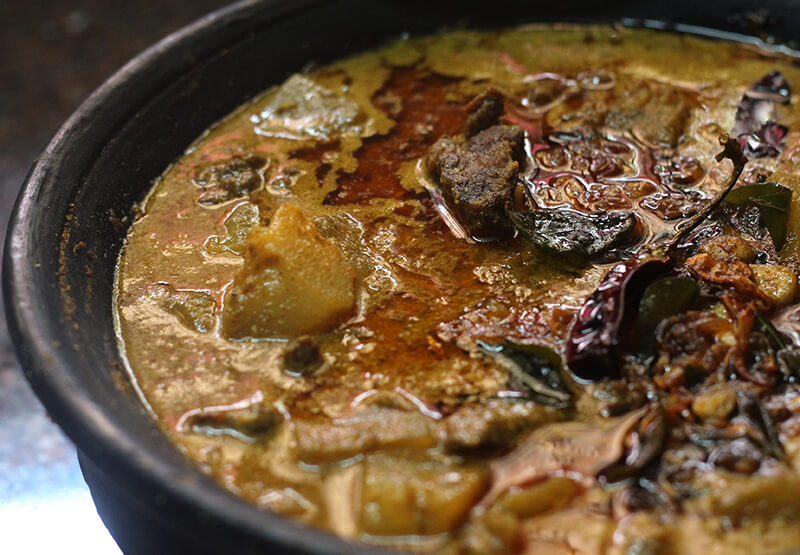 You can add the ground paste along with the ash gourd as well rather than waiting for the ash gourd to cook. Serve this curry with some Kerala red rice , some vegetable stir fry ( I prefer beans) and a pickle :)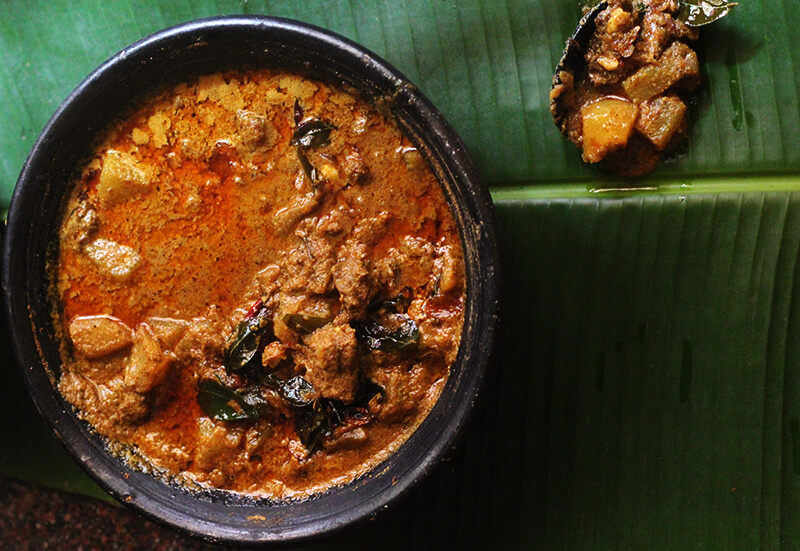 Note: The same curry can be made with tubers like tapioca, potato, yam or raw banana and raw papaya.
We always have dry roasted coconut stocked. You can grate and dry roast the coconut minus the spices mentioned above and store it in an airtight container. So when you need to make curries like this all you need to do is roast the spices and then add the roasted coconut and grind them to a paste. This is the base to most varatharacha curries.
I am told there is a combination of sardines and ash gourd cooked in a similar style. Watch out for my post on this interesting recipe.