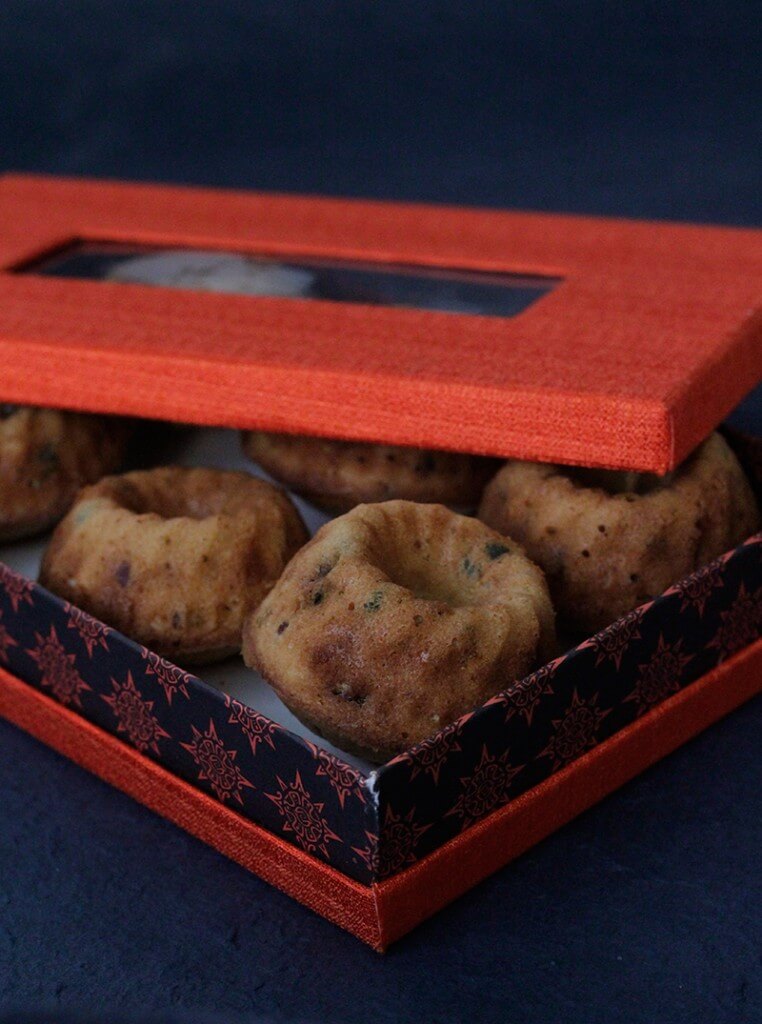 I love this light fruit cake ever since I saw this recipe at the joy of baking. I have baked this every year for the past 4 years. The only person in love with cakes and cookies at home currently is Sarah the Great. She sort of figures out that something is in the oven 20 minutes after something goes into the oven. Today she was trying to see what's in the oven and for her height she can't see the oven so she tried pulling a small kitchen stool to climb and see what's baking. Watching me line the ingredients, shoot and prep she sort of guessed it was something to eat. In situations like this, she starts howling… yes howl like a wolf. I guess its her way of expressing excitement when we mom and daughter start our experiments in the kitchen. But today she behaved quite different from the usual. She insisted she be given a baking tray and so to do the shoot peacefully, I gave her a pan and some ingredients. She watched me and tried imitating me.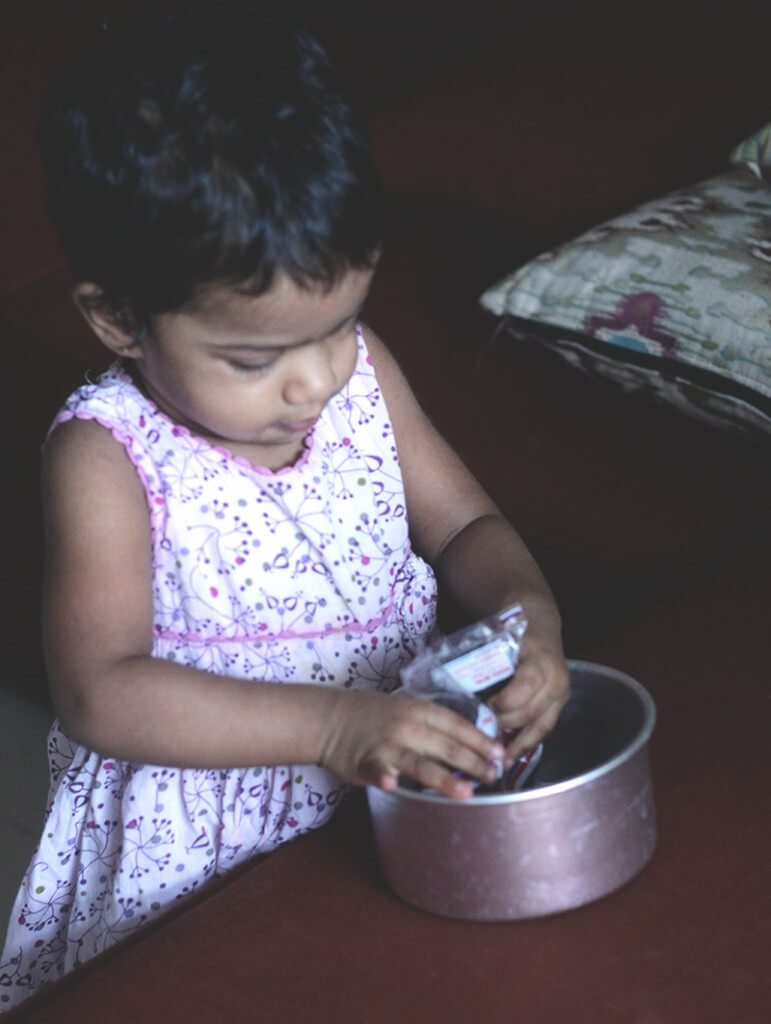 While I am sure kids do this all the time, this was the first time she did this withe me. She also sat under the microwave oven patiently for the cake and when I took them out for the shoot, she was disappointed. She kept banging the balcony door making me jittery. Finally, I gave up the shoot and gave her the cake. And that's when the real fun began. I was worried she would choke on the berries because she never chews her food. And boy was I in for a surprise. Little miss sunshine was nibbling like a lady. She soon realise the cake had a lot of colourful goodies so, she began dissecting them. I am yet to clean my floor and sofa and she also starting eating the crumbs when I take the broom to the living room.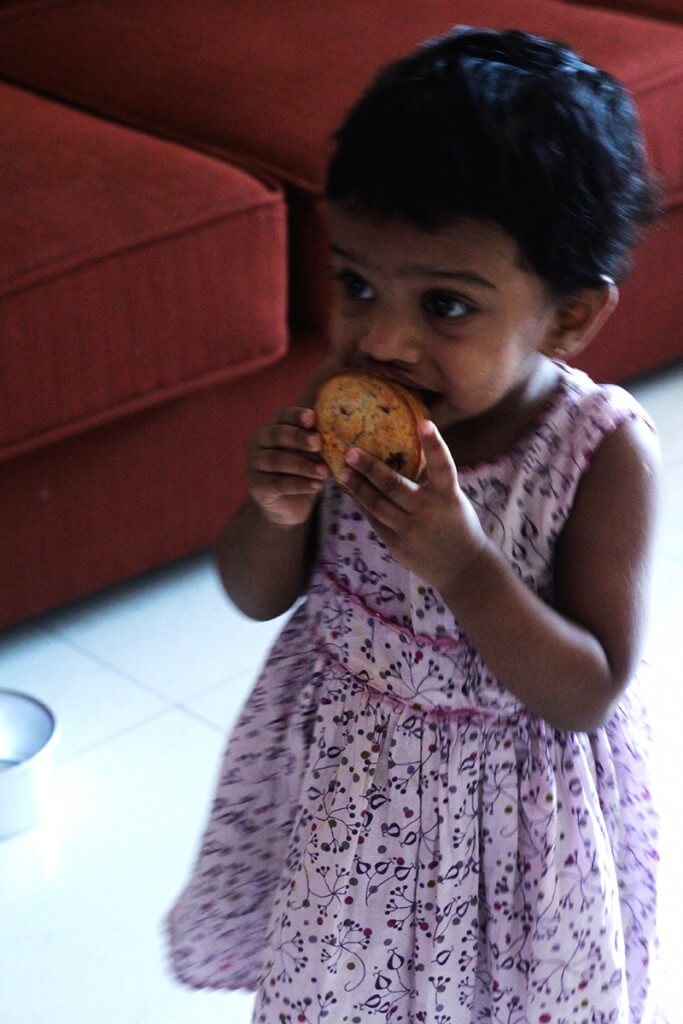 It began raining as soon as I took the cake in after the last shoot. I was worried my props would get wet, so I ran to salvage whatever I could. I must have knocked Sarah slightly while rushing and her cake fell off her hands breaking into two pieces. I apologised and put it in her plate for her. But she kicked up a storm and took me to the kitchen asking for a new cake. I tried putting the two parts together hoping this would trick her but she soon showed me that they were two different pieces. I had to giver her what she asked for in the end. But as I sat having my cake she came barging and demanded I give her my share too. We had a funny evening. And the epitome of the drama was when I gave 2 mini bundts to my neighbour. I have never seen her so sad and silent. After screaming at me for some time, she started sulking in a corner.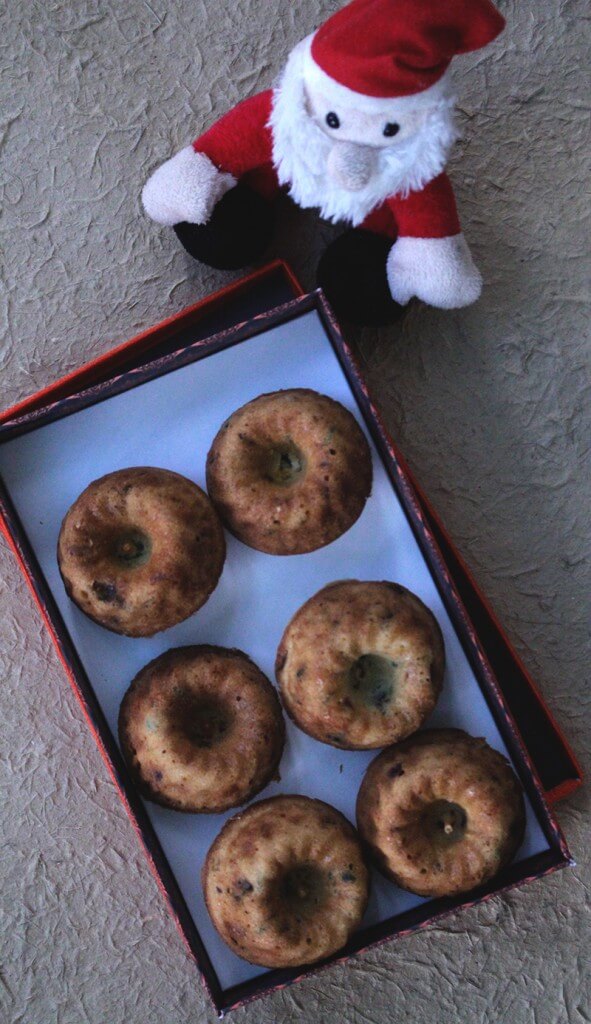 I am amazed at how much she understands and expresses without words. While I am not happy with her not sharing stuff, I guess that's how kids are at this age. So I thought since Sarah was the only one who ate cakes here why not make it part of the toddler challenge and Christmas series at one go. And here I am with my first bake for Christmas season- The light fruit cake- minimally spiced, loaded with berries and fruit peel, light and buttery. I wanted to do it in a loaf pan, but I decided to try the mini bundts because its easy for Sarah to hold and eat. And I love this pan, everything looks cute when baked in this pan. So if you are in mood for some light fruit cakes without the caramelised colour and spices, this is the right cake for you. It's also a perfect tea cake. Sarah had one for today and I have hidden the lot. I hope I can stretch three days with this batch.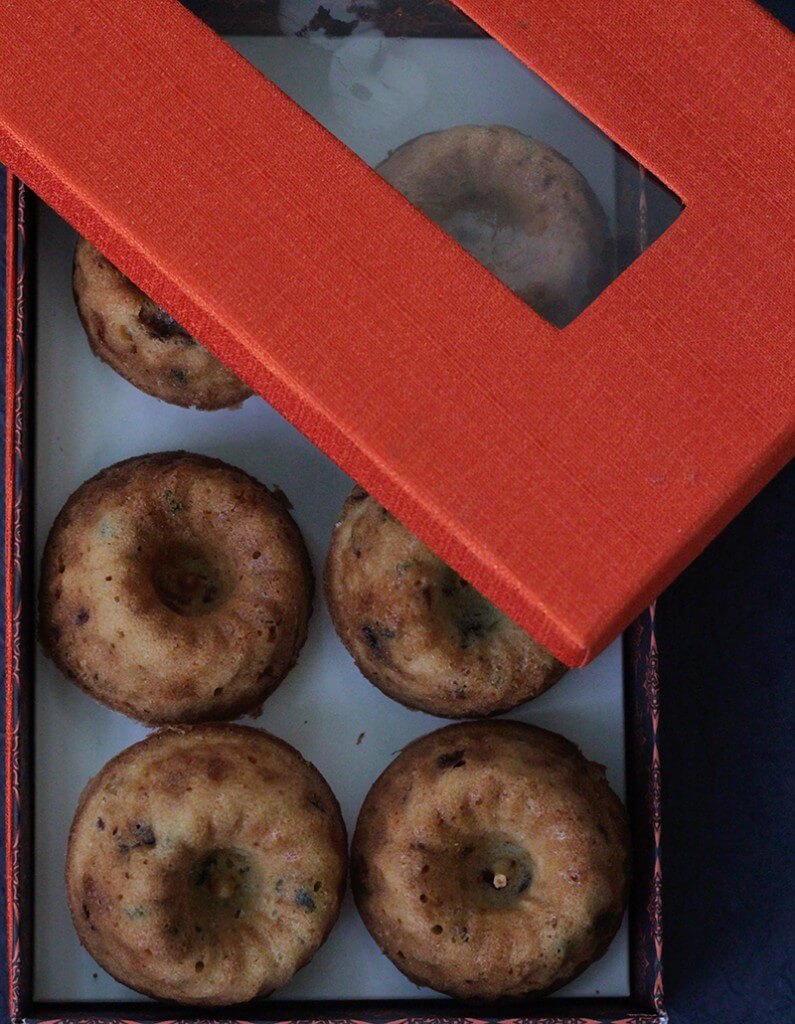 Ingredients for Light Fruit Cake (Recipe Adapted from joyofbaking.com)
Flour- 225 g (or 195 g + 50 g almond meal)
Eggs- 3
Milk- 60 ml
Butter- 115 g
Sugar
Salt- a pinch
Baking powder- 1 tsp
Mixed Tutti Fruti (fruit peel)- 1/3 cup
Raisins- 1/3 cup
Black currants + Orange Peel- 1/3 cup
Dark raisins- 1/3 cup
Zest of lemon- 1
Almond extract- 1/4 tsp
Vanilla extract- 1/2 tsp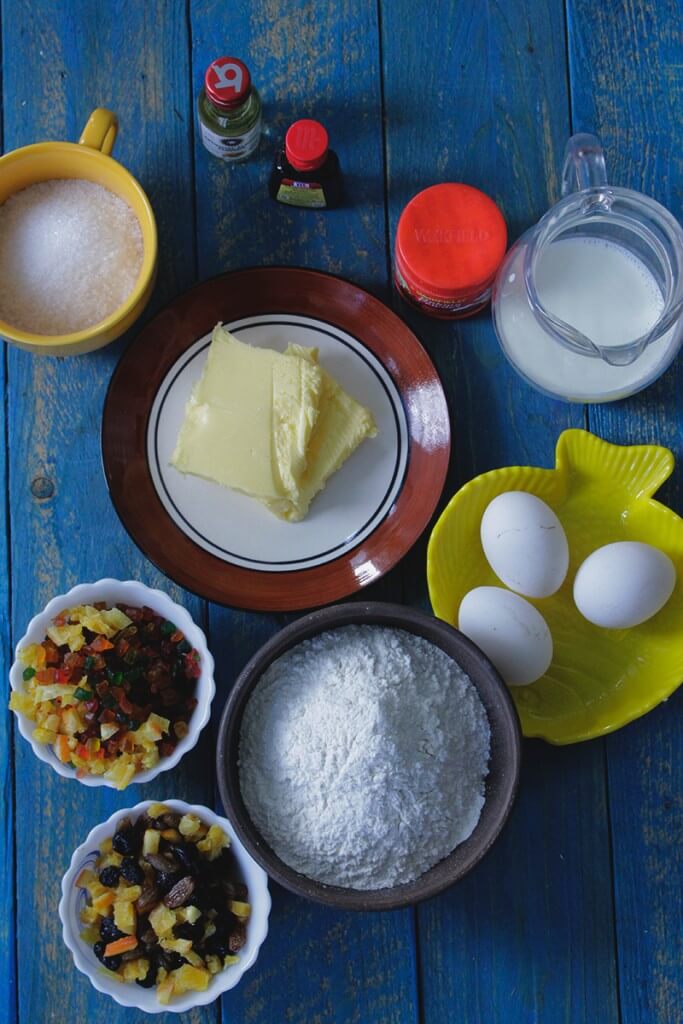 Directions
Ensure your ingredients are at room temperature before you begin. In a bowl whisk the butter using your thermomix. Cream the sugar with the butter after this. Add the eggs one by one after the sugar and butter have been creamed. Do not over whisk so once the butter, eggs and sugar has been mixed to a fluffy consistency stop beating any further. Now add the vanilla and almond extract along with the zest of lemon. Using a spatula gently stir the wet batter and add the raisins, currants, peels and stir using the spatula- this is the wet ingredients mix for this cake. In another bowl, mix the flour, salt and baking powder- these are your dry ingredients. Add these dry ingredients to the wet ingredients in 3 parts alternating with milk. This means you add little from the dry mix and then add milk and then gently fold using the spatula and you continue this process in three rounds. Once you have folded your ingredients spoon them onto your greased mini bundt pan. If you prefer a loaf tin or a cake tin its fine. The original recipe said a 9 inch cake tin would do. I used the mini bundt pan and it gave me 18 cup cakes. Bake for 25-35 minutes till a skewer inserted comes out clean. I always stop the baking by 20 minutes and let the cake use up the heat within the oven to cook further. This saves power usage and is a good technique to counter over baking as in if you switch off at 35 degrees and let the cake cool down it might over bake at times so I stick to this hack and its worked for me.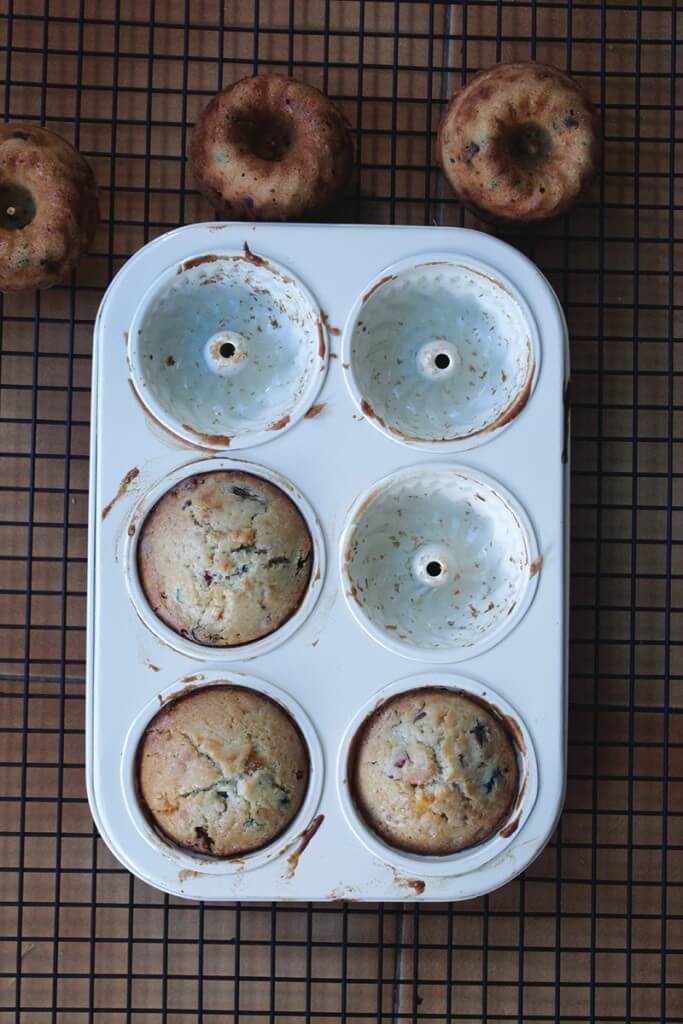 This Christmas is very special for our family but I can't tell you why, so I am too excited and can't wait for the festive season to begin. Stay tuned for more posts and we have added toddler challenge on our menu for people who want to check out the recipes they have missed out. You can find them here at one go https://www.perucontact.com/c/365-days-toddler-meal-challenge/ . Share these recipes with your friends who have toddlers and ease their lives.
Stay tuned for more Christmas posts. Strawberries are in season and in case you are in mood to make wine here's our family recipe https://www.perucontact.com/how-to-make-strawberry-wine-3092/
Stay blessed and eat healthy folks tis the season to be jolly fa-la-la-la-la-la-la !