I am trying hard but despite 3 hours break in between my shifts, I cannot post a thing these days. I feel so helpless at times and hubby dear asks me to forget this space because he thinks I have a lot on my plate already. Sarah is quite demanding and I guess its because she doesn't get to see me mostly. But when it comes to eating, little miss sunshine needs variety. She insists on tasting everything we have and makes a mess of our plates and hallway. She loves tangy stuff so I wasn't surprised when she took to ratatouille. Ratatouille had everything she loved, tomatoes, veggies and bread. These baguettes were so hard, I would have given up, but Sarah did not. She imitates us a lot so she soon realised soaking her bread in the gravy would make it softer and she did it with us. The best part about ratatouille is that it gets better the day after and so we have had this for 2 days on the row and it happens every time we are left with zucchini :) If you love meats add them to your ratatouille and pep it up.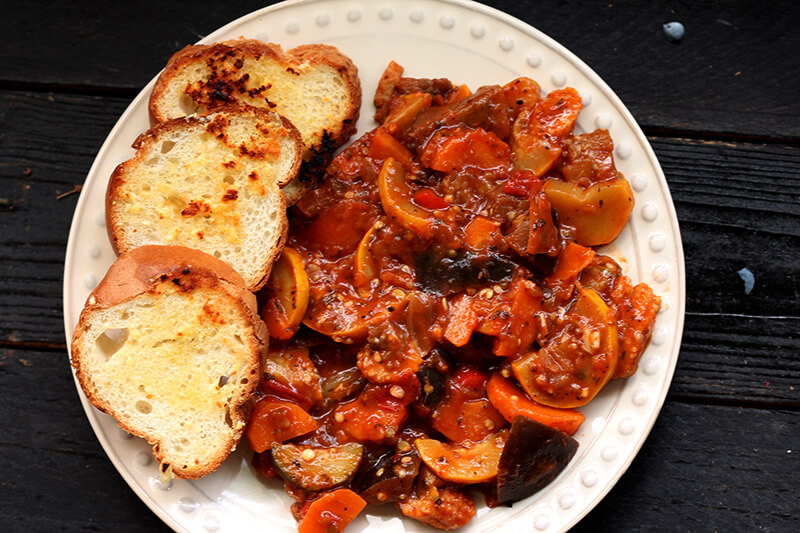 The garlicky oats is something I whip up when I am in a hurry and fall short of time to prepare an elaborate breakfast. I picked up this dried garlic from Mumbai when I visited my brother in law. It is such a treasured resource for working people. I have ground half of it and add it to my curries and other preparations when I cannot pound fresh garlic. On days I send Sarah the garlicky oats to her day care I add an omelette nope her dada makes her an omelette.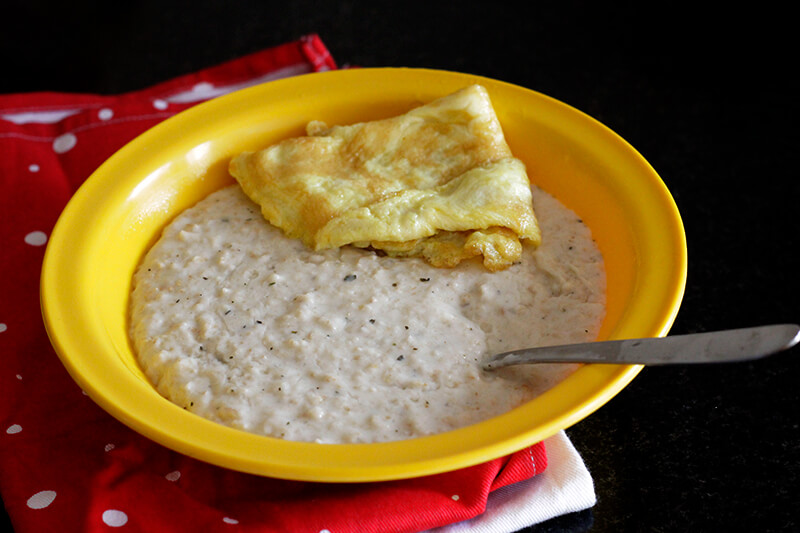 Sunoj makes amazing omelettes fluffy, light, melt-in-the mouth omelette. And he also is careful to make a small one lest Sarah get frightened by the size of her omelette. So I leave you with these recipes for now. Sarah is banging my door ( yep I need to lock myself to get this done). It valentines weekend which means I am gonna be buried with work and we have a sizzler weekend at Lumiere Organic Restaurant Marathahalli. Why don't you join us and give me some feedback on my sizzlers. Till then say hi to your toddlers and hope you guys will try these recipes. I get these mails from some of you but it would be great if you dropped in those comments here for others to read. Till we meet again stay blessed and eat healthy.
Ingredients for Ratatouille
Zucchini yellow- 100 g
Aubergines- 200 g
Carrots- 50 g
Corn- 100 g
Red bell peppers- 100 g
Yellow bell peppers- 100 g
Basil- 1 bunch
Garlic- 8 cloves
Tomatoes- 200 g
Pepper- 1 tsp
Salt- 1 tsp
Balsamic vinegar- 1 tsp
Olive oil- 4 tbsp plus required forsauteeing veggies
Directions
I have cooked this using the stove top, you can bake this dish so in case you opt baking prepare the tomato sauce and pour it over the arranged vegetables and bake at 180 degrees for 40 minutes. For stove top, heat oil to saute the veggies and saute the zucchini, carrots, corn and brinjal in separate batches. Cook them half way and set them aside. In the same pan, now add the minced garlic and saute for 3 minutes. Add finely chopped tomatoes with skin. If you wish to avoid the skin blanch the tomatoes and then peel off the skin.After adding the tomatoes, add salt and pepper and saute for 3 minutes to breakdown the tomatoes to a sauce. Now add the sauteed veggies and diced bell peppers to this gravy. Add a dash of dried oregano or basil. The normal recipe does not need this but I need some herbs to flavour my ratatouille. Cook over low flame for 30 minutes and garnish the ratatouille with chopped basil. Serve with rice or garlic bread.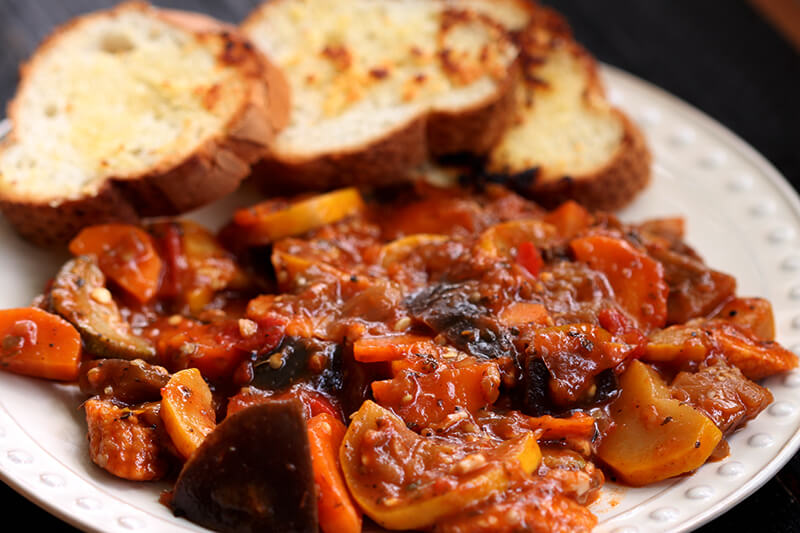 Ingredients for Garlicky Oats
Oats- 1 cup
Milk- 2 cups
Salt- a pinch
Butter- 3 tbsp
Garlic- 2 cloves or 1 tsp garlic powder
Basil powdered- a pinch
Water- 1/2 cup
Directions
Cook the oats with milk and water mixed together and salt. As soon as the oats starts boiling add the garlic powder, basil and butter. Stir the oats for 2-3 minutes over low flame so that it cooks evenly. Serve immediately.