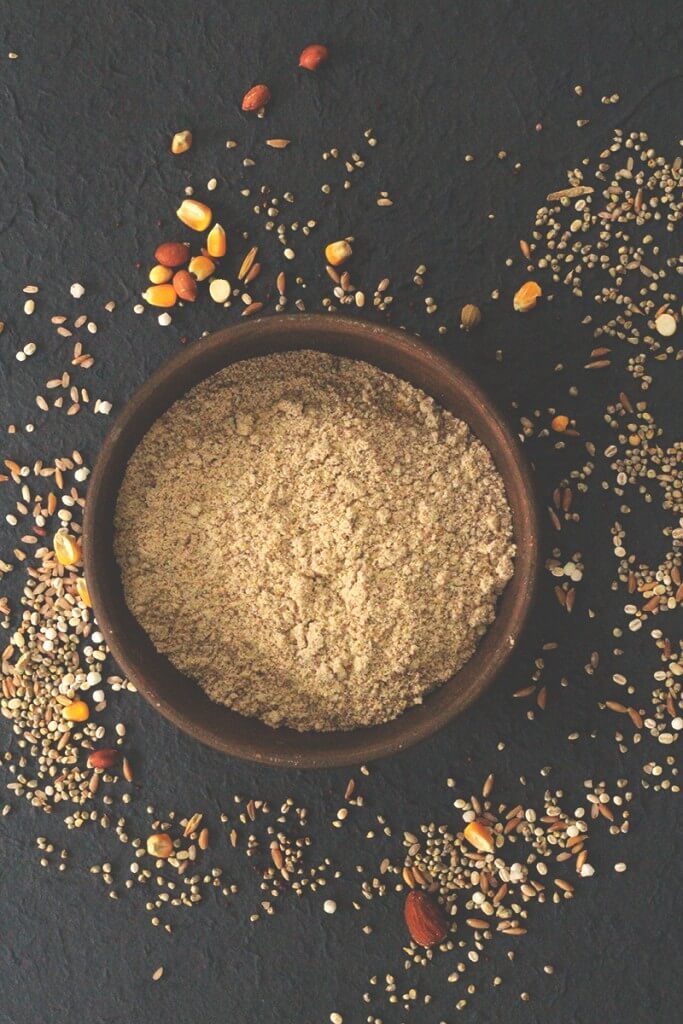 Home made Multigrain Porridge- Sathu Maavu
Home made Multi Grain Baby Cereal Powder- Whoa! I know its a long title. But the procedure is even longer and it did tempt me to buy the ready mix. But I guess that's because I did not like grinding and sieving the grains in batches. My grinder is not working so I had to use my coffee grinder. And grinding in 6 batches in a small coffee grinder, pausing to cool the grinder at intervals and praying for the power to stay the whole time, is stressful. I also made the mistake of deciding to dry these grains in this rainy weather of Bangalore. But when Sarah came home and had a bowl full of this mix I was happy. To those of you who look baffled at the number of components on this plate, I recommend to use few ingredients and not to bother all of them. Each of these grains are added for a particular reason. This mix is popularly known as health mix and sathu maavu. The nine grain version is called navadhanyam in malayalam. I was too excited to do this so i added amaranth and green gram lentils though most recipes did not suggest this. I had to go to few shops for getting barley and I had never seen barley and horse gram before, so I did educate myself a bit on millets and grains in this process. Buying thes ein half kg packets wont be a wasteful activity because a bowl of this porridge is quite good for your little one.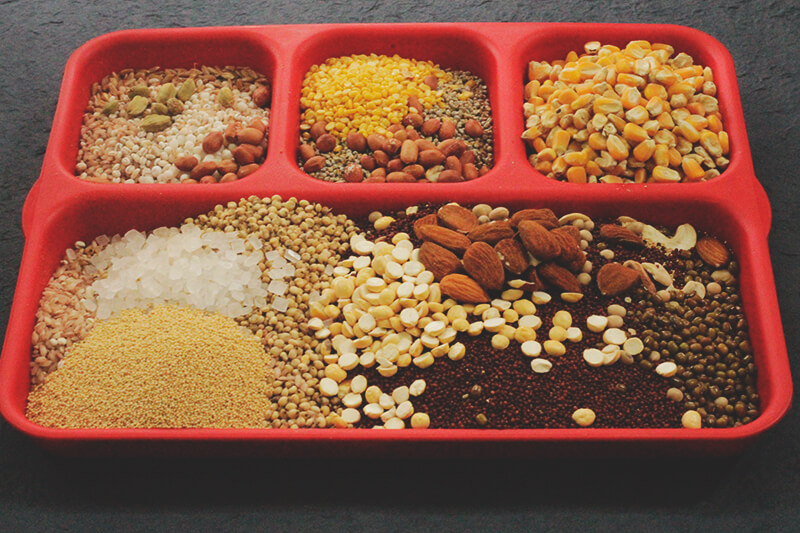 Home made Multi grains roasted for Sathu maavu
This porridge can be given to your kid till the age of 3 and it can be prepared both in sweet and savoury versions. The sweet version is cooked with milk and sugar and savoury version is cooked with water and served with buttermilk. This mix is a family recipe everyone adults and kids can have it and that makes it very special for us because we prefer having the same meal wherever possible. I don't like it like a porridge so I dilute it with milk and gulp it. I even tried a chilled version.
Ingredients for Home Made Multi Grain Baby Cereal Powder
Red matta rice- 50 g
Finger millet- 200 g
Amaranth seeds-50 g
Sago/Tapioca pearls- 50 g
Green gram- 50 g
Bengal gram- 50 g
Barley- 100 g
Peanuts- 25 g
Almonds- 25 g
Cashewnuts- 25 g
Rock candy- 25 g
Corn dried- 50 g
Horse gram- 50 g
Green gram dal- 50 g
Cardamom- 8 no.s
Directions
Wash the grains and lentils and sun dry them. Roast them in a deep bottomed pan along with the nuts. Grind them finely after wards along with the rock candy and cardamom. Sieve the powder and your health mix is ready.To prepare the health mix, take 5 heaped tbsp of the health mix in a sauce pan and add sufficient water to mix the powder. See that there are no lumps. Now cook the porridge with 1 cup milk and 2 tsp powdered jaggery or sugar over medium flame. It takes at least 10 minutes for the porridge to cook and once cooked there will be a change in the smell of the porridge. Initial smell you get while cooking, is that of raw flours but as soon as its cooked the aroma is that of roasted flour. You know that the health mix has been cooked properly. Serve with a dollop of ghee.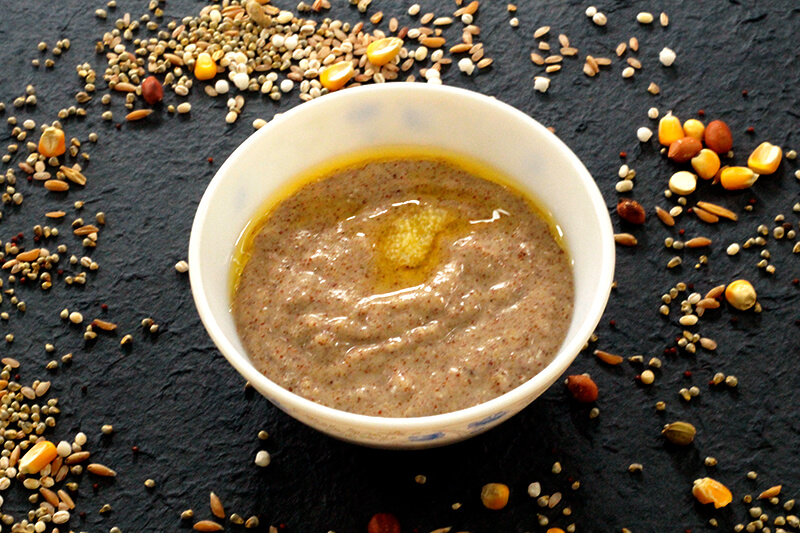 Home made Multi grain porridge
Stay tuned for more posts and watch out this space for the Christmas specials. Check out the strawberry wine recipe if you love making wines https://www.perucontact.com/how-to-make-strawberry-wine-3092/