I guess by now you all know Sarah's love for oats. So I decided to bake her some oats biscuits. I was so confident I had all the ingredients and I went ahead and started creaming the butter and sugar. my friend Noel was reading the recipe out and we were already baking the Christmas loaf. I was preoccupied with few calls and pending work I was attending to in between this baking spree. Yep that's me I have to do multiple stuff else I feel I have wasted my day. Multitasking is an obsession to me. But today I realized how serious a mess this obsession could lead into. I was short of oats and before measuring the oats, I started working. I made up for the quantity by adding half a box of leftover muesli. This was a wonderful idea because I had this unused box of museli for nearly a month plus the muesli had almonds and raisins so I did not have to add nuts and fruits apart from these. Now everything was perfect as per plan and Noel and I were playing Jenga. Nearly 10 minutes later we saw the biscuits had expanded beyond recognition and was too flat. We were playing Jenga and Noel asked me you added the flour right? I did not remember adding any flour and this made me realise our biscuits would never turn out solid, they were gonna remain flat. Noel freaked out but I told her we could try salvaging the situation.We took the trays out and let it cool a bit, added the flour with some milk and shaped the biscuits. They were already golden so they did not need much time to bake to perfection. I am so glad we goofed up because it was a test of my patience and presence of time. Sarah happily ate the biscuit dough as the coolies baked and she had the cookies eventually.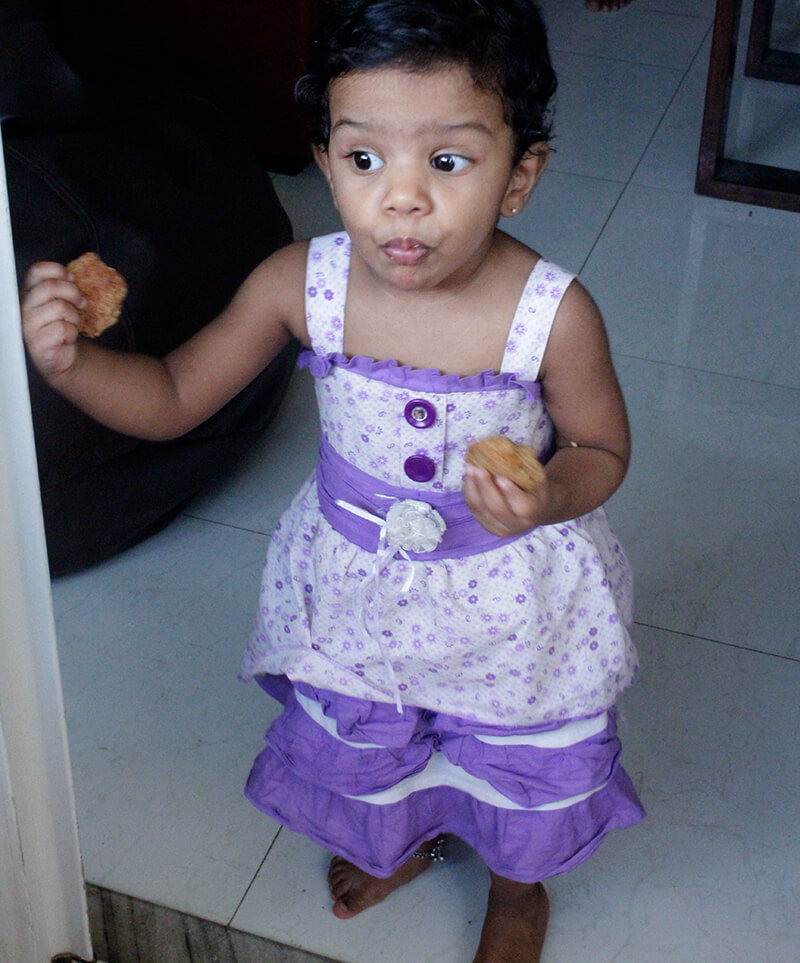 I guessed I learned quite a few lessons today the most important one was that in the kitchen every accident can be rectified if one keeps oneself calm. And though baking is a stress buster, one should not mix it with too many chores to lose track of one's actions. But this is a forgiving recipe, I went half way to come back and restart and I still got a decent batch of cookies. And one cookie is so filling Sarah could not finish one, she took 2 hours to have just 2 cookies. But she was happy to have them.
Ingredients for Oatmeal Muesli Biscuits
Oats- 200 g (Quaker old fashioned oats)
Butter- 175 g
Muesli- 175 g (I used saffola muesli and it had nuts and raisins)
Egg-1
Water- 4 tbsp
Vanilla essence- 1 tsp
Demera Sugar- 275 g
Flour- 140 g
Salt- 1 tsp
Bicarbonate of Soda- 1/2 tsp
Directions
Preheat the oven to 180 degrees and line the baking tray. Cream the butter and sugar in a mixing bowl. Add the egg and vanilla extract, continue beating the mixture until smooth. In a separate bowl, mix the oats, flour, salt and bicarbonate of soda. Gradually stir the oat-muesli mixture into the creamed mixture until thoroughly combined. Place tablespoonful of dough onto the lined baking tray and bake for 15 minutes till the biscuits are golden. Remove the biscuits from oven after this point and cool for 10 minutes before serving. Store in airtight containers for later use.