Paya evokes nostalgia in me. It was part of our diet in the winter back in Kuwait. My dad was a foodie and he often brought home new challenges for mom. He loved paya, brain, tongue, intestine and we once had the liver of shark too. His taste was bizzare but then it put off the fear in us to test things we had never had before.I would wonder why mom took all the pain to make these things she never was familiar with and looked tedious too. It took me years to realise she too loved these challenges and wanted to learn new stuff. I don't know many people who make paya curry definitely not in my parents' family so I wait for my mom to make this once in a while. This is her recipe I guess she picked it from a Pakistani friend of hers. You get cleaned paya legs these days in malls.Back then I remember mom grilling the trotters to remove leftover hairs on the hooves, I love doing it even when the butcher tells me its well cleaned. This is one recipe , where the aroma wafts around telling you I am different from all that you gorged so far. As the cooker releases the pressure I can imagine the flavours I tasted over years.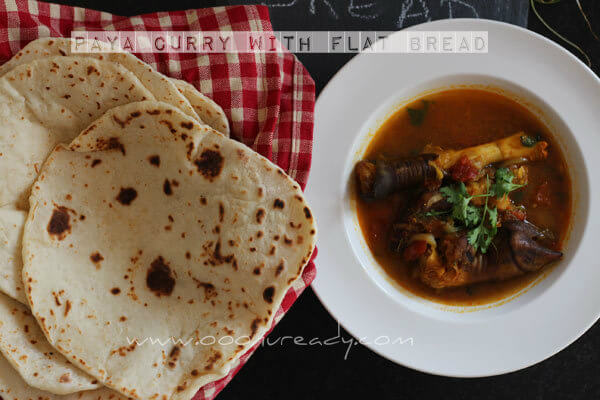 I miss the kuboos that accompanied paya in my childhood days, so we managed with flat bread this time. I put up this post 4 years ago on my old blog and this time, we did a new photo shoot with paya. I am amazed at how things have evolved over the years. I would never think of trying a pita bread or flat bread like I did this time also the fact that I did a paya curry without mom tells me things have definitely changed in this household. Maybe the momma in me now wants to take things in charge and be a great role model for Sarah. I guess she disagrees check out her expression as she watches me make paya :)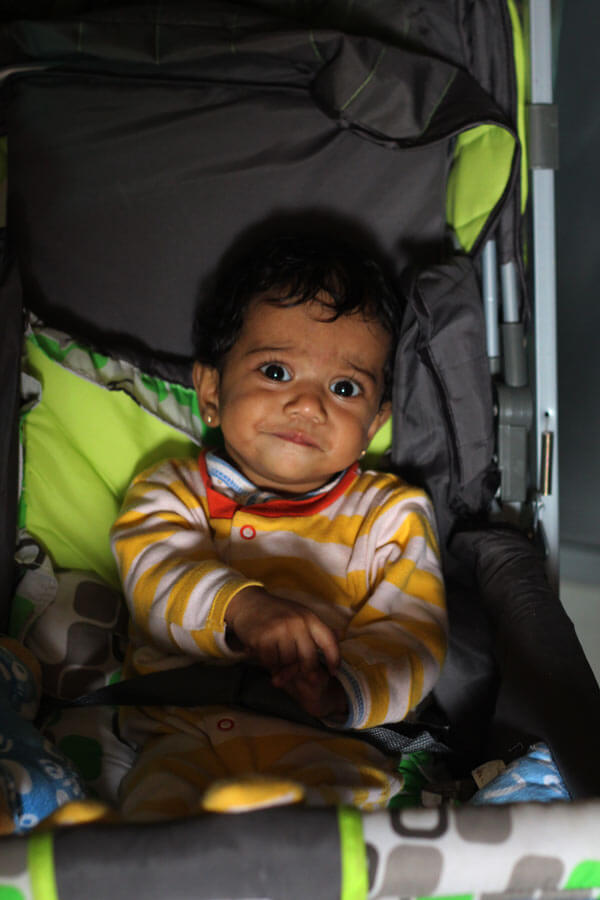 I have still retained mom's old recipe so it is the same old one you guys have been referring to. But the flat bread is an amazing combination and I am happy I tried it. It is very easy do try it out, if you don't have time, get some tortilla wraps, these flat breads tastes a lot like them.
Ingredients
for Paya curry
Paya ( goat's trotters)- 6
Tomatoes- 3
Onions- 2
Green chillies- 3
Garlic- 10-20 cloves
Garlic- 1 inch long
Turmeric powder- 2tsp
Chili powder- 2 tsp
Kashmiri chilli powder- 2 tsp ( makes it colourful, so if you dont like it spicy make this 3 tsp and reduce 1 tsp from the normal chilli powder)
Garam masala- 1 tsp
Coriander powder- 2 tbsp
Coriander leaves(cilantro)- for garnish
Salt to taste
Directions
Wash and clean paya. In a pressure cooker add the paya with chopped onions, chillies and tomatoes followed by minced ginger and garlic. Add the spices and two cups of water.
Pressure cook till 10 whistles are heard. Add salt to the paya and boil it for 10 minutes once the cooker is opened. Garnish with coriander leaves. It is so easy, that you would wonder why, you never tried this recipe ever.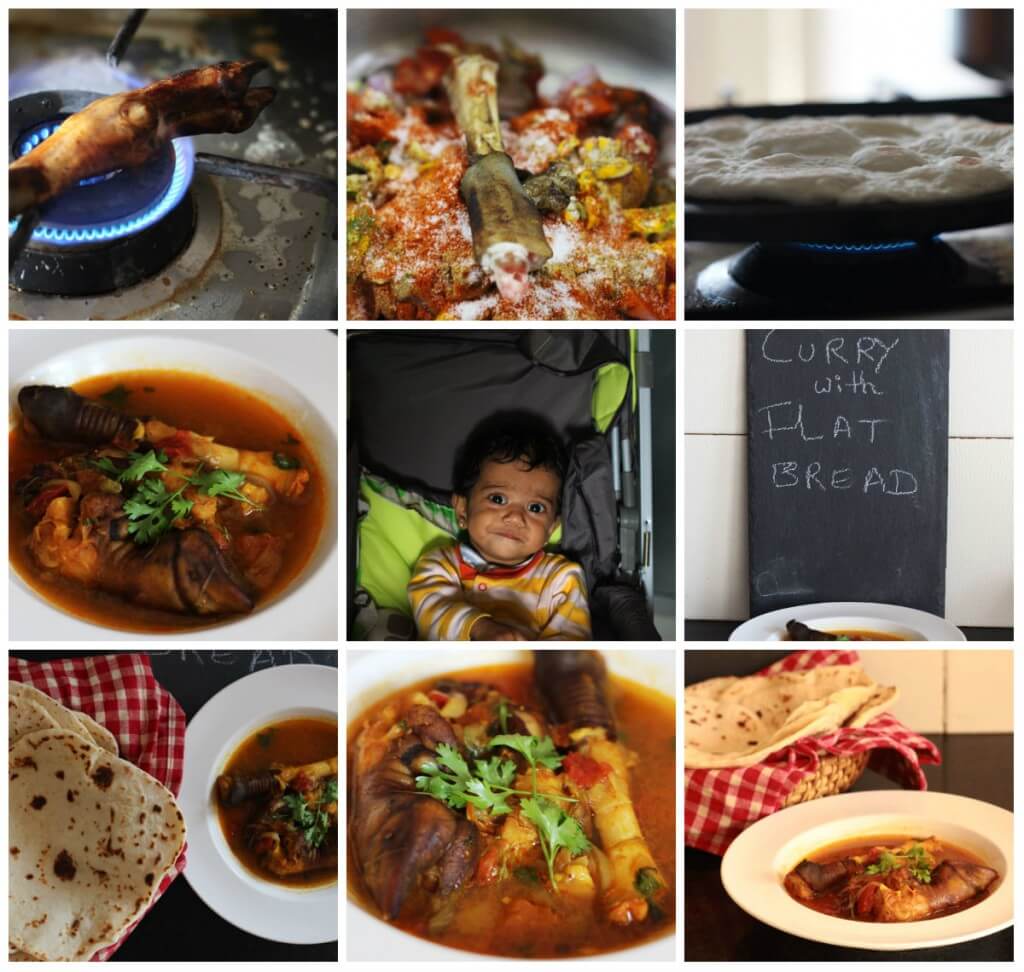 For the Flat bread I have sourced the recipe from Mel's kitchen and for an adventure that I embarked upon in a jiffy I must say it was astonishingly successful. I hope the same wonder repeats next time :)
Ingredients for Flat bread (Recipe courtesy -Mel's Kitchen Cafe)
Bread flour- 3 cups (I used APF)
Instant yeast- 2 tsp
Sugar- 1 tsp
Warm water- 2/3 cup
Warm milk- 1/2 cup
Olive oil- 1 tbsp
Salt- 1 tsp
Directions
In a bowl add the instant yeast, sugar, salt and olive oil. Pour the warm water and milk and let the yeast get activated for 5 minutes. Now add one cup flour and mix the flour and other ingredients using a wooden spoon. Spoon in the remaining flour and knead the dough using hands. After kneading for 5- 8 minutes the dough will be firm and leave the sides of the bowl. Wrap in a cling film and store in a warm place till the dough doubles. This might take 1- 1 1/2 hour. Now make even sized balls out of the dough after punching the dough down. Let the balls rest for 10 minutes in a bowl with a wet dish clothe covering the bowl. Heat your skillet/pan/tawa and roll the flat bread into circular disc using little flour. I made 9 balls so I got 9 flat breads. Cook the flat bread over the pan over medium flame. Once the first side bubbles flip over to the other side using a spatula or tongs. Once both the sides are cooked for 2-3 minutes each transfer to a casserole with a dish towel and cover the flat breads so that the remain soft. Serve with paya curry.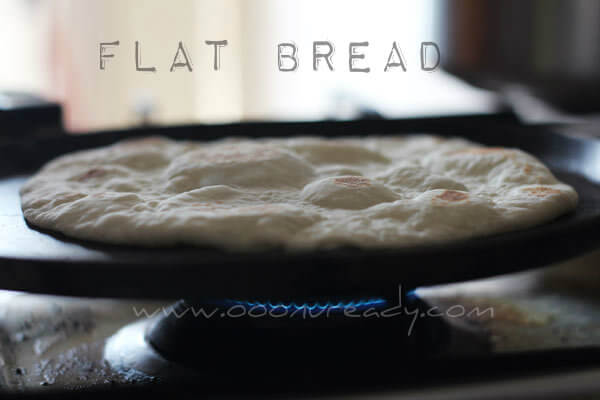 I could not take many pics of the kneading because I did this early morning when my hubby and kiddo were asleep. But I did manage to take the puffed up shots on the skillet. I love this shot, and it makes me brim with confidence and pride that my early morning adventures are worth risking my sleep. I declare this the best flat bread in the world :)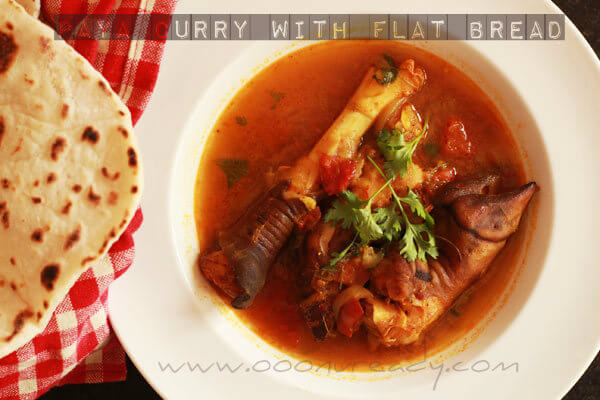 I am leaving for Chennai, for my defense viva. It's been long seven years and quite eventful seven years of research with breaks and bad health. I began my research as a single woman and I am a mother today when I am defending my thesis. This space, these recipes, my passion for cooking it all sprang up as an antidote for my depressive phase of research. You never realize how much you love something until you are deprived of it. I had to to travel 6 hours ever fortnight to access a kitchen which made me fall madly in love with cooking and my hubby :)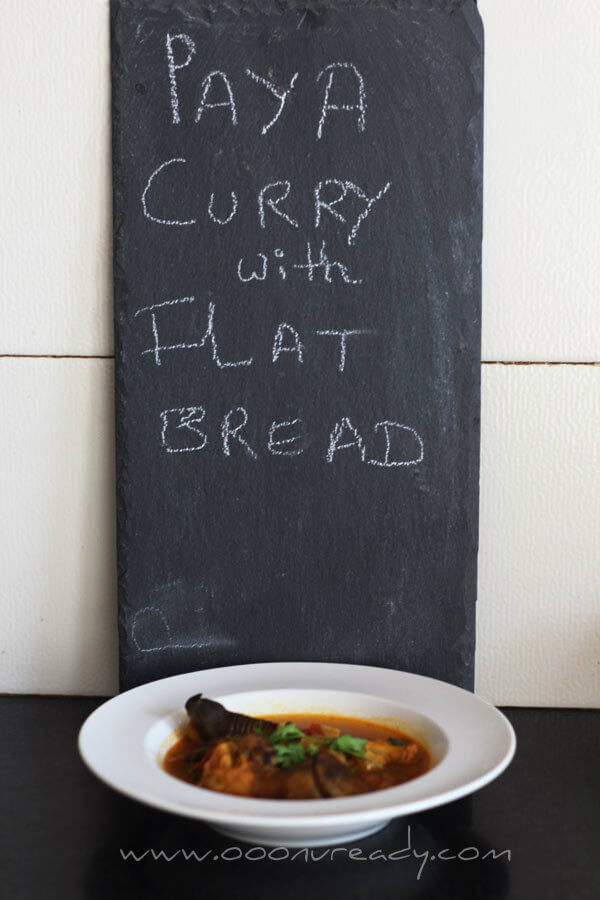 I guess I owe it all to my research training, for having made me love writing, reading. I guess I did carry forward some of the researcher trait into cooking as well. I now check all the versions available for one specific dish, I try finding out it's culinary history, I try revising my clicks and my recipes and if not for my experience with research I would never take up this task of redoing every post from the past. Maybe that's what research teaches you perseverance, tenacity and lots of patience. Wish me luck it's been a long journey, and I can't wait to embrace the new beginning. And when I get back its celebration time !!!