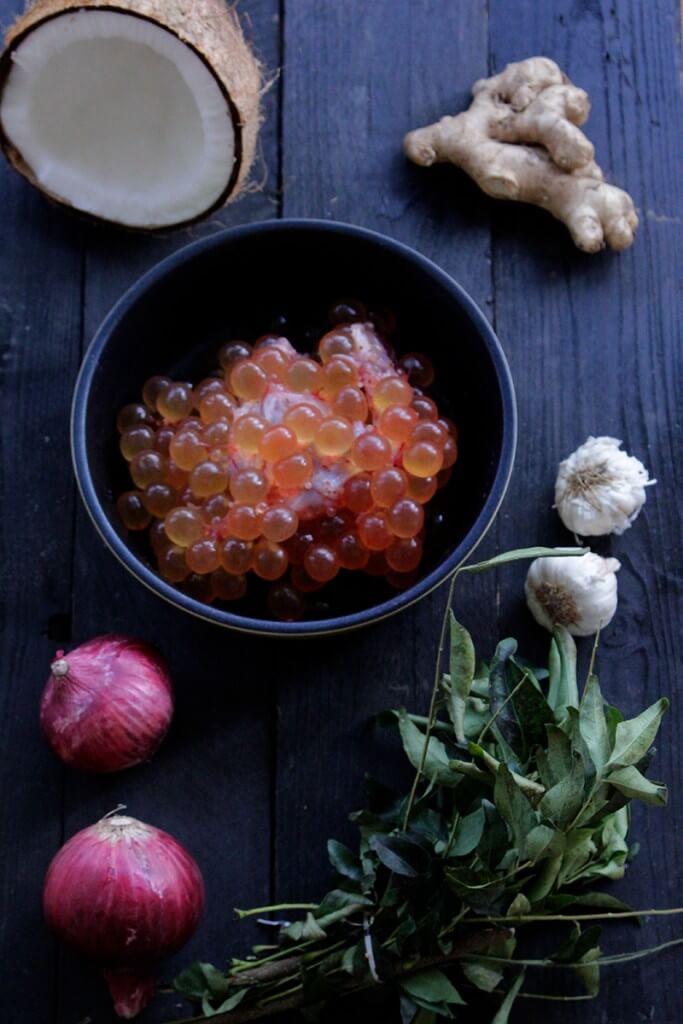 My dad was a seafood lover and he often got us roe. We often made omelette with these roe also known as fish eggs. Mom never made any other version with the roe. I don't remember cooking these myself ever. So I was surprised when hubby dear got me Catfish roe yesterday. I was just back from work and to be honest I wasn't very excited. I am not a seafood lover I manage with fish curry gravy mostly. But when I saw this catfish roe I was thrilled. They looked pretty these tiny bubble like thing and I knew they would look amazing to shoot. And Monday being my weekly off (which always ends up as a half day) I decided to give it a try. All my plans fail these days if I have no help and Sarah is entrusted to my care. My cranky toddler does not eat well, troubles me to the core and loves interrupting me when I click and cook. I can't blame her because I was no different as a kid. So I tried to do something ended up burning my masalas and redid this version. While I am not happy with this because I did not do what I intended to, and my delay messed my shoot, I nevertheless did the roe in a new style totally different from mom's version. I hope hubby dear loves it because I am not gonna eat it.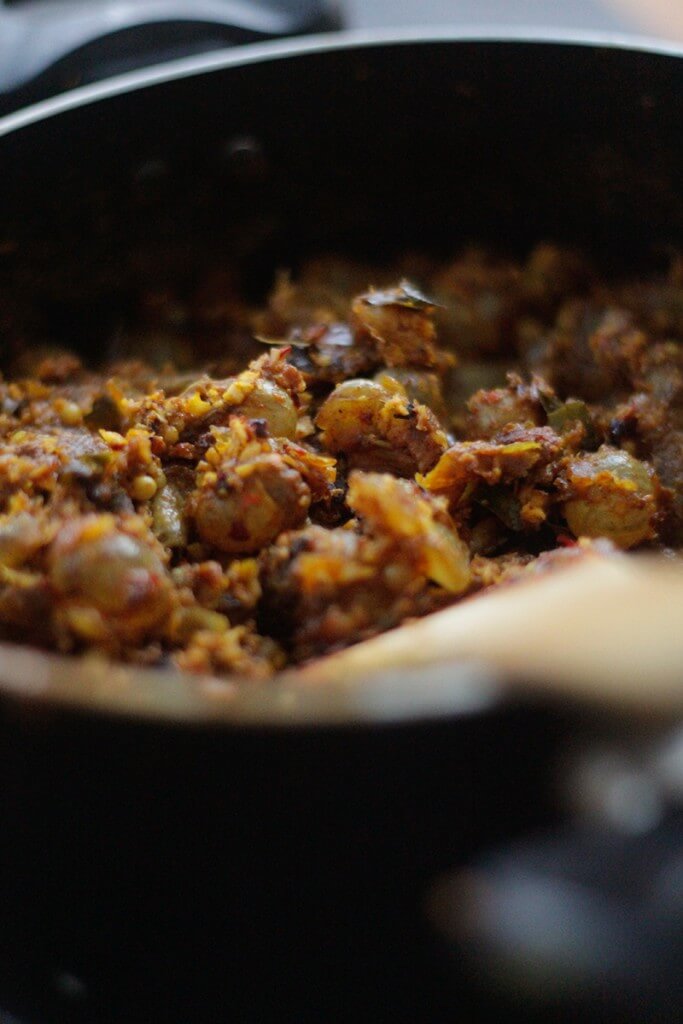 Ingredients for Catfish Roe Stir Fry
Catfish Roe- 500 g
Onion- 2
Garlic- 6 cloves
Ginger- 1 inch long piece
Green Chilies- 6
Curry leaves- 6-8 leaves
Turmeric powder- 1 tsp
Chili powder- 2 tsp
Kashmir chili- 1 tsp
Chili flakes- 1 tsp
Salt- to taste
Grated coconut- 1/2 cup
Tamarind- 3 tsp
Coconut oil- 3 tsp
Mustard seeds- 1 tsp
Directions
Wash and cook the roe with a pinch of salt and turmeric powder. This will make the translucent roe turn greenish blue and firm in appearance.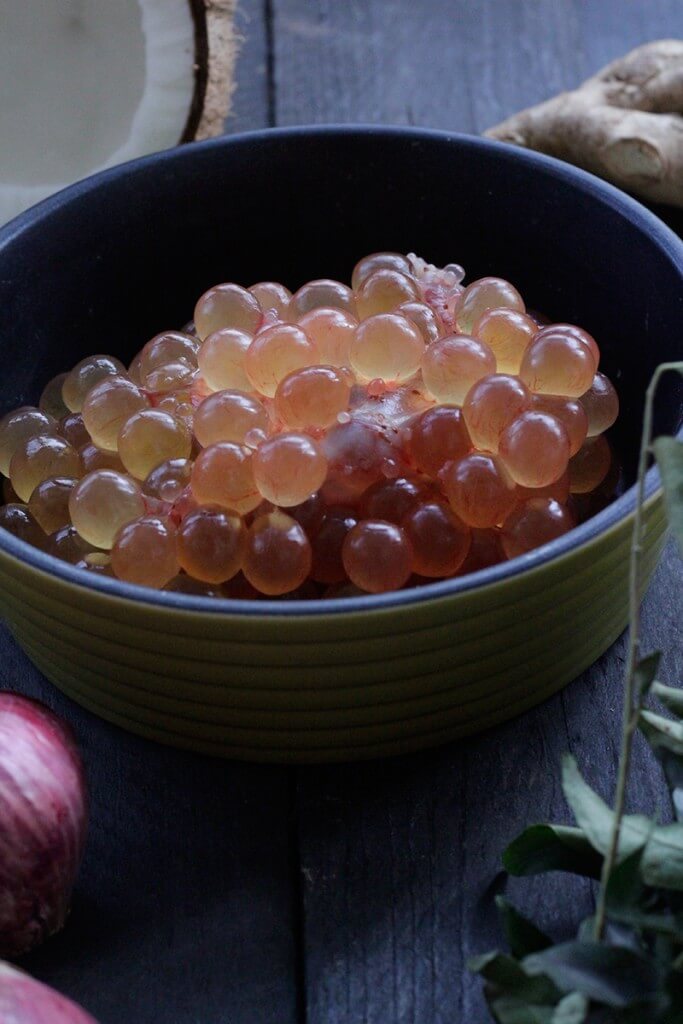 Cook till the roe is firm this should take 4- 8 minutes and then set the roe aside. Heat oil in a pan and add the mustard seeds first. When the mustard splutters, add the curry leaves followed by minced ginger and garlic. Saute the ginger-garlic till they brown. Add the chopped onions now and saute till they brown. Add the spice powders and saute for 2 minutes till the raw smell of the spice powders go away. Now add the cooked catfish roe and add salt. Stir the roe and slowly it will start to break down and crumble. They will not crumble like normal roe. These pearl like roe is a bit tough on the outside but they will cook eventually. After 5 minutes of cooking add the grated coconut and tamarind extract. Stir fry for 10 minutes till the flavours of tamarind and spices get incorporated into the roe. Serve with rice and a curry of your choice. I prefer rasam and rice for this preparation.
Note: The addition of tamarind is just my preference is some recipes they do add the kodampulli for a tangy flavour, but they mostly omit grated coconut and add coconut strips instead. I was in mood to try both so I went ahead with this version.
Overcooking the row makes it chewy and rubbery, while undercooking makes it taste raw. In case you plan to deep fry these eggs, coat them with flour and crumbs and fry them, they will break like chicken livers and splutter but they are yummy to eat this way too.
I wont be able to post recipes for quite some time but I have some old recipes that need to resurface, I hope to put them up. And meanwhile I apologise for not sharing the toddler recipes. I will do them soon. Till we meet again eat healthy and stay blessed.