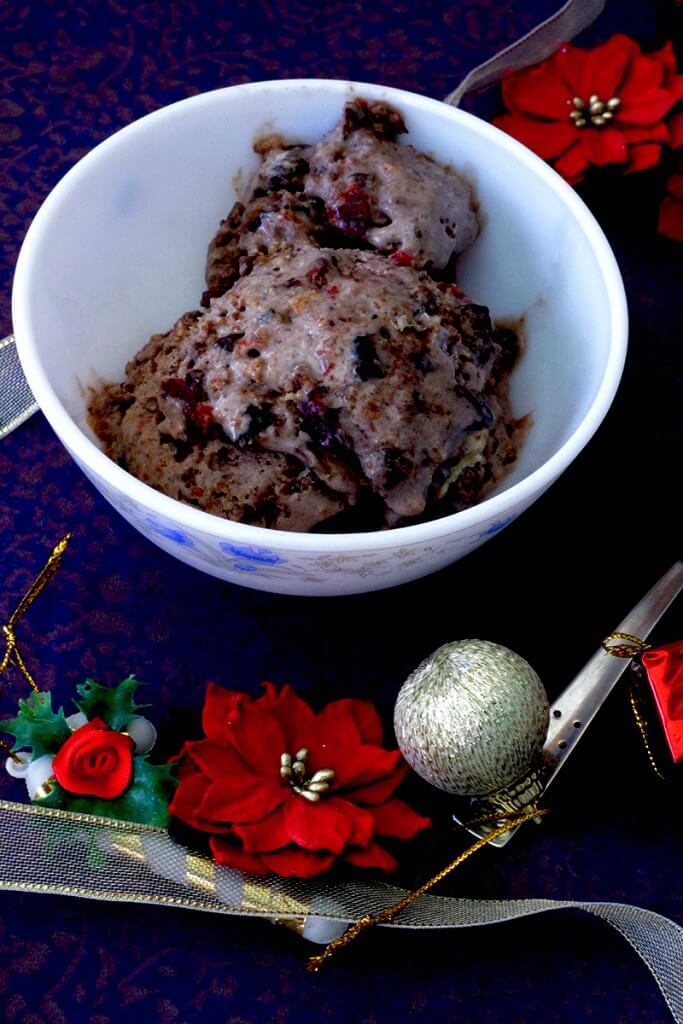 This Christmas fruit ice cream recipe is the easiest dessert you could ever have for a party especially during the Christmas season. I am not sure if this is the right name for this dessert but I just christened this dessert the christmas fruit ice cream. I had a tub of home made chocolate ice cream and I bought some butter scotch ice cream to add some volume. But irrespective of what ice cream you choose the star in this ice cream is the leftover cake crumbs. I used some crushed cookies and panettone crumbs too. I am leaving for Mumbai this Monday and I wanted to empty stuff on my pantry. And I had an odd box with few slices of cake, panettone and cookies. I was about to throw them when I got this idea out of the blue. Back home in Cochin, there are times we get fed up with Christmas cakes because we are force fed cake when we go to houses singing carols, we get it from friends and relatives for Christmas and the heights is when mom bakes her batches too. So for us its a cake festival from December to February and there are times we throw it all away and even our maid refuses to take cakes. We call this phase the cake fatigue phase. So if you are someone like me you will soon find yourself with a lot of cake. This is one recipe that will come in handy then. And its not just cake, cookies, breads, loaves anything Christmassy that is excess and at the verge of disposal goes into this. And December is a month with lot of ice cream promotional offers because the weather is not great for ice creams. So what you can do is perhaps, get these ice creams and make this easy ice cream, store it in your freezer and surprise your friends and family when the weather starts to warm up. Plus you will be able to appreciate the Christmas flavours even better. And if you are game, add some booze to your ice cream.
Today the toddler meal series completes 50 days and so this is my treat to Sarah as well.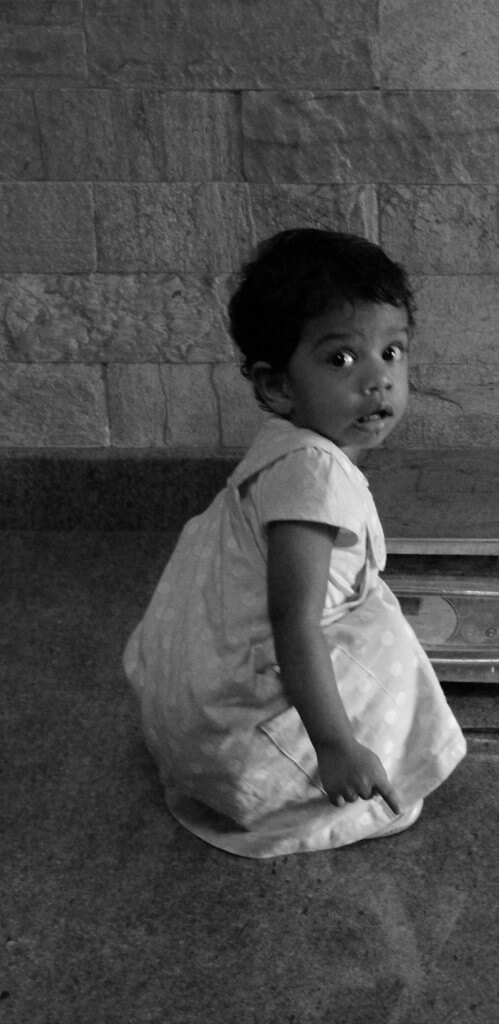 Ingredients for Christmas Fruit ice cream
Leftover Christmas cookies crushed- 1/2 cup
Christmas cake crumbs- 1/2 cup
Panettone crumbs- 1/2 cup
Ice cream of your flavour- 500 g (I used 250 g butterscotch with 250g chocolate ice cream)
Directions
Mix the crumbs together in a bowl. Crush them if there are large chunks so that they are all the same size.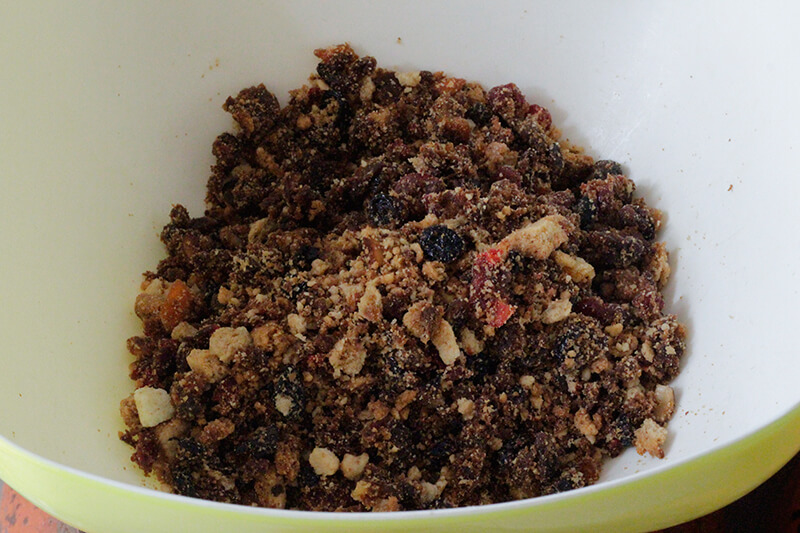 Add the ice cream to the crumbs and using a potato masher, mash the ice cream to mix them thoroughly with the crumbs.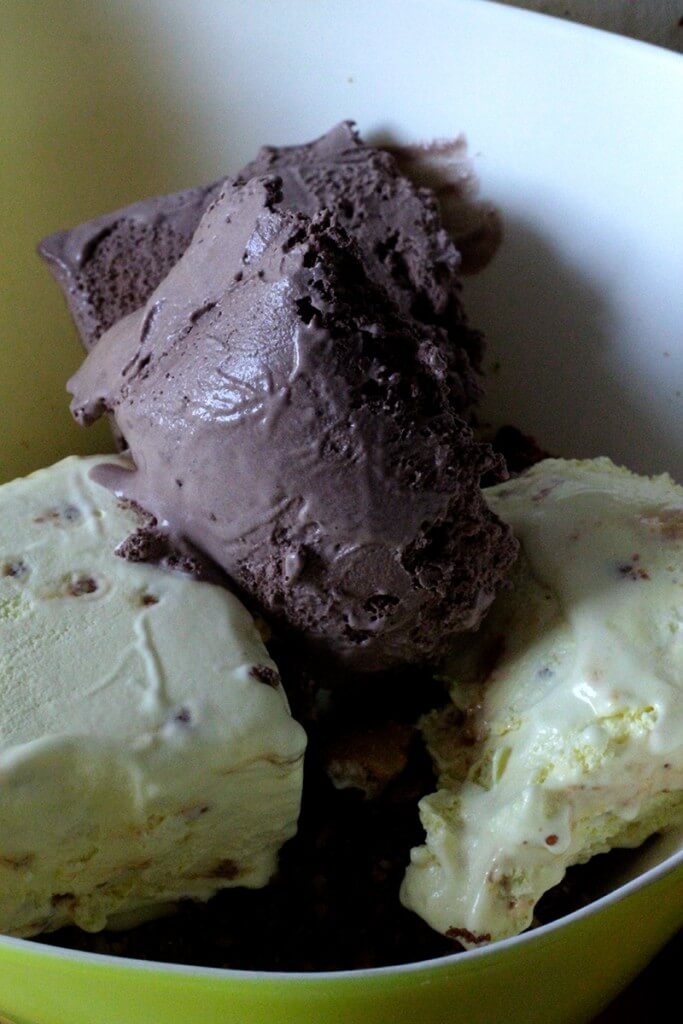 You need some muscle power for this, other wise you can thaw the ice cream a bit to do this efficiently. Add the booze at this point if you wish to. Transfer the ice cream to a new tub with a lid and deep freeze for 4-5 hours before serving. This ice cream can be refrigerated up to 4 months. I am not so happy with the pics today but I had 15 minutes to shoot this in between my lunch break. I am working on a new project and I so wanted to not miss the challenge so I did things in a jiffy. But it tastes awesome and I am taking the tub to my team. Ok I am not filling in a lot of gaps I will tell you about my new project and my team in Jan. Till then tis the season to be jolly and if you have leftovers of cake add some booze and make some ice cream. Ahem and for kids no booze :)