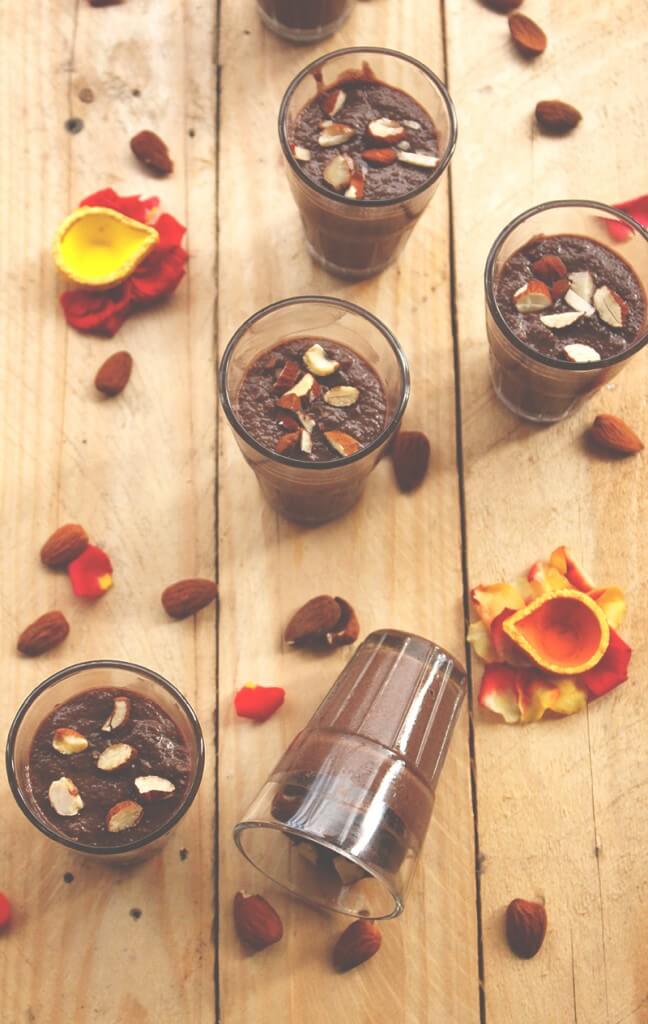 Yes its amaranth chocolate pudding again but the adult version with some prunes, apricots and raisins too. This has become my easy peasy chocolate dessert and I am even wondering if I could do a frozen dessert with this pudding. I know the weather in Bangalore begs for soup and all I am craving for is ice cream. This shoot was personally choreographed by Sarah and my friend Monisha. Monisha can give you a vivid testimonial on Sarah the Great. I am so eager to see how Sarah responds to crackers and light tomorrow. I hope it makes her stay in her couch for some time but knowing my curious bundle of joy she is gonna love the crackers and lights anddddd sweets. It is raining rather drizzling constantly in Bangalore and as I type this, I can hear kids in my neighborhood bursting crackers.
Ingredients for Amaranth Chocolate Pudding
Amaranth grain- 1 cup
Milk- 500 ml
Dark chocolate bar- 50g
Honey – 3 tsp
Nendran banana- 3 (any banana would do)
Almonds- 5-6
Prunes- 4
Dried Apricots- 4
Raisins- 1 tsp
Directions
Wash the amaranth grains under a sieve. Pressure cook the amaranth with 1 cup water for 2 whistles. Transfer the grains into a pan, and add milk and chocolate. Cook over medium flame.Keep stirring in between so that the chocolate melts and amaranth does not stick to the bottom of the pan. Peel and puree the nendran banana. When you slice the banana into half take out the middle portion of the banana with seeds. Add the pureed banana and honey to the amaranth chocolate pudding. Keep stirring till the liquid mixture reduces to half the volume. By now the pudding would have thickened. Add the raisins, diced apricots and prunes. Switch off the flame and let the pudding cool down a bit. Pour them into moulds, glasses or cups of your choice. Garnish with chopped almonds and serve chilled.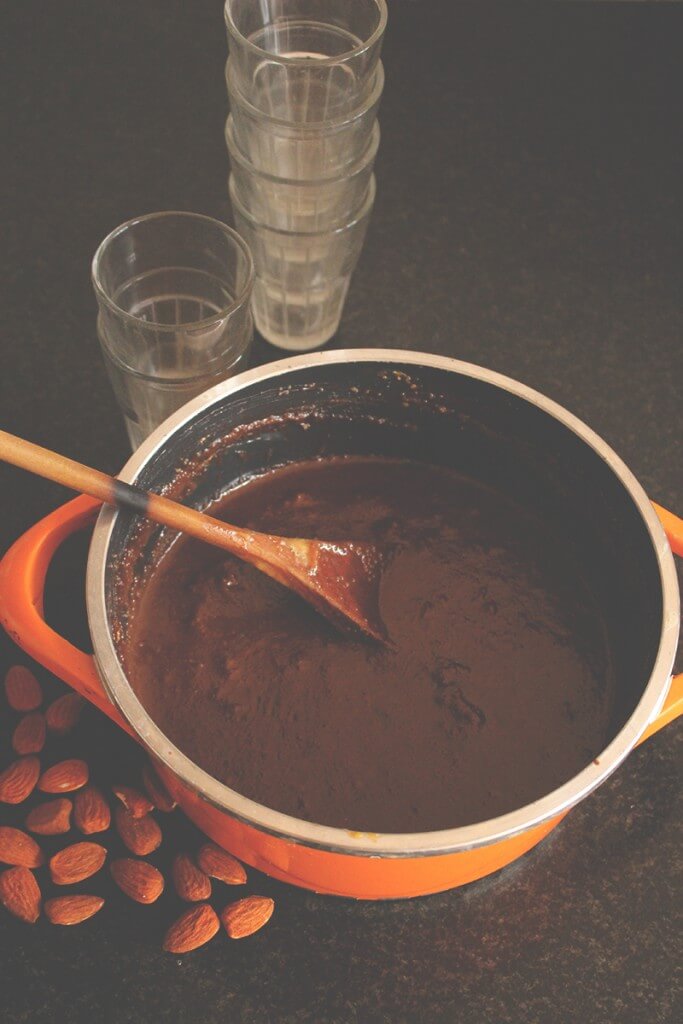 The prunes and apricots in this amaranth chocolate pudding resembles the fruit and nut dairy milk bars and so it can get addictive. Nevertheless, it is a healthy dessert. It is raining cats and dogs and I am gonna enjoy a cup of coffee with the kiddo at play school and hubby at office. Stay tuned for the toddler meal day 13 recipe today evening. I am loving it and I am so happy to see my friends and readers supporting me. Stay tuned for there's lots to come.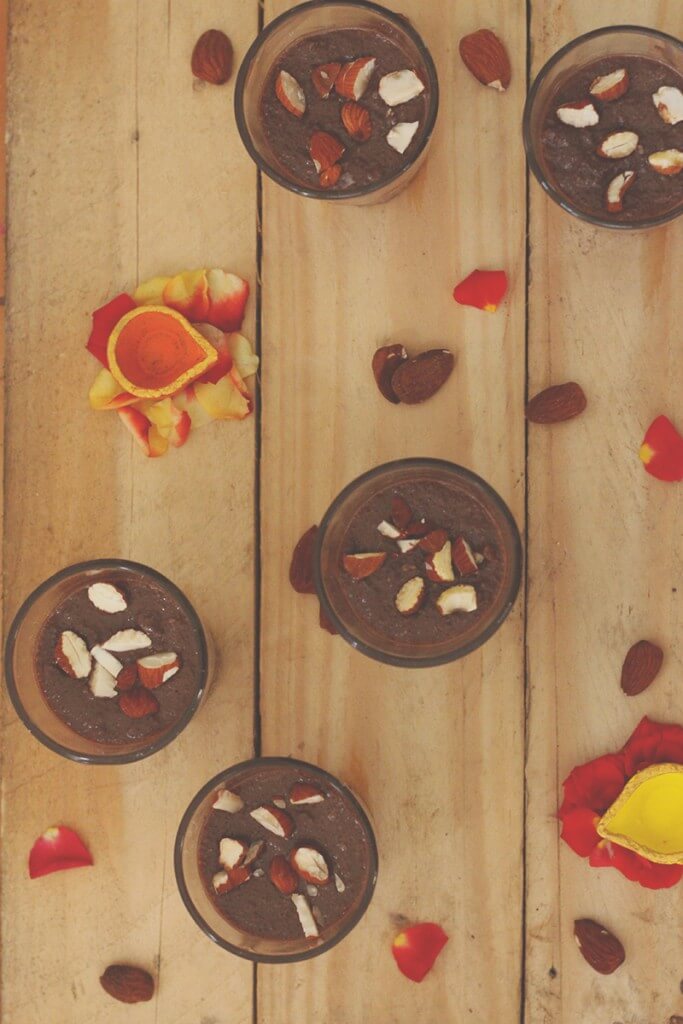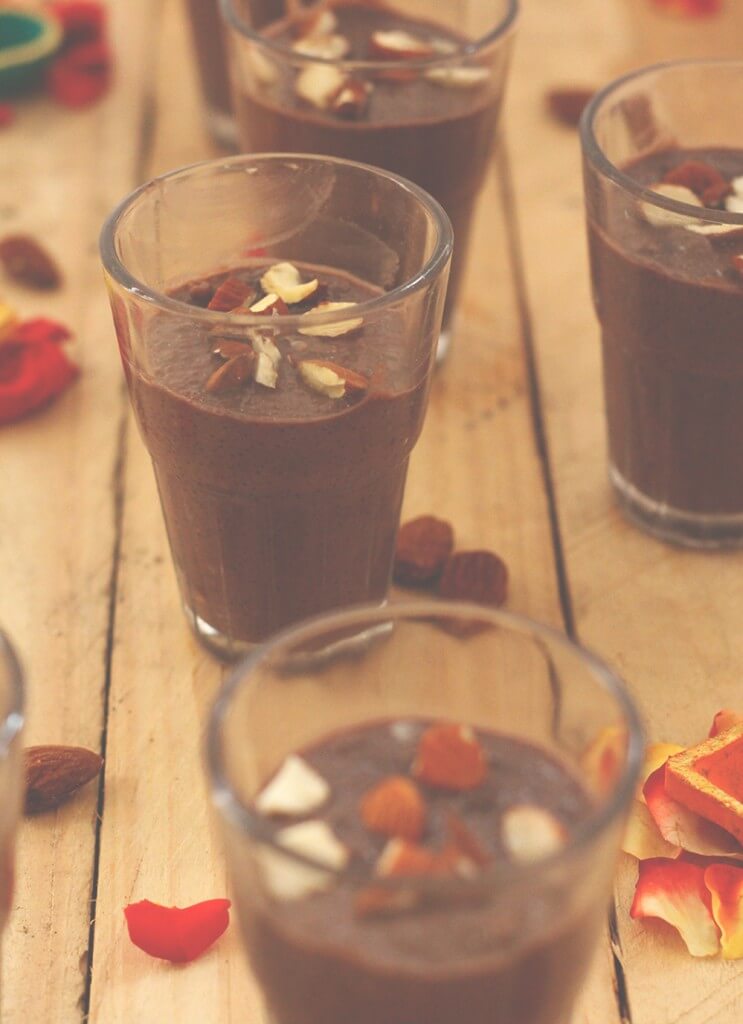 And a Healthy, Happy Diwali from the Samuel family……..