Salads and me were never great friends but that's because I never had salads that excited me. I am not a leafy salad person. I cannot have a lollo rosso and say wow! I am not someone who would go gaga over couscous or barley or finger millet. I have my favourites in veggies and I love my meats. I go overboard with my salads dressings. I don't mind a simple olive oil dressing but I love mustard sauce, hung curd and garlicky flavours as well. And the herbs yes they matter too. I love thyme and sweet basil over the regular salad spices. So when I did some permutations and combinations, I discovered these 6 salads matched my palates. Now these are the kind of salads I don't mind having for a meal. And having understood my preferences has eased my life. Now many of you would associate salads to bland, healthy and boring like I did once upon a time. Some of you might wonder would salads like these that I am about to list, aid in weight loss. Well let me tell you what I understand about salads. They need not be boring, you can play with a lot of flavours, textures and still end up having a stomach's full and any day it will not be as rich as the 3 course meal you have. So yes the sausages and kebabs can be forgiven provided you have them with your greens. I am not advocating salads or healthy eating here but I have come to realise that salads can be great breakfasts and dinners and this discovery keeps me excited to experiment with new flavours.
And it is these humble experiments and discoveries that made me wear the 'salad chef's hat'. Yep I play a salad chef these days so if you want to place orders for salads next time, ping me :)
And now here's my list of 6 irresistible meaty salads.
1. Chicken Nugget Salad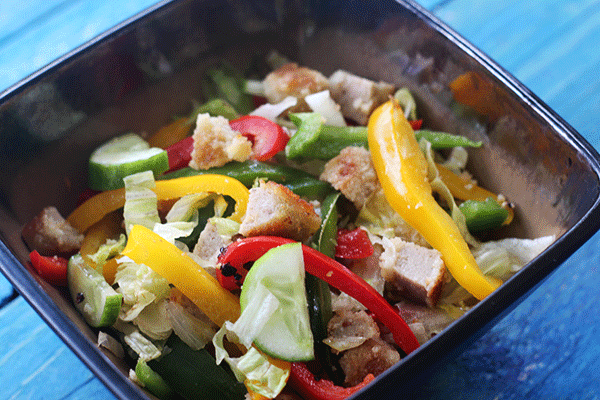 Yep nuggets in the salad love the idea don't you. Chop few fried nuggets. Shred some lettuce. Dice some cucumbers, bell peppers and you are done. I love tossing in tri colour peppers because besides meats something that forces me to the plate is the colour composition of what I eat. This is a lovely salad that looks colourful can be prepped up under 15 minutes and is a winner at parties.
Ingredients for Chicken Nugget Salad
Chicken Nuggets- 4
Lettuce- Half a head
Red bell pepper- 1/2
Green bell pepper- 1/2
Yellow bell pepper- 1/2
English cucumber- 1
Olive oil- 1 tbsp
Lemon- 1
Salt- to taste
Pepper- a dash
Olive oil for frying the nuggets
Directions
Heat oil in a pan and fry the chicken nuggets till golden brown. Chop them roughly ans set them aside. Prepare the salad dressing by mixing the olive oil,salt, pepper and half a lemon squeezed. Add the dressing to a bottle and shake the dressing well. Now chop the bell peppers and cucumbers. Shred the lettuce finally. Toss in all the veggies in a bowl and add the dressing. Give the bowl a gentle toss and add the chopped nuggets in the end.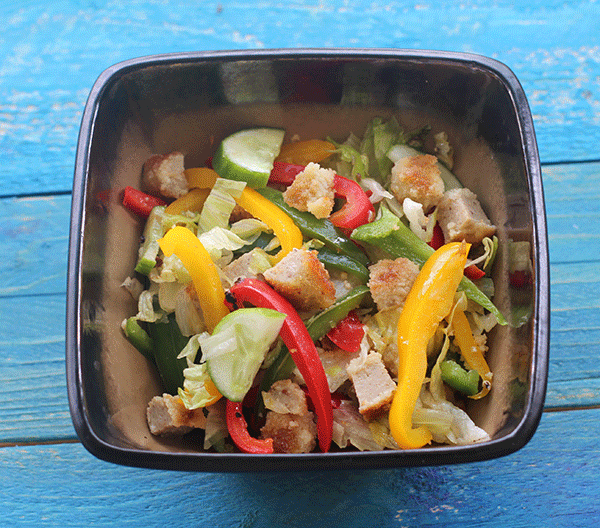 2. Shish Taouk Salad
Having grown up in the Middle East, I love their flavours very much. It is simple yet sharp and if paired with a hung curd dressing this is a lovely combo. This salad again is Feel the flavours of the Middle East in the form of a salad.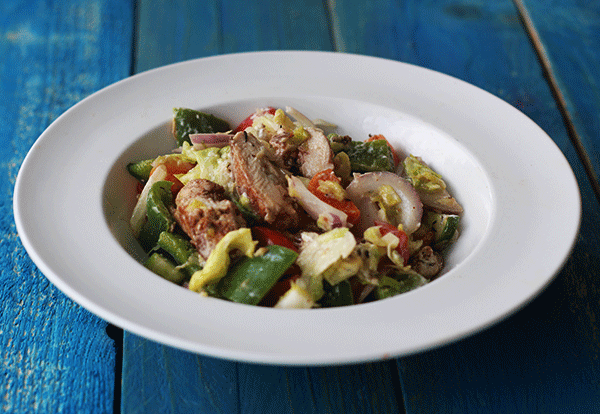 Ingredients for Shish Taouk Salad
Chicken breast-1
Capsicum- 1
Carrots- 2
Onion- 1
Garlic- 4 cloves
Thyme- 2 tsp
Paprika- 1 tsp
Lemon- 1
Lettuce shredded- 1 cup
Hung curd- 4 tbsp
Salt- to taste
Pepper- a dash
Olive oil- 2 tbsp
Directions
Marinate a chicken breast with a pinch of salt, paprika powder,thyme,minced garlic and 2 tbsp curd. Marinate overnight for better result or if you are short of time do this for 2 hours. Pan sear the chicken breast after 2 hours and slice them up into chunks. Now in the pan that has the chicken grease saute the diced onion, carrots and capsicum. Add a pinch of salt and thyme as you saute the veggies. You can add French beans too, if you have them. As you plate this salad toss in some shredded lettuce, diced cucumbers and tomatoes and add the sauted veggies and sliced chicken strips. The dressing for this salad is hung curd with a pinch of salt, pepper and thyme.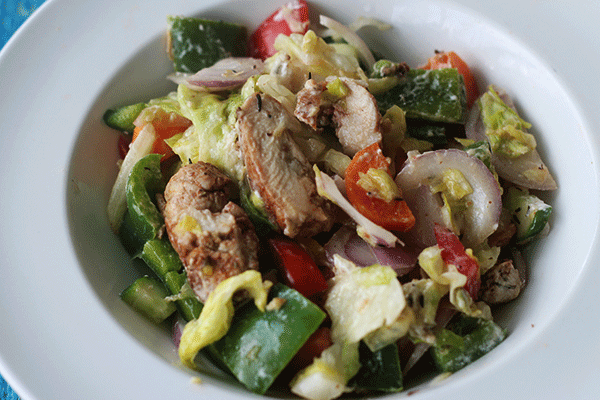 3. Trader Joe's Curried Chicken Salad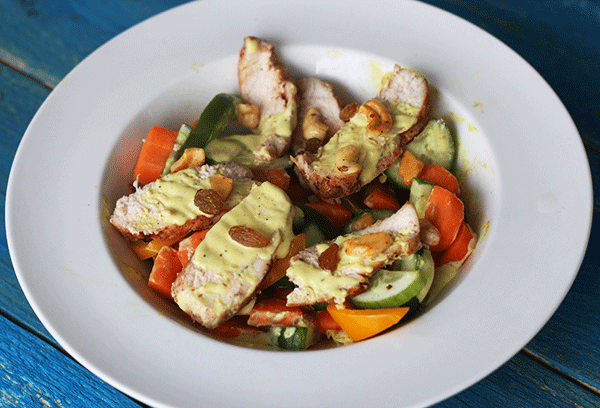 This is my twist to the famous Trader Joe's curried chicken salad. I love the curry flavoured chicken and curry infused mustard dressing used in this salad. Since this salad has raisins and cashews I have used very few ingredients like carrots, cucumbers and lettuce with some curried chicken.
Ingredients for Trader Joe's Curried Chicken Salad
Chicken breast- 1
Carrots- 2
Shredded lettuce- 1 cup
Cucumbers- 2
Raisins- 5-6
Cashew nuts- 5-6
Hung curd- 2 tbsp
Mustard Sauce- 2 tsp
Curry powder- a pinch
Directions
I do this salad in two styles. I either add leftover chicken from a chicken curry (mostly Chettinad style) to the veggies and drizzle the dressing all over. The other way to do this salad is to marinate the chicken breast with curry powder and salt overnight. Pan sear the chicken and cut them into strips. Prepare the dressing by mixing 3 tbsp hung curd with mustard sauce and curry powder as per your preference. Toast the cashews and raisins in the grease left from pan searing the chicken. Toss in the lettuce, cucumbers and carrots. Top the salad with chicken, nuts and raisins and serve with a generous amount of dressing.
4. Seekh Kebab Salad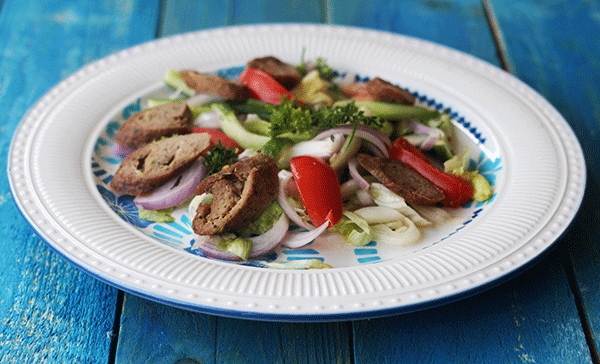 This salad has quite strong earthy flavours because it combines parsley and seekh kebabs two components that is quite strong and earthy in flavours according to me. You need more tomatoes in this salad because it just has a olive oil and pepper dressing so tomatoes keep this salad moist. Many dislike the flavour of raw onions in a salad but I advise it strongly for this salad and not the white onions the red ones please! This salad feels almost like a kebab platter because it is minimalistic and has all the ingredients that goes in as a side salad with kebabs.
Ingredients
Seekh kebab-1
Onion- 1
Tomatoes- 2
English Cucumber- 1
Parsley- a small sprig
Lettuce shredded- a handful
Olive oil- 1 tbsp
Pepper- a pinch
Salt- as required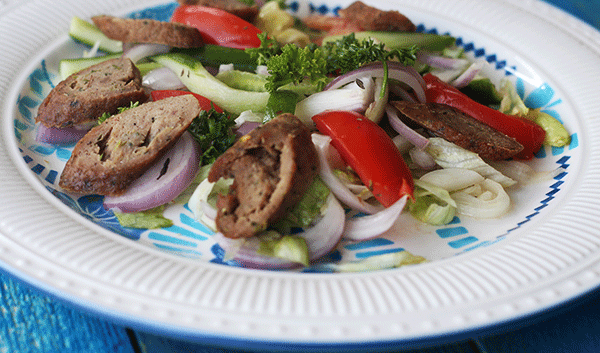 Directions
Steam or grill the seekh kebab and slice them diagonally. Chop the cucumbers, onions and tomatoes and tear up the lettuce. Prepare the dressing by mixing the olive oil, salt and pepper in a dressing bowl. Toss in the lettuce, cucumber, tomatoes and onion. Drizzle over the dressing. Add the sliced seekh kebabs and garnish with the parsley.
5. Guacamole Salad
This salad has all the tex-mex flavours in a salad box. It has the crunchiness of tortilla chips, spicy guacamole, red kidney beans and assorted veggies. I find this salad a westernized chaat at times :)
My twist here is I don't like the idea of salsa, sour cream and guacamole all served individually for a salad so I mix them up. So my guacamole would not look light green it would look more like a chettinad coriander chutney, But hey! that's the twist from an Indian brain :)
Ingredients for Guacamole Salad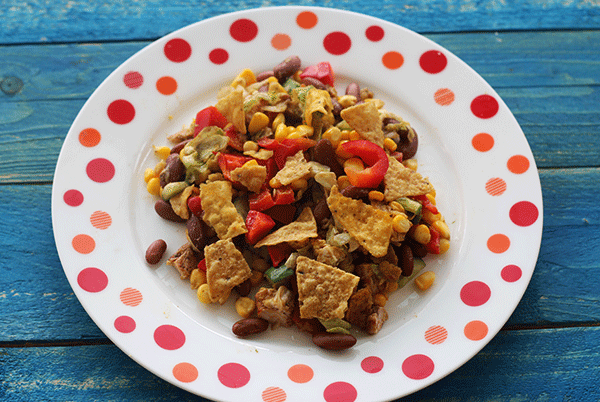 Ingredients
Cooked red kidney beans- 1 cup
Lettuce shredded- 1/4 cups
Boiled corn- 4 tbsp
Red bell pepper -1
Cucumber – 1
Avocado – 1/2 side scooped out
Tomato- 1
Green chilies- 2
Onion- 1
Garlic- 2 cloves
Cilantro- 1/2 bunch
Lemon- 1
Hung Curd- 4 tbsp
Vinegar- 1 tsp
Salt- to taste
Directions
Prepare the guacamole dressing as you start with the salad. This dressing can be prepared a day ahead especially if you have a party or a special meal to be prepared. This dressing goes well with grilled chicken and nachos as well. Scoop out half an avocado and puree it along with the onion, tomato, green chilies, vinegar, garlic and cilantro. Once you are done pureeing the ingredients add some hung curd and salt and that's my guacamole. Now for the salad toss in all the ingredients apart from the tortilla chips and lettuce. Add salt to the beans, corn and veggies as you toss them and now add a tsp of guacamole for a pre-mix. Line your serving bowl with lettuce and place the tossed ingredients.Serve with crushed tortilla chips on top and the guacamole in a bowl.
6. Tri colour Peppers and Sausage Pasta Salad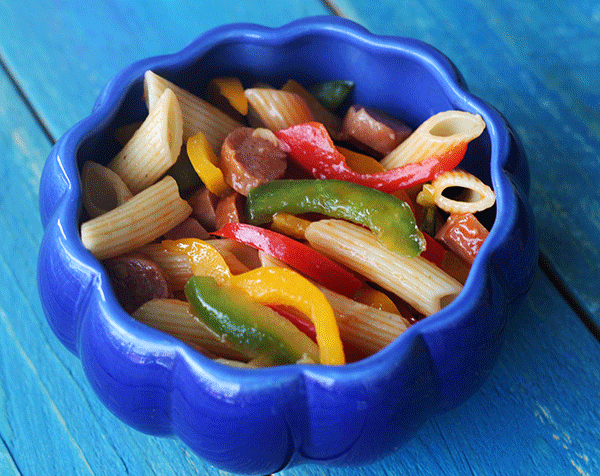 I had this wonderful starter which is called Chorizo in garlic sauce. But to my dismay this dish was nothing like what I had in my head. It was just one sausage and tri colour bell peppers in a garlic- tomato sauce. And I don't want to quote the pricing here but all throughout our lunch my mind kept telling me this dish had a lot of possibilities so back home I ended up doing this pasta salad.
Ingredients for Tri Colour Pepper and Sausage Pasta Salad
Chicken sausages- 2
Bell peppers (red,yellow and green)- 1 each
Garlic- 3 cloves
Penne pasta cooked- 1 cup
Onion- 1
Oregano- a pinch
Olive oil- 2 tsp
Tomatoes-3
Fresh basil- 5-6 leaves
Directions
Boil pasta as per package instructions and set aside. Fry the sausages and chop them up. In a pan prepare the sauce by sauteing garlic in olive oil followed by chopped onions and tomatoes. Add salt, finely chopped basil and dried oregano and let the sauce simmer till the tomatoes break down and make a thick sauce. Switch off the flame and let the sauce cool down. You can saute the diced bell peppers in oil for 2-3 minute before tossing them into your salad bowl, I prefer them raw though. To assemble the salad toss in the cooked pasta, sausages, bell peppers and the sauce in a mixing bowl. Give a gentle toss so that the ingredients get coated with the sauce. Serve immediately.
Phew! trust me curating this list and the photoshoot made me hungry and guess what I ate in the middle of all this frenzy? I had all of these salads mixed in a pop corn bowl and I had it and that tells me I am truly Indian. I can make a chaat out of my salads when hungry :) Stay tuned for more posts, remember to check this space on Monday for our porkaholic posts.