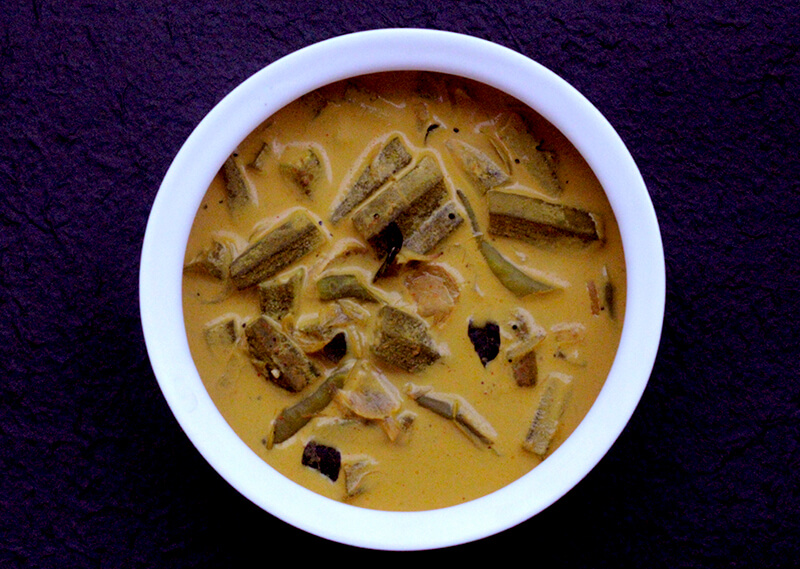 Ready to serve Vendakka Curry
Hey I cook vegetarian too. People often assume I love meats because of my frequent meaty posts ;) and when I went through the blog I realised it indeed looked that way. But this is also because I have not activated quite a lot of my posts, after migrating from blogger. I am re-shooting some old ones for better pics and this post was in that category for some time. This is the third time I shot this dish, that's how I am, I can do this on and on and still feel disatisfied. But the point is, I love veggies. I can survive without meat and not even bother. I chose to be vegetarian throughout my pregnancy for health reasons and Sarah is a thorough vegetarian. Okra also known as bhindi or vendakka in Indian languages, is one my faves. I think okra has a very distinct shape, texture and colour. I have spent quite a few years harvesting these with my mother.
This is one of my mom's favourite recipe which I guess my dad disliked for its coconut flavour. I never realised how much I loved this recipe until I got married and my hubby turned aversive to coconut milk curries. This happens to be my brother in law's favourite veg curry too.
I never use the traditional coconut milk as in I don't grated and extract milk from coconut.The coconuts I carry from home often dries soon and is never fit to extract coconut milk. And I never plan and make coconut base curries. So I always have sachets of Coconut milk powder as a substitute. Now typical Keralites would not approve of it but my hubby doesn't care much as he already is at loggerheads with coconutty flavour. I have heard long time back and seen recently the traditional way of extracting coconut milk which is to tightly tie up the grated coconut in a muslin cloth and twist it usually for feasts two people do this process. They hold the ends of a long cotton cloth filled with freshly grated coconut and twist it so hard that the coconut milk oozes out. Well I don't know if they do it anymore. I often become nostalgic when a relative of mine visits me and this is the first curry I plan for them. This time despite the rains, I got small tender okras. I was tempted to do kheema bhindi but I decided to go ahead with mom's recipe. So here's a treat from my mom's home town and I don't think any other veggie tastes this good with the coconut milk gravy. So do give it a try this weekend.
Ingredients for Vendakka thengapal curry
Okra/Lady's finger/Vendakka- 200 gm
Onion- 1 sliced
Ginger- 1 piece sliced
Chillies- 3 sliced
Curry leaves- 1 sprig
Coriander powder- 2 tbsp
Turmeric powder – 1 tsp
Garam Masala- a pinch
Salt – to taste
Coconut / sunflower oil ( I prefer coconut for this curry)
Vinegar- 4-5 drops
Coconut milk powder ( Nestle) two small packets
Directions
Chop the lady's finger into three pieces each.In a pan heat oil and fry the lady's finger so that they don't stick later. In the same oil saute onion, ginger, chillies and curry leaves. When it browns, add the curry powder ( a mix of turmeric, coriander and garam masala) followed by salt. An alternative option would be to mix the powders together in a small bowl with 2 tsp water and make a paste that can be added to the sauted onions. Once the gravy thickens add the coconut milk with half cup water and let it simmer.
Add the sauted lady's finger into this gravy after 10 minutes and let it simmer for 5 minutes more. Add the vinegar before you take the curry off the flame. Serve with rice and a stir fry. We often opt for fish fry over stir fries. And this time we had this curry with some sardine fry also known as mathi fry by us malayalees.
Stay tuned for the toddler post, the toddler just had her meal and went for a nap, see you soon.