I have been super excited ever since we got our Kenstar air fryer (hugs and hugs to Manno bhai). My recipes recently revolve around the air fryer. I was too lazy to even open the air fryer which was gifted to us by Manno bhai and it lay idel for nearly a month. And in fact Manno bhai had to come down and force us to open it and check out the features last weekend. But things got exciting after the exploration. I am not going to sell the air fryer through this post but I must say I am mighty pleased with the results. I do miss the crisp, oily fish fry but then for the sake of health, I have decided to forsake some pleasures in life. Now tilapia is a very under utilized fish considering how economical it is. I remember vaguely reading a recipe of baked tilapia somewhere, sometime back so I decided to try tilapia with tandoori flavours in the air fryer.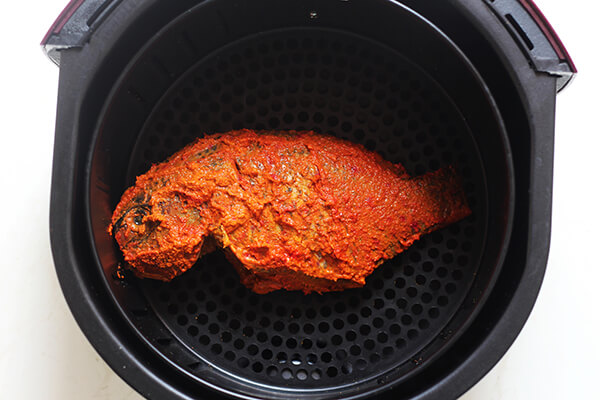 I was too ambitious when I started and I thought I would do my flat breads in the air fryer too, but then I was on a spree as usual. I had to finish the cooking, shoot and eating before Sarah woke up and so my experiments with flat breads and air fryer has been shelved until next time. I know the tilapia looks like the star onscreen but I fell in love with this Turkish flat bread.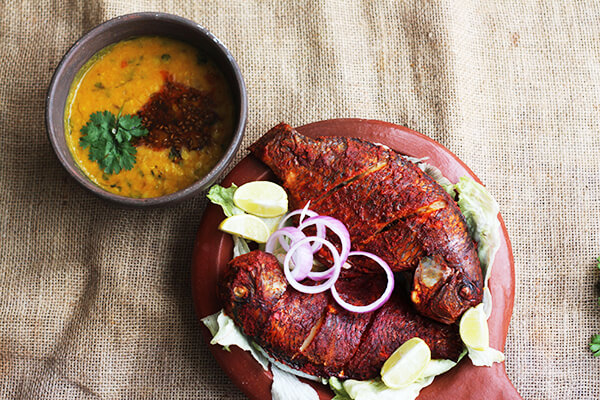 It has a tinge of cumin and ground coriander powder that tells you its Turkish indeed ! I am on this quest for recipes that does flat breads on stove top and I have loved 3 recipes so far and I guess once you start doing flat breads on skillets you would never be able to stop yourself. Plus not owning an oven would be your last excuse when you attempt flat breads the next time. Do they test better than their baked versions? Yes they do taste a bit different but I am happy with the skillet version. I haven't been able to blog all the recipes created for the Sunday series, I have been bus with Sarah, my orders, recipe writing and now I have an injury from last week on my index finger on the left hand. I neglected it and it got infected so now I am managing stuff with my right hand which makes cooking a difficult task these days. So I am mighty pleased that I did pull this meal and shoot with my hubby. The doc asked me if blogging and cooking was unavoidable and that's when I realized how addictive this whole life has been for me. And it has become more of a family ritual for both of us, something we look forward to every weekend. So here's our Sunday meal for the week and yeah its an air fryer special meal!
Ingredients for Tandoori Tilapia
Tilapia- 1 kg ( 3 fishes)
Ginger paste- 3 tsp
Garlic paste- 3 tsp
Chili powderr- 2 tsp
Turmeric powder- 1 tsp
Lime juice- 1 lemon
Salt- 1 tsp
Vinegar- 1/2 tbsp
Tandoori masala- 2 tbsp ( I used my home made masala powder but store bought one works well)
Curd- 100 ml
Oil- 1 tbsp plus few drops for the fryer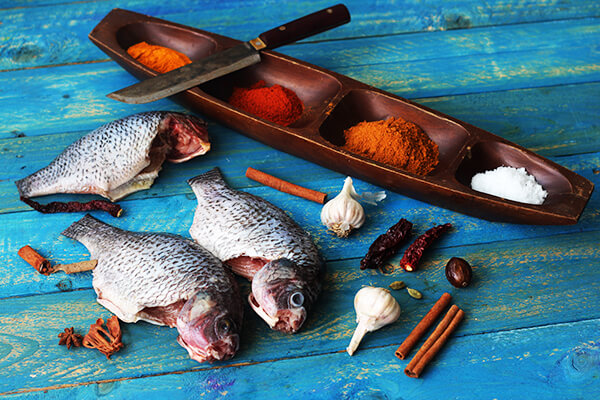 Directions
Clean the tilapias and marinate with salt, chili powder, turmeric powder and lime juice for an hour. Prepare a mix with ginger and garlic pasta, tandoori masala, curd, vinegar and oil. Apply this mix on the tilapias after and hour. You can add a pinch of red food colour or 2 tsp of Kashmiri chili powder for some colour though this step is optional. Marinate the tilapia and leave it on your counter top for 4 hours or refrigerate it overnight for better results.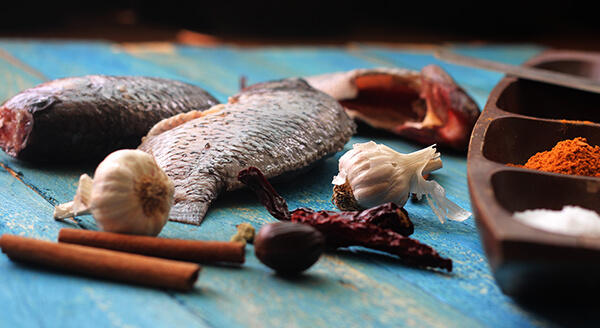 Once you are ready to cook the tilapias place them one after the other in your air fryer. Set temperature at 160 and cook each side for 5 minutes. Baste some oil before flipping over to the other side for a crispy texture. Serve with some lemon wedges and onion rings.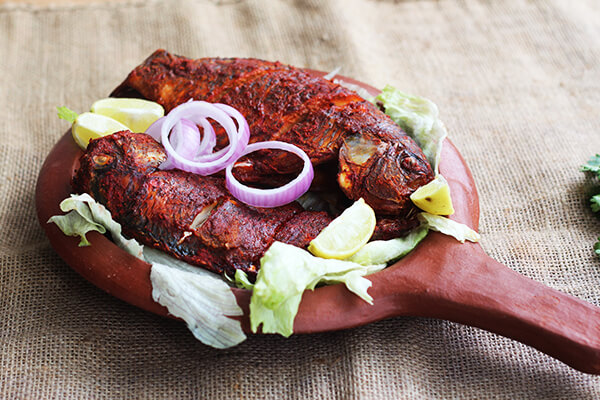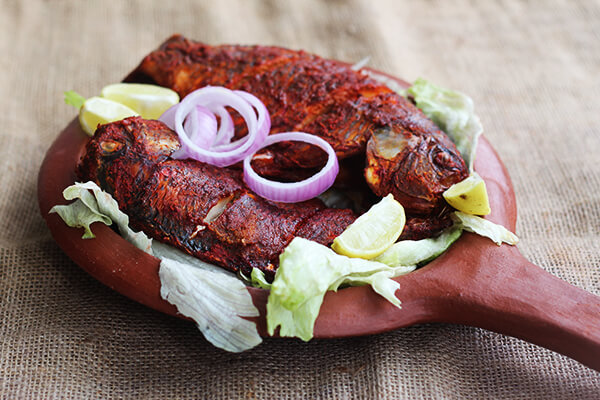 Ingredients for Turkish Flat breads
All purpose flour- 750 g
Yeast- 7 g
Salt- 1 tsp
Warm water- 300 ml
Cumin powder- 1 tsp
Coriander powder- 1 tsp
Oil- 2 tbsp
Directions
Add the flour, yeast, oil, cumin powder, coriander powder and salt in a bowl. Pour in the warm water slowly and start kneading the flour into a pliable dough. It is fine if the dough is slightly wet. Transfer the dough onto your working table and knead for 5 minutes, by now the dough would have become a bit firmer. Transfer the dough to an oiled bowl and cover with a damp towel. Place the dough in a warm place for an hour. After an hour the dough would have risen and doubled in volume. Punch the dough down, and make small balls. Using a rolling pin make flat bread using a little flour to dust while rolling these breads out. Heat a skillet and place the rolled out dough. They will soon bubble up as shown in the image below.
Flip the bread onto the other side and cook till the breads have red spots on both side. The flat breads will puff up in this process. Apply oil on both sides and take the flat breads off the skillet. Serve immediately with the tilapias and side dishes.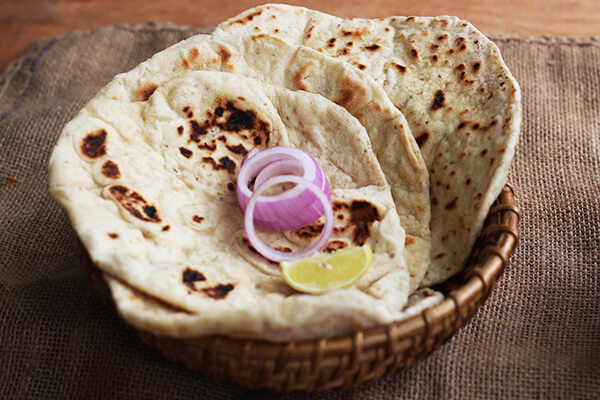 Note: Cover the dough with the damp towel even as you roll the flat breads out. If you start cooking on skillet after you roll all the breads keep the rolled out breads covered with a damp towel.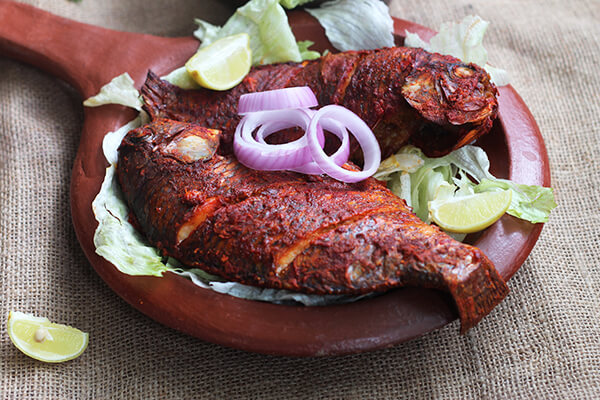 We had the tilapias and flat bread along with dal tadka. I am not sharing the recipe for the dal in this post, but I recommend the recipe from vegrecipesofindia. I think I find tilapias quite strong in flavour, they have a muddy flavour that I am not very fond of, I think pomfrets would make a great choice for tandoori fish. But if you love tilapias you could also try karimeen (pearlspot) for this preparation.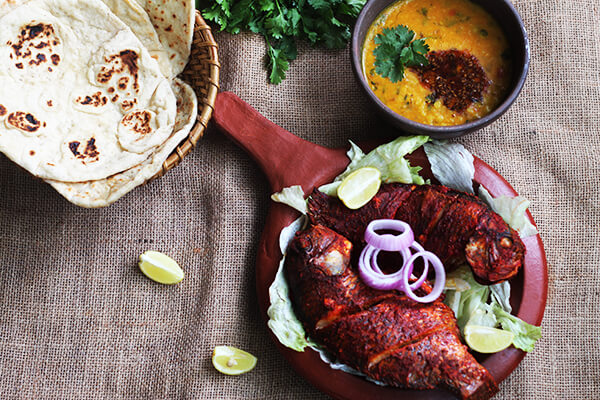 I hope to get back in action very soon, and I promise to share my tandoori masala recipe then. But if you are in a hurry, please check out this recipe for tandooir masala at jopreet's kitchen, mine is slightly different but I have tried this recipe too and it is very nice. Oh, and my vegetarian friends you should try tandoori paneer and tandoori arbi yep arbi they go well with this recipe and I am planning on being a quasi vegetarian on weekdays so I have treats lined up for you as well. So stay tuned for updates, my finger is killing me so till we meet again, stay blessed and eat healthy!