I woke up today craving for pancakes and I remembered a reader asking if baking powder could be omitted in pancake recipes. So I decided to omit baking powder today. I added 2 eggs instead and though the result wasn't as fluffy as the ones with baking powder where, I am happy we made it and it turned out good. Sarah loves savoury stuff over sweet so I decided to give her the flavour of mixed herbs. For us adults, I topped the pancakes with some chicken salami.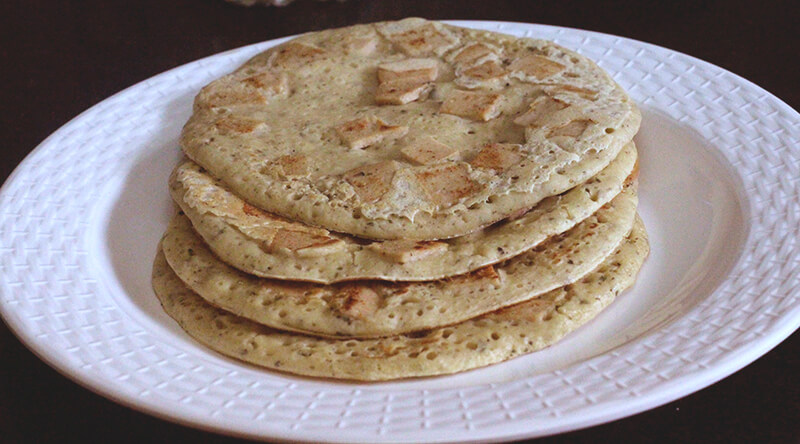 My cousin who had pancakes for the first time told me it tasted yum and he polished off two of them, so I guess it was edible indeed. But Sarah is my critic. She spits or asks for more every time you give her food. This time when she tasted these, her eyes went wide as if she were trying to figure out the flavours. And she asked for more. So I packed three small pancakes for her day care. I am eager to see if her box is empty. I was in no mood to grate veggies but next time I will add veggies as well.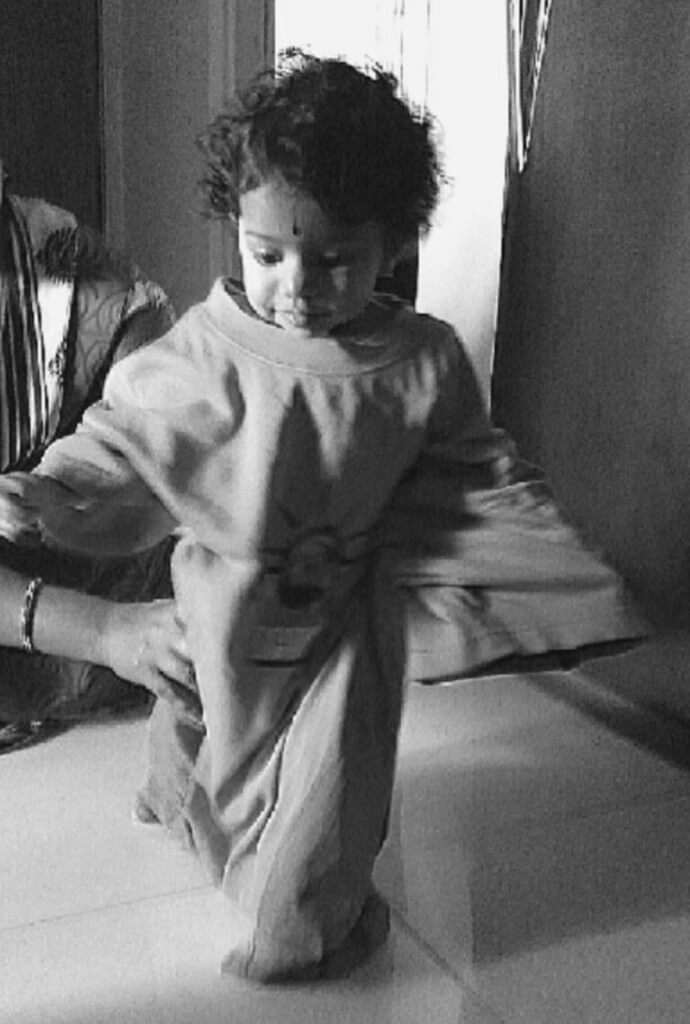 It's day 20 and I fell so good. I still have 345 days to go. People often ask me if it is possible to complete this challenge. It reminds me of the movie Julie and Julia and while I don't need to follow a book, which leaves me with lot of time to decide and play with what I want, it also makes me worried about the 345 new recipes in store for me. As for Sarah, I can see she is loving these experiments and the changing menu that ensures she does not eat the same thing twice. I remember reading David Lebovitz's article on blogging where he mentions how people fell off their chair when he said he has 50 posts in his drafts. I understand what he means. If you are a food blogger, you mean business, business in kitchen and the sky is your limit when it comes to recipes. Well its another challenge to do this daily and put it here. But having survived 2o days I am confident I will see the end of this challenge.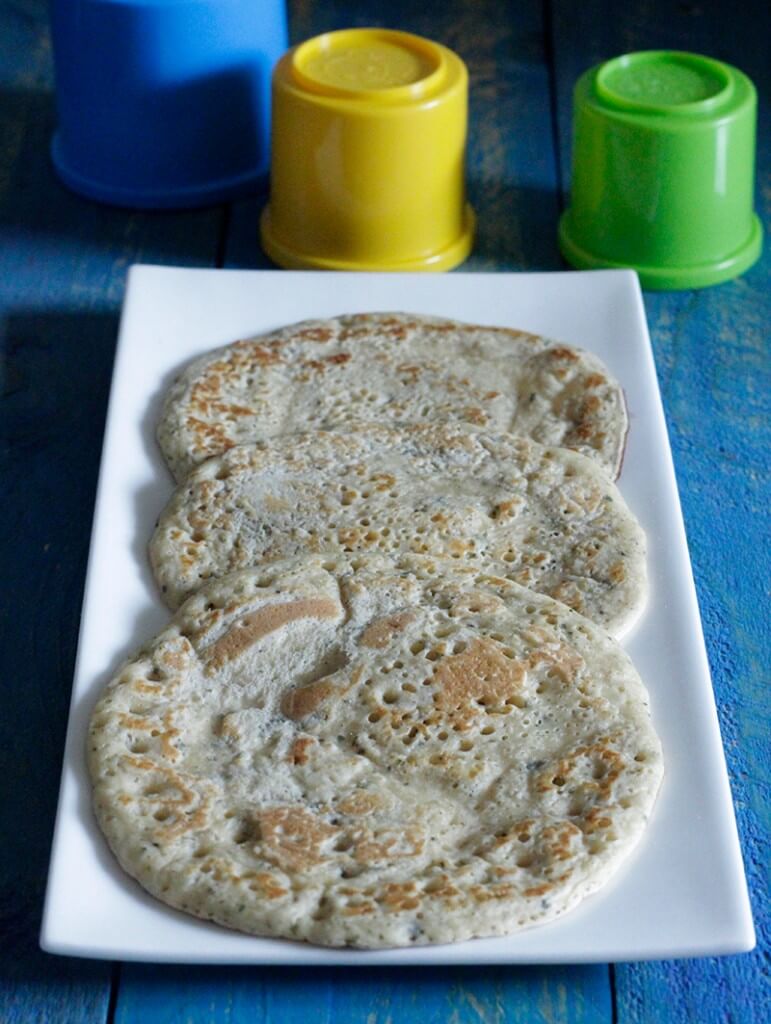 What I love these days is to try and make stuff we adults can share with Sarah, its like accommodating her world and asking her to share ours. Sarah has got her new rolling pin and board and as I go ahead with this challenge I can see her blooming in the kitchen, kitchen is where we mother- daughter play and bond. So stay tuned for more updates and try this recipe out.
Ingredients for Mixed Herbs Savoury Pancakes
All purpose flour- 1 cup
Whole wheat flour – 1 cup
Eggs- 2
Yogurt- 1/2 cup
Buttermilk- 1 cup
Basil- 1 tsp
Oregano- 1 tsp
Salt- a pinch
Pepper powder- 1 tsp
Butter- 2 tbsp
Directions
Sift the flour in a bowl and add the salt, pepper, basil and oregano. Prepare buttermilk by adding a tsp of vinegar to 1 cup milk. Let it stand for 10 minutes. Add the buttermilk, whisked eggs and yogurt to the flour mix and whisk properly using a thermomix or hand whisk. Heat a pan and grease the pan with some butter. Pour in a ladle of batter and cook it over medium flame. Flip over to the other side, after the pancake browns at the bottom. Cook for another 3 minutes and warm pancakes are ready. If you opt for the salami part, add bits of salami on top of the pancake as soon as you spread the batter. Cook it for 2 minutes longer after flipping to cook the salami perfectly.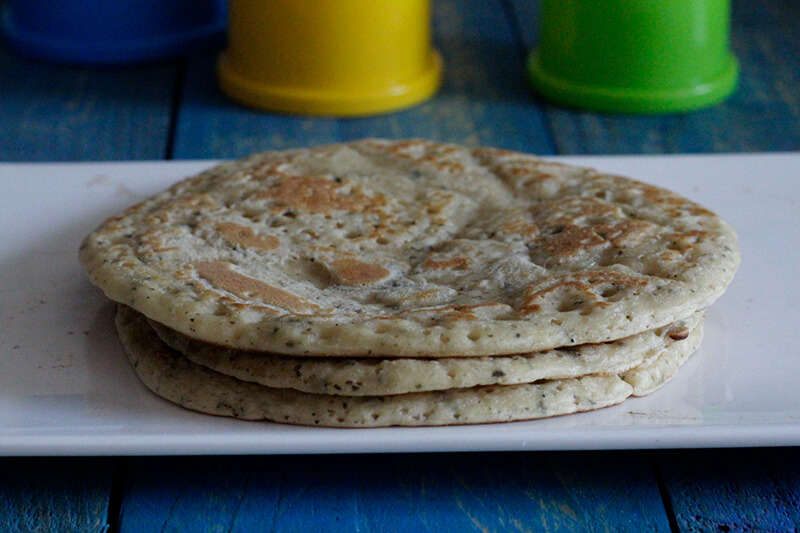 I am happy with the no baking soda, baking powder trick but I am sure I miss the fluffiness. And Sarah had 2 of them already for today. I am happy she loved herbs. Which means more continental stuff coming up in toddler series. And its still freezing here in Bangalore, gimme some sunshine lord!