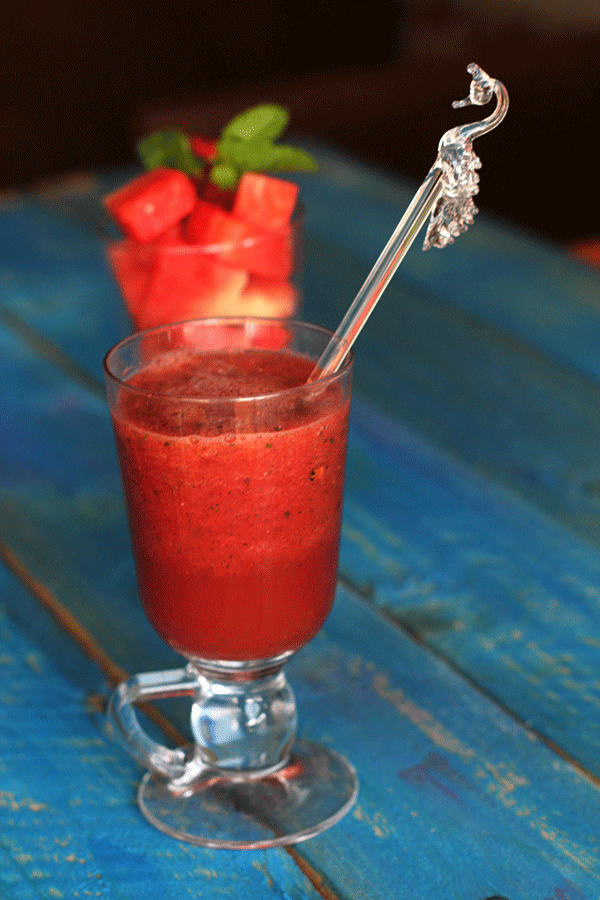 I never thought I would say this but Bangalore is hot!!!!! Having survived the Chennai summers for 6 years I thought Bangalore would be a respite but this year has been extremely oppressive. What I hate the most about this weather is that it makes me mercurial. I turn into the snickers heroine who is famished. Except for my irritation is not out of hunger but the weather. I envy all those who sit back and enjoy in their A/C offices. I even yelled at the State Bank employees for not processing my papers and relaxing in the A/C office. But then I look at all those poor souls engaged in hard core labour at construction sites nearby and I thank lord for giving me a roof on top of my head, a generator to keep my power supply constant and the money to run an air cooler.
So in my generous mood I decided to make this watermelon mint summer quencher. Mint and watermelon is a great combo but use the mint carefully and overdose kills the right flavour. Also I was in no mood to strain the juice and hence it was a bit pulpy which was no fun, I did rectify this error the second time but did not click pics. And this is what my madam did during the whole photo shoot, poor thing is an ad addict, she goes into neverland the moment ads begin and hence spared me the trouble of restraining her from going all over the props. I drank half of what I made during the process because my kitchen was burning like hell at 10.30 am. I know this should turn me away from cooking but nope it did not :)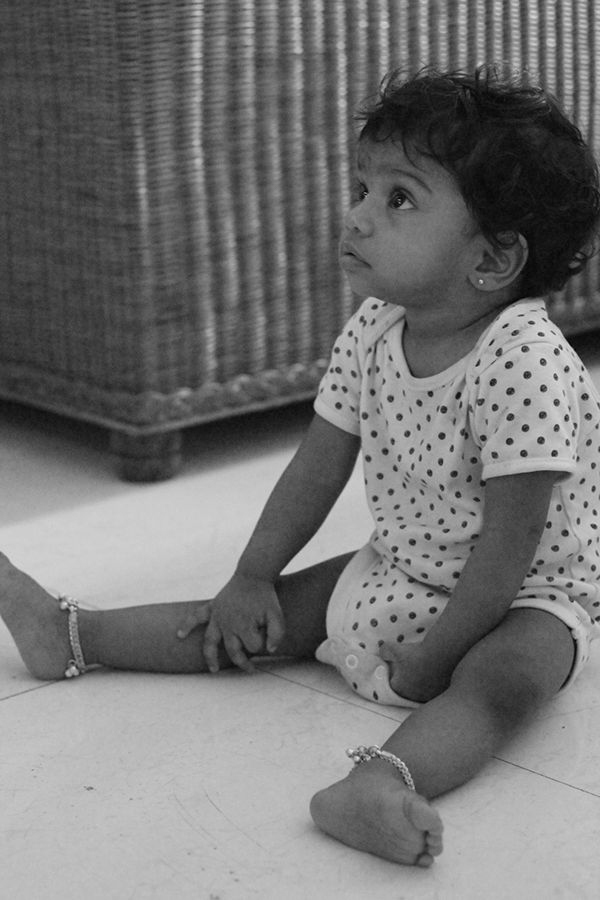 Ingredients for Watermelon Mint Summer Quencher
Watermelon- 1 kg
Mint- 5-7 leaves
Honey- 1 tbsp (optional)
Lemon juice- 1 lemon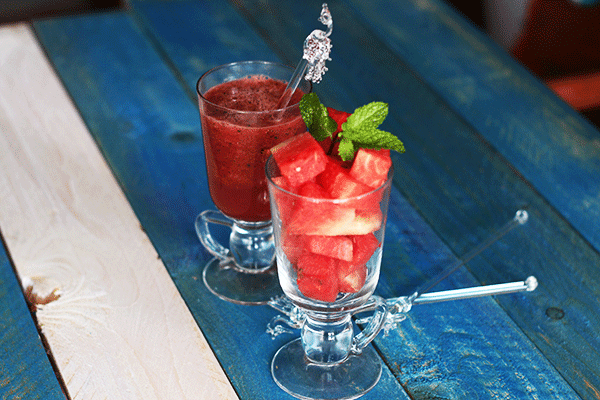 Directions
Cube the watermelon and take out the seeds. I use the dark green watermelon it has smaller and fewer seeds than the other watermelon. In a blender or juicer, blend all the ingredients mentioned above. Pass the juice through a sieve and then chill for 20 minutes. Serve with a sprig of mint.
Note: The same can be poured into a popsicle tray and chilled. To store the remaining juice you could also pour into ice cube trays and freeze and add it to any sort of liquor like vodka, gin or even sprite, 7up for a fizzy drink later. To make it peppy add come vodka and a dash of paprika for an exciting cocktail.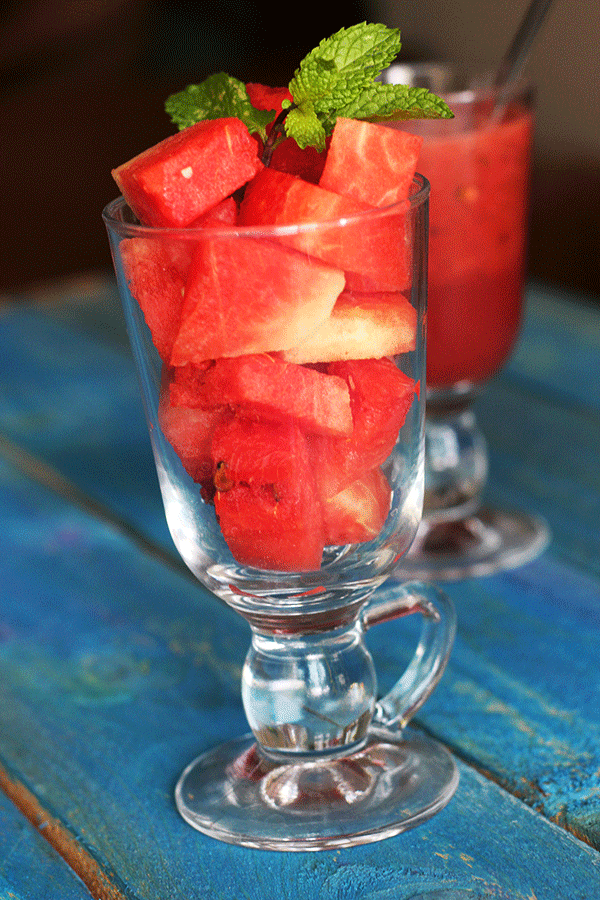 I love these cocktail stirrers got them few years ago from Dakshnichitra, Chennai from a guy who did glass blowing. Never used it until last week . He did quite a few designs on demand and I treasure them like crystal wrapped up in cotton. Anybody dropping by Dakshinchitra you should get these, they are worth having if you love cute props like me.
Now a days I often make something cool to drink and chill it while I go out, this is quite a respite when one steps in from heat, plus it curbs the tendency to pick up unhealthy packet drinks, a habit I was getting into recently. It is no big deal, but lazy as we are and spoilt by the availability of drinks in market, we end up consuming a lot of unwanted sugars. So this summer, I am gonna relax with my own mocktails and quenchers. I guess that is enough blah blah for now. So why don't you write to me on what recipes you would love to see here on this space this summer. Till then stay blessed, eat healthy!