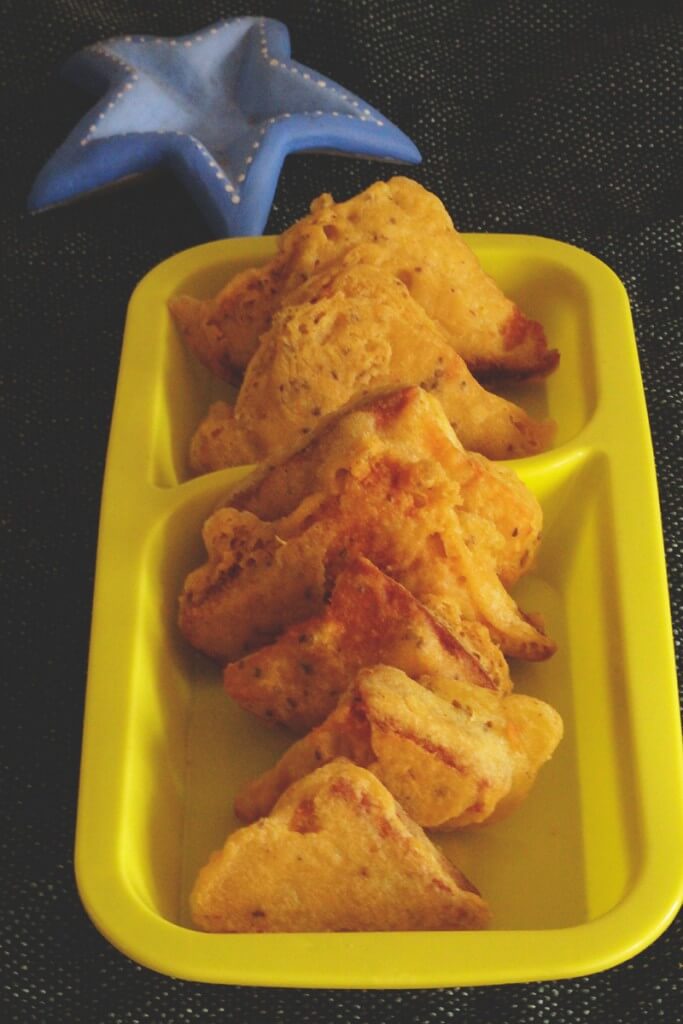 Yesterday was a typical day when I had nothing in my pantry. I had rushed to the hospital with Sarah after a sleepless nigh and an early morning with some busy orders in the kitchen. I was tired and when Sarah slept on the way back from hospital I thought I would get time to cook and do this blog post. But my fiery dragon woke up when we reached home and started to play. She was hungry but refused the porridge and soup which I thought was good for her cold. By 4 pm I was craving for tea and samosas and I had no potatoes. So I decided to use the leftover bread from breakfast and make pakodas. I have never made bread pakoda before because I hate frying. Nevertheless, I made mini bread pakodas hoping Sarah might want to binge on a slice. So after I fried 2 pieces, I came and sat with her and my cup of tea. She must have been hungry so she looked into my plate and gave me that "what's this mom" look. I ignored her and started eating doing a 'hmmmmmmmmm' at intervals. I know she has taken notice to the 'hmmmmmmmm' in five star ad on TV so she took one pakoda from me and ran to the sofa and started nibbling.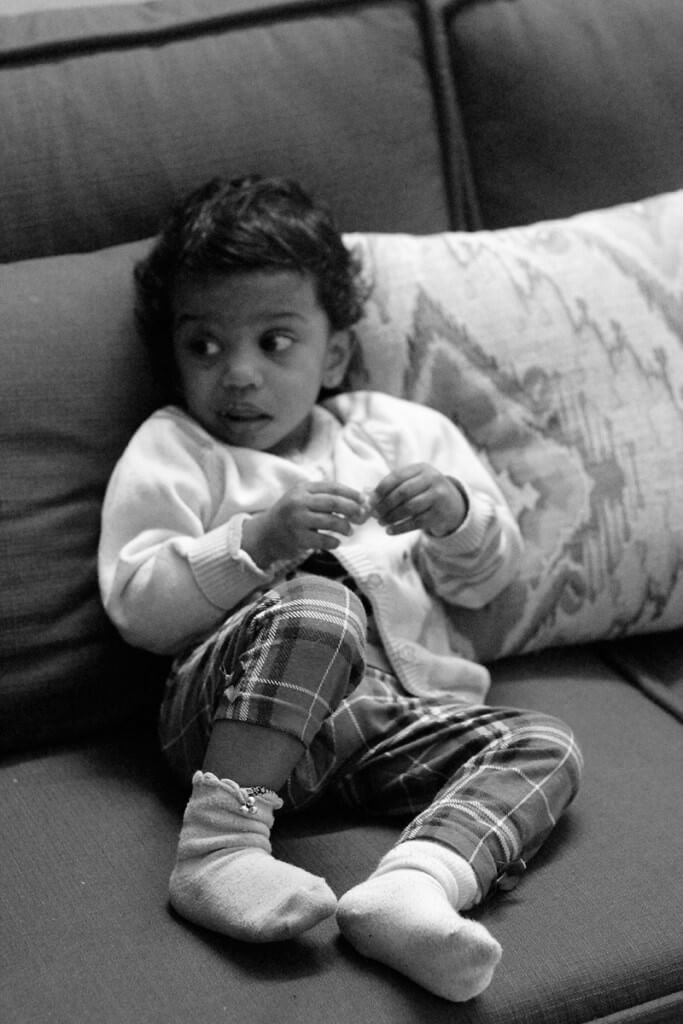 She was done with one and then she looked at me and I knew I had the challenge of the day nailed. Now I can't explain how hard it was for me to fry the next batch with her screaming and asking me for more and how I had to cool them out in the balcony so that she could munch on these. She had 4 pieces which would be 1 slice of bread. I was worried of gram flour allergy because my mom has a history. But Sarah was fine but then she was unwell by evening and hubby dear had to come early and work from home. He occupied the comp and hence I could not post the challenge.
Today morning she seemed quite her self and was trying these new tricks to make us laugh. She threw all her toys out of the boy we have given her to put her toys and stuffed herself into the box. When she saw we were amused, she started curling herself as a ball and moving her limbs.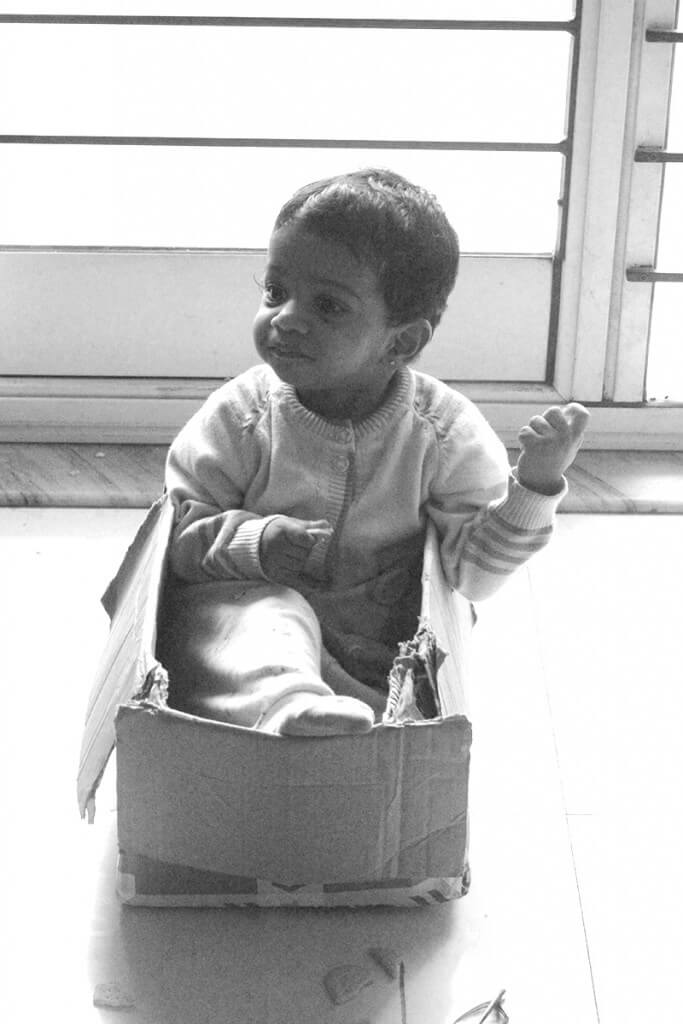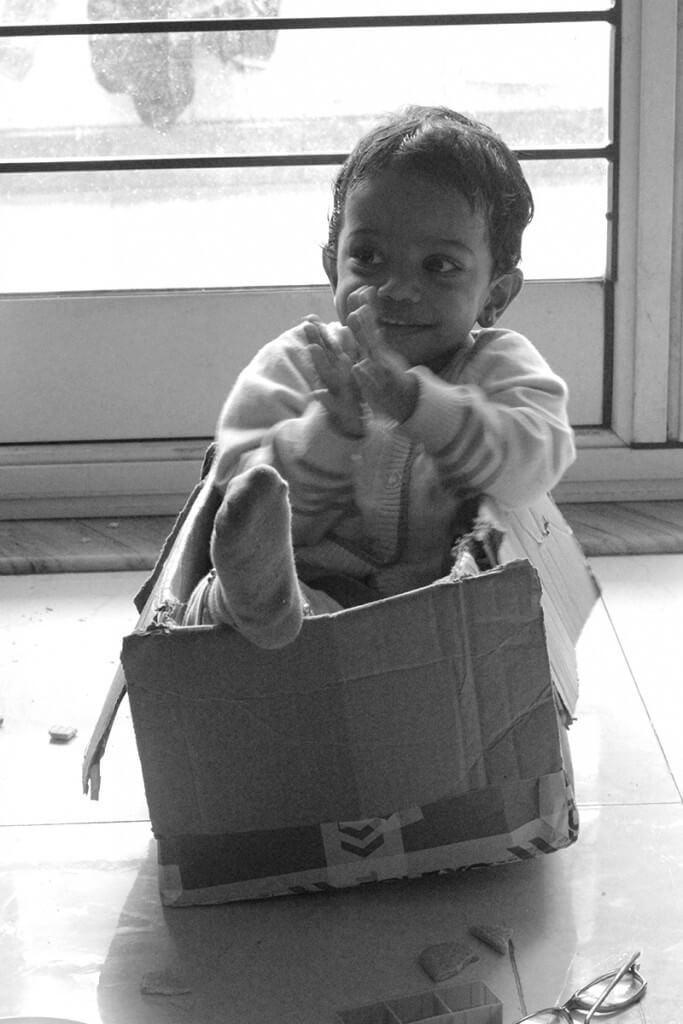 It was funny and I am amazed how creative kids are. I made this oats, green gram lentils and bottle gourd soup for her. I have realized that changing the plates or cups used for feeding has a great impact on kids. Today I pureed the soup and gave it to Sarah in the mason jar. I was worried she would break the bottle so I held it for and she was stuffed in her box so she drank the whole thing in few sips. Bottle gourd is great for soothing the tummy , oats is a must for Sarah in any form once a day and lentils was her dose of protein.
Ingredients with Mini Bread Pakodas
Bread slices- 2
Gram flour- 1/4 cup
Carom seeds- a pinch
Salt- a pinch
Water- to prepare the batter
Oil- for frying
Direction
Slice the bread into four triangles. In a bowl whisk together the gram flour, salt and carom seeds. Whisk to a thick consistency using very little water at first. The batter should be of dropping consistency. Heat oil in a pan and dunk the bread slices in the gram flour batter. Coat the bread slices with the batter and drop then bread slices into the hot oil.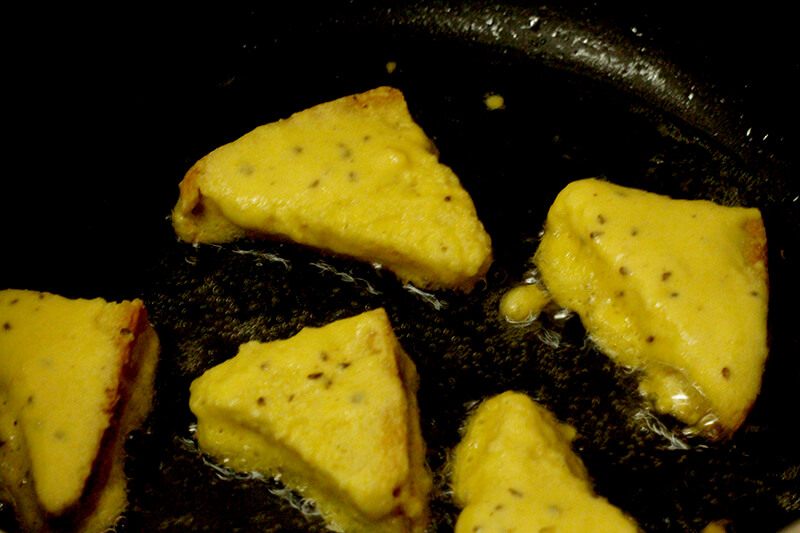 Cook over medium flame and flip over when the bread pakora is red. Cook both sides evenly till they redden and drain the pakoras on a plate lined with a napkin to drain the excess oil off. Serve it warm for your little one. Add a pinch of garam masala in the batter if you think your kid might like it and also a pinch chili powder for the older kids.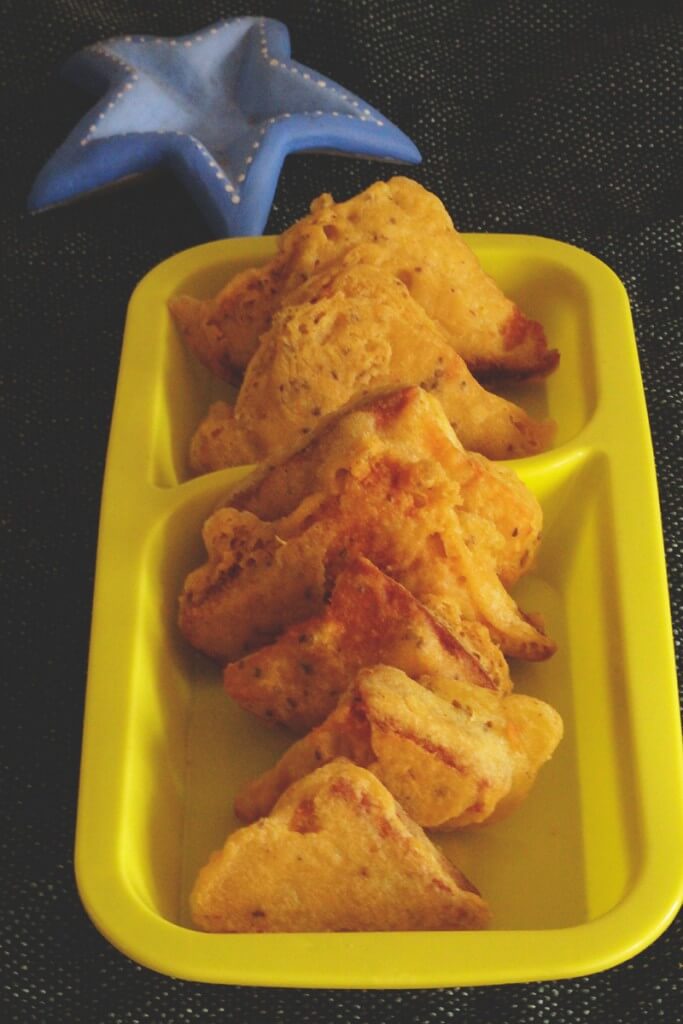 Ingredients for Oats and Bottle Gourd Soup
Oats- 1/2 cup
Chopped bottle gourd- 1 cup
Green gram lentil- 4 tbsp
Butter- 1 tsp
Salt- a pinch
Onion- 1/2
Garlic- 2 cloves
Cumin seeds- a pinch
Water – 2 cups
Directions
Heat the butter in a pressure cooker and add the cumin seeds first. After the cumin splutters, add the minced garlic cloves followed by chopped onions. Saute till the onion softens and and the peeled and chopped bottle gourd along with the washed lentils. Saute the lentils and bottle gourd for 5 minutes and add salt and water. Pressure cook up to 2 whistles. Once the pressure settles add the oats into the cooked gourd and lentils and cook the oats as per package instructions. Add water to keep the soup a bit thin. Add a dash of pepper too if you want it a bit spicy. Serve with a dollop of butter. If you puree it you can feed it through a straw like I did today. This might come handy especially when your kid has a sore throat and refuses to eat solids.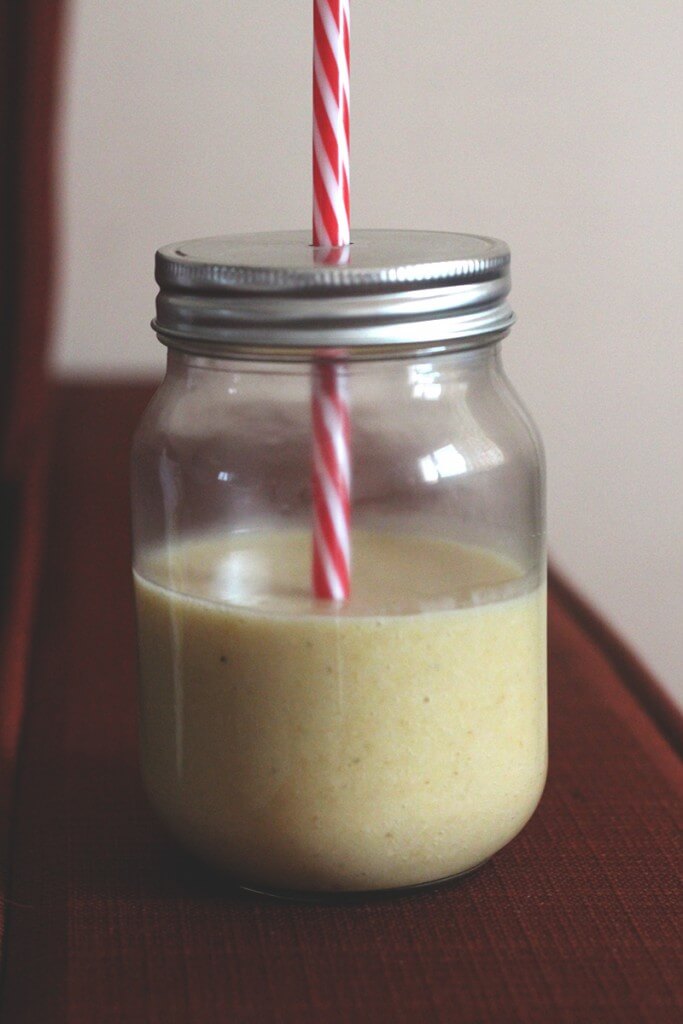 Its been a great day but I doubt I am coming down with a cold. It happens every time Sarah gets sick. But we mommas don't get sick leave so I will be back tomorrow with a new recipe. We have soaked our nuts and fruits for the Christmas cake. I don't like doing it too early because it smells off too much booze. Will share the recipe tomorrow.Till then eat healthy, stay blessed and stay tuned for a new post here.