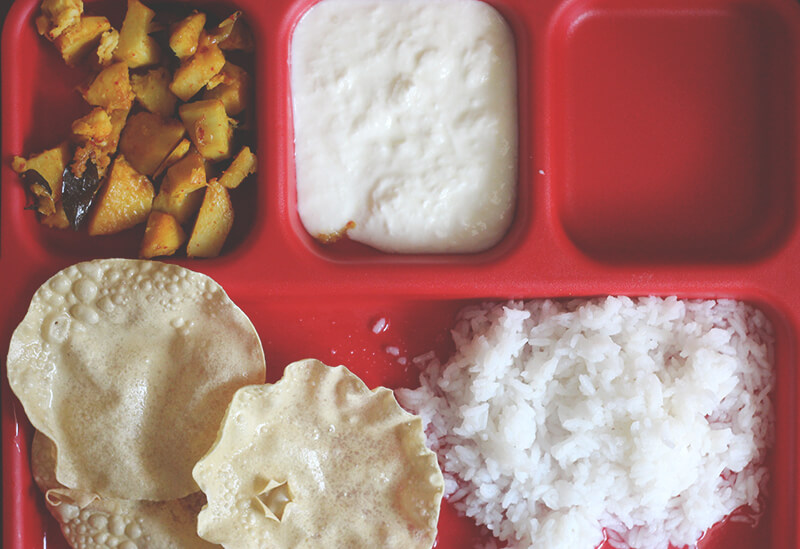 Chembum Kanji…. I am drooling as I type this… I have a weakness for kanji, so did my mom. I often think of giving up rice but puttu and kanji pulls me back. So I wanted Sarah to like kanji, that way I could make it our family meal once in a while. And guess what she has it in her genes I guess. She did not fuss over this meal today. Maybe it was this red plate and too many items that distracted her. For a change, I let her play with food today. She dipped the papad in curd, played with curd, fed me bits of papad and I wish someone could have captured those moments. Colocasia or chembu as we call it, is a soft tuber and I just love its texture. We love it spicy but for Sarah's sake we made it quite bland. This whole challenge has taught me many lessons. As parents we often have one bowl, plate for our kid and we often want them to associate their feeding to these plates and cups. But I think serving in different plates excites kids, especially if it is a plate we elders use. Similarly stacking a lot of items, though they kid might not finish them all, is another trick to get them interested. I add a side salad or dessert in her meal these days to let her play as I feed her. My attempts to let her use the spoon ends up messy, she does not eat much, but I do it to initiate her into feeding herself.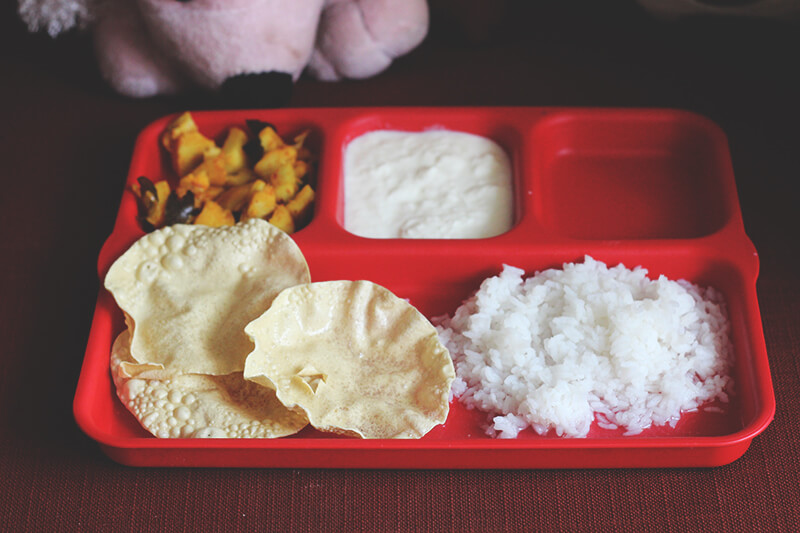 Little miss sunshine was fascinated with the pressure cooker lid today and despite my protests, she is sneaking my pots and pan outside the kitchen into her play area. I don't blame her, I was just the same, I did not want to condition her by getting her a model kitchen but it seems like she needs one soon, so that I get my toys back. The pressure cooker lid helped me today by engaging Sarah throughout her meal. It gets a little messy feeding her these days.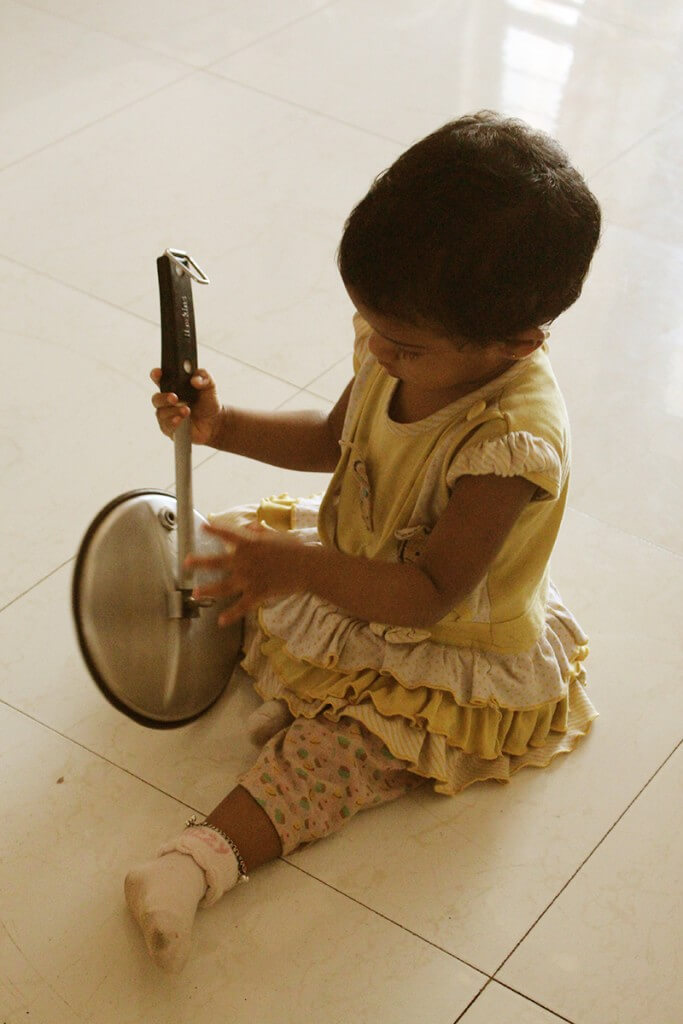 Sarah's meal today had kanji, chembu mezhukupuratti, pappad and curd. Kanji is a rice gruel and we have it as a regular meal. It is the nearest to a soup to malayalees in the rainy season. I have shared the recipe in a previous post so you can find it here https://www.perucontact.com/kanji-kootaan-memoirs/. I will share the chembu mezhukupuratti recipe in this post.
Ingredients for Chembu Mezhukupurati
Chembu/Colocasia- 250 g
Shallots- 6-7
Garlic cloves- 6-7
Turmeric Powder- 1/2 tsp
Chili flakes- a pinch
Salt- to taste
Oil- 1 tsp
Curry leaves- 5-6 leaves
Directions
Peel the colocasia and cut them into medium size cubes. Heat oil in a pan and throw in the curry leaves. Saute them for a second and add the minced shallots and garlic. When the garlic and shallots brown, add the turmeric and chili flakes. Saute them over medium flame for 1-2 minutes until their raw smell abates. Add the colocasia pieces and salt after this and cover and cook over low flame for 5 minutes. Keep stirring in between and ad 1/4 cup water to cook further. After 5- 8 minutes, check if the colocasia has cooked sufficiently. Switch off the flame and the curry is ready. Serve with kanji, papad and curd.