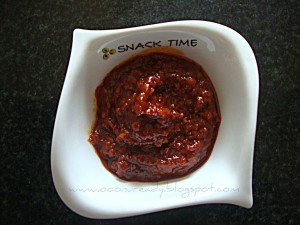 Apart from the traditional Kerala ginger curry we make for Onam I had never tasted any other form of ginger pickle until I joined IIT Madras. Once in a while for lunch we had ginger pickle and ginger chutney for breakfast. So when my neighbour Rupa brought in some paniyaram with ginger pickle I was excited at the possibility of testing this recipe. After receiving my instructions from Rupa and altering it a bit here and there I made this awesome pickle that swept my in-laws on their visit for Easter. We still have it on our dining table and it's become a part of our daily diet. Ginger is considered a great digestive agent and immune booster so using lots of it in one's diet will do no harm. Rupa's recipe was too spicy so I reduced the amount of chilli powder that went into this pickle. This pickle also led to the discovery of a new chilli powder I had not noticed till then. It's Ashirvad's red and hot chilli powder which gives both the colour and spice to this pickle. I am surprised at how it has lasted without getting spoilt even despite my careless exposure of this pickle. I am a great fan of Andhra pickles and my faith in them have increased manifold since this experiment. So here's a simple recipe for all my pickle lover friends out there.
Ingredients for Andhra style ginger pickle
Ginger- 250 gm
Red chilli powder- 125 gm
Tamarind- 250 gm
Jaggery – 250 gm
Garlic- 2 pods
Salt to taste
Mustard seeds- 3 tbsp
Curry leaves- 3 sprigs
Oil- 200ml
Directions
Wash and peel the ginger. Slice them into small pieces. Add warm water to the tamarind and prepare the extract. In a pan add little oil and fry the ginger till golden brown. let it cool down. Grate the jaggery meanwhile. I used a weighing scale for precise measurements. When the ginger cools down grind it with the chilli powder jaggery and tamarind. Add salt to the ground mix.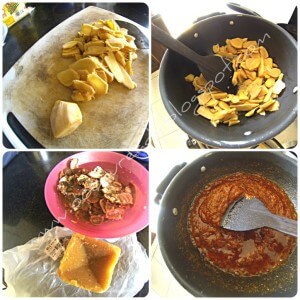 Heat the remaining oil in a pan and add the mustard seeds and curry leaves. You can add urad and channa dal if you like it in your pickles, I omitted this.
Once the mustard seeds splutters add the ground paste and saute for five minutes. our pickle is ready. You can substitute jaggery with sugar. My friend said she squeezed a lemon to retain the redness in the pickle. I am not sure of the scientificity of this claim but I did this too.