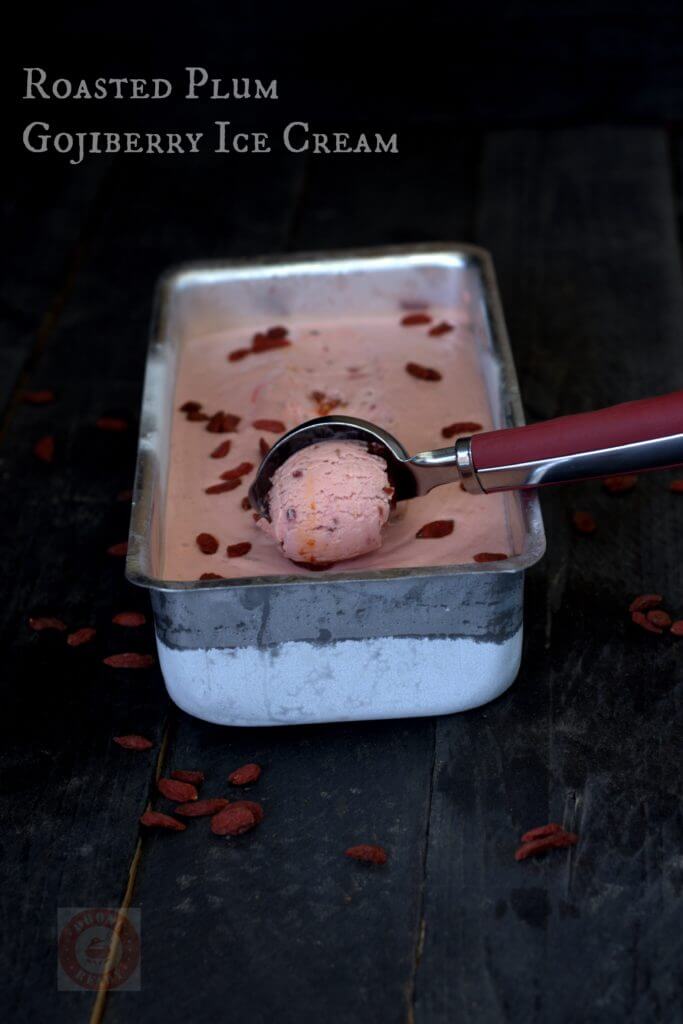 I have resisted making ice creams this summer. I was lazy too, to be honest. But Sarah's fondness for sweets made me decide to do ice creams. She loves cold stuff and even insists she be given chilled water. I found the ice creams out in the market quite sweet and we avoid giving her sweet stuff and so I decided home made ice creams could be a solution to controlling the sweetness part. I guess kids love the cold stuff and they lick off ice creams even if they aren't too sweet. They are fine as long as the can lick something that creates this cold sensation on their taste buds. Now I was clueless about what flavour I wanted to do. FB was flooded with ice cream recipes from my friends. And I wanted to attempt a red wine ice cream but that would cut Sarah out of the picture. I bought heavy cream and let it rest in my pantry for a month in search of the perfect recipe and finally one afternoon, I decided I was making ice cream. I wanted a no churn recipe but I was in no mood to beating my ice cream every 30 minutes. So finally I decided my no churn ice cream would be a one tip whip and freeze one.As usual I started checking my refrigerator for inspiration and I was even contemplating on zucchini or broccoli ice cream. And that's when I found these plums hidden behind few jars of pickle. I guess I had planned baking a tart with them but forgot them completely. And while I was checking my cupboards for some milkmaid condensed milk, got these gojiberries.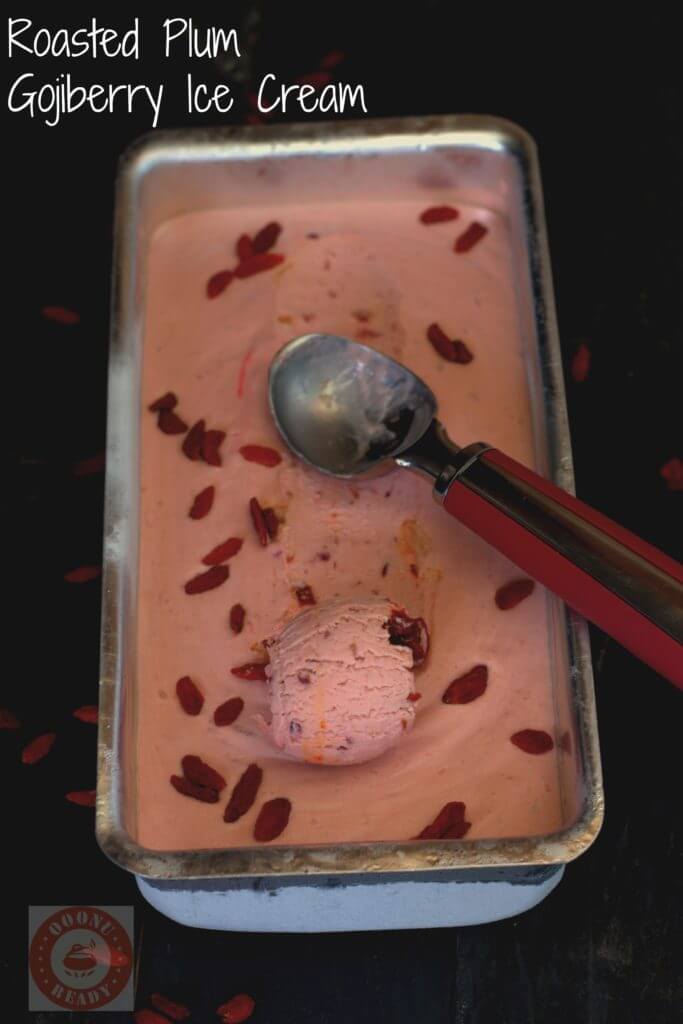 Frankly I had no clue what gojiberries where. My hubby ordered them online along while shopping for nuts and spices for Christmas. They were left alone and undisturbed for 6 months now and I thought they had to be put to some use. When I did read them up I found that they were known for their profound impact of weight loss, dealing with sleep disorders and they possessed anti-oxidant properties. I wasn't sure if Sarah would like them but she did not mind what flavour the ice cream was maybe the colour pink and the chilled effect won her over. So that's pretty much how this ice cream was born.
And my verdict on this one- well gojiberries are not something one would love instantly. They are dried berries with a bitter aftertaste and therefore ice creams are a good way of consuming them. I had some soaked and ground along with the plum puree but some I left in the ice cream for a crunch. Now I was ok with these but my cousin and hubby did not like them. But I made a milk shake with this ice cream today and everyone seemed fine with the milk shake and so that tells me, you should try gojiberries for a change maybe in milk shakes. Soaking them will reduce the bitterness a bit. But they aren't bitter like bitter gourd but they have a distinct flavour that one needs to learn to be accustomed to.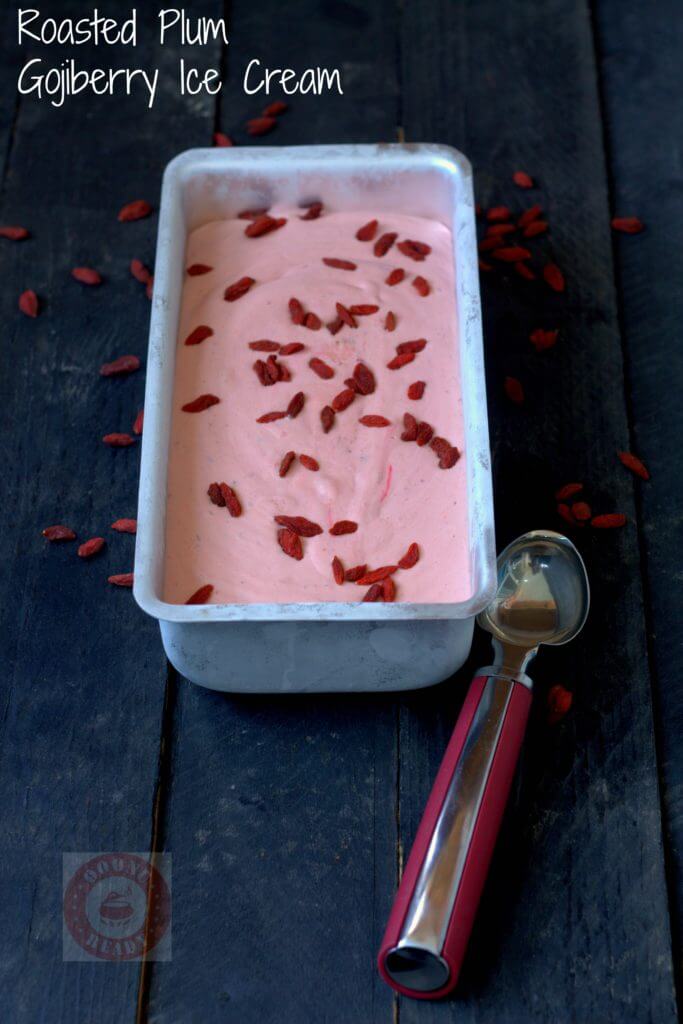 Ingredients for Roasted Plum Gojiberry Ice Cream
Heavy cream- 600 ml
Sugar- 1/4 cup
Plums- 200 g
Cinnamon-1 inch long stick
Brown Sugar- 2 tbsp
Gojiberry- 4 tbsp
Vanilla essence- 1 tsp
Directions
Roast the plums after pitting them. Place them in a baking tray and add the brown sugar and cinnamon stick. Bake for 20 minutes at 180 degrees.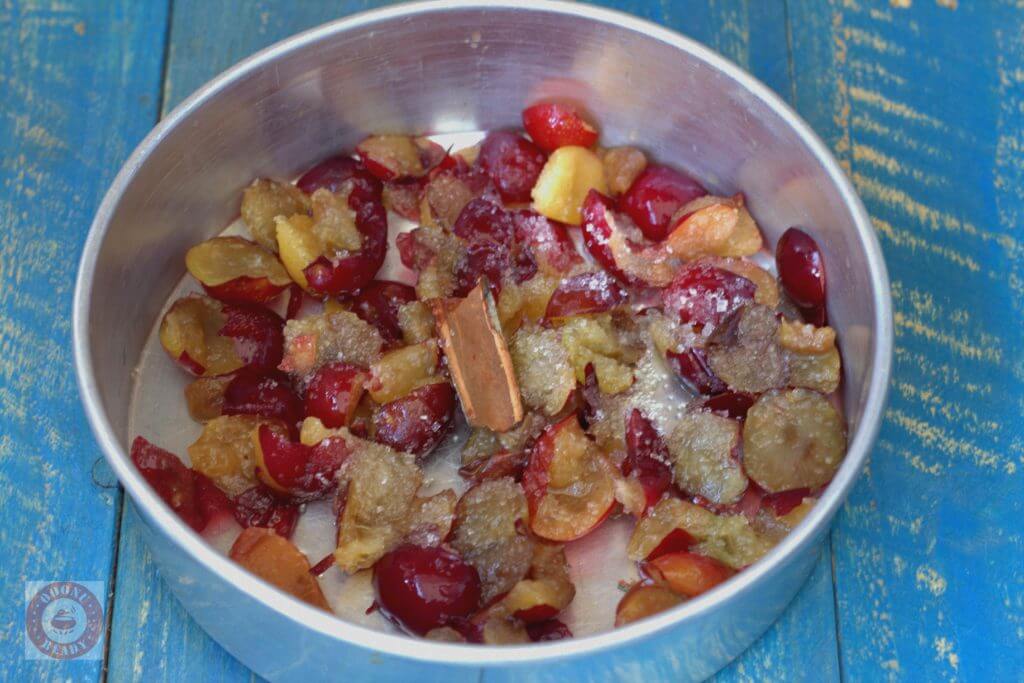 Soak 2 tbsp gojiberries around this time. And once the plums have cooled down after baking, puree them along with the soaked gojiberries. Whisk the cream using a stand in mixer to stiff peaks. Fold in the sugar and pureed plums. Mix gently with a spatula and sprinkle some un-soaked gojiberries. Transfer the ice cream to a tub and sprinkle some gojiberries on the top. Freeze for 8 hours before serving.
Sarah is going to finish the ice cream by tomorrow and I was contemplating on a new flavour by the weekend. I thought the rains would bring in some cold weather but it is hot again, so that means, there is more scope for ice creams. What flavours would you love to see here on the blog? Stay tuned for more posts on this space, they might delay a bit from now on for a special reason but you will have to come back to read about the new developments happening.