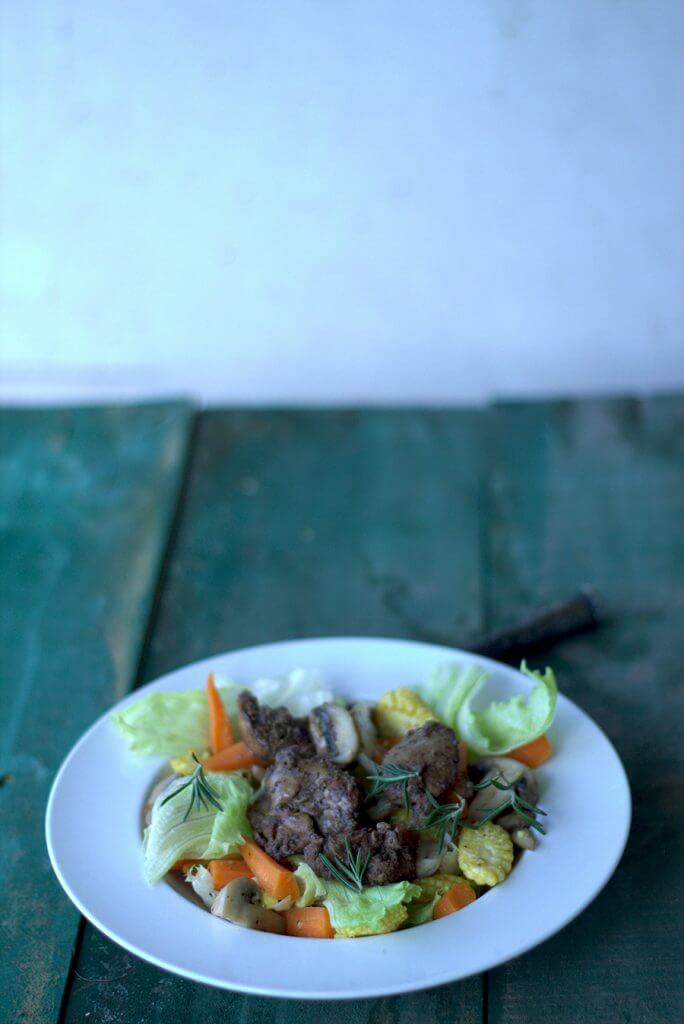 We love chicken livers but having it in our salads wasn't something I had ever thought of. So remember I told you guys we have started on with some healthy drinks early morning, the breakfast that follows these drinks is a citrus fruit and two boiled eggs. And for lunch we have salads. Now I must admit that I never was fascinated with this new diet. I miss carbs badly, but my hubby ensure we stuck to the diet and then we made this pact. I need my meat at least and then began this salad spree and its been 2 weeks now. We add lots of leaves, some protein and lots of veggies. I guess we are doing penance by eating as much veggies we could have missed out in the last three decades. Initially I felt a bit weak which could also have been psychological. But I see a lot of my colleagues taking the health route and we also are in an office which has no cafe to tempt me into binge eating.
This is one of my favourite salad from last week. Warm chicken liver salad- I named it so, because this a is a warm salad basically where I have sauted all my ingredients with butter, salt , pepper and rosemary.Rosemary with chicken livers taste divine. But you don't need to buy rosemary or rather let the absence of rosemary stop you to make this salad. I have used butter and olive oil to saute my ingredients.
Go ahead and try this salad and you will fall in love with salads like us. Go ahead and tweak the recipe if you want it slightly spiced.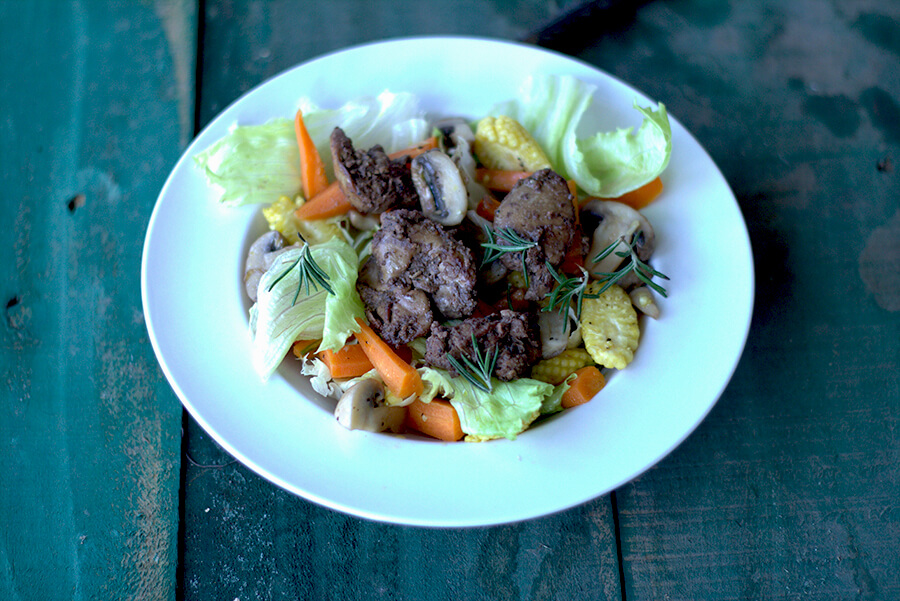 Ingredients for Warm Chicken Liver Salad (Serving: 2)
Chicken liver- 200 g
Carrots- 4
Mushrooms- 200g
Lettuce- 1 head
Baby corn- 200 g
Pineapple- 100 g
Rosemary- 1 sprig
Garlic- 4 cloves
Pepper- 1 tsp
Salt- to taste
Olive oil- 1 tsp
Butter- 1 tbsp
Directions
Clean the chicken livers. Remove the fat casing around them and wash them well.
Heat butter in a pan and when the butter has melted add the olive oil.
Add 2 of the minced garlic cloves and saute for a minute.
Add the diced carrots and saute with a pinch of pepper and salt for 2-3 minutes.
Add the sliced baby corn after 2 minutes of adding the carrots. Toss them around.
Cook them together for 2 minutes and transfer to plate.
In the same pan, saute the mushrooms with a pinch of pepper and salt.
Saute the mushrooms over medium flame for 2 minutes. Do not overcook the mushroom, they will release water.
Transfer the mushrooms to a plate and in the same pan add a 1/2 tsp butter.
Add the remaining garlic cloves set aside. Saute the garlic till they brown.
Add the chicken livers, salt, pepper and rosemary. Cook the livers the way you like them.
We cooked till they hardened. If you like them cooked just pink, cook them that way.
If you miss the Indian flavours, sprinkle some garam masala.
Once the livers has cooked well, transfer them to a bowl.
To plate the salad, layer the plate you wish to serve with lettuce. (Wash the lettuce over running water and dry them well)
Toss the veggies and top the salad with chicken livers. And the salad is ready to be served.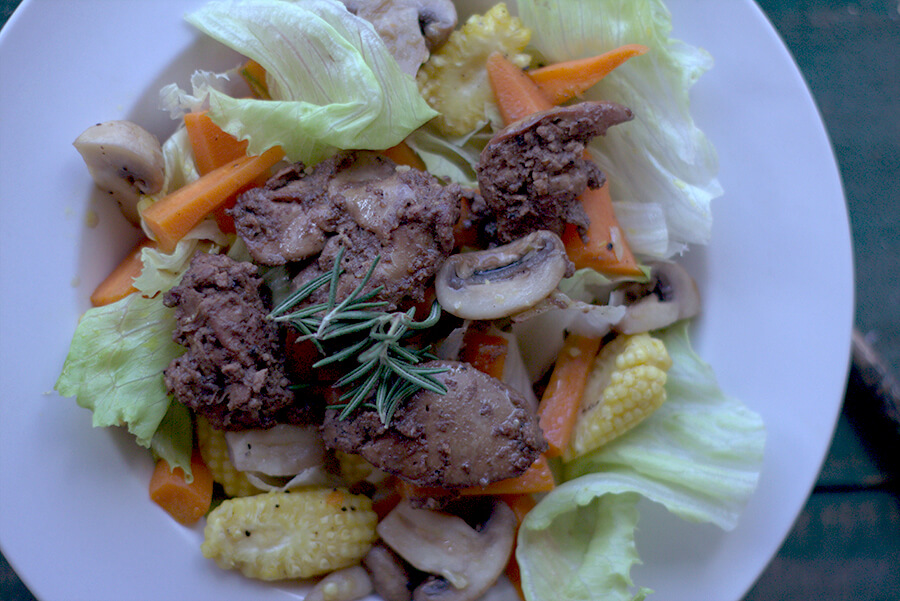 I am not finding time to click these morning salads but I do plan to shoot many of them when I prepare them the next time. It's cloudy and moody out here in Bangalore and I can't tell you how lazy I am these days. So if you guys don't write back to me, I am gonna hibernate this season :) So come on write back to me. And stay tuned for more recipes on juices and salads on this space.I am still not done with a lot of my old posts, I hope to revive them soon. But, in case you can't find an old recipe of mine, do write to me. Till we meet again, stay blessed and eat healthy!