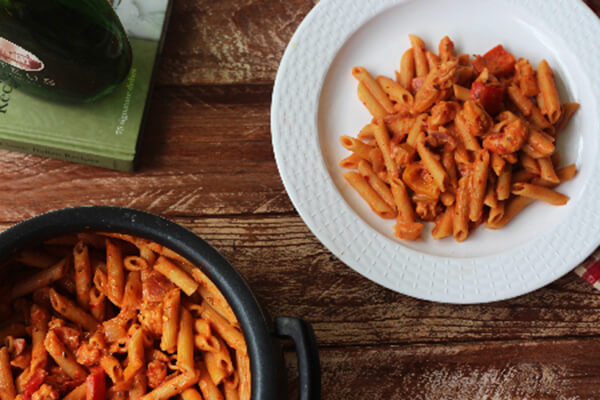 My love for Italy isn't a secret. I love any country that is obsessed with eating, art and aesthetics. I loved Italy at the very first sight for this reason. Everything about Italy makes me happy, the pizzerias, the gelatos, quaint cafes, art galleries, football, fashion, the music and their passion for passion :)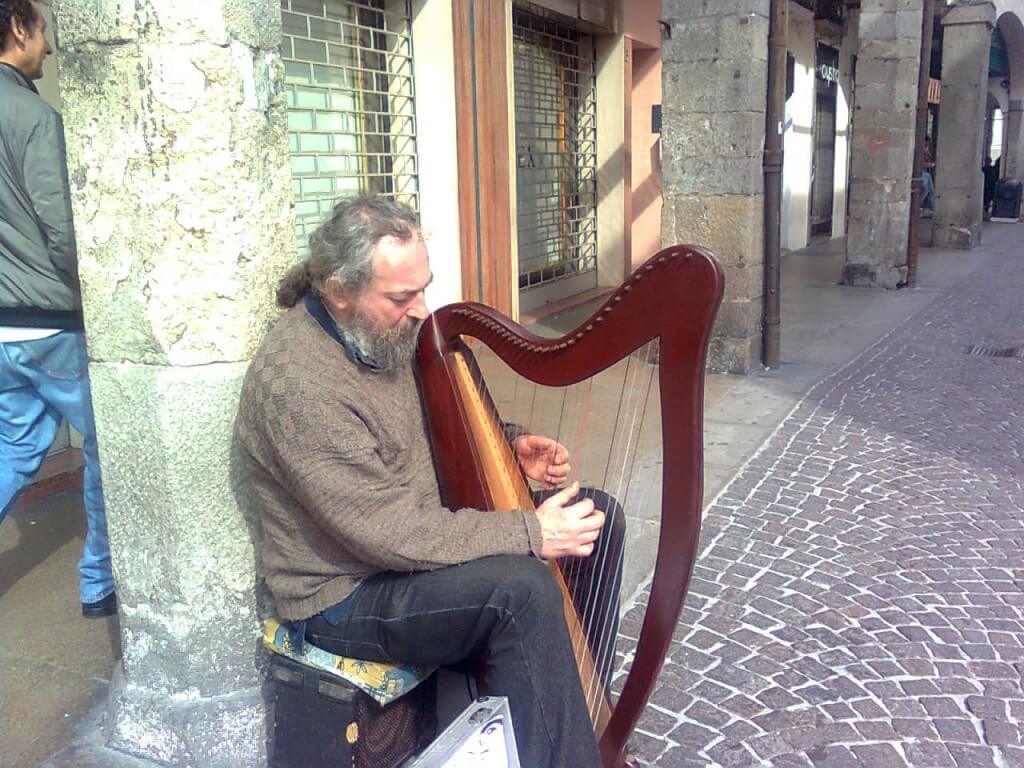 Gosh! How I miss those days in Italy and the 'young me'- newly married, immersed in research :) I never thought of blogging then, in fact when I glanced through my Italy days pics recently I was surprised to see these lovely veggies.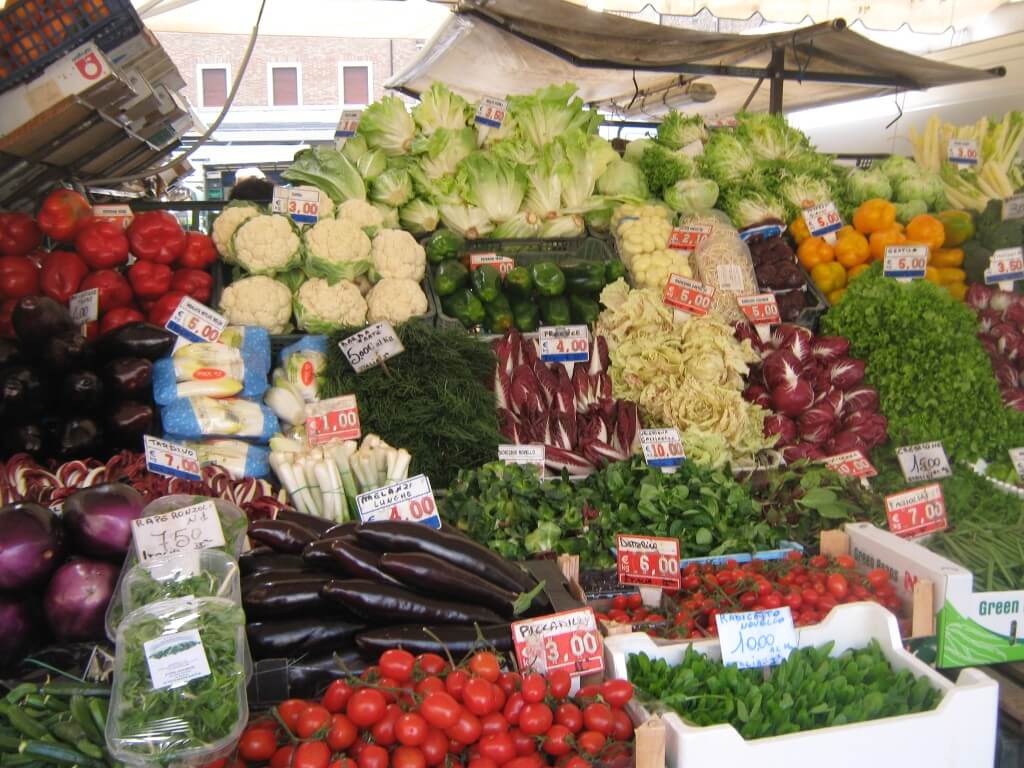 I wish I blogged then I would have skipped going to university and experimented with food. Maybe I would have quit PhD and done an apprenticeship in an Italian pizzeria :)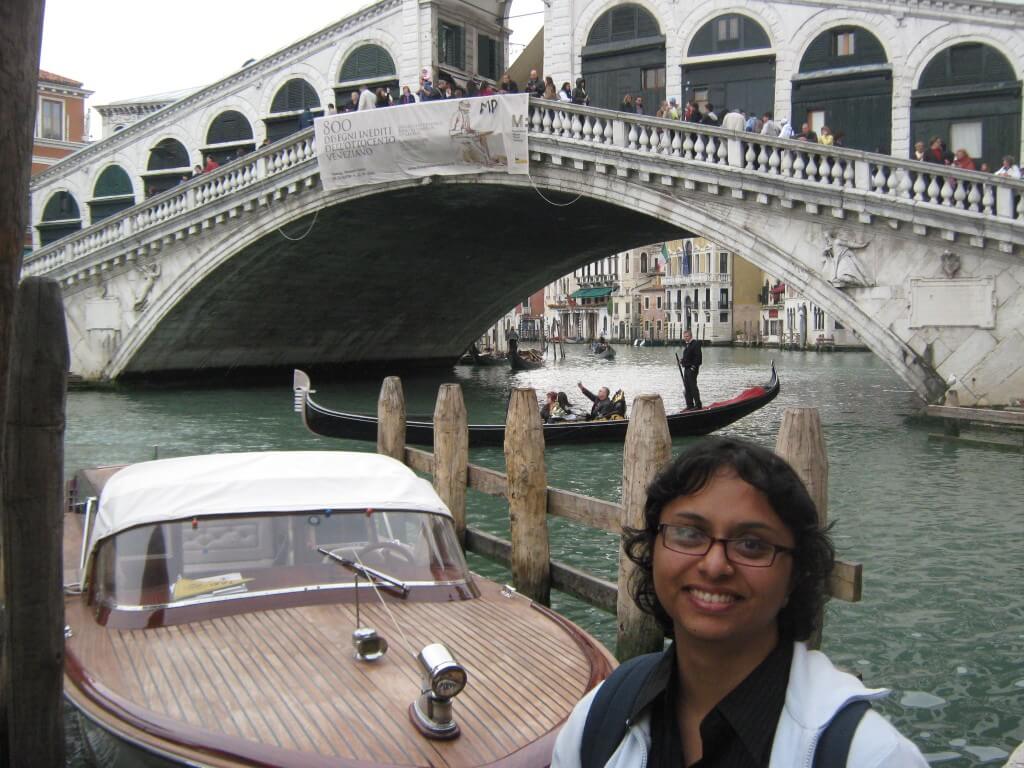 So when I miss those days in Italy and curse myself for not having done what I love to the core, I cook Italian :) . This prawn pasta was prepared for a bbq party with friends but we stuffed ourselves with a lot of starters (Achari murgh tikka, bbq wings, grilled pineapple, grilled sausages, beer can grilled chicken, grilled corn and Mutton nachos) and hence could not have the main course. I packed it off to our friends Delin and Monisha. This was our first party after the kiddo was born and she was too excited to sleep. I think I should write a post on how to prep for a party with a cranky toddler. But I enjoyed the gathering, I missed half of it because the kiddo kept me busy but it felt nice to have bhai and friends over. Oh yes! Bhai- the technical advisor, my sous chef for parties, my sounding board. Bhai's visits give me the opportunity to try new stuff because he agrees to be the guinea pig.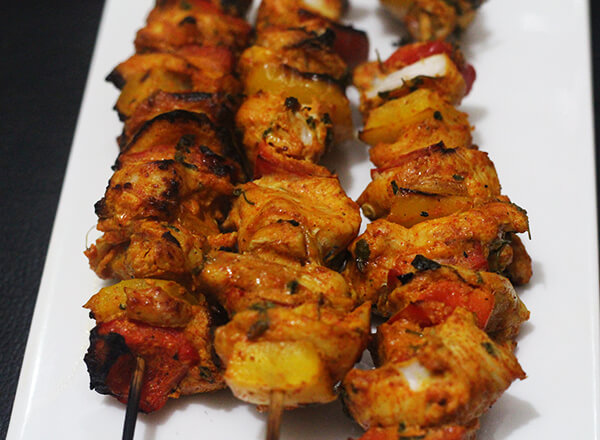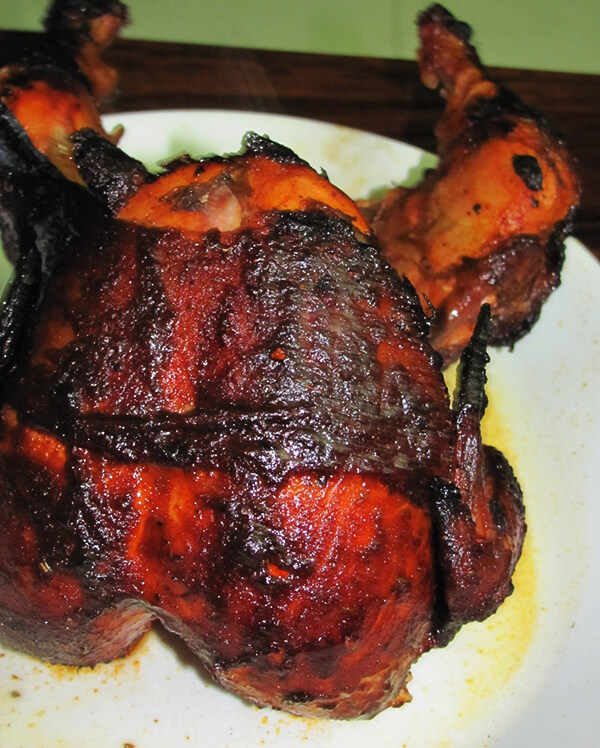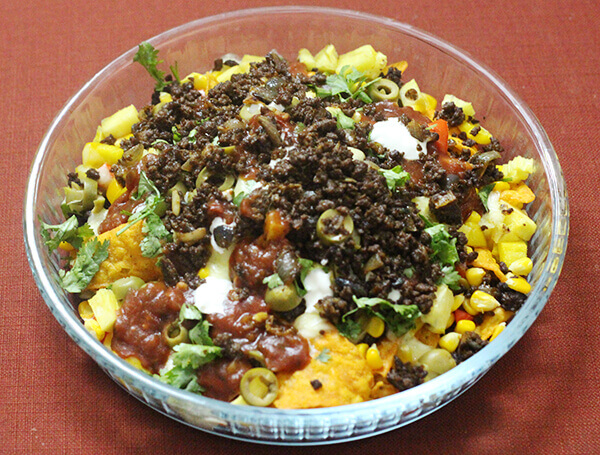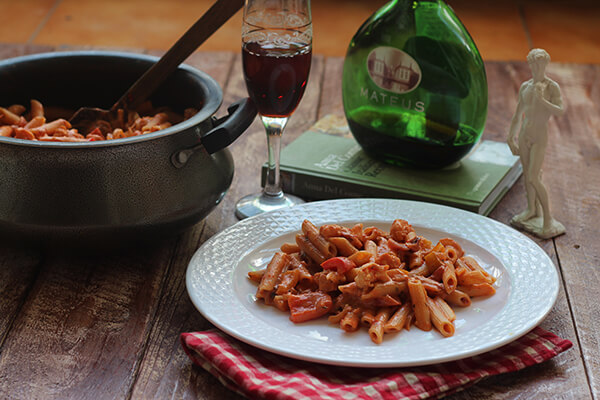 We had the prawn pasta for lunch the next day and I felt bad that I could not serve it to our guests. But they said they had theirs today and they loved it. I am not a fan of seafood but I had to use this prawns I got recently from Kerala. I was confused between pasta and prawn biriyani and prawn pasta seemed easy :) and it went well with the bbq theme.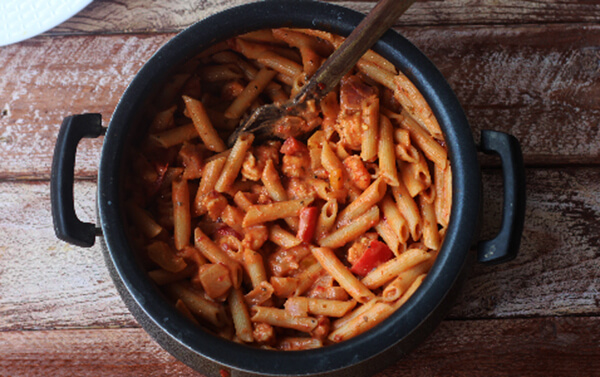 So now that I have blabbered enough I think I should share the prawn pasta recipe with you people. Personally I wanted more veggies but the men in the family voted me out. I loved the shoot more than the pasta :) I got out my favourite souvenir from Italy "David" from Uffizi and bhai's gift to me " Anna Del Conte Classic". I got to sip wine all throughout the shoot and so I guess I was an Italian all throughout the shoot.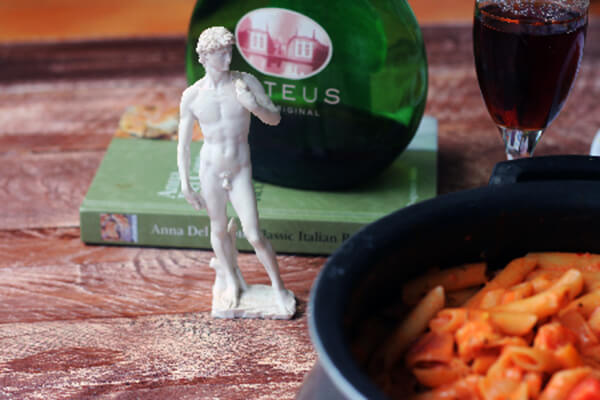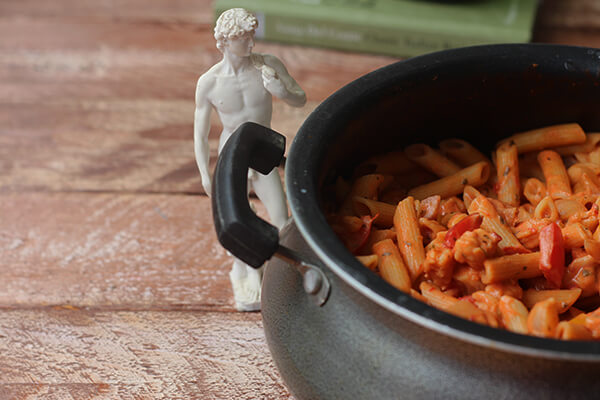 I think next time I will try a seafood pasta rather than the simple prawn pasta alone because some fish and clams would give this pasta a stronger flavour than just prawns. But for now here's the recipe.
Ingredients for Penne cooked with Prawns in Creamy Tomato Sauce
Penne Pasta- 500g
Prawns deveined- 700 g
Onions- 2
Tomato puree- 1 1/2 cup
Garlic- 8 cloves
Oregano- 1 tsp
Basil- 1 tsp
Chili flakes- 2 tsp
Fresh cream- 200 ml
Olive oil- 4 tbsp
Salt- to taste
Directions
Cook the pasta as per package instructions till al-dente (do not over cook the pasta). Pour cold water over the pasta as soon as you drain it, to prevent it from cooking further.Heat olive oil a pan and add the minced garlic. Saute for few seconds and add the chopped onions. When the onions wilt, add the tomato puree followed by salt and herbs. Let the tomato puree simmer over low flame for 5 minutes. Now add the prawns. I do brown the prawns in a tbsp of butter on other occasions but I did not, this time. Let the prawns cook for 10 minutes over medium flame. Now add the bell peppers. I like my bell peppers crunchy so I add them and stir for a minute or two. Add the cream and bring the sauce to boiling point. Reduce the flame and add the pasta. Cover and cook for five minutes and switch off the flame. I switch off the flame a bit early and let the pasta cook to perfection in the heat within the pan. If you are in a hurry you can cook the pasta a bit more and serve immediately. I wish I had some basil to garnish but the pasta was fine with the dried basil.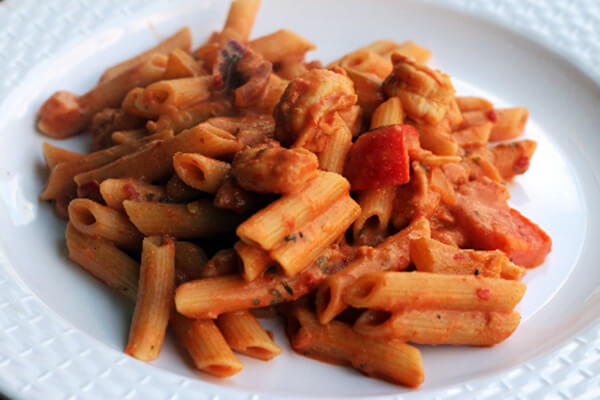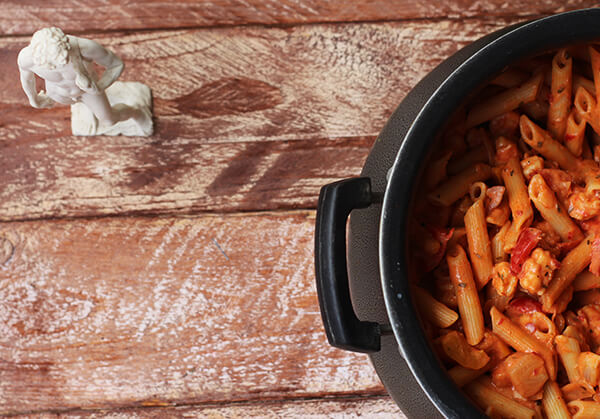 I did miss a slice of garlic bread so I had wine :) I loved the pasta and I found it even better the next day. And next time I am going to add some broccoli, parsley and zucchini, pair the pasta with some garlic bread and end it with a tiramisu. Mangiare come un Italiano- Eat like an Italian. So make it epic and go overboard, throw a feast no matter what day of the week it is and if you need help, get in touch with the Italian fan.