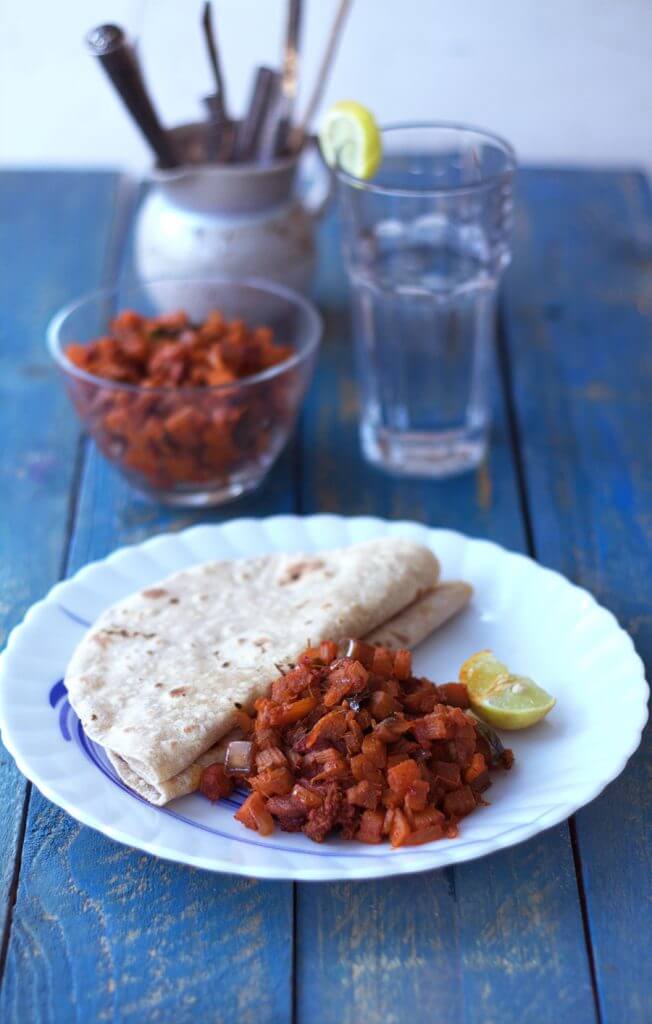 Chorizo banana stem stir fry is my way of keeping the indulgent balanced and healthy. We use banana stem a lot in our cuisine. It has a lot health benefits. The juice of this stem is believed to aid in weight loss, improve the functioning of your kidneys and it is a key ingredient in detox diets. We mostly cook the banana stem with green gram. Preparing the banana stem seem laborious to many because it is so fibrous- as you slice them, you see these fibres coming out and it also stains your hands which many resent. But the health benefits of banana stem is way beyond these little demerits.Banana stem in itself does not have a distinct flavour. So whatever you cook them with, lends the banana stem the flavour. I decided to cook them with some Goan chorizo today because the I knew the banana stem would absorb the fat and spices of the chorizo. It is a bit greasy but trust me, we are having it in small portions for this whole week. It just uplifts a simple meal of rice, dal and pickle, if you serve 2 tbsp of this stir fry on the side. You won't feel that you are having banana stem for your meal. And that smoky aroma that wafts over your home, will remind you this is worth a combo to try again.
We had banana stem juice for breakfast, I could not click pics this time, but I shall soon get you guys pics for that recipe. Trust me it is a very healthy juice to try out.
Some cuisines add slices of banana stem to fish curry, I am yet to try banana stem with fish, but I can assure you, we will be back with few combos of banana stem. Till then hope you will give the chorizo banana stem stir fry a try. And for non- pork lovers, I suggest you try cooking with some minced meat instead of Goan chorizo. Before I share the recipe, I shall share the tips to clean banana stem.
Tips for cleaning and preparing banana stem
Equipment required
Sharp knife
Bowl of water
small bowl with oil
Half a lemon peel
Directions
The banana stem is quite thick when you buy it. But you don't use the whole of it.
Peel the outer cover of the banana stems, mostly 3- 4 rounds of this activity is done before you get the inner pith.
When you start and press the banana stem with your nails, it will feel hollow, as you peel, this layer will look hollow.
If you cook this part,it will be chewy and will not taste good.
After you peel 3-4 layers, the banana stem will look like a tubelight, a bit thicker than the tubelight.
Press the banana stem at this point with your nail, you will hear a crunch, that is the indication for you to stop peeling.
Apply oil on your palms before you start chopping to prevent stains.
Cut both the ends of the stem that is black. And cut the banana stem in round into 10-12 slices.
Drop these slices into water so that they don't turn black.
Remove the fibre that comes in each time you slice the circles.
Stack 3-4 slices and chop them into small cubes.
Transfer the chopped slices into water to avoid them from turning black and store them in water till you drop them into the pan.
Clean your hands with the lemon peel to get rid of stains if any.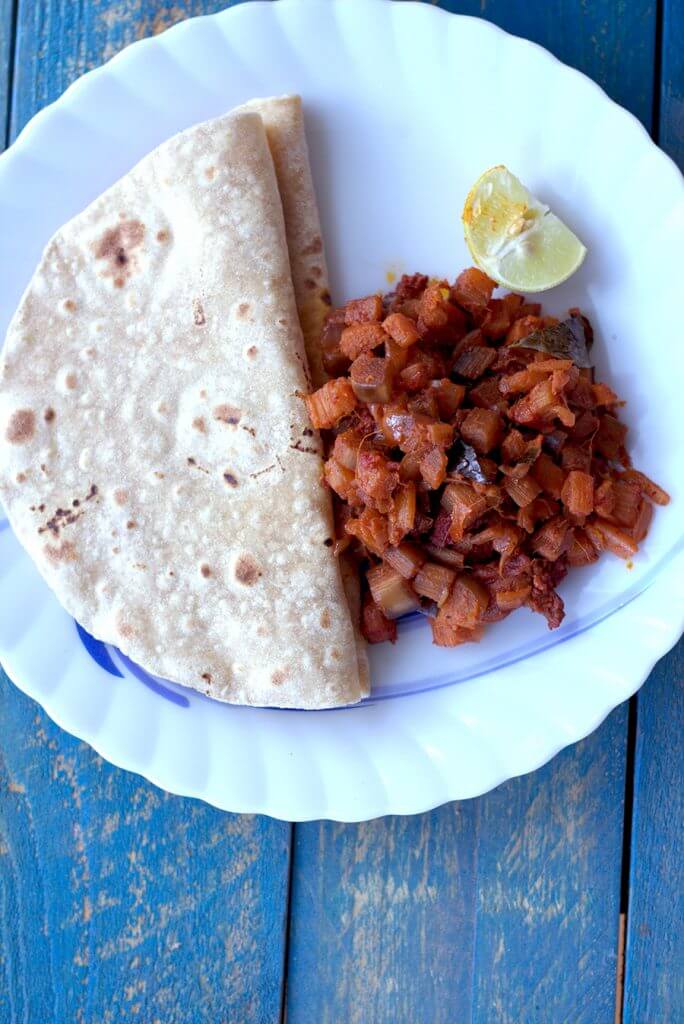 Ingredients for Chorizo Banana stem Stir fry
Banana stem- 400 g
Chorizo- 200g
Onion- 1
Chilli powder- 1 tsp
Turmeric powder- 1/4 tsp
Vinegar- 1 tbsp
Curry leaves- 5-7 leaves
Oil- 1tsp
Salt- to taste
Directions
Heat oil in a pan and add the curry leaves.
After 2 minutes, add the diced onion and saute till the onion softens.
Now add the turmeric and chili powder.
You could also omit spices because the chorizo has spices, but I had tasted the chorizo before and wanted mores spices, so I added them.
Add the banana stem to the spices and cook them covered with a pinch of salt for 3-4 minutes.
Add the chorizo after this, cook the banana stem with the chorizo for 5-8 minutes.
Check salt and spice levels after 8 minutes. I added a pinch of salt and chili powder at this point.
The banana stem will release some water, I raised the flame to keep the stir fry dry, if you want some gravy you can avoid this step.
Add the vinegar and stir the chorizo banana stem for the last 3 minutes.
Switch of the flame after this point and the stir fry is ready.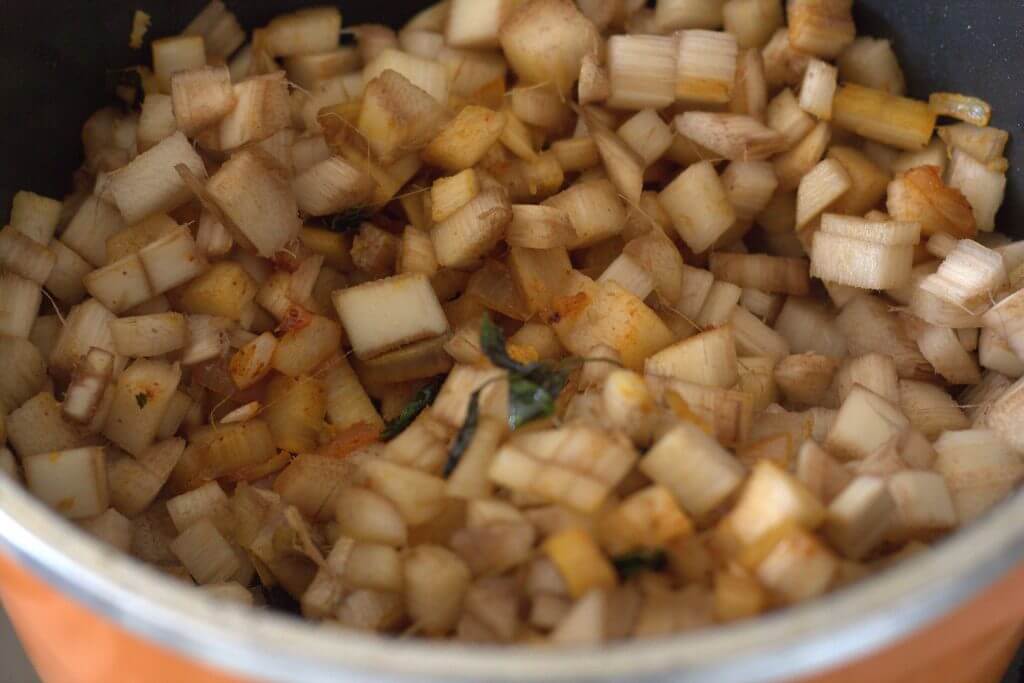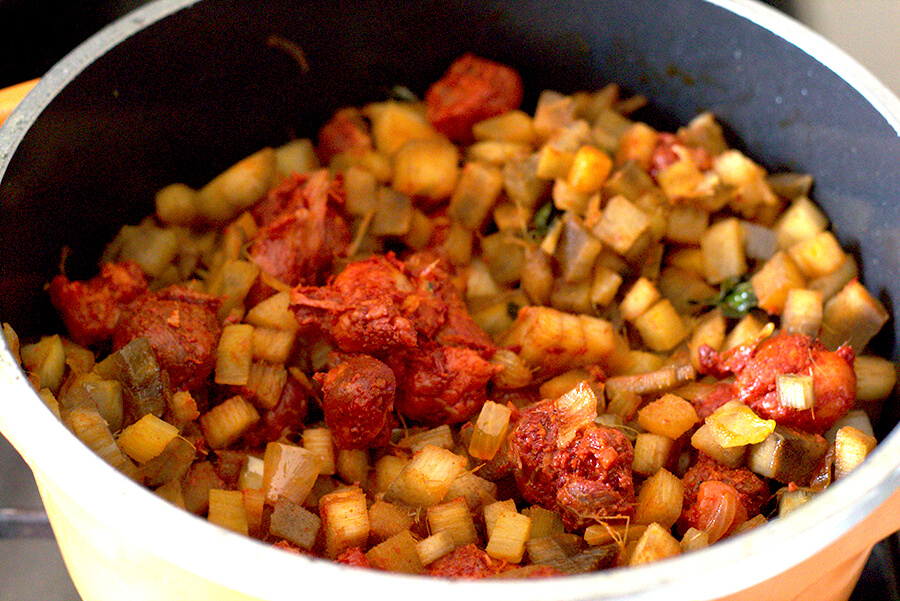 Note: 1. You can add 1/2 tsp tamarind instead of vinegar.
2. Those of you replacing chorizo with minced meat, add 1 tbsp ginger garlic paste after the onions soften followed by 100 ml tomato puree and 1 tsp garam masala, 1tbsp coriander powder and make a spice base to cook the minced meat and banana stem.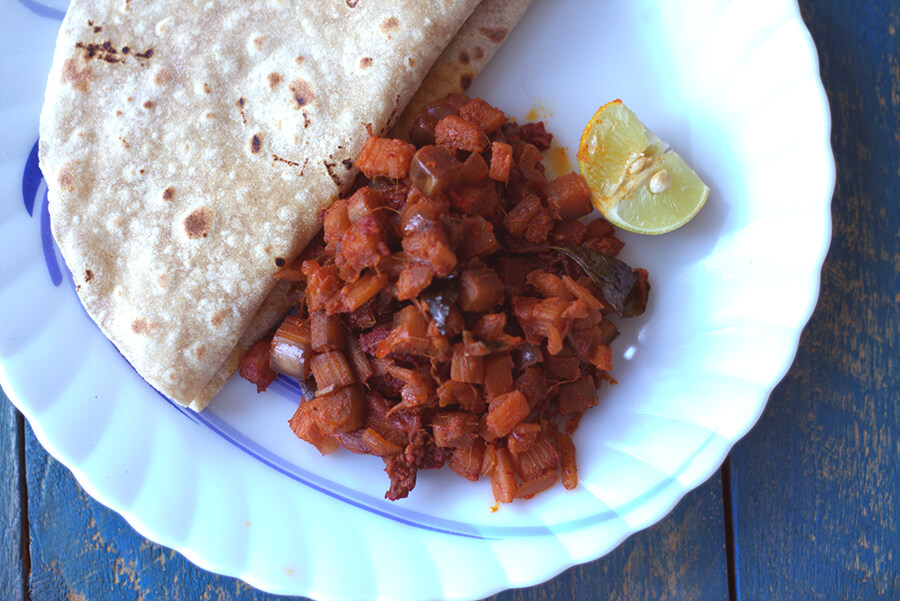 Hope you loved this recipe, please share your feedback when you try this. And if you have a recipe for banana stem, do write to me, I would love to try your recipe. Till we meet again stay blessed, eat healthy.