I have always been fascinated with fusion desserts. My favourite among Indian desserts has been the Gajar ka Halwa. Mom made me gajar ka halwa every year on my birthday, a practice that stopped the day I left for hostel. I thought this year, I would bake a cake for myself and I would to bake a cake with my favourite Indian dessert incorporated into it. I could not find recipes for this cake so I went ahead and tried what I had envisaged. I must say it was a daring challenge for a birthday but I loved learning to bake without a recipe. I am sure there are things I would like to fix when I try this cake the next time. But I am happy with the results.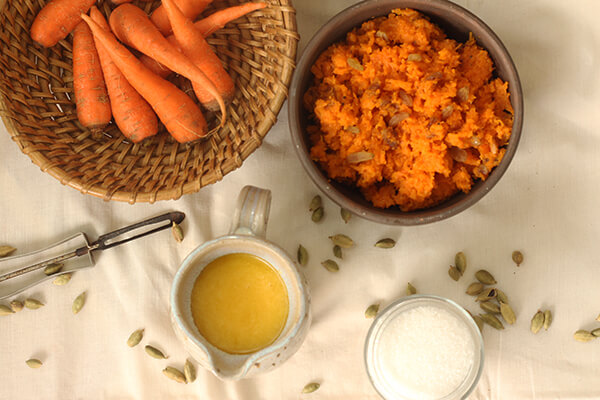 This cake is quite tedious because it is made in two parts. You first make the gajar ka halwa, then you bake the cake. The cake made was a basic ghee cake because I thought this cake went well with gajar ka halwa. But this is a deadly combination because both the cake and the halwa has ghee so you could name this cake 'death by ghee' as well. But if you are a gajar ka halwa addict like me you are gonna love this one.
Ingredients for Gajar ka Halwa Cake
Part 1 – Gajar Ka Halwa
Carrots- 1 1/2kg
Milk- 600ml
Cardamom powder- 1 1/2 tsp
Ghee- 150ml
Sugar- 200g
Raisins- 50g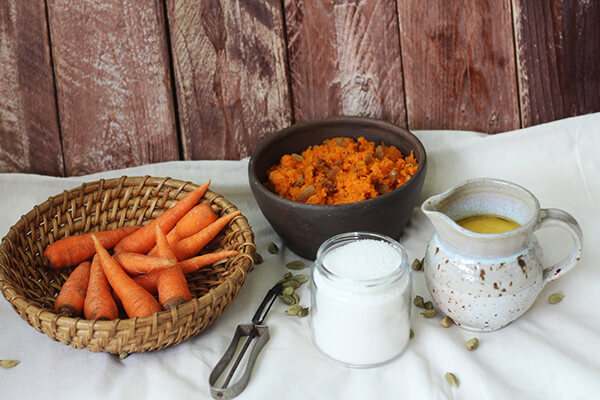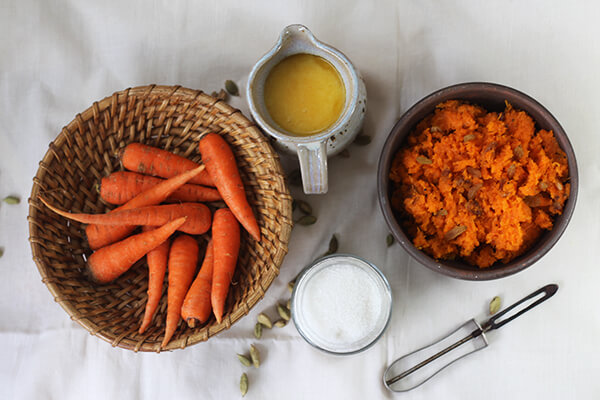 Directions
Heat a wok and add 1 tsp ghee. Roast the raisins in the ghee till they puff up and transfer them to a plate. In the same wok, saute the grated carrots for 5 minutes. Add the milk and let the carrots cook over low flame. Keep stirring occasionally. When the carrots have reduced to 3/4th of their initial quantity, add the ghee, sugar and cardamom powder. Keep stirring for 5-8 minutes and add the roasted raisins towards the end. Switch off the flame and let the halwa cool a bit.
Part 2- Ghee Cake (Recipe Courtesy:funwidfud.blogspot.com)
Flour- 250 g
Baking Powder- 1 tsp
Baking Soda- 1/4 tsp
Ghee- 250gm
Sugar- 250g
Eggs- 4
Milk- 1/2 cup
Sugar- 2 tsp
Vanilla essence- 1/2 tsp
Directions
Start by separating the egg yolks and egg whites. Do this when the eggs are cold out of your refrigerator. But once separated, let the egg yolks and whites come to room temperature. In a bowl sift together the flour, baking powder and baking soda. Preheat the oven at 180 degrees and line a nine inch round tin with parchment paper.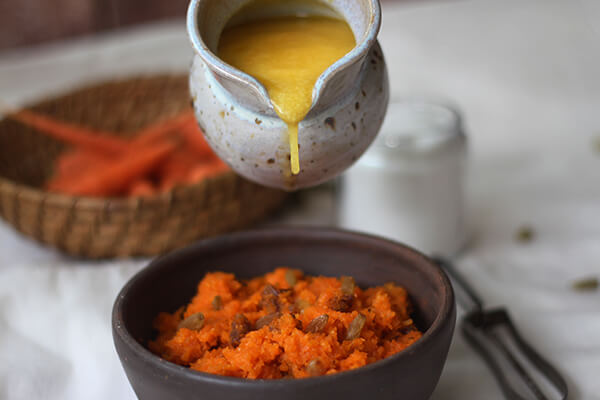 Whisk the ghee and sugar together in a bowl. Add the egg yolks one by one when the ghee and sugar have been whisked such that the sugar dissolves perfectly. Whisk the egg yolks one by one and then add the vanilla essence. In a clean and non- oily bowl, whisk the egg whites with 2 tsp sugar to stiff peaks. Fold in the egg whites to the whisked ghee-egg yolk mixture. Alternately fold in the flour and milk in 2 batches and complete the cake batter. Add half cup gajar ka halwa in the end and a couple of raisins if you love raisins.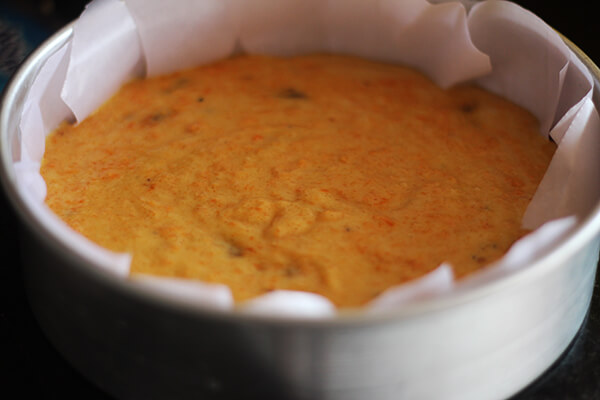 Tap the pan to get rid of trapped air bubbles. Bake the cake for 50 minutes. After 25- 30 minutes open the oven and layer the top of the cake with a layer of gajar ka halwa. Press in a bit so that the halwa gets into the cake so they don't look like two detatched layers. Bake for remaining 20 minutes.
I wanted to garnish the cake with some cream but I thought it was too rich already, so I did not decorate the cake. Sarah was down with cold and was clinging to me, so I shot the pics in hurry. But I am happy that the cake turned out well. Now for some notes on what I plan for the next time. You should take note of these so that your version turns out better than mine.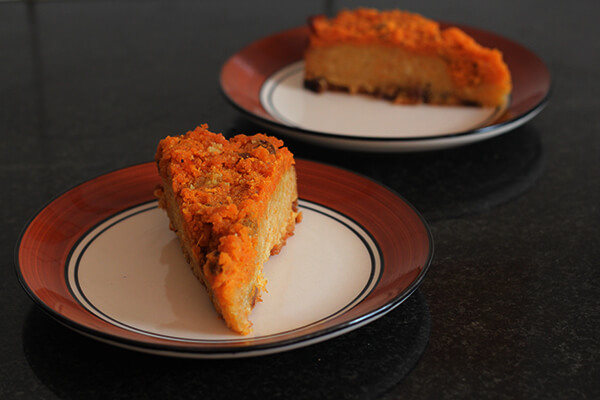 Notes:
Use 3 eggs instead of 4. It makes a firmer cake.
Use 150g ghee for the cake because this cake it super oily, but only if you plan using the gajar ka halwa mix. If you plan on trying a plain ghee cake you can still go ahead and add 250 g ghee, I find this a lot but then ghee cake should have loads of ghee.
If you use 150g ghee you still get some extra ghee from the gajar ka halwa you add and top on this cake. When you bake this cake with the halwa a lot of ghee gets released from the halwa hence 150g ghee for the cake should do.
There isn't a low calorie option but I suggest you do a ghee free gajar ka halwa with low cal sugar to cut down on calories because ghee cake should taste rich in ghee so even if you cut down on ghee in halwa it won't know when you have it with ghee cake.
Instead of baking the cake with halwa on top, you can omit this step and have it layered after baking because if you bake it with the halwa the cake gets softer and does not bake well. M cake was abut soft. But this step might make the cake and halwa look like two different components.
Preparing the halwa a day ahead will make things easy.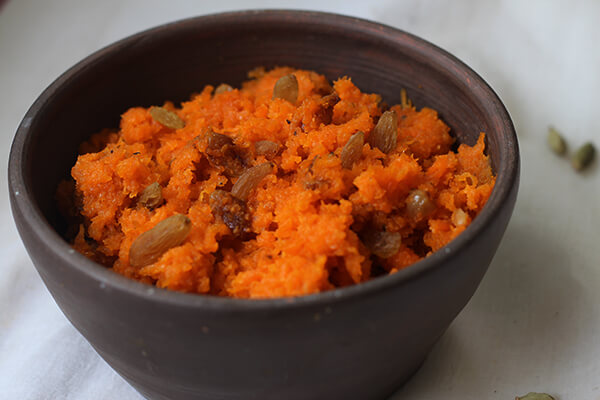 7. If you have leftover cake batter add some milk and make these pancakes they are awesome.
8. Have the cake once chilled overnight and it tastes heavenly. Having said that you could heat this cake for 30 seconds and have it too, tastes equally yum.
9. Try them in cupcake moulds for smaller portions.
10. The quantities mentioned for halwa will yield half kg extra halwa so if you don't want leftover halwa, half the quantities for halwa and prepare quantity sufficient for the cake alone.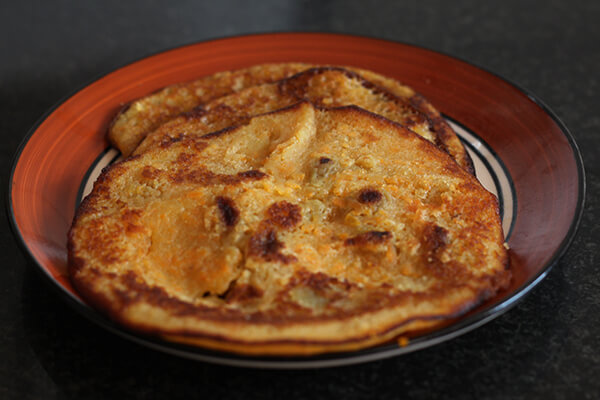 So have a fabulous weekend and try my gajar ka halwa cake if you have the time. Or next time you make a gajar ka halwa you can give it a makeover with this cake and pancakes.
I think they will look awesome for fusion parties, festivals and weddings. What say? Till we meet again stay blessed and eat healthy.