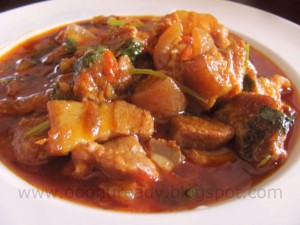 My friends from IIT were home few weeks back. One of m colleague hails from the North eastern part of India. He is a Naga from Manipur. He is crazy about pork just like my hubby and me. He offered to cook pork his style. We did not have any ingredients he needed specially bamboo shoots so we made use of the resources we had and it turned out delicious. I was skeptical initially because of the oil he used. He used mustard oil which was something totally new for me. My hubby though was quite used to mustard oil having grown up in the North of India. I loved the way my friend cooked at times I doubted if it was his style of doing it or the traditional North eastern style. Later he admitted it was his way of doing things. I am happy I learned a new way of cooking pork. I tried it again recently and found it mildly spiced but mostly the same as he had done. So for you pork lovers here's a treat.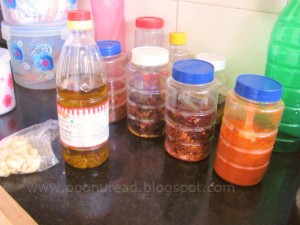 Ingredients for Pork curry Manipuri style
Pork- 1 kg
Onion- 2 large sliced
Green Chillies- 10 slit
Ginger- 100 gm minced
Garlic- 50 gm minced
Tomatoes- 2 sliced
Cilantro – 2 sprigs
Chilli powder- 2 tbsp
Dry chilli crushed- 1tbsp
Turmeric powder- 1 tsp
Mustard oil – 3-4 tbsp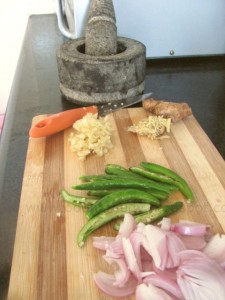 Directions
Heat mustard oil in a pressure cooker. Add chopped onions and saute for 3 minutes. Add the pork and saute well. Now add the turmeric, chilli and crushed chilli powder and saute for ten minutes. Now the meat would have tenderized a bit. Add the green chillies, minced ginger and garlic.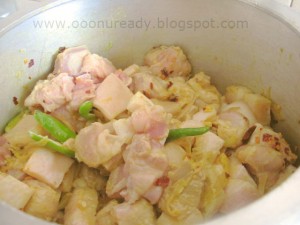 After 5 minutes pour a cup of water and pressure cook the meat till two whistles ( depends on how tender our meat is). Once the pressure settles open the cooker.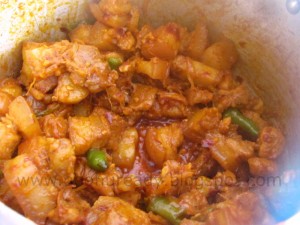 Add sliced tomatoes and salt and let the curry simmer for ten minutes. Garnish with cilantro. My friend mentioned using tomatoes as a substitute for bamboo shoots with gives the tangy flavour to this curry so those of you who can manage bamboo shoots you can use them instead.