Chili pork that we usually prepare at home, is either the Kerala style or Chinese style. This Chili pork is neither of these styles. It is an eclectic style of preparaing chili pork because this recipe makes use of three kinds of chili actually 4 kinds because the Kashmiri Chili lends it the colour. The highlight of this chili pork is the bhoot jhalokia chilis. Ever since I got my loot 3 years back, I use it for this preparation alone. If you have ever smelled these chilies after grinding you can imagine why they the defense wing wants to use these for hand grenades and aerosols.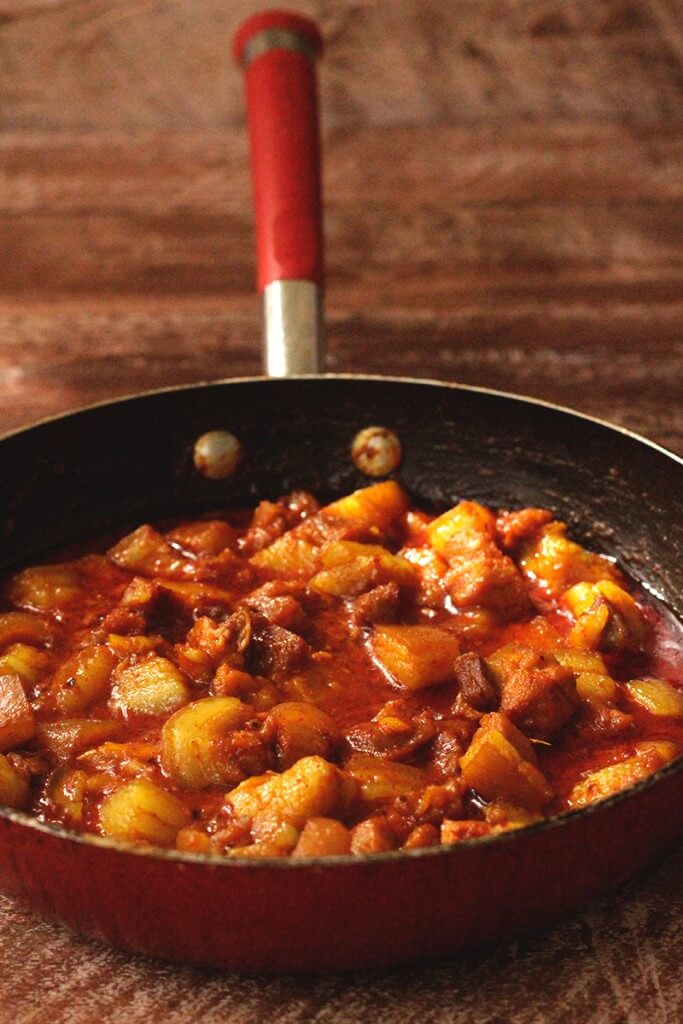 Chili Pork with Paratha
This preparation is very simple and all you need is lots of garlic, ginger and some mustard oil. I don't use garam masala in this preparation and its super spicy. Cooking pork is a very serious business here at our place, we love this meat so much that it turns out to be the best preparation always. I am collating my pork recipe collection for Christmas and this one's definitely on the list. We usually have this curry with rotis or parathas but this time we had it with Kerala Porotta. I think this recipe if tweaked will make an awesome pickle recipe, oh there's a lot I plan and never get done with.
For people who cannot tolerate spicy food, this is a big NO. Please omit bhoot jhalokia chilies to make this curry bearable. And if you cannot access this chilli, please use tabasco, scotch bonnet or peri peri. Habanero is a good option too. For Keralites and others who can access birds eye chilies, its a good option but I love bhoot jhalokia for the smoky flavour it gives to the pork.
Ingredients for Chili Pork
Pork- 750 g
Bhoot Jhalokia Chilies-2
Chili Flakes- 2 tsp
Chili Powder- 2 tsp
Kashmiri Chili- 4 tsp
Turmeric- 1 tsp
Garlic cloves- 20
Ginger- 2 inch long piece
Onions-3
Mustard oil- 2 tsp
Salt- to taste
Vinegar- 1 tsp
Directions
Pressure cook the cubed pork with salt, 1 cup water and turmeric up to 3 whistles. Mince the garlic cloves and ginger using a mortar and pestle. I don't like the ginger and garlic ground to a paste, so I endure I get this done using my mortar and pestle. The taste differs when you grind them and when you mince them. Make a fine paste out of bhoot jhalokia chilies and vinegar in a grinder. Add half an onion for this paste because 2 small chilies might not grind smoothly in a grinder adding some onion will ease this process. Heat mustard oil in a pan and wait till it starts to smoke and release fumes. Now add the diced onions. After the onions soften, turn the flame to medium and add the minced ginger and garlic. Saute till the garlic is golden and then add the bhoot jhalokia and onion paste. Saute till the onion paste starts browning. Do the sauteeing on low flame and add the chili powder and chili flakes. Add the cooked pork after 3 minutes of sauteeing the chilies together. Now cook the pork with the chilies for 15 minutes. Add the stock reserved from cooking the pork for a thick gravy. Also if the pork requires more cooking, it is suggested to add the stock and cook the pork further in the stock. if your pork has cooked perfectly, you need not cook it for 15 minutes with the spices. The meat I cooked needed 15 more minutes. After 15 minutes, switch off the flame and serve the pork curry with parathas, lemon wedge and onion rings. Squeeze some lemon over the pork and this is a must for this pork curry.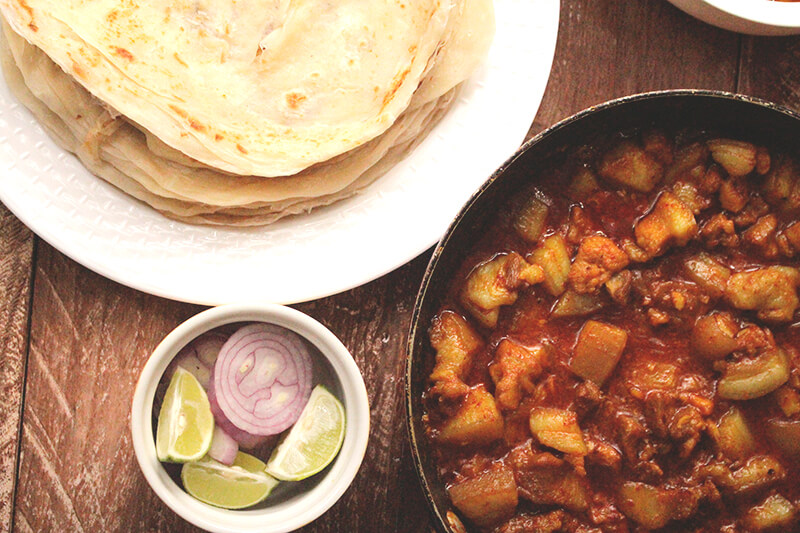 Chili Pork with Paratha
If you love pork dishes please go through these recipes that have been loved and tried by many https://www.perucontact.com/c/pork/ I have more than 8 recipes in store for you in this section. Stay tuned for more meaty recipes coz we are bbqing tomorrow. Hope this chili pork finds its way into your plates this week. Prep some buttermilk because this one is going to burn you down.