I grew up listening to dad's stories on his favourite comforts foods. Kappa panni curry topped this list quite often. He was a die-hard fan of pork and could go on for hours on his panni (pork) discourse. So kappa and panni curry was a dish that evoked nostalgia in him also because pork was scarce in the middle east where I grew up. Dad would reminisce how they had mashed tapioca or mashed jackfruit with panni curry in the rainy season. Where dad grew up, tapioca was part of their staple diet and they stored dried tapioca and jackfruit flakes to cook during rainy days (vata kappa). I am not sure of his style of panni curry because mom made it in her style and I don't remember my paternal grandmother's style. I am not a fan of the Kerala style pork fry and pork curry because it has a saturated feel to this curry when you try to dig in. But I come from a family where both my father's side and mother's side prepares amazing pork curries and this is not very common in Kerala. Like at my hubby's side, pork is a rarity and so people don't cook pork and many friends of mine hate pork. But in my case pork is the most delicious of meats ever and I guess I have inherited dad's genes when it comes to love for pork. Now my hubby is a pork lover and he often tells me my pork stories wooed him into marrying me and even if it were true ;) I love the fact that we have a common love between us apart from Sarah my daughter)- 'PORK'. We always cooked pork and could not eat more than few mouthfuls until I discovered this recipe. I think eliminating coconut oil and heavy spices and keeping the elements simple makes pork curry enjoyable. It brings out the meat's flavour and one can enjoy a proper pork curry this way. So I have made the kappa with some not so naadan panni curry today for Easter. A decent batch of tapioca is hard to find in Bangalore these days. I often end up getting batches that look nice from the outside but is slightly rotten from within or they take ages to cook if not pressure-cooked. But this time we were lucky to find tapioca that cooked fine.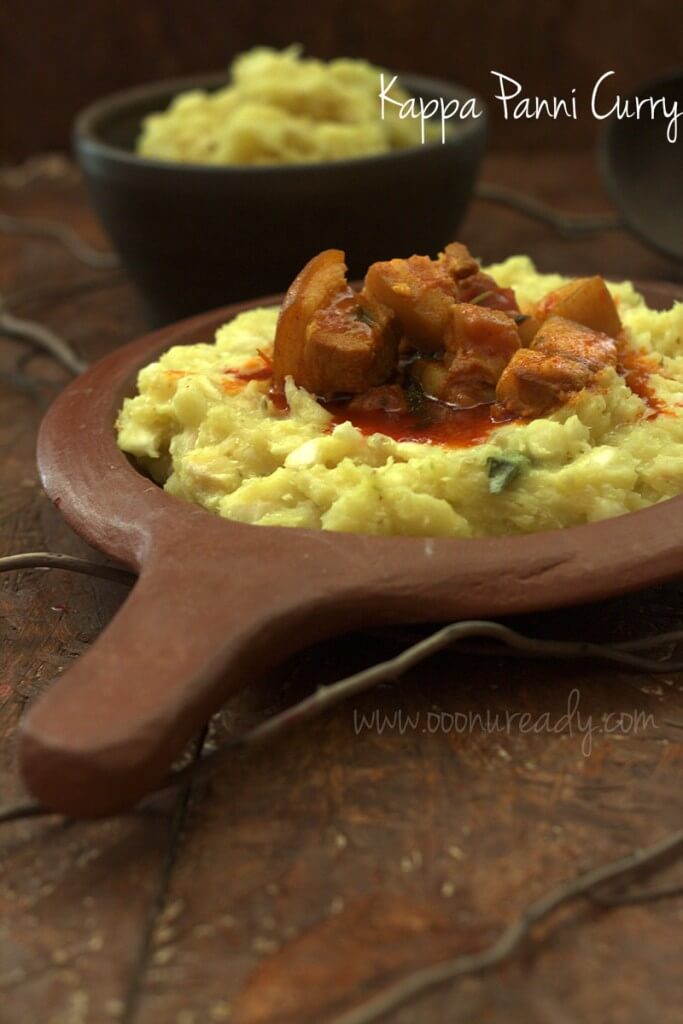 And so we decided to simplify our Easter menu this time. We did not hoard our plates with tonnes of stuff. We had appam and chicken curry for breakfast and kappa and panni curry for lunch. And that leaves some room for the seafood fare for dinner and it gives us ample time to enjoy each of the dishes prepared for Easter with sufficient intervals to take care of the digestion part :) . Next time, when I get hold of some raw jackfruit, I will share the mashed jackfruit recipe with some Kerala style panni curry. Hope you had a wonderful Easter. Stay blessed and eat healthy!
Ingredients for Kappa Panni Curry
For the Panni Curry
Pork- 1 kg
Onion- 2 large sliced
Green Chillies- 10 slit
Ginger- 100 gm minced
Garlic- 50 gm minced
Tomatoes- 2 sliced
Cilantro – 2 sprigs
Chilli powder- 2 tbsp
Dry chilli crushed- 1tbsp
Turmeric powder- 1 tsp
Mustard oil – 3-4 tbsp
Directions
Heat mustard oil in a pressure cooker. Add chopped onions and saute for 3 minutes. Add the pork and saute well. Now add the turmeric, chilli and crushed chilli powder and saute for ten minutes. Now the meat would have tenderized a bit. Add the green chillies, minced ginger and garlic. After 5 minutes pour a cup of water and pressure cook the meat till two whistles ( depends on how tender our meat is). Once the pressure settles open the cooker. Add sliced tomatoes and salt and let the curry simmer for ten minutes. Garnish with cilantro.
Note: My recent addiction to kachampuli made me add 2 tsp to this curry and it gave a special flavour to the curry.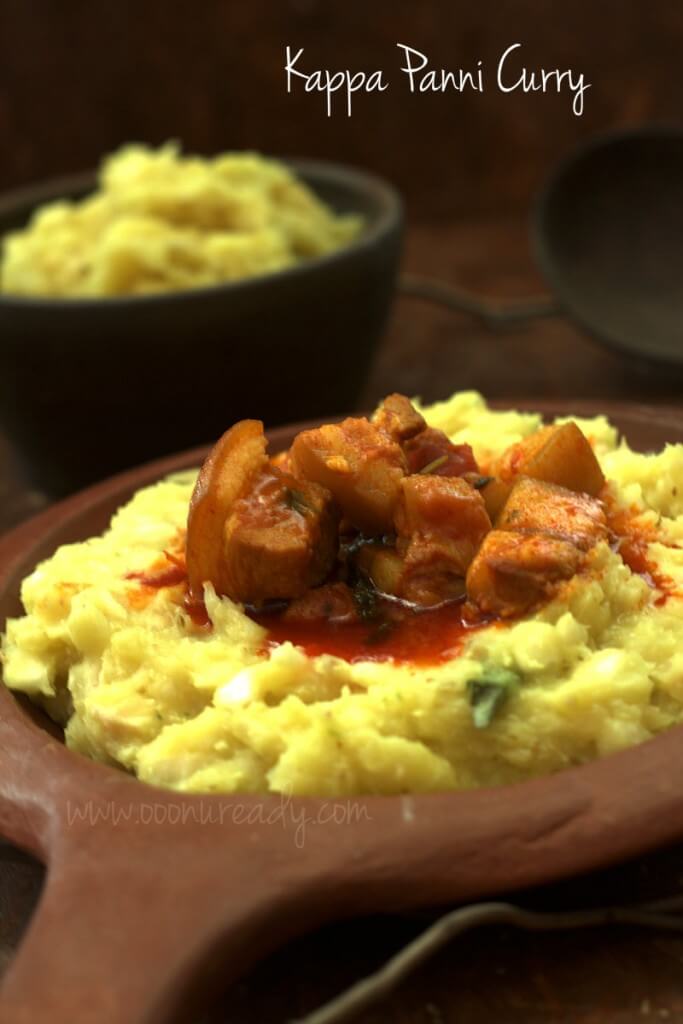 Ingredients for Kappa
Tapioca (Kappa)- 2.5 kg
Grated coconut- 1.5 cup
Green chilies- 3
Garlic- 8- 10 cloves
Cumin seeds- 1 tsp
Turmeric powder- 1 tsp
Salt- to taste
Curry leaves- 1 stalk
Coconut oil- 2 tsp
Directions
Peel the tapioca and chop them roughly into small pieces. Boil the tapioca with salt and turmeric powder and sufficient water to cover the tapioca pieces in the vessel to the brim. Cook the tapioca till it is of the consistency that one can mash it up with a wooden spoon. This depends on the kind of tapioca one finds. Some tapioca cooks fast and some takes a lot of time. Pressure cooking the tapioca is an option too. Once the tapioca has cooked sufficiently, strain the tapioca in a colander. Grind all the remaining ingredients except curry leaves and coconut oil. Add the ground paste, curry leaves and cooked tapioca back to the same pot used to cook the tapioca. Mash the tapioca with a spoon. It need not mash completely like mashed potatoes but mash 75% of the tapioca leaving few chunks to bite on. Cook the mashed tapioca with the ground paste. If the tapioca is too stiff to stir, add a little stock left after straining the cooked tapioca. Check the salt levels and add more if required. Drizzle some coconut oil and the mashed tapioca is ready to serve.