Revisiting a post after 4 years of blogging. It amazes me how dedicated I was to get these clicks with a point shoot camera especially when I lived in two cities. Maybe it was my love for the blog or pork or those initial days of our marriage, feel my love all over this post and perhaps this is exactly why this post was always the most viewed recipe in my older blog. I am not changing any part of this post. Some memories are meant to stay.
Pork and me are inseparable. I have always loved pork as a kid, a legacy inherited from my dad. A very embarrassing episode with pork is something that happened when I was 5 and was on vacation at my mother's home. This also happened to be my first encounter with pork as a delicacy. I was wandering through my grandmother's kitchen in search of mom when I spotted pork in a casserole. I popped in a piece and was smitten by the taste of the meat which was different from beef or mutton I had in Kuwait. Since pork was banned in the middle east this could have been my first encounter with pork and I was clean bowled. I found my mom with my grandmother in her room where they were chatting incessantly. I remember not following much from their conversation and to cure my boredom I visited the kitchen at regular intervals not forgetting to pop in a piece of pork at every visit. Mom who watched my absences in regular intervals followed me and I remember her screaming at the top of her voice " A thief in action". I was soon surrounded by my aunts and cousins making me realise the petty crime of enjoying the meat was also called stealing. To me I was just popping in something I liked but it took mom some time to explain that it was cooked for the whole family and I could not snack on it without permission. It never felt embarrassing to me as a child then but growing up in a family where everyone addresses your fondness for pork every while reminiscing the story of your first theft is not a pleasurable experience.
Pork is my favourite meat even today and now it's my hubby's favourite too. If not for the fat it generates in the centre of our body we would have been devoted to this delicacy. Off late I love the Mangalorean style of pork which is different from the traditional Kerala style. I love the way garlic absorbs all the fat and vinegar and Kashmiri chilli makes it tangy and spicy. Once in 4 months I have this craving to try this dish and we end up making it. This time we polished half kg meat in 30 minutes and have sworn a lean veg diet ever since :)
I decided to go an extra mile this time and made sannas for the first time to accompany the curry. This post is gonna be very long because I am gonna share the recipe of bafat masala powder (that was used for this pork curry),the pork curry and sannas. I'll start with Sannas.
Ingredients for Sannas – ( Courtesy: Ruchik Randhap)

Boiled rice – 1 cup
Raw rice- 1/2 cup
Urad dal (Split Black Gram Dal)- 1/4 cup
Yeast- 1 tsp
Sugar (to prepare the yeast solution) – 1 tsp
Tepid water- 1 tbsp
Salt- 1 tsp

Directions

Soak the boiled rice, raw rice and urad dal separately for 3 hrs. Grind urad dal first to a fine paste this makes the sannas soft. Grind both the rice together. Don't grind it as coarse as idli batter but to the consistency of a dosa batter would do. Add less water while grinding. Transfer the urad dal and rice batter to a wider bowl for fermentation. In a shot glass mix the yeast and sugar in tepid water. Leave this aside for 10 minutes. Add the yeast mix after 10 minutes to the rice- urad batter and mix well. Add salt and extra sugar if you like your sannas soft. Cover the bowl with a muslin cloth and leave it in a warm place for 2 hrs. Sannas are usually made in steel ramekins. My hubby asked me to speed up by using idli moulds but I loved the shape they form in ramekins. Oil the ramekins before pouring the batter to half in each ramekin. Steam for 15 minutes in a steamer.To cool the sannas fill cold water in a tray and place the ramekins in them. The sannas will slide into your plates once you take them off your chilled tray.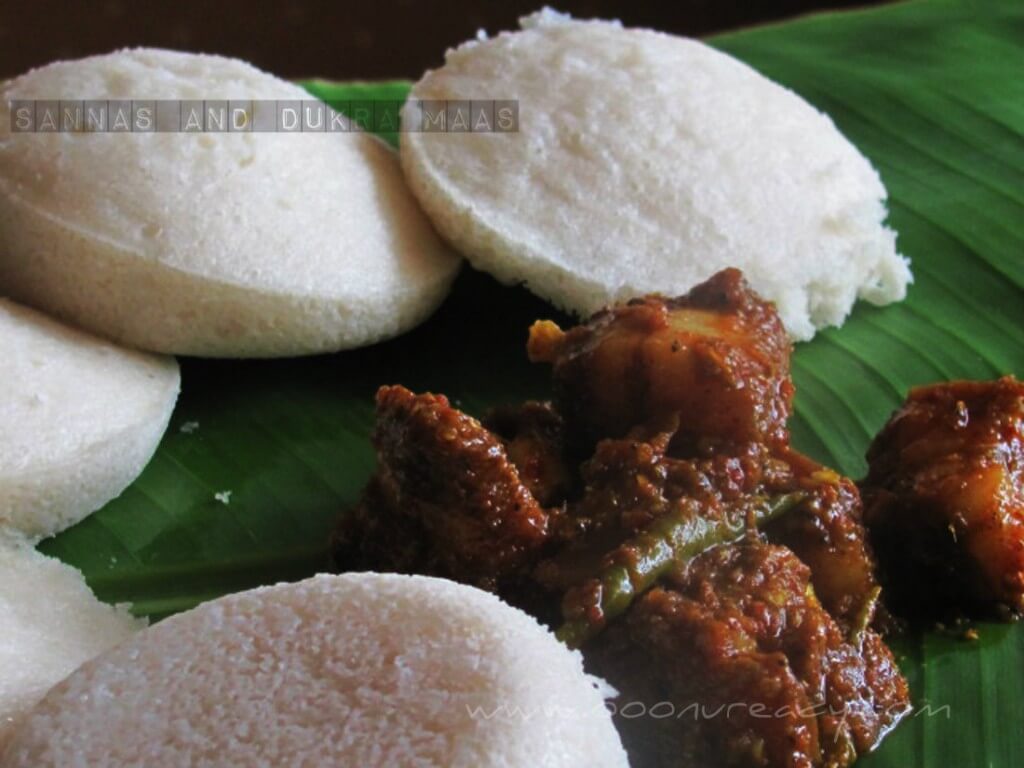 Bafat Masala powder- ( Courtesy- Ruchik Randhap)
The first time I had Mangalorean pork curry was last year at my aunt's convent in Bannerghatta. When I asked her for the recipe she said their nuns from Mangalore got bafat masala powder from there so she does not know much about it. i googled and found this recipe at ruchik randhap. She says this powder can be stored and used for other meats, fish and vegetables if ground without garam masala ingredients ( cloves and cinnamon). But I ground just the right amount required for pork so my version cannot be used for fish. I was short of quite a few ingredients so my version is different from ruchik randhap's.
Kashmiri chilli ( I used powder as I did not have the long dried ones)- 2 tbsp
Crushed chilli flakes- 2tbsp
Madras chillies (round ones)- 5-6
Coriander seeds- 3 tbsp
Cumin seeds- 2tbsp
Pepper corn- 1 tsp
Tumeric powder- 2 tbsp
Cloves- 3-5
Cinnamon- 1 inch stick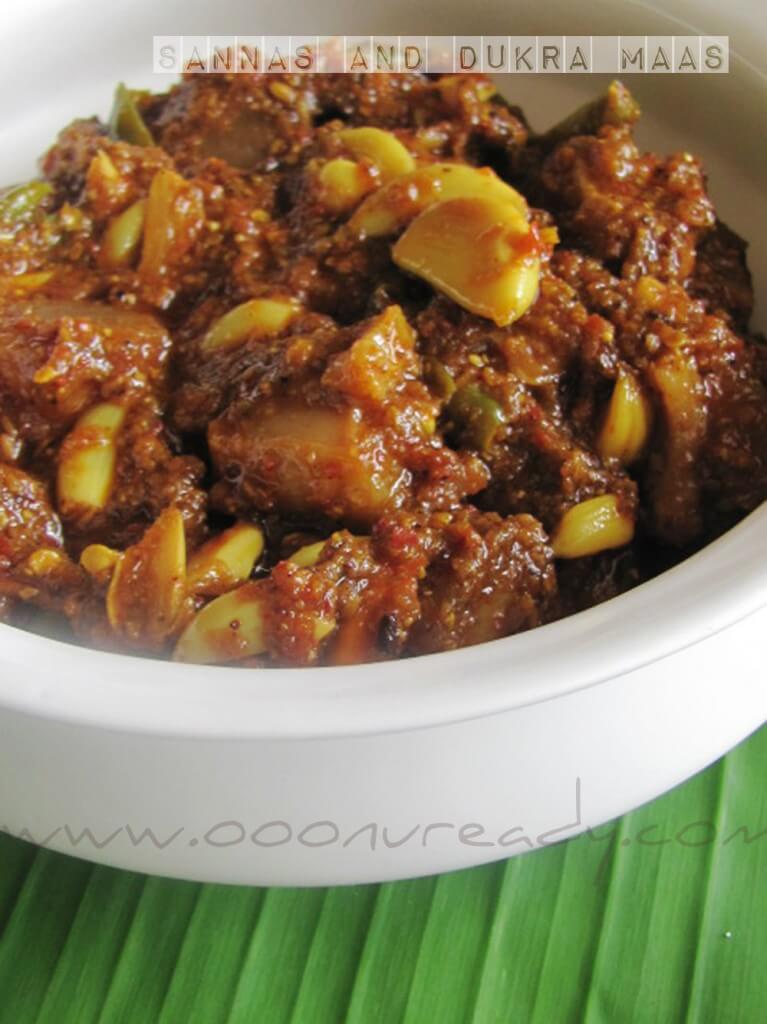 Grind all the ingredients into fine powder. I added one chopped onion as I did this for marinating the pork. Since the quantity mentioned is for 500 gm meat I did not need to store anything. If you however want your curry mildly spicy you can reserve half of the powder. Grinding it with onions was my preference something I picked up from a pork recipe sometime back.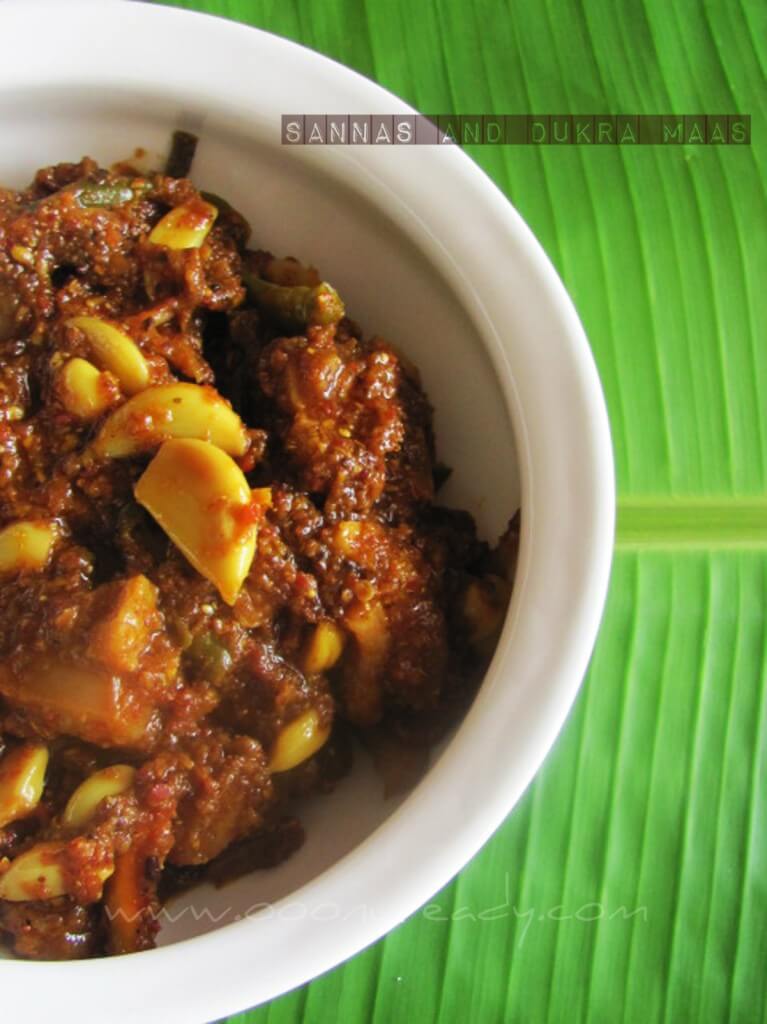 Ingredients for Dukra maas
Onions- 3 (I minced , 2 sliced)
Bafat masala powder- 2 tbsp ( I had it ground right for the curry)
Contrary to the recipe given at Ruchik ranshap, I marinated the pork with minced onion and bafat masala and 1 tsp vinegar for 4 hrs.
This makes the meat tender and succulent.In a pot layer the sliced onion, ginger, garlic, chillies, cinnamon and cloves. Cook the marinated meat now added to the pot with other ingredients over low fire. You wont need to add water. Add salt once the meat is cooked.
I added more vinegar to make it tangier and also skipped the tamarind which is mandatory for this dish. I like to have meat and fish the next day so I cook it in advance. I had it the next day for breakfast with sannas and it happened to be the heaviest breakfast of all time.