It's been sometime since I did post something here. I did experiment a lot of dishes in between but since I live in Chennai and my hubby in Bangalore and the snaps were with my hubby the posts delayed. Moreover I am caught up with my research these days as I need to wrap up0 things soon. I do miss cooking in a proper kitchen with all the right ingredients these days. I find cooking a lot relaxing than any other stress buster activities I have ever come across. The irony is I listen to a lot of women crib about how much they hate to cook and they all have a kitchen to themselves. Me, on the other hand am dying to cook and am destined to live in a hostel room. I have now channelised my passion to books and movies on cooking. I am currently reading Joanne Harris's 'Chocolat' so those of you who love reading novels on the food theme we have something to share here.
For now I am posting you the recipe of Pork Vindaloo a recipe I found at Goanrecipes.com. This was my first hand with goan cuisine and I have never tried pork in a non- Keralite style. I loved it so did my Hubby. I regret not having the right kind of chillies that could have made it spicy but then vindaloo is more on the tangy side than spicy.
Ingredients for Pork Vindaloo
Pork- 1 kg
Onions- 2 large
Salt
Kashmiri Chillies- 15
Garlic flakes- 4 to 6
Ginger- 1 inch
Jeera – 2 tsp
Turmeric powder- 2 tsp
Cinnamon – a small piece
Pepper – 3-5
Cloves – 3-6
Vinegar
Directions
Chop the pork into cubes and dry them. Now add salt and set them aside for a while.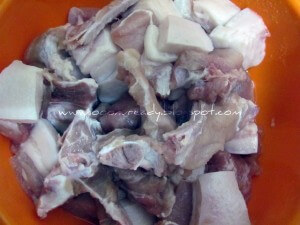 In a grinder now grind the chillies with vinegar followed by the cloves, cinnamon, pepper, ginger, garlic and turmeric powder. Marinate the pork in this paste and leave it in the refrigerate overnight.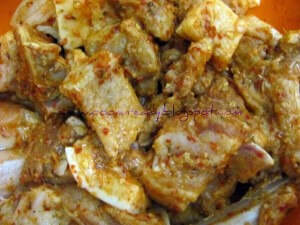 Mince the onions and add it to the marinated pork.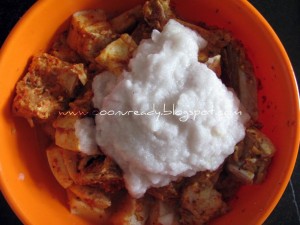 Cook the pork now on slow fire. Add little water and let the pork cook on slow fire. It depends on how long your meat takes to cook as you dont pressure cook the meat in advance and let it sink into to paste and cook slowly. I love the aroma and vinegar smell that fills the kitchen in this process. If you want it even spicy add chilli powder. Once the meat is cooked the vindaloo is ready. Dont get scared by the fiery red colour it comes from the dry chillies ground.
We had it with idiappam a r processed rice vermicilli dish. Vindaloo goes well with rice, rotis and what I had in mind was the Mangalorean sannas but then idiappam was easy to me.