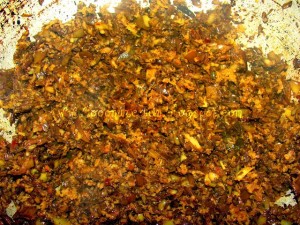 I love banana flower and its a fab combo with gruel what we call it Kanji in Kerala. So it's ideal to be on the blog during lenten season when people look up their archives for veg recipes. My home in Kerala has banana plantains of different varieties. It's my mom's hobby to plant new varieties of bananas she can lay her hands on. So with the plantain comes the flower so when I was home they reached my plate frequently.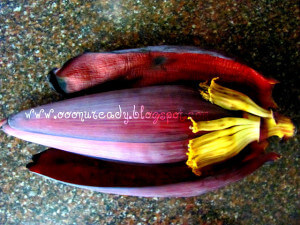 It's after I got married I realised how costly this delicacy was and how much I took it for granted when I got to have it for free at home. These pics were clicked on one of my trips to Kerala to meet mom. My hubby and mom got a fresh banana flower from her garden and mom made this for lunch. To me the toughest part in making this is the way it's chopped. I am not good at chopping vegetables finely using the finger glove unlike mom so I took a pic of her fine cutting wearing the finger glove.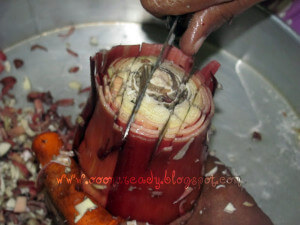 I have never tried chopping this on a board though I guess that's possible but every time I think of making this dish mom's style of chopping comes to my mind. But its a simple , nutritious veg and worth trying.
Ingredients for Banana flower stirfry
Banana flower- 1
Shallots- 3-6 minced
Garlic- 5-7 pods
Curry leaves- 1 stalk
Crushed chilli flakes- 2 tsp
Turmeric powder- 1 tsp
Grated coconut- half cup
Coconut oil- 2 tbsp
Salt to taste
Directions
Heat oil in a wok. Fry the shallots and curry leaves and when they start to brown add turmeric powder and crushed chilli flakes. Saute well and add the chopped banana flower. Now add salt and let the banana flower cook for 10 minutes. Add the grated coconut and let it cook on slow flame for 5 minutes. And the stir fry is ready. Coconut is optional it tastes equally good without it. At times I love adding raw banana and the combo is great too.