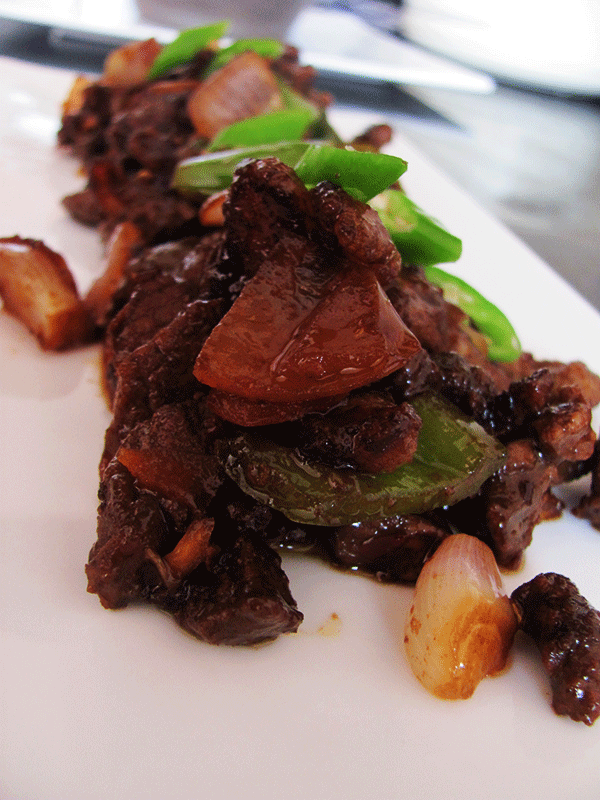 I love the word serendipity. Wikipedia defines it as " fortuitous happenstance" or "pleasant surprise" . That's exactly how this dish was born. I had half kg pork resting in my refrigerator for a week. My hubby loved pork and I am always worried about the calories he gains when he has pork so we restrict pork to once in 4-5 months. Getting back to my story. I was down with fever over the weekend and so my hubby was working from home on the next Monday. I felt better on Monday but I was still asked to rest. But having my hubby home for lunch is a rarity so I decided to cook something exciting. I can't restrict myself from cooking be it when I am down with fever or with the numb hands and pregnant belly. So I coaxed my hubby to help me cook, that's one way of getting his permission to step into the kitchen these days. He has strictly banned me from kitchen because of my carpal tunnel issues so if I need to cook it's mostly under his supervision. And how could he say no to pork? So we began dicing and chopping and this dish was ready by lunch time along with some veg fried rice. I had no recipe in mind but had some unused fish sauce and soya sauce to finish so I thought why not something Chinese. We were skeptical about using fish sauce but let me tell you by the end of our experiment we fell in love with star anise and fish sauce.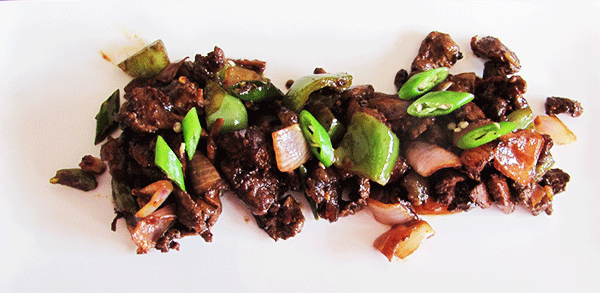 I guess my kiddo is practicing for master chef junior within, because I have never cooked so passionately before. But that could also be because I was never home the last three years and this is the first 7 months I got to cook at a stretch. Whatever conspired into making this dish, it was heavenly and it being a sunny day I loved the pics I clicked.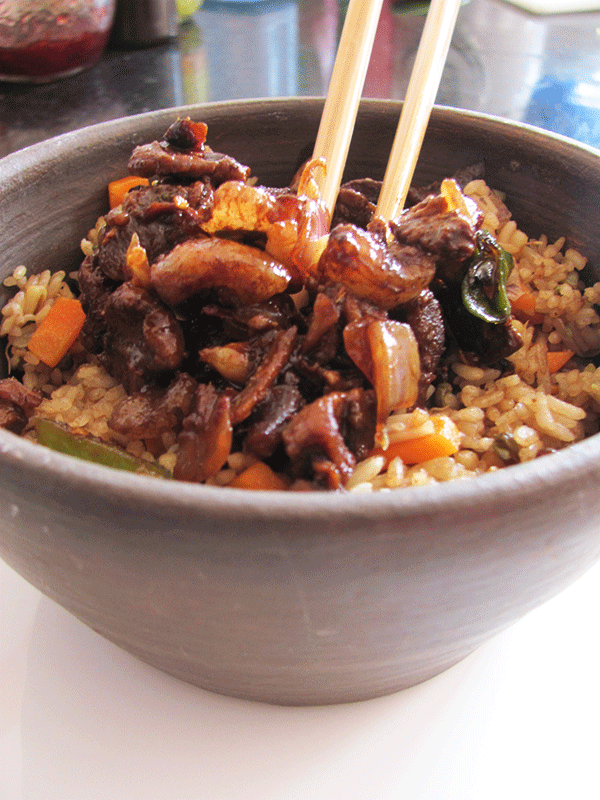 I see a lot of traffic on this site for pork recipes , these days. I thought people avoided pork but I am surprised to find its the contrary. So hope this recipe will interest some of you.
Ingredients for Schezwan Pork
Pork- 1/2 kg ( thinly sliced lean pork belly )
Onion- 1
Bell pepper- 1
Star anise- 3
Fish sauce- 2 tsp
Garlic- 6 pods
Ginger- 1 strip
Green chillies- 6
Soya sauce- 2 tsp
Red wine- 1 tbsp
Crushed pepper- 2 tsp
Salt- to taste
Sesame oil – 3 tsp
Rice vinegar- 2 tsp
Directions
Slice the pork finely into thin strips and marinate with the vinegar, fish sauce, 1 tbsp of oil, soya sauce and salt for and hour. Dice the onion, chillies and bell pepper. Mince the garlic and ginger and we are ready to begin.
In a pan heat the oil. Add the star anise and let it infuse into the oil.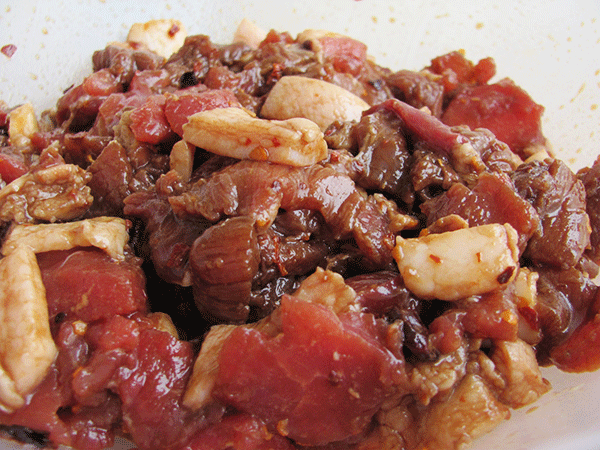 This flavour is very important to the dish and so the oil should get adequately infused.
Add the marinated pork to the oil and saute it for a while till the pork is cooked half way. Now add the chillies, minced ginger garlic and saute again. After five minutes add the bell pepper and onions. These need not be cooked for long.
Add the salt and toss the pork a second.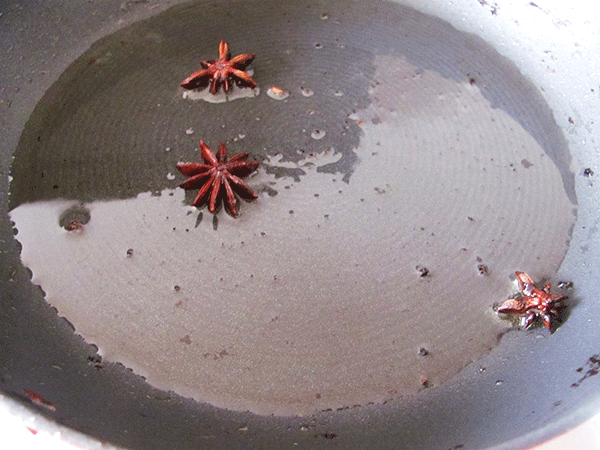 Add wine and do a flambe if it fancies you. My wines are strong enough to perform a flambe but if yours is not try vodka or whiskey. Be careful while performing the flambe. Use just a tbsp of liquor.
Flambe gives a smoked flavour that I love but this step can be avoided too. Toss the pork once more and take it off the flame. Since we are not cooking the pork in advance see to it that you cook it well and thin strips eases this process than huge chunks.
Note: Use raw thin strips and not cooked thin strips there is a difference in flavour when you add cooked meat into the gravy and add raw meat directly into a spice infused oil. Add chilli flakes if you like it spicy. The same recipe can be tried for beef.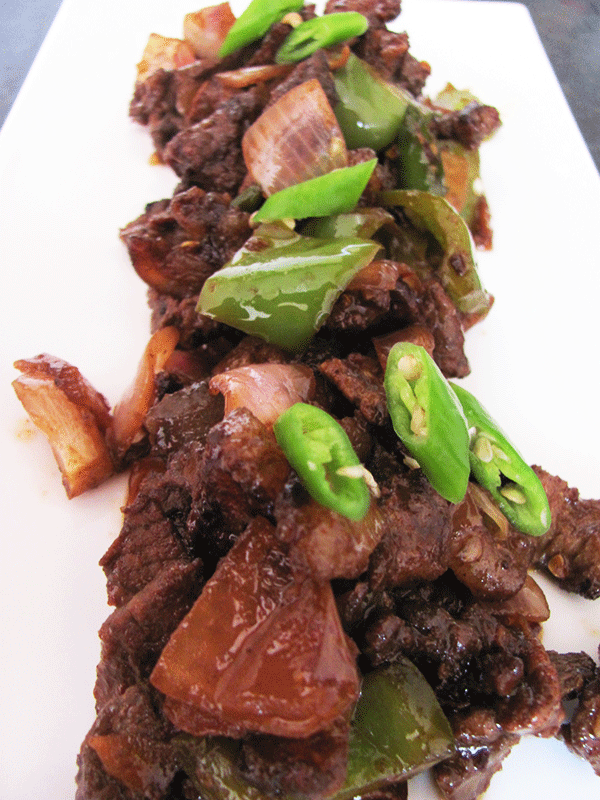 I am aiming to curate a list of my favourite pork recipes. You will find dukra maas and schezwan pork as of now but since I am in the process of migrating some of my old posts from the previous blog of mine, you need to wait for few weeks. I have tandoori pork from out bbq cook out last week and the pork sliders from this week in my drafts as well. So all ye pork lovers fasten your seat belts let's take a grastronomic trip down that porky road :)