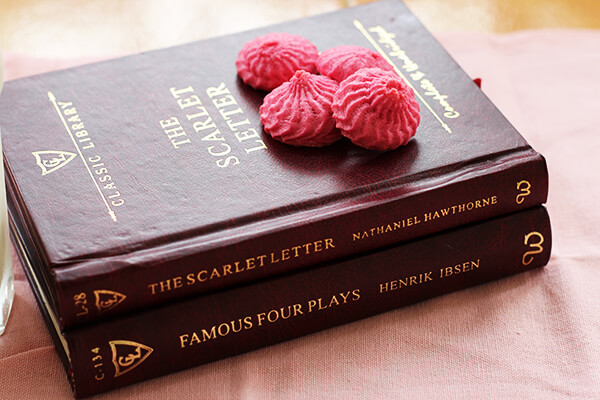 Baking for a social cause is something that I always wanted to do. But I have never felt this compelled to bake for a cause before and this time it was personal too. October 3rd week is breast cancer awareness week and pink ribbon is the international symbol for breast cancer awareness. I find this colour feminine but despite the gender wars around this colour, it stays and has been the symbol to promote breast cancer awareness. Last year I sold these cookies to share my proceeds with cancer institutes. I could not share the recipe for this reason. This year I am not doing the sales, but I thought I should do my bit to spread the awareness through this post.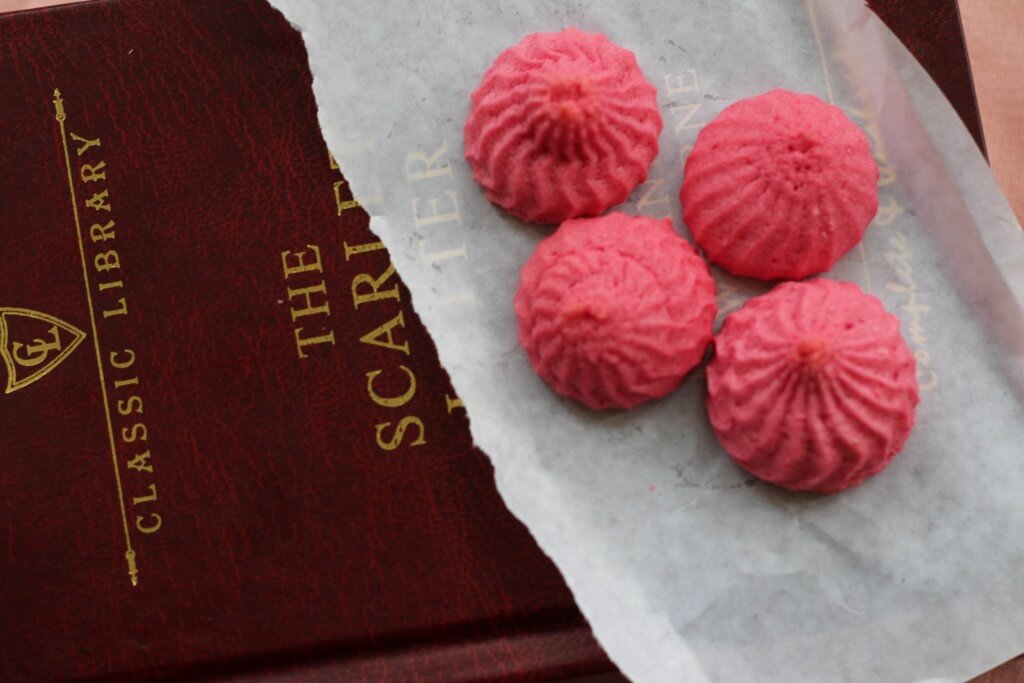 My aunt got diagnosed with breast cancer recently and is going through her chemo sessions, waiting to be operated upon. There's something about breast cancer that scares the hell out of me and I could not stop crying when I heard my aunt was going through chemo sessions. She never told me it hurts but I can't bear looking at her face, I know its not the pain but the numbness, the shock that hurts her. She had beautiful hair and I was not blessed with tresses and she always worried about it more than my mom. To see her bald broke my heart, I didn't know how much I loved her. Having seen many patients during my fieldwork at Regional Cancer Centre, Thiruvananthapuram, while pursuing my Masters project, I thought I was strong enough to counsel a patient. But no matter how strong you want to project yourself, there are moments when you feel weak, helpless and scared and that's mostly when your loved ones suffers from an ailment. The life stories of many survivors, I interacted with, post breast cancer surgeries, disheartened me to the extent that I thought commitments were a farce.
I could not fathom the power of breasts in one's relationship, that men could divorce their partners because their wives had their breasts operated and that too for a medical reason. I know this sounds too cathartic, but I salute every woman who has survived this disease and chose to fight it though it cost them their relationships at times. I admire their courage to get past their inhibitions and to believe they are not invalid because they don't have an organ in their body. I dedicate this post for all the brave women who are survivors and the ones battling this disease right now, especially my aunt. And to you all my friends – go pink, get an annual check up done and support the ones suffering from this illness around you.
As for me, every situation be it happy, sad or confused is connected to food. This is the only way I can express myself, so I baked these cookies as my dedication. I baked three flavours – pink raspberry buttons, vanilla heart cookies and drops and peppermint pinwheels. Ideally I would never bake pink, I hate associating pink with women but since this is the colour chosen for promoting breast cancer awareness I thought I should break my rules. My favourite out of the lot was the button cookies, though baking the pinwheels was great fun too. The recipes for all of the cookies are the same just that I played with the flavours and techniques.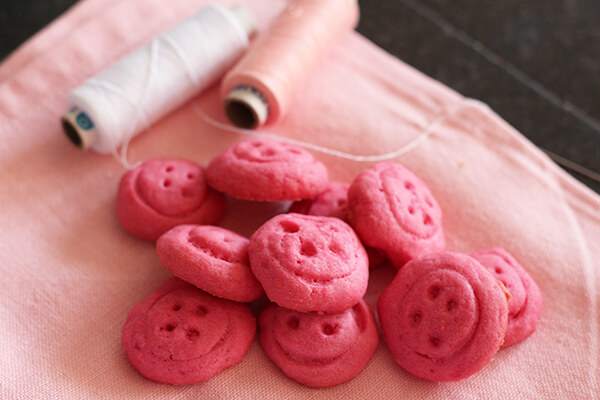 Ingredients for Pink Butter Cookies
Butter- 150 g
Icing Sugar- 75 g
Salt- 1 pinch
Vanilla, Raspberry essence- 3 drops each
Eggs- 1/2 egg
Flour- 250 g
Directions
Cream the butter and sugar together. Slowly incorporate the eggs. Add salt, vanilla essence and finally fold in the flour. Roll the dough into small balls shapes them according to your preference. For the vanilla drops, you need to add few drops of milk to make the dough of piping consistency.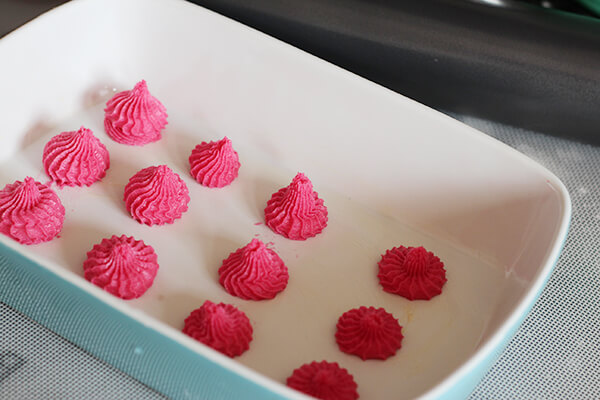 You can then pipe them and bake them for 8- 10 minutes and cool them on a cooling rack thereafter.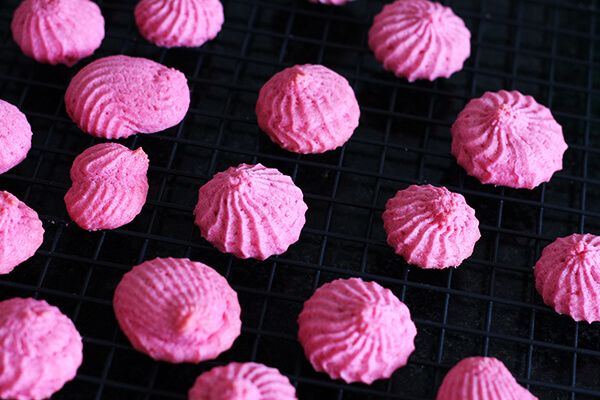 For the pinwheels, you need to divide the dough into two parts. Colour one half with pink colour essence while let the other remain white. To the pink dough add some raspberry essence and knead for a second to incorporate the flavours into the dough.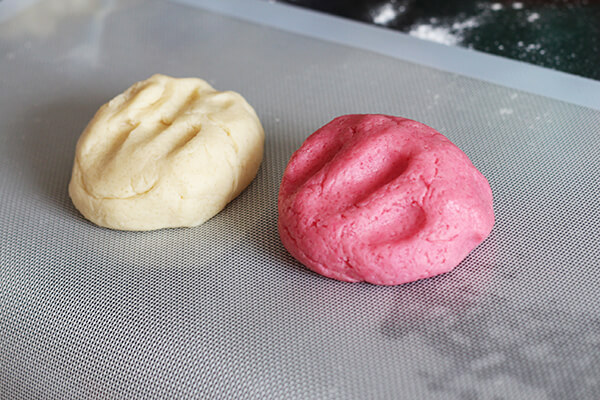 Roll out both the doughs into rectangles and stack one on top of the other. Cut out the excess dough to make a perfect slab. Now transfer this dough to a parchment paper. Refrigerate the dough for 30 minutes and take it out.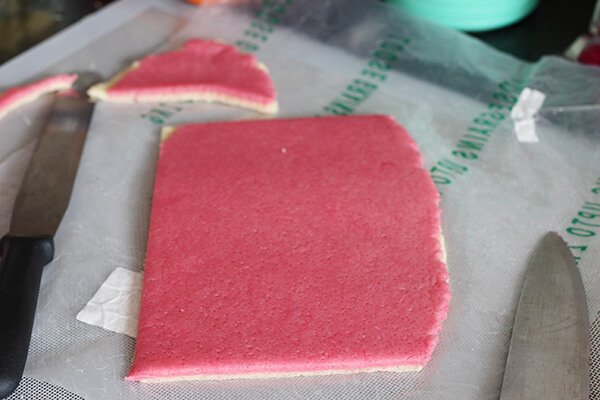 Holding the parchment paper,roll the dough tightly from the outward to inward. Once you have a tight roll, remove the parchment paper and cut them into 1/2 inch rounds. Bake for 10-15 minutes. Take the cookies before they brown else the pink part will turn brown.See that you butter your baking trays well so that the cookies comes of easily after baking.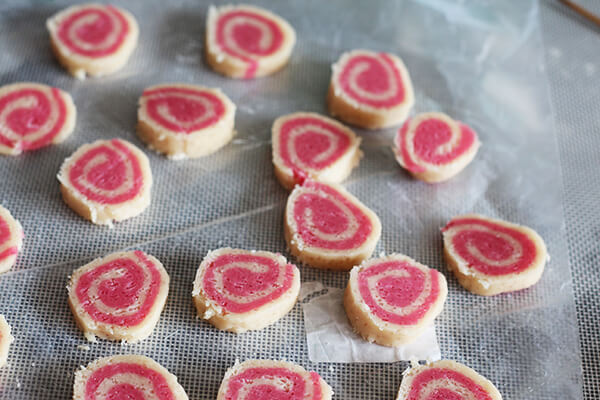 With the little leftover dough from this I just mixed them together, rolled and cut them into little hearts using my heart shaped cookie cutter. They came out as these cute marble effect hearts with raspberry and vanilla flavours mixed. I baked these for 8 minutes at 180 degrees.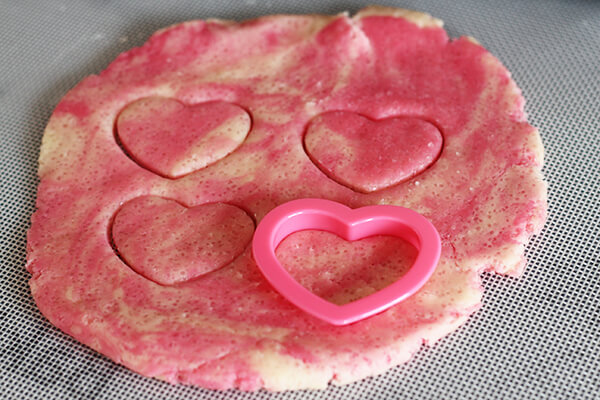 The button cookies used the raspberry flavoured pink dough. To make these I made small balls and rolled them to perfect round. I pressed them gently with my thumb and using a nozzle of my piping bag I gave the outer ring shape of the button. Using a skewer I made the button holes. Baked these at 180 degrees and I haven't baked something so cute before.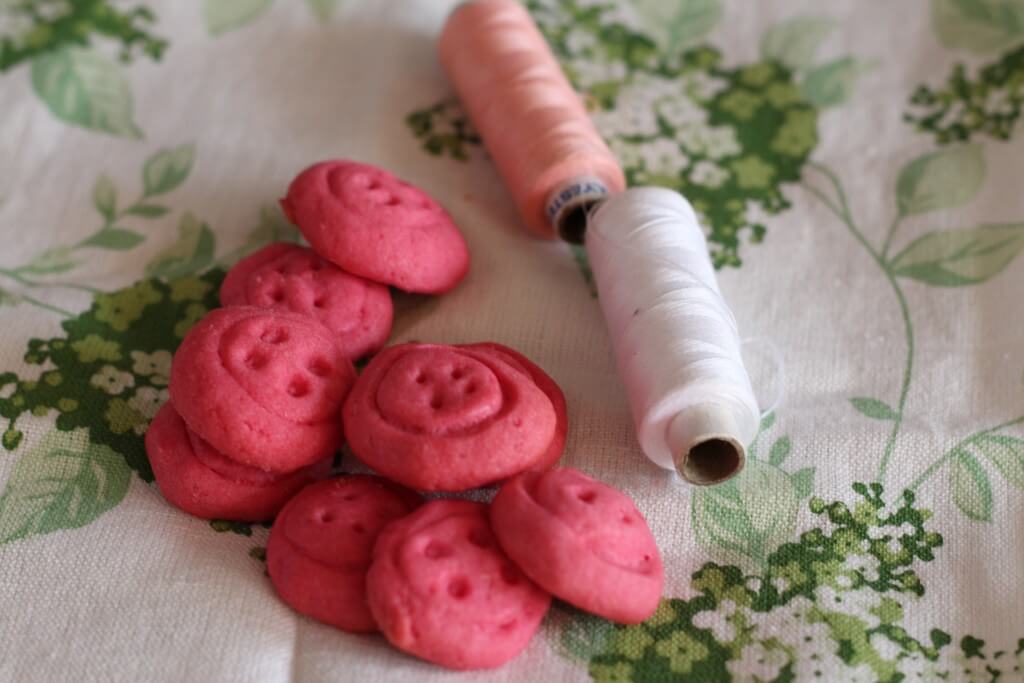 Notes/ Observations
I have divided the dough into all these cookies. So I made small batches of all of them. The cookies were small and hence I could make them all in various shapes and flavours.
2. Keep your cookies wide apart after piping or shaping them using one of these methods. They will expand as they bake so you don't want them to stick to each other.
3. The piped cookie has milk and is of a looser consistency so it bakes faster so you may not want to burn it.y
4. You know your oven best some oven bakes cookies to perfection at 200 degrees while some at 160. So though the recipe tells you 180 degrees adjust according to your oven's specifications.
5. To save energy, I switch off the oven five minutes before the indicated time and let it remain inside the oven for the remaining five minutes. This is much better than doing a bake for the intended time and burning it by letting it rest further. Now since the indicated time here is 8-10 minutes for cookies, you can stop baking after 5-6 minutes and let the cookies rest for 3 minutes in the oven.
6. Always cool cookies on a rack do not try taking them out when hot, they may break. Cookies also harden as they cool.