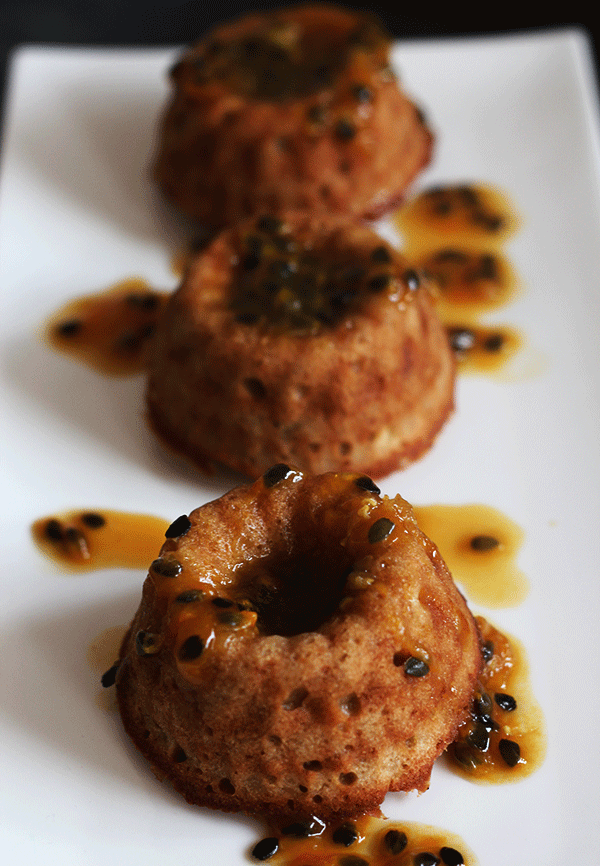 Every year mom supplies me with a load of passion fruit. I have no clue why she planted this vine? She frets half the year on how to utlize these fruits. We made passion fruit butter and passion fruit syrup last year. This time I got my share to Bangalore and as usual it remained unused in a corner of my refrigerator. I was nearly prepared to dump the whole thing, when I recollected having seen a muffin recipe in one of my cook books. It was a lazy afternoon quite cloudy and that makes me moody so I decided to be cheerful. And when I am moody or angry I bake! I had this new mini bundt pan lying unused and I thought it deserved some justice so I decided to do banana muffins in a bundt pan. I am happy with the results the banana muffins came our perfect and I was never a fan of banana cakes till now, but I think I am from yesterday. Kiddo hates bananas so she rejected the muffins outright. There comes a stage in life when you know what makes you happy. I think I have realized my vocation- I love my experiments in the kitchen and the joy it brings to people when they taste these stuff. And I hope I learn more and more each day and that this adventure in the kitchen keeps me motivated and happy.
Ingredients for Banana Muffins with Passion Fruit Nectar
Bananas- 2
Milk- 150 ml
All purpose Flour- 280 g
Baking powder- 1 tbsp
Salt- a pinch (avoid if using salted butter)
Brown Sugar- 115 g
Eggs- 2
Butter- 85 g (melted)
Vanilla extract- 1 tsp
Passion fruits – 2
Honey- 2 tbsp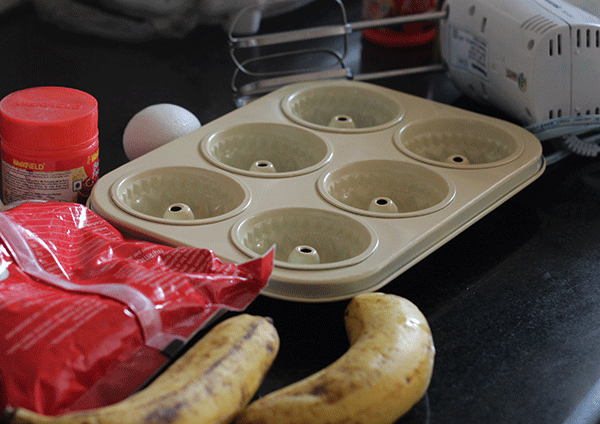 Directions
Sift together the flour,salt and baking powder in a bowl. Mash the bananas in another bowl and add milk to the mashed bananas in the end. The milk and mashed bananas should be 250 ml. Melt the butter and set it aside. In another bowl whisk the eggs using a thermomix. Add the mashed bananas and milk mixture to the whisked eggs followed by vanilla essence. Finally to complete the wet ingredients add the melted butter and mix the ingredients together using a spatula.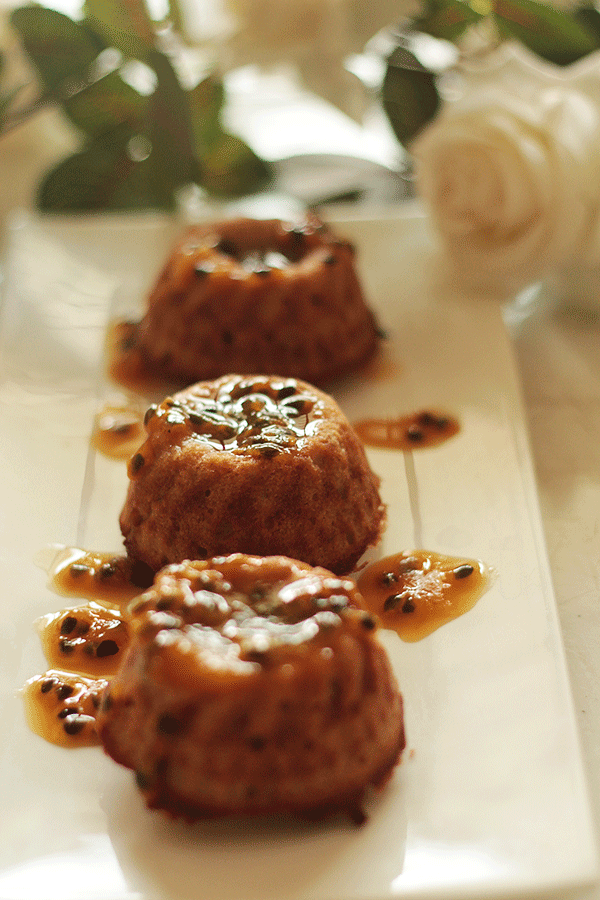 Meanwhile preheat the oven to 200 degrees. Now fold in the dry ingredients (flour,baking powder and sugar) to the wet ingredients. Do not use a thermomix after this point. Fold in the ingredients gently and do not over mix. Bake for 20 minutes at 200 degrees.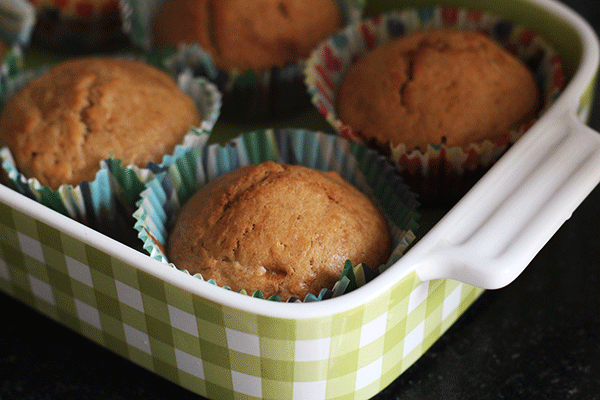 Note: 1. Brown sugar lends a beautiful colour but you can use white sugar if you don't have brown sugar.
2. Switch off the oven 5 minutes before the mentioned time ( Like I did at 15 minutes for this cake) and let the cake rest this will save some power or gas and cook the cake to perfection.
3. The images above show muffins baked in mini bundt pan but you can do it in an normal cup cake pan.
Ingredients for the Passion fruit Nectar
Passion fruit- 2
Brown Sugar- 150 g
Honey- 5 tbsp
Directions
Scoop out the flesh from the passion fruit and heat the passion fruit pulp with the above mentioned ingredients.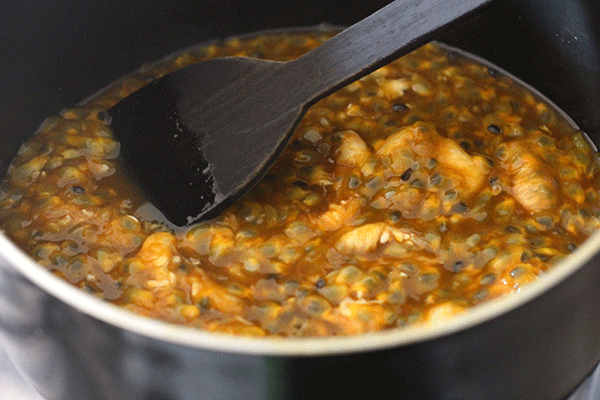 When the syrup starts thickening which is when it reaches boiling point and five minutes from then switch of the flame and let the syrup rest. Pour the passion fruit nectar over the muffins before serving.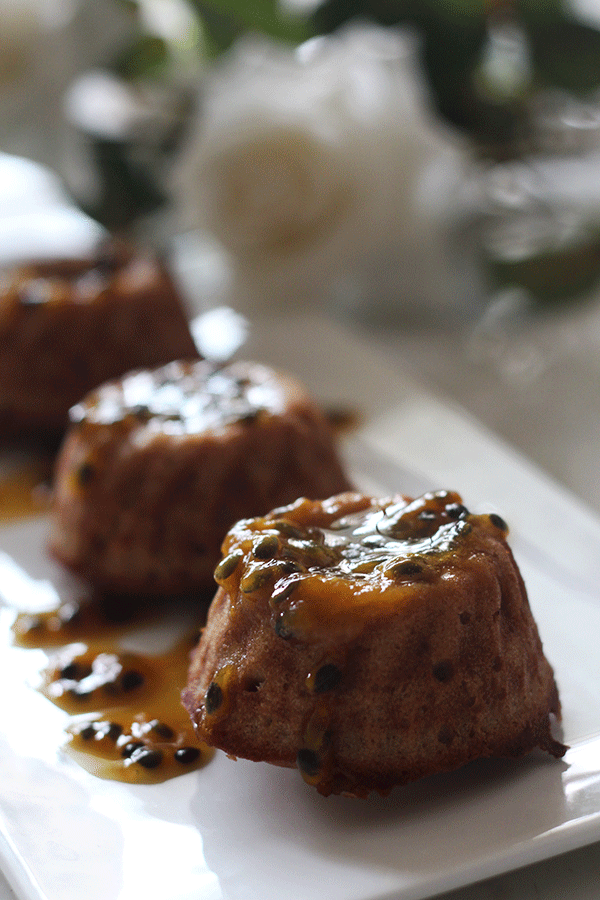 Mom seems too impressed with this recipe and has stocked 2 kg of passion fruit pulp so I am hunting for more recipes that can use up passion fruit. If you love passion fruit pulp of syrup and you are in Bangalore or Kochi do get in touch with me.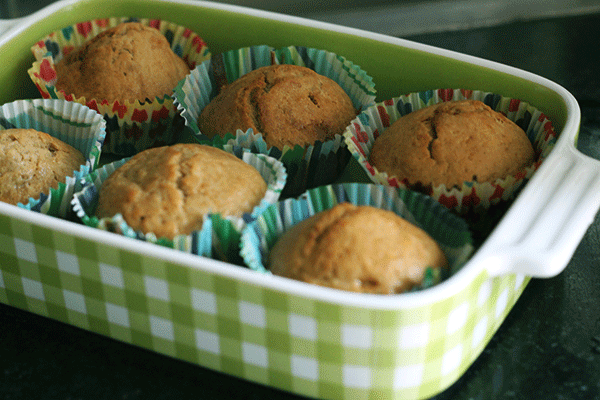 Till then eat healthy and stay blessed! And that's my kiddo with her killer looks.