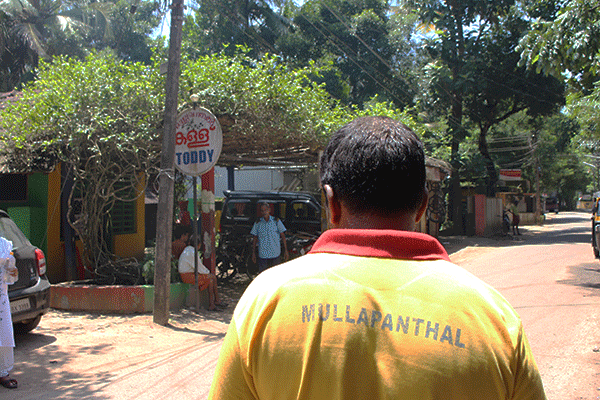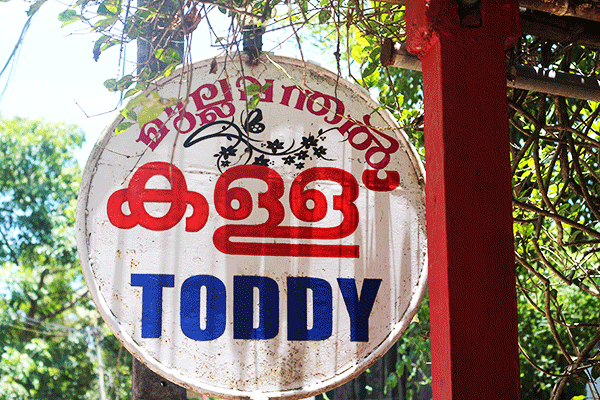 One of the most ubiquitous things, other than coconut trees, that one would see across the breadth of God's Own Country is the 'Toddy Shop/Shaap'. Though it is a low key cousin of the liquor 'Bars' that exist in the other states of India, the toddy shop outnumber their english counterparts by thousands. For once you could have a town or a village in Kerala not to have a 'Bar' or a pharmacy but there exists one or more Toddy shop inevitably. These Toddy shops sell a fermented concoction of coconut sap, which is extracted from stem of a coconut flower. The process itself is elaborate and wouldn't do justice if its not honoured with a separate post. So coming back to the toddy shop, a place where the village folk, only men strictly, will go to quench their thirst for a heady liquid to take away the pain of a hard day's labour. And once you start reaching a state of transcendence you get served with the tastiest of dishes in these shaaps, which then takes your taste buds for a spin as well. And that taste is what people go back for more if not the liquor itself. Unlike the 'Bars' where the liquor is the highlight and then the establishment will serve you any shit because you are drunk to your ears and don't care what goes in your mouth; the country people are a little more discerning, for them drink is the entree and food is the main course. There are many Toddy Shops in nooks and corners of the state which serve fares that would put any Michelin star restaurant to shame. But because the food is served coupled with liquor, and that women and children were restricted entry to these places, their legend on food was often dismissed as a cacophony of an inebriated mind. And the men folk never complained because you could be high and satiated at the same time, with your comrades, discussing Nietzsche, and not fearing of going home and sleeping on an empty stomach, because your better half was pissed off. But often there comes along men who would like to share the best of food with their family and that was my dad.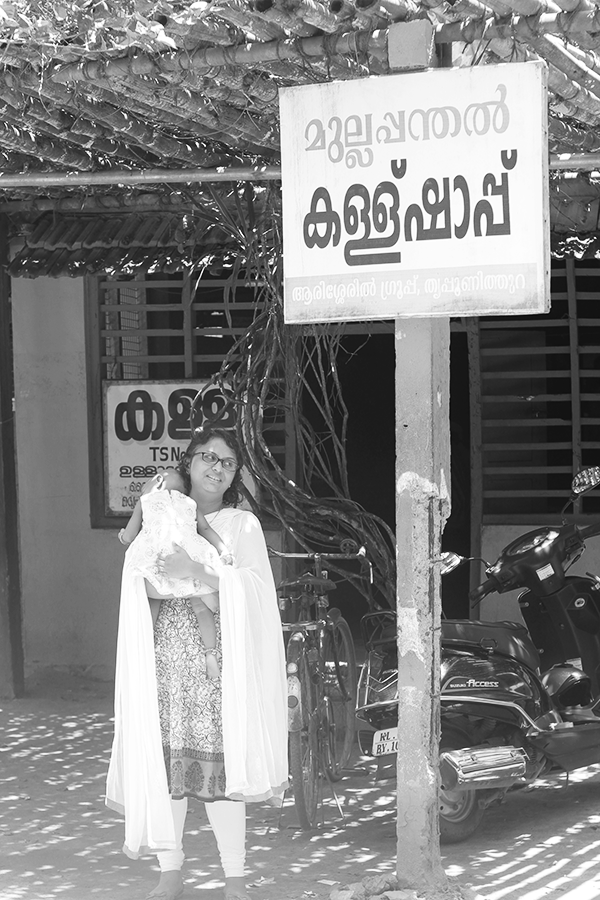 I grew up listening to my dad and his trysts with food. The 'shaap' (toddy shop) was an integral part of his conversations on food. He would often instruct mom to prepare the food in shaap style and mom would retort saying she had never been to one. My yearning to visit a shaap grew stronger after listening to dad's vivid descriptions. Of all the toddy places in Kerala, I was fixated on one place- The Mullapandhal Shaap (the toody shop with the jasmine canopy). I had my fair reasons too. This was the very shaap my dad took my mom for a so called "date". And mind you this was the 70's, when the idea of a woman entering a liquor bar was a taboo, if not punishable by law. My parents were on their way to Pala- my dad's place, after they got married at my mum's place, and stopped at Mullapandhal for lunch. You would normally visit a temple or a church or a restaurant after such an auspicious occasion. But that was dad, for him good food was a pious thing and anyplace serving it to him was a place of worship. She referred to Mullapandhal as the 'toddy shop with jasmine blossoms' and was always nostalgic when she mentioned about it. Not that it had the best of the ambiance or service, but the food was was lip smacking good, if you could ignore the lecherous drunk eyes staring at you.
Fast forward thirty years, and I got to experience the legend in person. As part of my curriculum, I got posted in the same panchayath, where this shaap is located, for a study exercise and got to visit this place eventually. It was a eureka moment, when I accidentally spotted the Mullapandhal shaap, and stood there like a rabbit caught in a headlight. Memories came flooding back to me and I let it linger with every bite of food I had at this place. It was as if the gods allowed me into their realm and let me enjoy the elixir.
Life went on and I kept narrating the stories about this place, maybe a zillion times, to my hubby, and every time we visited Kochi, the Mullapandhal Shaap was on our to-do list but we could not strike it out. My hubby keeps watching this show, featuring the famous toddy shops and their food in Kerala, drools in front of the TV and keeps wishing if he could be there. He says its food porn of the raunchiest kind. And I kept thinking about taking him to Mullapandhal shaap, one day. And when it really happened it was not by chance but by design. Eventually when we pieced it all together we found out that even this time it was not without serendipity. The Mullapandhal shaap had the good fortune of hosting three women, from three generations, at the very same time; two of whom had been there and done that, and third one – Sarah, could add this experience to her own list of food-lore. As mom and I stood there, as how we had stood at the exact location, many many years apart, we felt as if we are initiating Sarah into the journey of culinary experiences from the citadel of taste.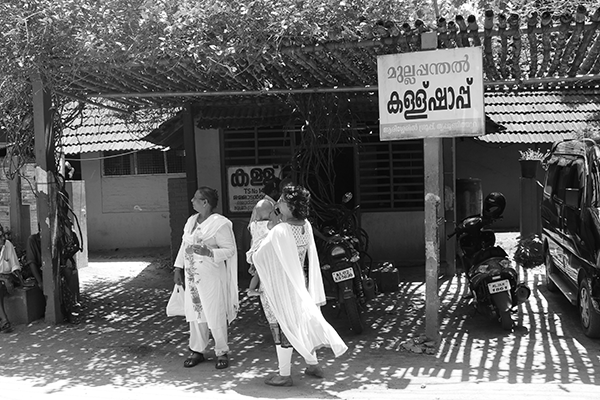 The place is so called because Mulla in Malayalam means Jasmine and pandhal means canopy, and therefore the name Mullapandhal Shaap. And you can see in the picture below the Jasime vine covering the front facade on the shaap. Mom says that the jasmine pandhal was always there around the shaap, even when she had visited the place years ago. The structure is little old school, even though its quiet famous now and many people visit it round the year, it looks very similar to any toddy shaap in Kerala. The many structure is made of wooden planks and brick and mortar in some places and roofed with terracotta tiles. The main entrance directly leads you to an anteroom with a couple of benches. People who come with families enter through a side entrance, leading into a large hall with tables large enough to accommodate four tables each. On one side there are couple of small rooms with chairs and a single table, for the more discerning guests. The hall doesn't look any different from a regular bar, albeit it is has few sides open and it at least makes it look less shady in the day time. I can imagine that by night fall the place will be dark and airy, the perfect for people to drown their sorrows and pain. Even though the place has up for families and children so special changes have been made to make them feel welcomed. There is a larger room with a larger table and few chairs where families are made to sit. It gives you a feeling that you are at a place where you are allowed to enter but not welcomed enough.
But the moment the food is served you forget about the ambiance and focus on the task at hand. Now for those of you who are eager to visit a shaap, let me warn you that the food here is extremely spicy and the do not serve any thing to lighten it, like curd or buttermilk. And no desserts either. You only have the sweetly sour toddy and if you drink, you would be either too heady to notice this or it just washes everything down your throat. The spread here is amazing. Check out the menu below.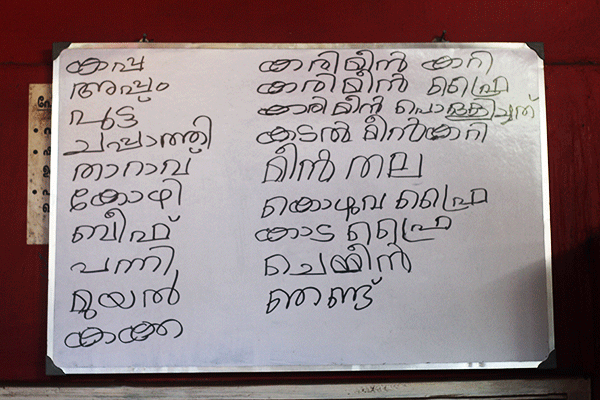 For those among you who cannot read malayalam the menu reads- Tapioca, Appam, Puttu, Chapathi, Duck curry, Chicken Curry, Beef Curry, Pork, Rabbit, Mussels, Pearlspot Curry, pearlspot fry, Pearl spot cooked wrapped in banana leaf, Sea fish curries, Fish head curry, Anchovies fry, Quail fry, Prawns and Crab. I guess they forgot to include mutton but we could not care any less. We ordered the following and loved each one of them.
Karimeen Pollichathu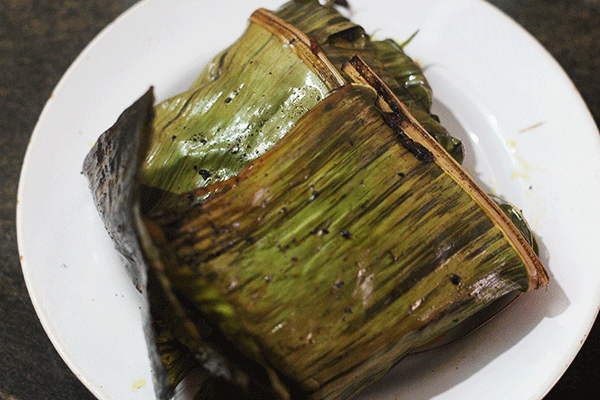 Karimeen polichathu is Kerala's fish-en-papilote. You basically wrap the fried pearl spot with some spicy relish and cook it on a skillet with very little oil. The flavours from the banana leaf makes it stand out unlike the use of paper. We ordered one plate and were surprised to learn they served two medium size pearl spot inside the leaf. But we must warn you, this is a super spic dish and you don't get desserts at the end of your meal. So order at your risk.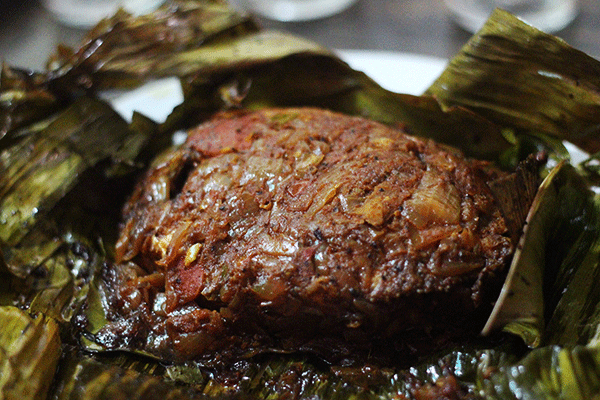 Kappa and Meen curry
The accompaniment with every curry was our favourite duo- rice and tapioca. Though the menu did say appams and chapathis, we were told that we were early for lunch and all they had was rice and tapioca. The fish curry served was super spicy the heat levels match the redolence you see in the image. And the fish was huge, that's the biggest chunk I have ever had on my plate. I am sure that piece of fish was at least 3oog.
If you are a malayalee you would understand when I say this curry was made a day ahead :) Fish curries with tamarind is prepared a day ahead so that the tamarind essence gets into the fish and so a curry prepared a day ahead tastes much better than one prepared on the same day. So we loved the curry. I had it with steaming hot rice so I found it unbearably hot. Now unfortunately shaaps do not serve mildly spiced food. In fact this was their mildly spiced version. For the daring they could make it even spicier.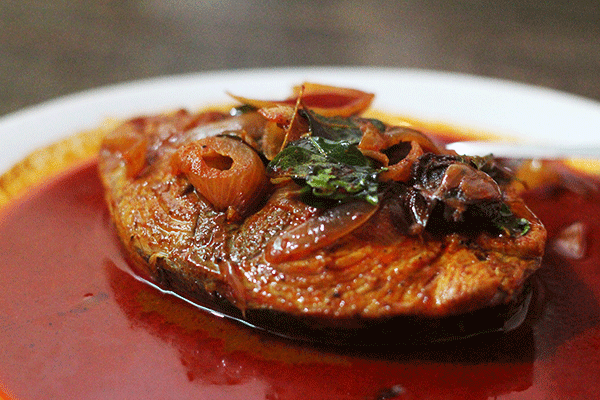 Anchovies Fried
I always fight with mom saying I want the anchovies fried to crisp and mom tells me that is a lot of oil. But at the shaap they are quite generous with the use of oil and so I loved the anchovies. It had the right blend of spices, and vinaigrette salad on the side. If you order rice, this is something you should order. You will love the crunch and pepper, fried shallots flavours that will hit your taste buds the moment you pop in these. Worth trying as a starter with some toddy.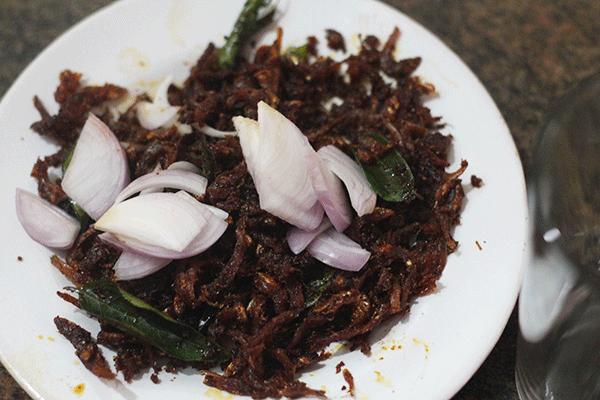 Pork Roast
Pork is my favourite meat and I cannot say no to pork so, despite ordering half the menu I asked for pork. At a shaap, they serve everything in small saucers that make you wonder if this will suffice. But their spice levels will not make you ask for more and you can therefore taste everything and still eat moderately. From the health perspective, that pork was reeking in oil but maybe that is what gives these dishes the true flavours. I was not happy when I saw a small saucer of pork roast but then 5 of us could not finish all the dishes we had ordered so I am glad we ordered just one.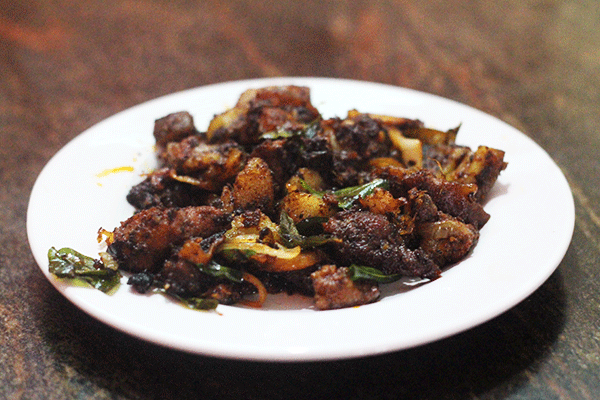 And though we never drank toddy there, we loved the rustic looking bottles and ambiance, the smoky kitchen and dark, shady rooms where people sang and laughed and wept- all drowned in toddy.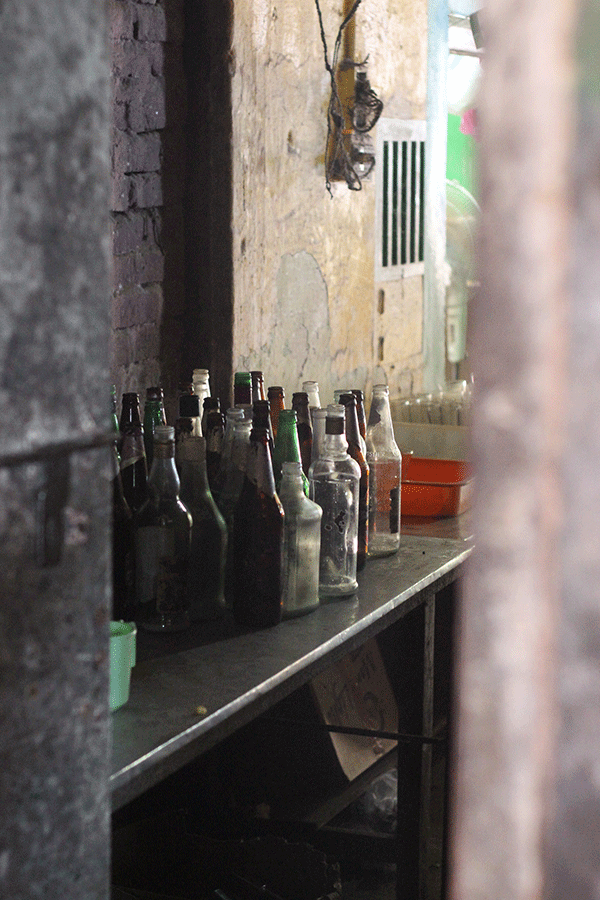 Sarah slept till we were midway through lunch and she loves food. But there was nothing on the menu except rice and appams, that she could have had so when she woke mid way we had to take her out of the room. She wanted the red colour curries and all we had to offer was the 'bullet rice'. Despite all the excitement, I am not sure I liked what I found at Mullapandhal. Except for the fish curry, every curry was too spicy for me to even register what I was having. The worst combination with spicy food is piping hot rice, because it makes your experience extremely spicy.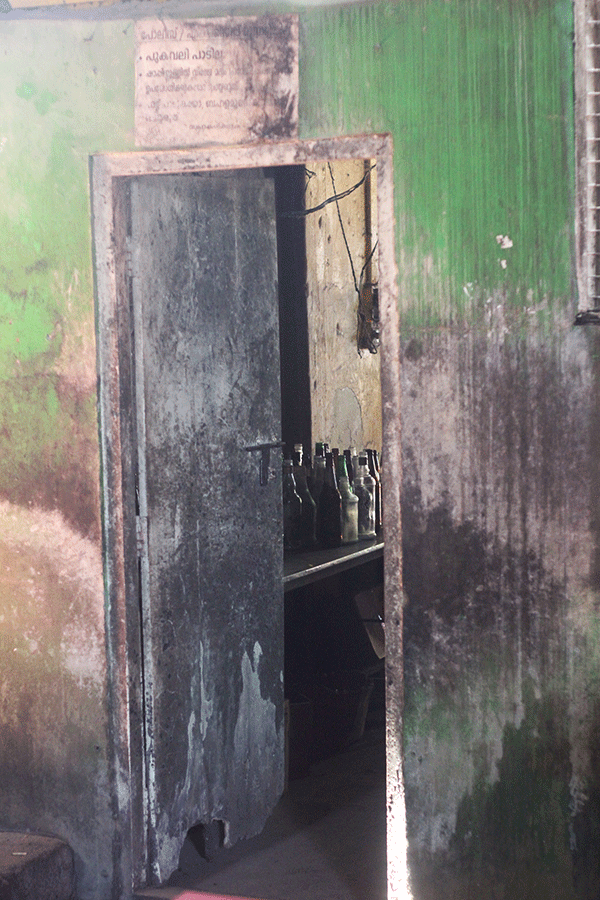 I was disappointed to not find curd or buttermilk to cool down our rumbling tummy. Maybe it was unfair to expect it at a place like Mullapandhal that is no family restaurant but just a toddy shop. But television shows featuring toddy shops have heralded them as family friendly restaurants these days, making us hope for basic curries apart from the 'shaap specials'. This is definitely not a child friendly place. Had Sarah been awake I have no clue what direction she would run for also in terms of food, this is not a place you could find something decent for kids to eat. But if you want to enjoy an unexplored side of Kerala, the rustic charm of smoky, spicy food with some toddy and folk songs, you should visit this place. I am not sure if they serve beer, but toddy is worth a try. And mom and I had lovely stories to share of our personal experiences at Mullapandhal ears ago (separated by 2 decades). So for us this trip was historic and I guess some day when Sarah reads this, she will feel a special connect to Mullapandhal.
And while I am digressing from the topic, Salad Nation is organising a contest to promote breast cancer awareness. This groups in managed b my friend Monisha Devaiah and me. We promote healthy salad recipes and tips for salad making on this page. For the love of healthy eating and cooking we have decided to use cooking as a medium for social causes and this is our first attempt. Please visit #/saladnationt#hl for further details. It is an exciting contest where you are expected to do a healthy dish in pink, white or red colours alone and the winners will be rewarded. So stay tuned for more posts on ooonuready and go do your bit to spread awareness regarding breast cancer.