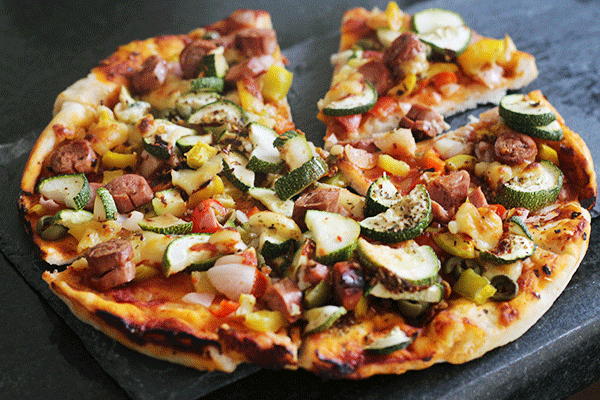 When I met my hubby for the first time, he looked like a kid and I thought I was gonna look like a pumpkin next to this drumstick. Five and a half years into our marriage now he is starting to resemble a potato and I am gonna get grounded for saying this :) I guess he gained a few pounds from dominos and I hold them responsible for luring him with irresistible offers. We used to order their pizzas every alternative Friday for quite some weeks and with the introduction of the cheese burst pizzas our life went off the rail.
And finally I came to the conclusion that this had to end for the sake of our vanishing youth ( yep we were starting to look much older than we should thanks to the double chins and pot belly). This post is the result of this resolution. I guess the tipping point was our dinner at California pizza and I said to myself, I am gonna do this myself, much healthier and save my wallet and waistline.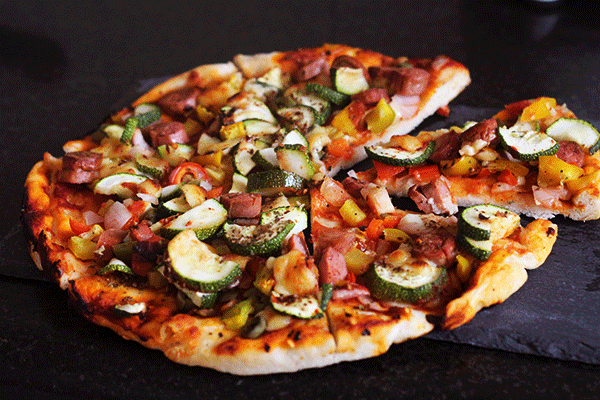 I did go to another pizzeria after this resolution and starting this series has not ended our pizza exploration trips. But it has restricted the extra cheese bursts. I hope I can see my potato get back in shape. Till then, its home made pizza mania with a little control.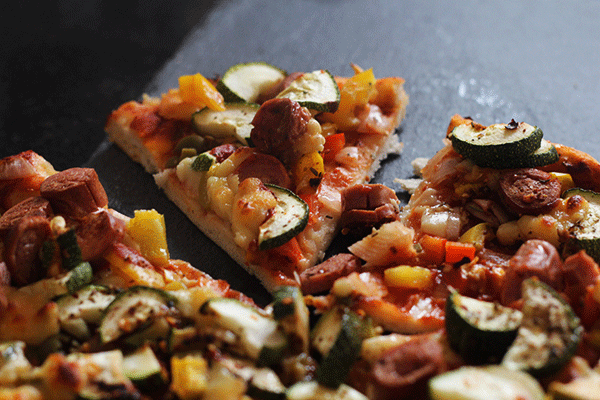 Ingredients for Home made Thin crust Pizza (Recipe courtesy: The kitchn)
Luke warm water- 3/4 cup
Instant yeast- 1 tsp
Salt- 1 1/2 tsp
Flour- 2 cups
Toppings – 1 sausage, 1 zucchini, 1 tsp olives, 1/2 onion, 1/2 yellow bell pepper, Pizza cheese, 1/2 red bell pepper and Chicken sausage
Oregano- 1 tsp
Pizza sauce- 1/4 cup
Directions
Mix the yeast, salt and water in a bowl. Add the flour in three batches and knead the dough till it forms a pliable mass. You can start right away but if you have time let the dough rise till it doubles. This will take an hour and you can prepare the sauce and toppings meanwhile. I use my home made pizza sauce mostly but this time I had no stock in my pantry. When I am lazy or have no pizza sauce in stock I make a quick fix pizza sauce. For this all you need is a can of tomatoes or a pack of tomato puree, 3 cloves of garlic, salt, pepper and some oregano. Heat some olive oil saute the crushed garlic, add 100 ml tomato puree and sprinkle some salt, pepper and oregano. Once the sauce simmers your pizza sauce it ready. Ad for the toppings I just diced the above mentioned topping ingredients and grated the cheese. So technically, I was done before the dough doubled.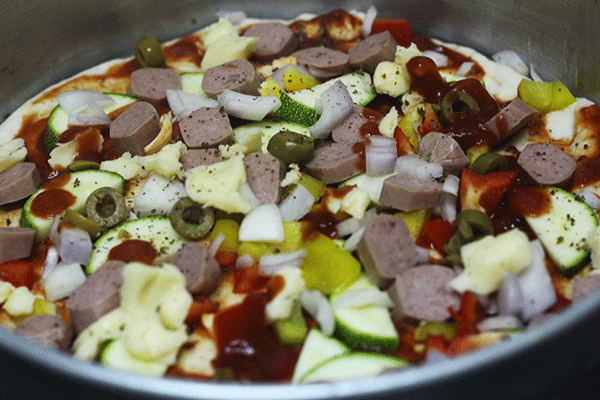 Preheat your oven at 500 degree Fahrenheit meanwhile and wait for the dough to double. I made two 8 inch pizzas with this dough. In case you plan to make just one, you can freeze the other half. I usually do this after rolling the dough into a pizza base first, and then I wrap it with cellophane paper and freeze the dough. When I need it the next time, I thaw the dough for 2-3 hours and start prepping once the dough is at room temperature. If you plan refrigerating this dough it can stay up to 3 days.
Now divide the risen dough into two halves. Roll each half into circular discs. Now as you can see, I can never roll anything round but when I did tuck this base into my round pan I managed to get it stretched to a perfect circular base. Once you have rolled out the dough, grease the pan or pizza stone and transfer the dough to the pan. Some recipes suggest that you bake the pizza with a parchment paper, but I did not. After you have transferred the dough to the pan, now add the sauce and toppings. Bake the pizza for 8- 10 minutes till the edges of the crust starts to look golden.
It was dark by the time we were done, so I took some clicks of the second pizza the next day and we had it for breakfast. And that's our kiddo caught on camera while nibbling the crust of our morning pizza :)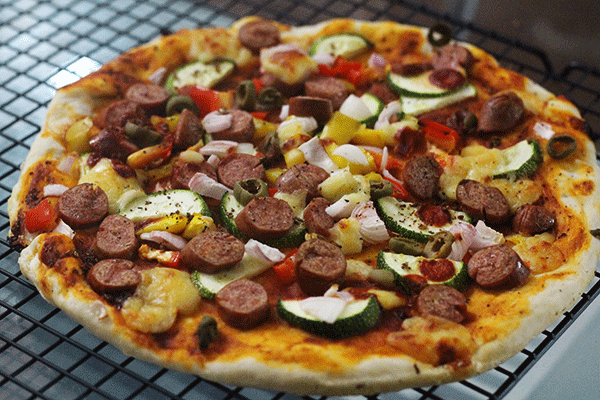 I guess I am gonna try various versions of pizzas from now on wards like the pizza pie, the mini pizzas, the skillet pizzas, multigrain pizzas…. I have a long list but then I have to squeeze in some other recipes in between too, so I let the pizza mania rest for now.
Will keep you updated with some new experiments in our kitchen and I am gonna take a break and visit my family in Cochin next weekend hope to post something before I leave but till then why don't you try this pizza and let me know how it turned out? I love this pic, it motivates me to do pizzas every time I look at them. How about you? Are you ready for some home made thin crust pizza?