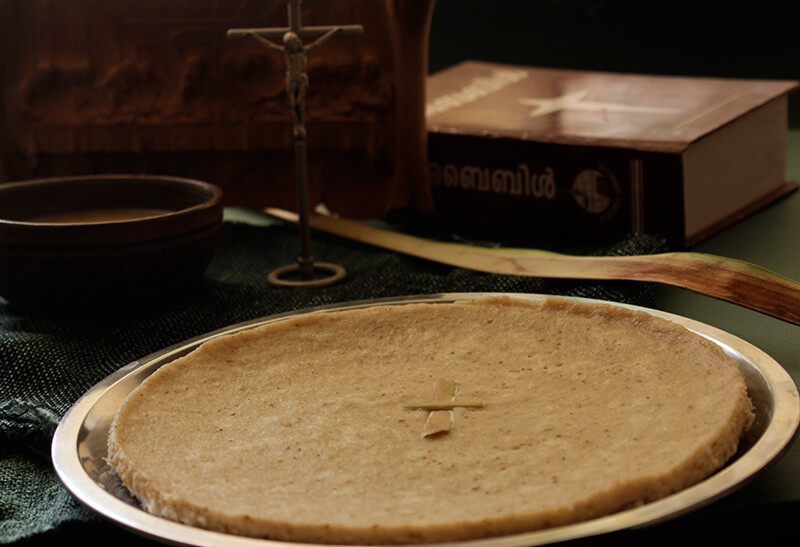 The first memory of Maundy Thursday to me is watching mom make this bread and flavoured milk for the day before we rush to church. She often made two kinds of breads. One was the Kalathappam which I have only tasted at her home. It's a bread more like a pancake with fried shallots and coconut strips. It's not steamed but made in a pan on the stove top. I find the whole procedure to make this bread tedious, but it tastes awesome. I have never made it myself, I always stick to Indriappam, something we refer to as dad's side appam. My hubby's side makes something similar to the indriappam and I find it easier. So I thought I will upload this recipe this year, but my mom wants the Kalathappam to be here and I hope I can click pics of Kalathapam tomorrow when i reach home. Till then for those of you who might need the recipe of indriappam, I am posting it for you folks.
Have a blessed passion week.
Ingredients for Indriappam ( Makes 2, 7 inch appams)
Raw rice ( we used idli rice though mom believes sona masoori would be great)- 1/ 2 cup
Urad ( black gram) – 1/4 cup
Grated coconut- 1/4 cup
Shallots- 4-5
Garlic- 4-5
Cumin- a pinch
Salt- to taste
Directions
Soak the rice and Urad for 4-6 hours. We did it early morning , you could soak it overnight and grind it in the morning too.Grind the coconut, shallots, garlic and cumin to a fine paste and set aside. Now grind the rice and black gram to a fine paste and mix this paste with the coconut paste. Add salt. Oil a plate or pan preferably 7- 8 inches that can be steamed in a steamer. This batter does not require fermenting so pour a ladle or two into the oiled plate and place a small cross made out of dried palm leaf. Often palm leaf of previous year's Palm Sunday is stocked for this purpose ( make a cross as visible in the pic below)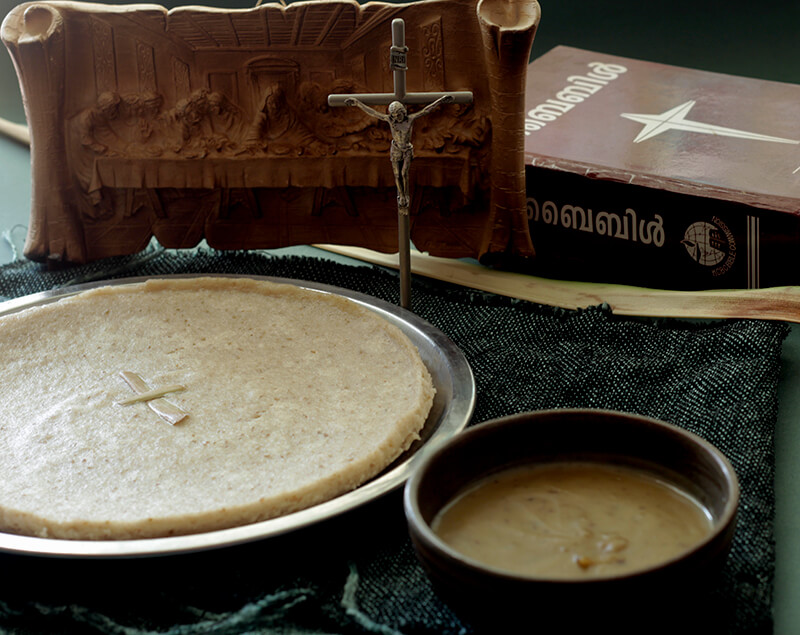 Steam the appam/bread for 10- 15 minutes in a steamer till a tooth pick inserted comes out clean. Let it cool down a bit before transferring it to a plate. This bread is made only on Maundy Thursday and is therefore considered holy. I am often asked by non- christian friends if they can make this or try this- frankly I don't know, I would not mind anyone trying this out as a recipe, but it holds special significance to Christians who celebrate the Passover on Maundy Thursday. And my purpose of sharing this recipe was to chronicle this family recipe and help other Christians who look out for recipes to make this. So anybody is free to try this out, I never make this for any other occasions.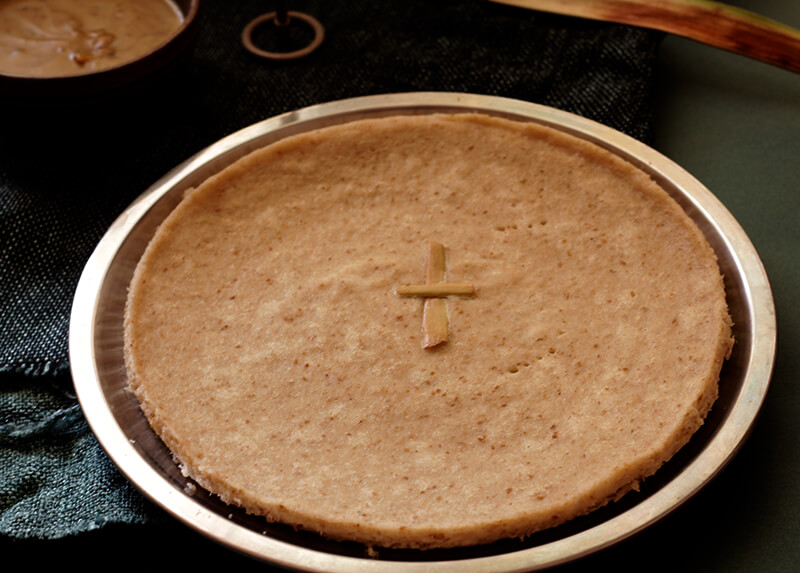 Ingredients for the Pesaha Paal ( The milk served with the unleavened bread)
Coconut milk powder- 4 tbsp
Jaggery melted- 150 gm
Dry ginger powder- 1 tsp
Cumin powdered- 1 tsp
Cardamoms powdered- 6
Rice flour- 100 gm
Directions
Heat the jaggery with some water and once it's melted strain it and set aside. Powder the cardamom and cumin finely along with dry ginger ( I had dry ginger powder already). In a pot whisk together rice flour with half a cup water and bring this mixture to boil, add the jaggery to this mixture followed by powdered ginger, cardamom and cumin powder. Mix coconut milk powder with a cup of warm water and add it to this boiling mixture and let it simmer for two minutes, the milk is done. Add a strip of the blessed palm leaf to the milk before serving.
I am not sure if Christians outside Kerala follow this tradition. For that matter I don't even know if Non- Syrian Christians do this either, but to me I cannot skip this tradition, it makes me feel incomplete and that's when I realize how much these little traditions are a part of my life- and its all about memories and food :) . Hope you all have a Blessed Holy week and Happy Easter.