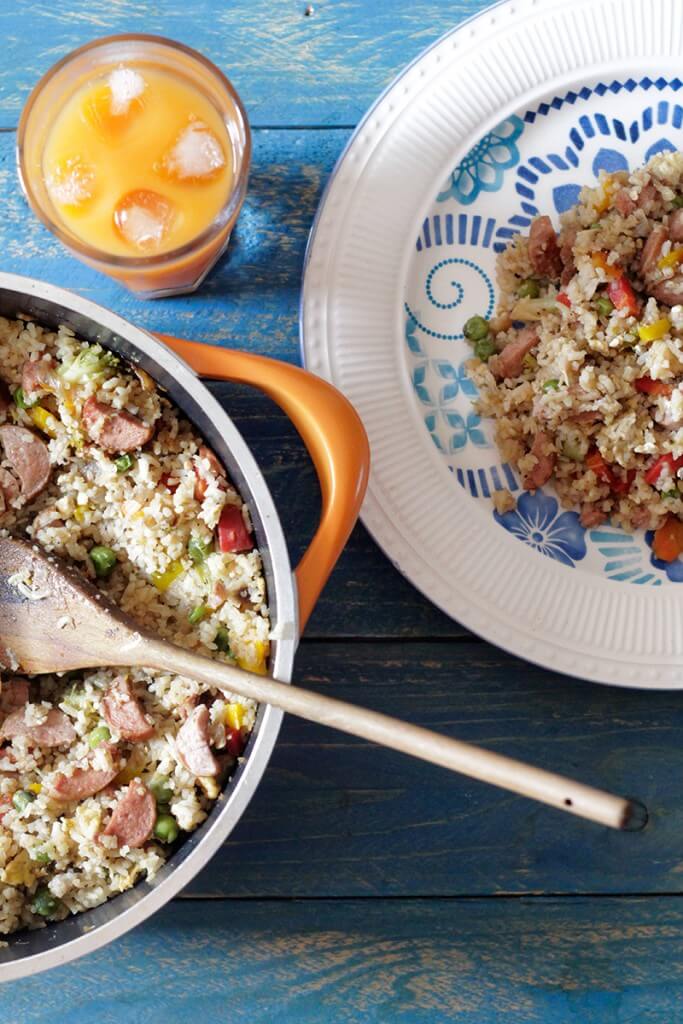 Its been a while that I posted anything apart from toddler meal and to be honest I don't cook at all anymore. With both of us working, I eat at my workplace (Lumiere Kitchen)and hubby dear manages with simple meals. Sarah' s food is all that I focus on. So it so happens that I buy veggies and end up throwing them which makes me guilty. This time I took two days break because I was down with laryngitis. I can't talk which means I can't yell 'pickup', 'wipe the bowl', 'cut,chop,puree fast-fast-fast'. My boys back in the kitchen are super excited that their mad chef can't yell at them. So I decided to take a break and my voice is getting recharged for the weekend. When I checked my refrigerator, I saw a lot of leftover veggies, some prawns and sausages. it reminded me of my first experience in our kitchen when I was 9. I had been to a party and was impressed by their mixed fried rice. Mom always made biriyani and I thought mixed fried rice was cool. So I tried verbalising to mom how the mixed fried rice tasted. She either did not get me or pretended she did not because she was busy. The week after I found this recipe of a cantonese fried rice on a calendar. Those were days when we had no internet and cookbooks so mom and I used to cut out recipes from magazines and calendars. I can't explain my joy of having found this recipe, it was so close to what I had at the party and when I read the recipe, I thought I understood it. Having seen mom cook, I mustered up some courage and cooked this rice. It became too mushy and I was embarassed to share it with mom when she came home from her night shift. But mom sat and had it patiently and told me what went wrong. She told me to under cook the rice and to strain it and keep it chilled. She made me do it again and that's how I began my culinary journey.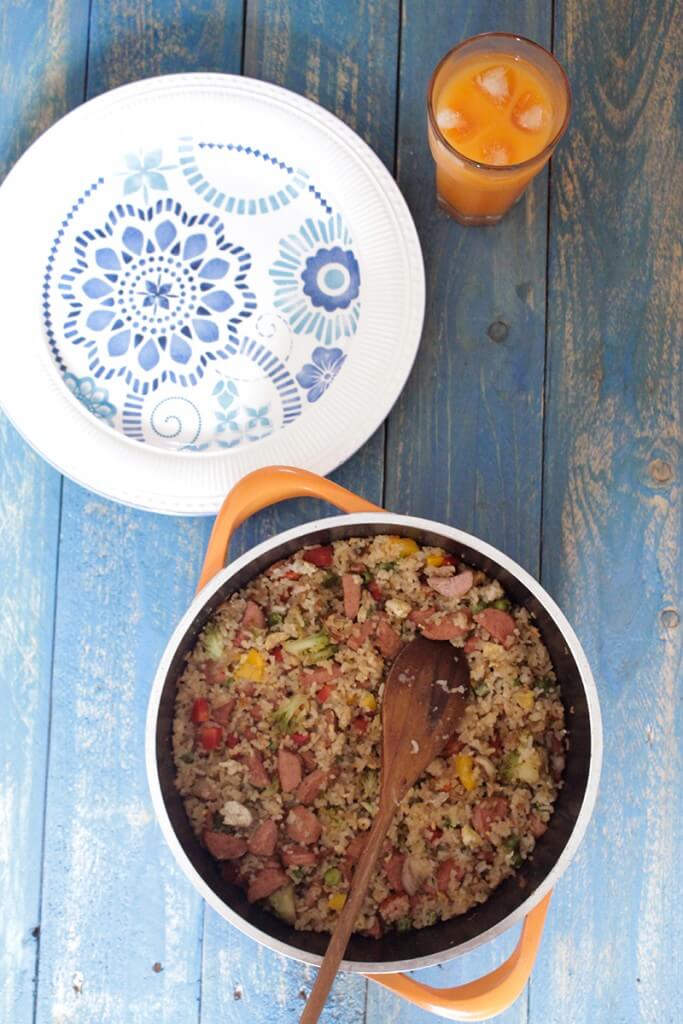 Well Jambalaya is quite similar to a fried rice except for the use of creole spices, tomato puree and the andouille sausages. Sounds fancy huh! I did not have any of these but I still made it so here's how for the creole spice mix some oregano, smoked parpica, garlic powder, basil , onion powder and cumin powder. I had some chicken sausage and used them instead of andouille and sauted some tomatoes instead of tomato puree. Tomato puree will lend this dish some colour but I am fine with this version. I used sona masoori rice because I did not have basmati, but I recommend basmati for this dish.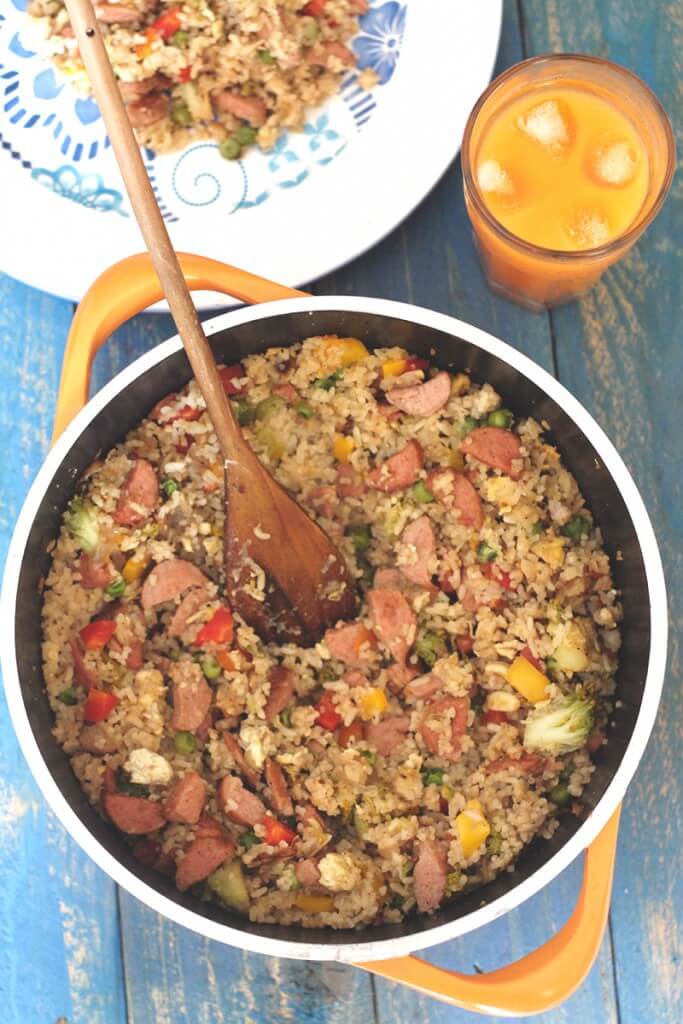 Ingredients for Jambalaya with Sausages and Prawns
Basmati Rice- 1 cup
Sausages- 6
Eggs- 4
Prawns- 100 g
Tomatoes- 6
Onion- 1
Garlic- 4 cloves
Butter- 2 tbsp
Broccoli- 100 g
Yellow bell pepper- 50 g
Green peas- 50 g
Carrots- 50g
Creole spices- 1 tsp
Chicken stock- 2 cups
Salt- 1 tsp
Pepper- 1 tsp
Cilantro- for garnish
Oil- 2 tsp
Directions
Wash and soak the rice for 20 minutes. In a pan fry the sausages first. Drain them and set them aside. Now scramble the eggs in the same pan. Wash and chop the vegetables and heat the pan again. Meanwhile cook the rice till its al-dente. In the pan add the butter followed by minced garlic. When the garlic browns, add the onions and saute till they wilt. Add the tomatoes, salt and creole spices. Saute the tomatoes till they wilt. Throw in the veggies and cook them for 5-6 minutes. Meanwhile drain the rice and pour some cold water over the rice to arrest further cooking. Add the prawns and sausages to the veggies and pour the chicken stock. Bring the stock to boil and add the rice. Cook the rice till its well cooked and add the scrambled eggs. Garnish with cilantro. The rice will be a bit sticky, if you don't like it this way, cook the rice a bit more in the first part and avoid cooking in chicken stock.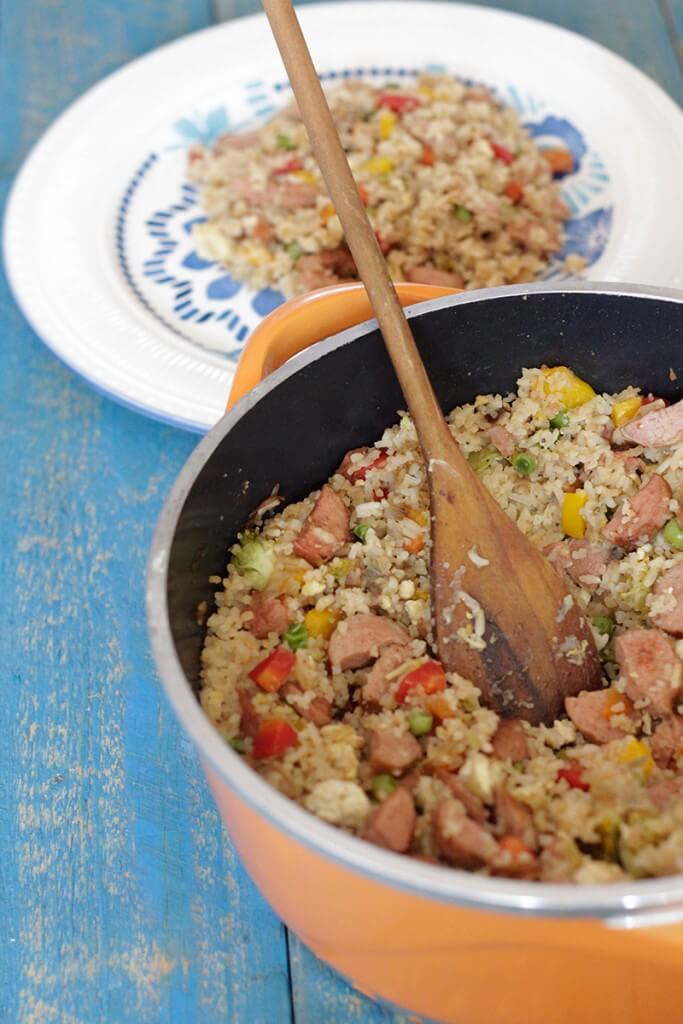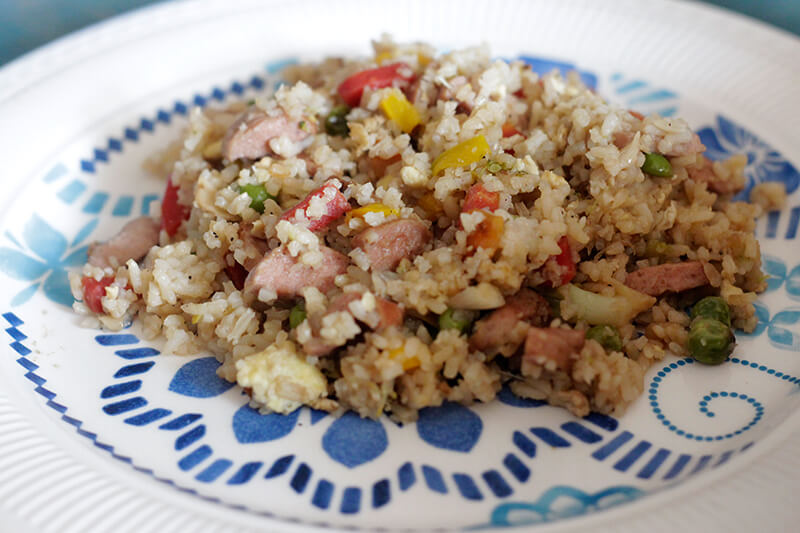 I will try the cantonese fried rice some day. Sarah did not like this one, so I wont add it to the toddler challenge. I know I am lagging a lot in the toddler challenge, its just the recipe posting that's hard and not the recipe creation. Hopefully, I will complete a year with a lot of breaks :)