Foxtail millet has found some space again in our kitchen thanks to my new job. I am experimenting with millets for our new menu so I tried this for a client. I am happy with the results and Sarah had some of it too, yesterday. Today I made some pumpkin kheer and she loved it. I don't cook much at home and restaurant business is on full swing in the weekend which means I don't get weekend off. This was a tough decision for me when I decided to take this project up. But hubby dear said go ahead and learn what you love the most. Yep, I love running a kitchen. Blogging and experimenting with food was the closest to this experience that I ever had and thanks to all the years I put into blogging, doing a new menu was no big deal for me. But surviving a commerical kitchen is no joke. It tests your reaction time, you need to be swift, agile, creative and immobile for hours. But if you are like me you would not mind. I am under a trance the moment I enter my kitchen. It's a world with me and my boys- yep my team of 7 boys, I being the oldest makes me a mother hen. So all my cooking, even my experiments are in the kitchen at Lumiere. I am hoping to take the camera there and shoot few stuff, I hope I find time for this with the tasks entrusted to me.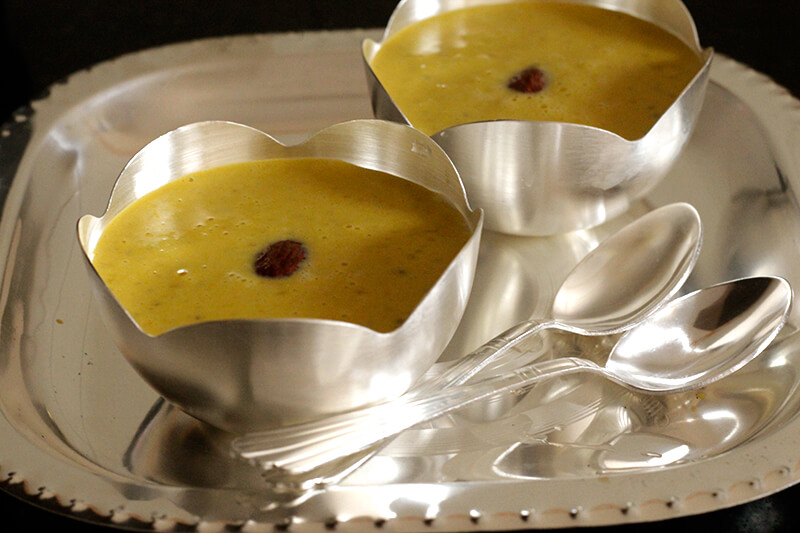 Sarah is not very happy with her vanishing mom so I am trying to spend more time with her, hope my kiddo understands. And her dad is planning to spend some time with her, so that should do the balancing act for the next few months. I need to get back to few chores so here's the recipe. The steel bowls was gifted to me by Neelu's didi Prathima (bhai's wife's sister). I was waiting to prepare a kheer to use the bowl and this is my first silverware ever, which makes it very special. So if you know me and plan to gift me something crockery it is…..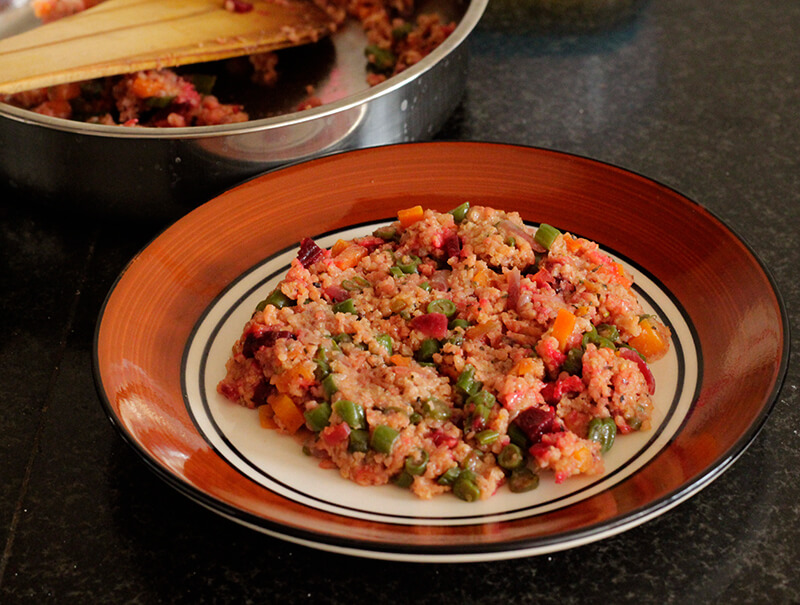 Ingredients for Foxtail Millet Pulao
Foxtail millet- 70g
Carrot- 50g
Beans- 50 g
Beetroot- 25 g
Butter- 1 tsp
Cloves- 1
Bay leaf- 1
Cardamom- 1
Onion- 1
Ginger- garlic paste- 2 tsp
Cumin seeds- 1 tsp
Salt- a pinch
Directions
Wash and soak the foxtail millet for 30 minutes. Cook the foxtail millet with 2 cups of water till its cooked. You will know its cooked when you bite into the millet and its soft. If it is like a grain or crunchy, it needs to cook further. Once cooked the millet will also triple in volume. Chop the beet root, carrot and beans finely. Heat butter in a pan and add the whole spices. Once the spices are roasted there will be an aroma in your kitchen of roasted spices, add the chopped onion and ginger-garlic paste now. Saute till the onion softens and add the chopped vegetables followed by salt. Cover the pan with a lid and cook the vegetables. Drain the foxtail millet meanwhile. Once the vegetables have cooked add the foxtail millet and cook the millet with vegetables. Do not add any water to the millet and vegetables as you cook them together. Cover and cook if you think they need to be cooked any further and allow them to cook with the steam. Serve warm.
Note: An alternate way to prepare this dish is to omit whole spices and add the vegetables and foxtail millet to a classic alfredo sauce. I will do that the next time.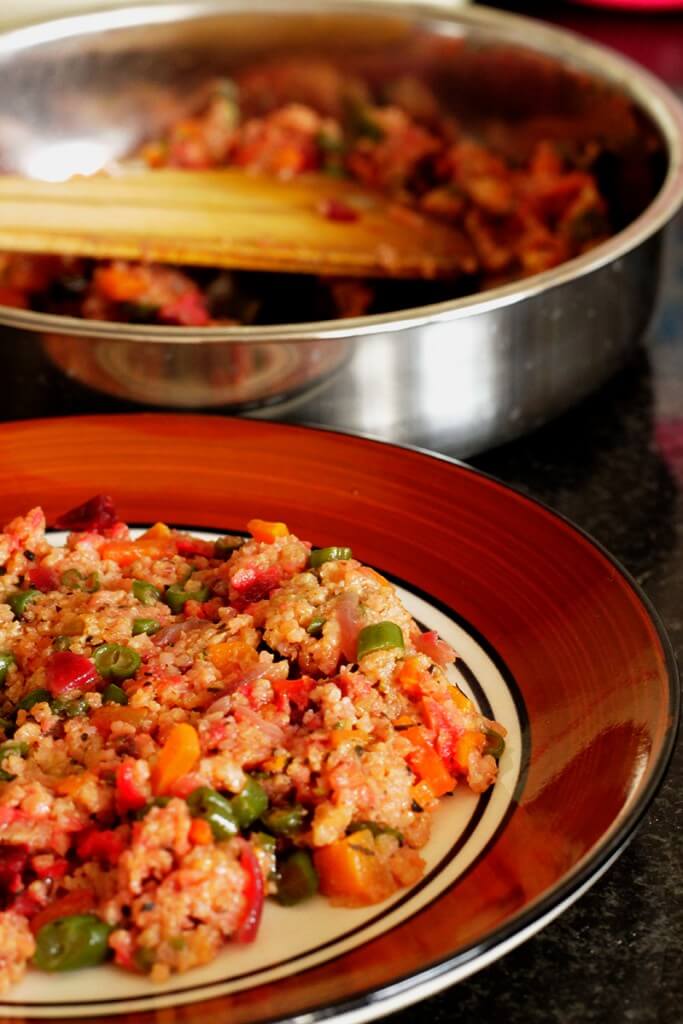 Ingredients for Kadhu ki Kheer
Pumpkin- 200 g
Sugar- 100 g
Milk- 500 ml
Ghee- 2 tsp
Cardamom powder- 1 tsp
Dry ginger powder- 1/4 tsp
Blanched almonds- 5-10
Directions
Peel the pumpkin and chop them up roughly. Heat 1 tsp ghee in a pan and saute the pumpkin cubes. After 5-8 minutes when the pumpkin soften add the milk and sugar. Cook the pumpkin in the milk for 5- 10 minutes. Cook over low flame during this time. After 10 minutes switch off the flame and let the pumpkin cool. Now puree the milk and pumpkin and heat the pan again. Add 1 ts ghee and roast the almonds first. Take the almond out and add the pureed mixture. Add cardamom and dry ginger powder to the kheer and bring it to boil. Let the kheer thicken a bit so let it simmer till its thick. Garnish with nuts and serve warm.