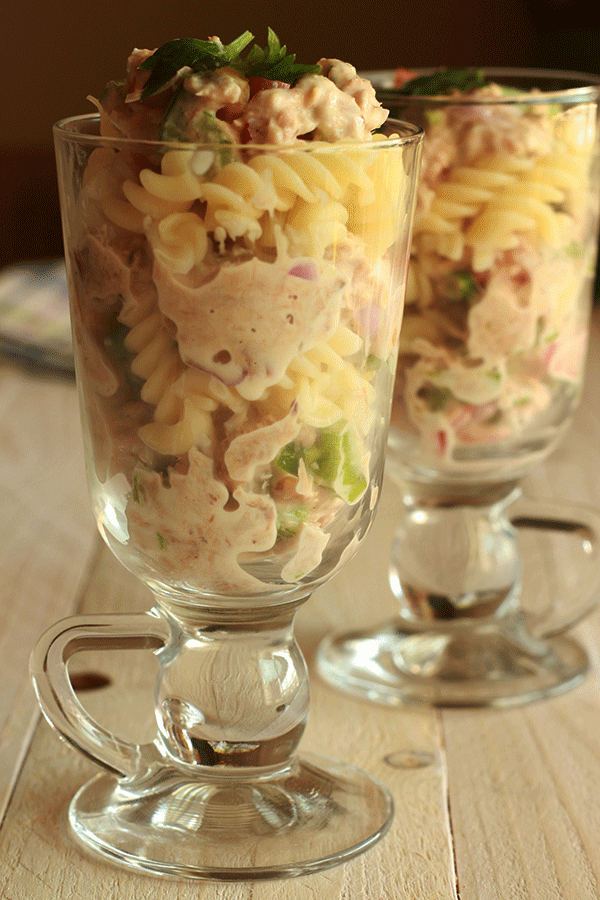 This is first pasta I remember having as a kid. Minus the pasta this was our favourite sandwich spread. I never thought of Tuna as a fish. For me anything that came out of a can and had no head, tail and fins was not a fish. So tuna was the only fish I ever had without choking on a bone. If you have lived abroad you know that tuna cans are a part of one's staple diet. We used to cook tuna with potatoes, make cutlets, cold pastas, warm pastas, sandwich spreads and mom even made a tuna stir fry with coconut what we named as tuna thoran :)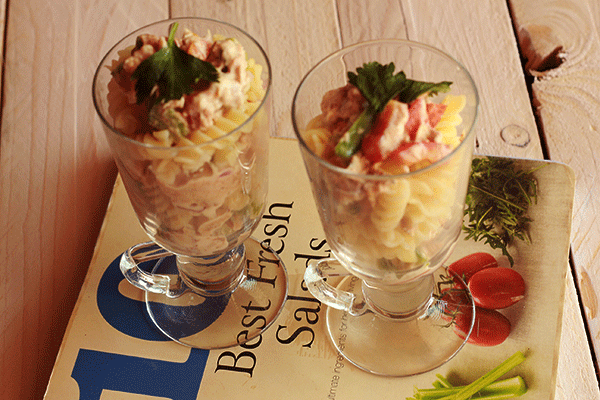 I was waiting to try this salad for quite some time so grabbed the opportunity when I was asked to use the last tuna can in our pantry. This is so easy that even a 4 year old can do it. The best thing about a tuna salad is that it makes you feel light even after you have more than your fill. I normally don't add tomatoes to my tuna salad but it felt nice to break a 30 year old family recipe. I would recommend adding red and yellow bell peppers if you can source them.
Ingredients for Tuna Cold Pasta Salad
Fusilli- 100 g
Tomatoes- 2
Onion- 1
Green chilies- 2
Celery- 1 stalk
Tuna- 100 g ( I used the canned one)
Pepper- 1/4 tsp
Salt- to taste
Capsicum- 1
Oregnao- a pinch
Mayonnaise- 100 ml
Directions
Cook the fusilli as per package instructions. Coook the pasta a bit more than al-dente because this won't be cooked any further. Unlike pastas where the sauce is added and pasta is cooked with vegetables and sauce, this being a cold pasta would stop cooking once the pasta is boiled. So it should be a bit more softer than chewy. Finely chop the onion, celery, green chilies, capsicum and tomatoes. In a bowl add the mayonnaise followed by salt pepper and oregano. Mix well with a hand whisk and then add the tuna. Before adding the tuna mash it well using a fork because it would be chunky. Mashing with a fork would ensure it will get equally distributed when coated with mayonnaise. Add the chopped ingredients to the tuna and mix well with a fork. Check the salt and spice levels. When the spice level is sufficient add the cooked pasta and toss the pasta in the bowl gently so that the fusilli does not break. Chill the salad for 30 minutes before serving.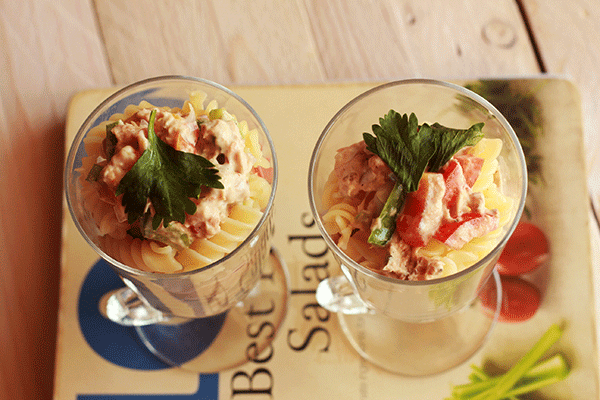 Do you like serving your salads unconventionally? Next time try them in your glassware like we did. It looked so cute and interesting.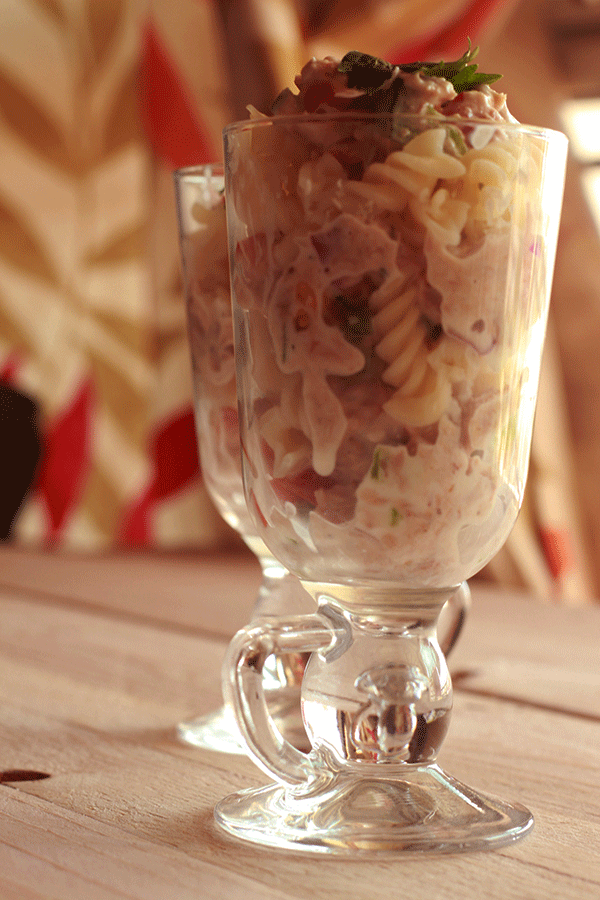 This salad can be prepared a day ahead and should not be heated. Wait for the next salad its vegetarian and quite easy to make. I guess with the summers approaching it would be quite ideal for us to stick to salads and juices to rejuvenate the mind and body. Let me start rummaging my light recipe collection. I am literally dozing off right now. So Good night! Stay blessed.