Happy new year wonderful people! I know I have been away for long, something I call a blogging sabbatical. But I am back with some Sesame Lamb Stirfry with Brussels Mushrooms and Broccoli.
Before we get to the recipe, I owe you all an explanation for my sabbatical.I don't even remember the date I decided to step back from this little world of mine, but I am happy I did. 2016 has been quite a chaotic a year for me when it came to blogging. I changed two jobs in a year and needed a long time to settle down. The blog underwent 2 migrations and with a full time job it was not easy. My decision to migrate fro WP was not appreciated by my family and I still did it so my guilt when I had to get back was so huge, that I decided to call it quits. But more than anything, I wanted some time off to introspect. I realised I was not the person I was years back when I started blogging, I had learned a lot, evolved from posting family recipes to experimenting new stuff, toddler recipes came to me when I became a mother and I enjoyed it all. But something was not working. I was unhappy, I was cribbing, I was comparing my blog, worrying about monetization, SEO's and hating situations or circumstances that did not allow me to indulge in what I wanted to do. And my family suffered, I was planning, composing and cribbing about chores, duties and work. And hence came the sabbatical. I even stopped cooking, reading recipes, checking FB and keeping in touch with bloggers. This was an insightful period for me, I started doing things without expecting them to churn out recipes, I became the same old me who enjoyed cooking. I revisited family recipes not worrying how they would top SEO charts.
Now how did this help me as a blogger? I soon realised what I loved was becoming an obsession and cutting it down gave me a lot of time to focus on other aspects in life. I started meeting people, reading literature, playing with Sarah and discussing stuff with my hubby. I don't mean to say bloggers don't do this but perhaps I was taking it too seriously. And now I am back. I still have old posts to migrate back from CT. And I am chilled about it rather obsessed. And when I relaxed and listened to people around me and stopped worrying about what I did in the virtual world, things started falling in place. I am grateful to friends who were patient with my silence especially you readers, who left messages telling me you missed my posts. Yeleena and Donaa thanks for the messages. Dolphia, your post on quitting FB sort of helped me take this sabbatical I want you to know this though we have never met, I am grateful that you wrote that post. Sujata, Sujitha, Paluk and Sundari- I am sorry for being silent, but no amount of chats and discussions could have helped me.
People often encourage us to be pretentious, being you or baring out your soul invites criticism, people tend to label, for the way you chose to present yourself. Some label it as self pity, while others call it not mastering the art of socialisation. Many call it the ranting of an egoistic soul. Despite the labeling, I choose to not conform, not to please when I am not happy, at the cost of inviting resentment. This space is mine and I hope my rules don't upset anyone. And if I do, I am sorry, I have no better ways of being me and I love it. On that note, Happy new year 2017, I hope we fall in love like never before.
So what next from here now that I am back? No promises, no resolutions. No fear of being missed out either. I have missed this space that is more like an alter ego to me. Ooonuready will now have some posts on the old articles the authors shared on their blog- http://catharasisofaresearchscholar.blogspot.in/ these posts might interest some of you. The toddler challenge might have failed to complete days but the toddler and momma will try sharing their recent trysts with food. And for New year special we have some Sesame lamb stirfry with brussels, mushrooms and broccoli.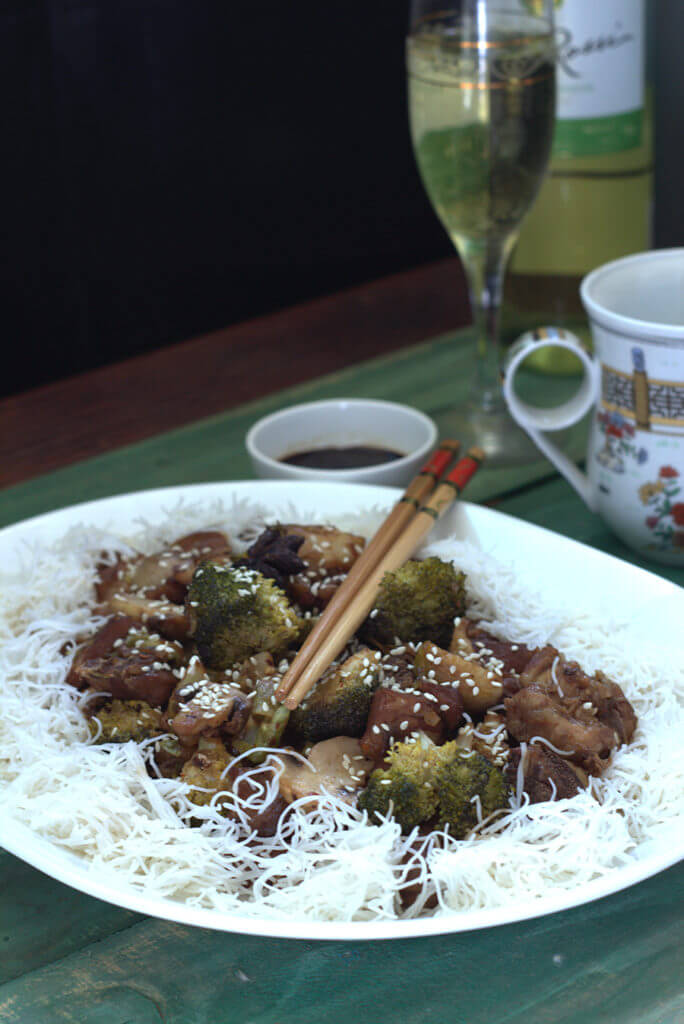 Ingredients for Sesame Lamb Stirfry with Brussels Mushrooms and Broccoli
Lamb shoulder- 500 g
Broccoli- 250 g
Mushroom- 200 g
Brussel sprout- 200 g
Garlic- 6 cloves
Onion- 1
Fish sauce- 1 tbsp
Dark soy sauce- 2 tsp
White wine- 1/4 cup
Star anise- 2
Chili flakes- 1 tsp
Salt- to taste
Sesame oil- 2 tsp
White sesame seeds- 1 tsp
Directions
Heat the wok and add 1 tsp sesame oil. Toss in the star anise and saute it for 2 minutes so that it infuses its flavour into the oil. Now add 3 minced cloves of garlic and saute them for a minute. Add the washed and cleaned lamb pieces with salt and cook the lamb till it is half done. In a bottle or a bowl add the fish sauce, soy sauce and wine. Stir it/ shake it and add it to the lamb when it is cooked half through. Now add the sauce to lamb and cook the lamb covered for 5-8 minutes. The lamb would have released some juices by now making up a small gravy, check if you lamb is well cooked. If it is cooked, take the lamb pieces out and keep the stock in reserve and return the pan for roasting the veggies. If the lamb still needs to cook, add some water to the gravy and let it simmer over low flame till the lamb is done.
After taking the lamb and stock of the flame, return the pan to the stove. Add the remaining sesame oil and toss the old star anise used to cook the meat to the pan. Add remaining garlic minced and saute for a minutes. Add the chopped onion after a minute and saute till the onion softens. Now toss the brussels and cook the brussels for 5 minutes. Add the broccoli now and cook it with the brussels for 2 minutes. Add the cooked lamb and stock to the veggies now and bring them to simmer. Add chilli flakes and salt and now add the mushrooms. Let the veggies cook with the broth and lamb. Toast the sesame seeds in a pan and toss it over the lamb and veggies. Give the wok few tosses and cook the meat and veggies for 2-3 minutes. Switch off the flame and serve the stirfried lamb with rice vermicelli, noodles or rice.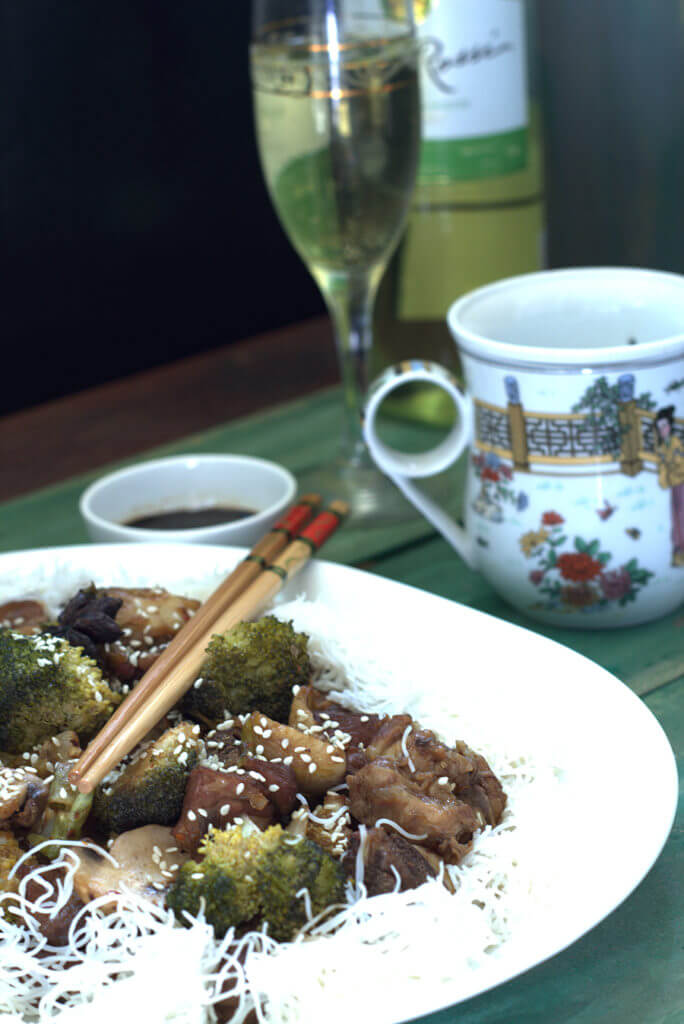 You can also add the cooked vermicelli towards the end and let it soak the gravy and serve it as a one pot meal. Avoid pressure cooking the meat because slow cooking brings out the real taste in the meat and lends the same flavours to the veggies. Star anise, sesame oil, soy sauce and fish sauce are ingredients that I recommend not be skipped for this recipe.