The first time I made Bangers and Mash was the first Christmas after I got married. I had my mom and sis with us in Bangalore and I was in mood for something different for Christmas breakfast. I was a cafe world game addict and came across a lot of recipes through my game. I must say that cafe world did broaden my knowledge on food and killed my boredom in research life. So when I first saw bangers and mash on screen it looked both cute and appealing. Now we have no access to androuille ,cumberland or German pork sausages here so I used frankfurters made a simple gravy and mashed potatoes. It looked like this. For those of you who are not familiar with the term bangers and mash it is a British comfort food made of creamy mashed potatoes, sausages and an onion gravy. it is often sold in pubs as a meal. Sausages are called bangers because the ones made during the World war were made with water so when cooked they exploded hence the name bangers. This does not apply to sausages today but the name still stays.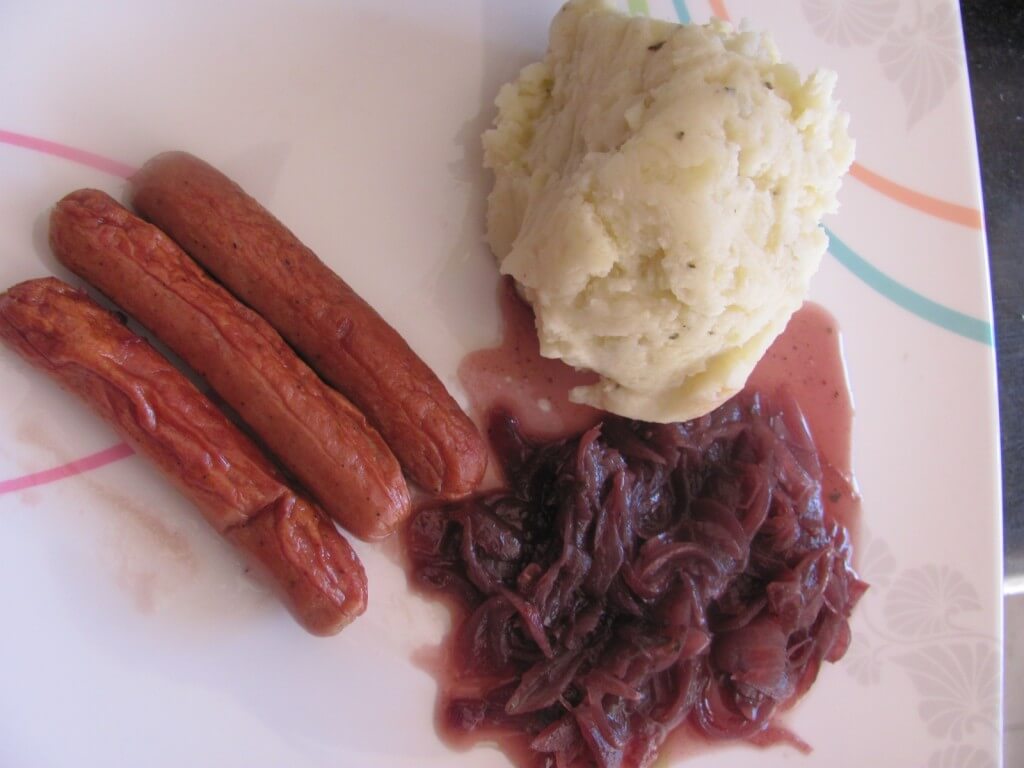 Though the photography was not topnotch it tasted great. I feel great when I go through my old food pics. It amazes me how blissful I was in my ignorance. How I never cared about angles, lighting or even props. And my sis proudly shared the images on FB. Now 2 years after this Christmas I was in London for a conference and while I was out with colleagues for dinner at a pub I saw they were serving Bangers and Mash. I knew I had to try the real stuff to learn the authentic taste and so I did. Now I often conjure up a taste in my head the moment I read a recipe and what I ordered did not match up to that expectation. This is no fault of London but my head, so I came home disappointed.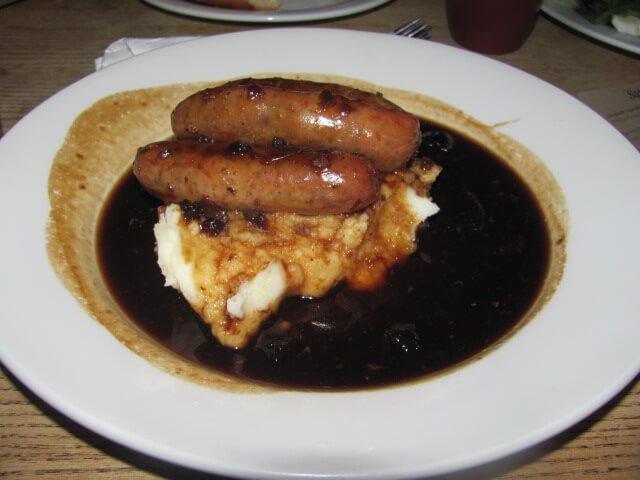 But I was also aware that my version of Bangers and Mash was no where authentic and I could not still accept the real one I tasted in London, and so like a typical Indian who assimilates every foreign taste, I did it too, I made my version of Bangers and mash that was a mix of what I had in London and what I conjured in my head. Now that's a long story for an easy dish but please bear with me coz some stories are worth being told.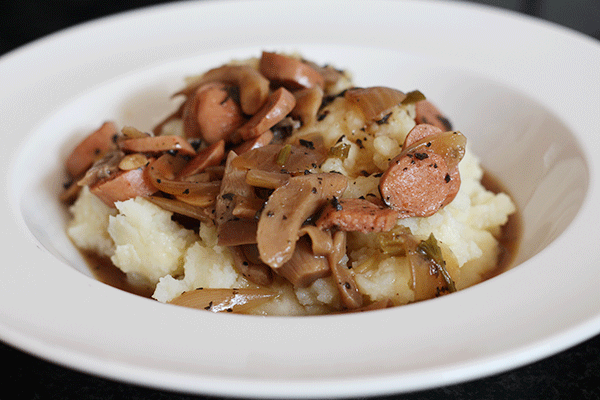 Ingredients for Bangers and Mash (Serves 4)
Sausages- 8
Potatoes- 1 kg
Milk- 1/3 cup
Butter- 50 g
Salt- 1 tsp
Pepper- 1 tsp
Onions- 3
Red wine- 1/4 cup
Chicken stock- 1 cup
Flour- 3 tsp
Bay leaf- 2
Garlic- 4 cloves
Dried thyme- 1 tsp
Oil- 2 tsp
Dried basil- 1 pinch
Directions
Heat oil in a pan and add the minced garlic and bay leaf. Saute for 2-3 minutes. Don't let the garlic brown add onion and saute for 2-3 minutes again. Now add the thyme, basil and pepper followed by flour. The base will start to get thick and now add the wine and chicken stock to form a gravy. Add salt and bring the gravy to a boil. Keep simmering till the gravy becomes thick and of pouring consistency.
Meanwhile in a frying pan fry the sausages till brown and set aside. I chopped the sausages thereafter but in the original recipes the sausages are served uncut.
For the mashed potatoes cook the potatoes in a pressure cooker or by boiling them plainly. Peel the potatoes and let them cool before you start mashing. Using a masher or a fork mash the potatoes when it is still warm. Add a little milk as you mash to ease the process. Add salt, pepper and butter and you will get the perfect mashed potatoes. If you like garlic flavour in your mashed potatoes add 3-5 minced cloves of garlic.
For assembling bangers and mash dump a ladle of mashed potatoes onto a plate, pour the gravy over the mash and place the sausages. And enjoy!!!!!!!!!
Hope this will be your brunch this weekend. Trust me it gets addictive after the first three trials!