In Kerala we have a popular saying that goes like " Aayiram kozhiku ara kada"- it means 1/2 a quail equals 1000 chicken in terms of health benefits. I remember having quail eggs the first time when I was 7 . Those days we got pickled quail eggs from Phillipines. Mom attempted an egg roast with them and because they were too salty from the pickling preservatives, the curry tasted a bit weird. I don't remember having these eggs ever after. Quail meat on the other hand is quite popular a delicacy in Kerala and other Southern states of India and I have had them in various forms in the last 3-4 years. Recently, I saw these eggs in Hypercity, Bangalore and was fascinated by their teeny weeny size. I had no idea how they would taste but then surprises are always welcome in this house.
I had been mulling over doing something traditional here with an exotic touch and so I went ahead and did this egg roast. To begin with I enjoyed the photo shoot. The weather was awesome and these eggs look so enticing, I so wish they were ping pong balls and I could play with them the whole day :)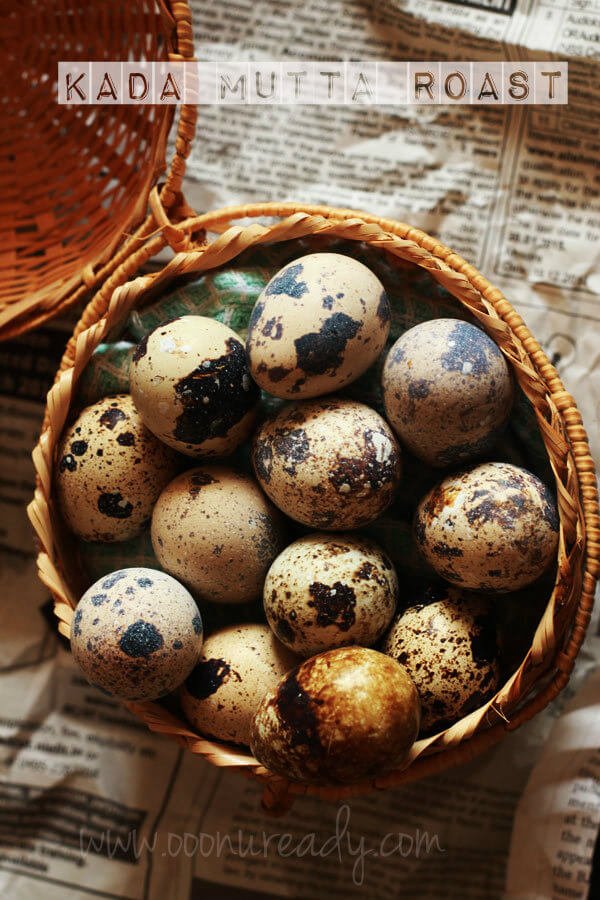 Sarah was all excited to see them, she actually thought they were toys. I learned a big lesson from my photo shoot this time. Planning a shoot always works. The moment I bought these eggs, I knew the props, the lighting, the recipe and perhaps I was well prepared. I also realized a shoot on a working day tugging an 8 month old is no fun so if the dish is simple you can enjoy your photo shoot. And I must admit hubby dear helps me a lot while I do these crazy stunts.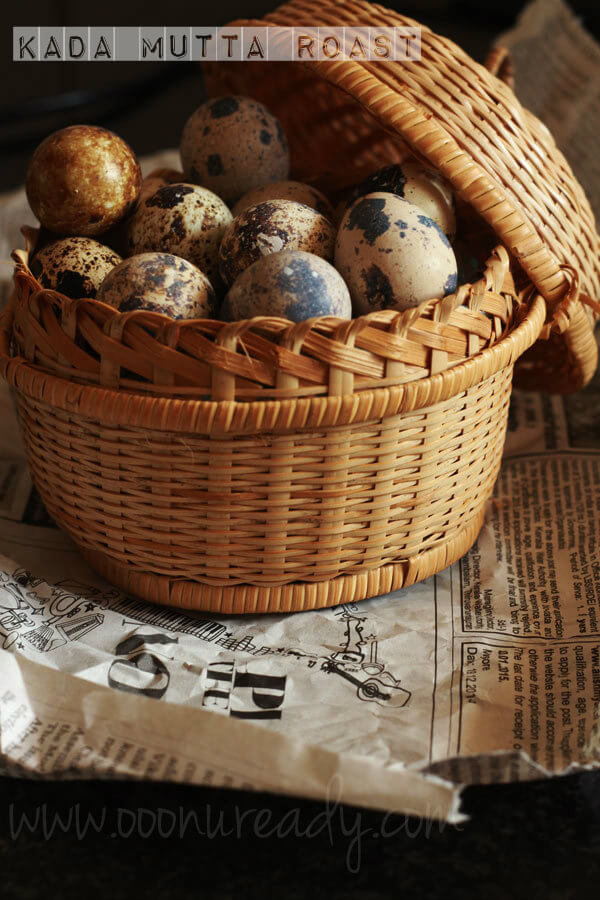 Now my verdict on quail eggs- they taste just like hen's eggs. I thought they would taste different like the duck eggs but they did not. In fact if I was given a bite in a blind taste test I would not be able to identify these eggs as quail's. So if you were apprehensive about how these eggs would taste hope the verdict helps.
I have made a simple quail egg roast here but you could try an omelet or poaching them. I think I am gonna try a poached version or drop egg curry version next time. For now here's the simplest quail egg roast recipe. Please use coconut oil, I loved the flavor of the eggs in the coconut gravy masala.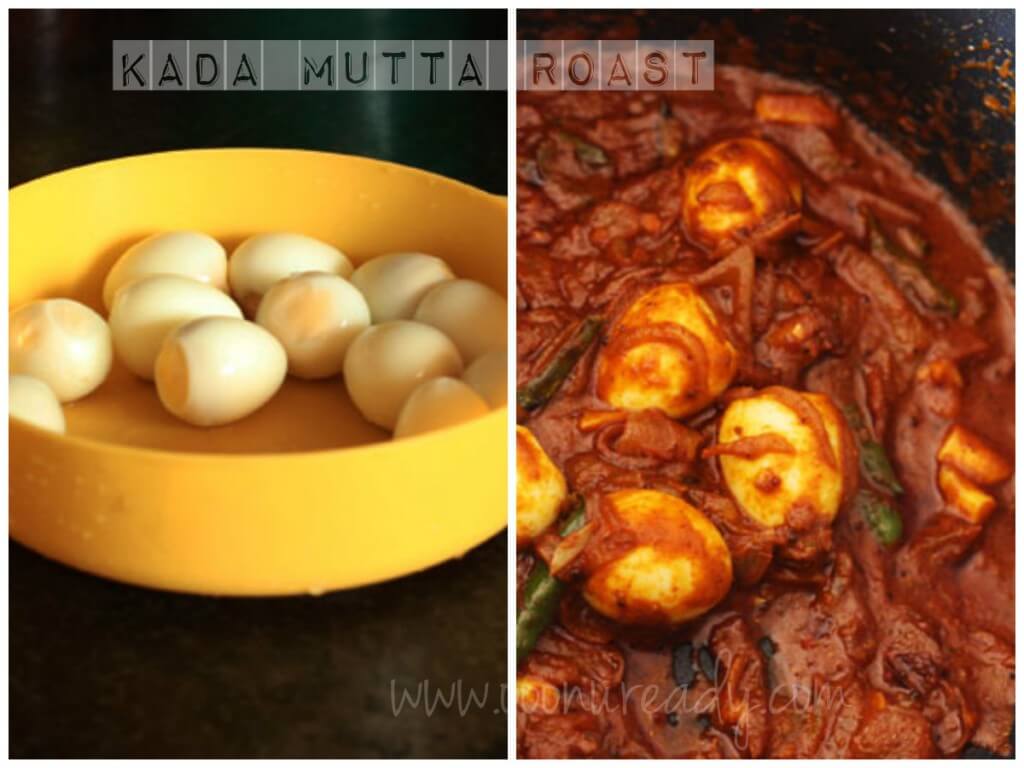 Ingredients for Kada Mutta Roast
Quail eggs- 12
Onions- 2
Tomatoes- 3
Garlic- 10 cloves
Ginger- 1 inch piece
Green chilies- 5
Curry leaves- 2 sprig
Turmeric powder- 1/2 tsp
Chili powder- 1 tsp
Kashmiri Chili powder- 1 tsp
Coriander Powder- 1/2 tsp
Garam masala – 1/2 tsp ( try to use freshly ground home made garam masala)
Salt- to taste
Vinegar- 1 tsp
Coconut oil- 2 tbsp
Directions
Boil the eggs for 6-8 minutes in a sauce pan with 2 cups of water. Peel the eggs after they cool completely and set aside in a pan. Chop the onion, ginger, garlic, tomatoes and green chilies.Heat oil in a pan and add the curry leaves first. Saute till the curry leaves turn crisp this will ensure that the oil is thoroughly infused with curry leaves. This would be the flavor that first hits your taste buds when you taste this curry the first time. Now add the finely chopped onion, ginger and green chilies. Saute till the onions brown and add the finely chopped garlic. I don't let the garlic saute much, I like to bite into them. Add the spice powders after 2 minutes of adding the garlic. Cook over low flame after adding the spice powders so you won't burn them. It is always ideal that you add all the spice powders to a bowl and keep it ready rather than adding them one by one from each jar.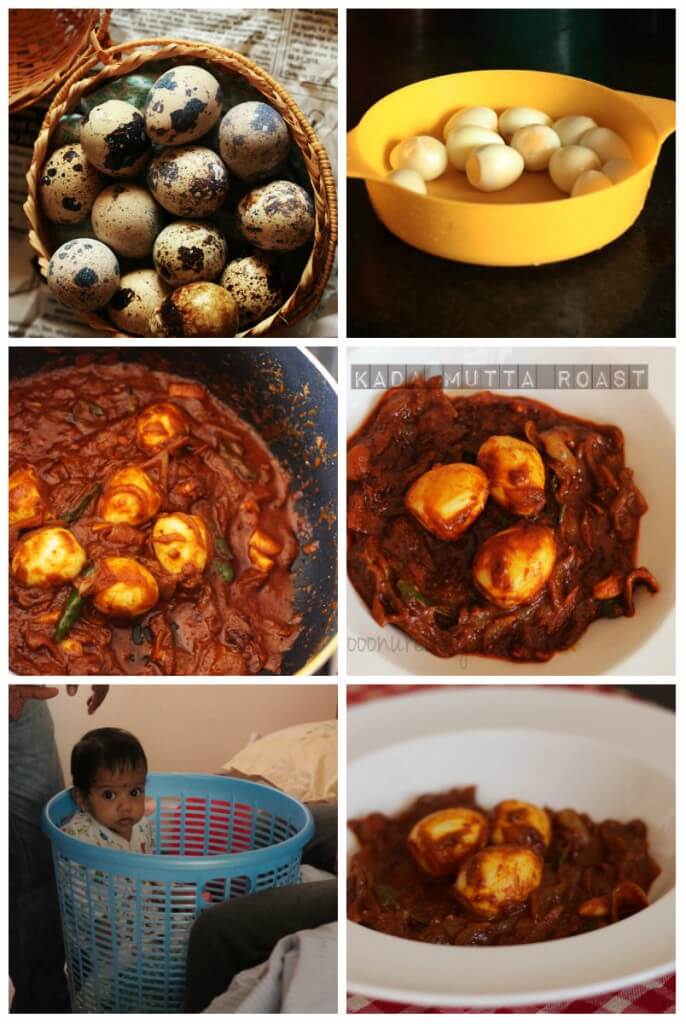 Once the spice powders are added saute them for 3-4 minutes till the raw smell from the dissipates. Add the tomatoes and salt after the spice powders have been sauted and keep stirring occasionally till the tomatoes break down and create a rich gravy. If you saute for few more minutes you will notice that the oil will start separating from the masala. Add the vinegar and bring the gravy to a boil before adding the boiled quail eggs. Coat the eggs in the gravy and let the curry simmer for 2-3 minutes and your quail egg roast is ready. Serve with rice or roti.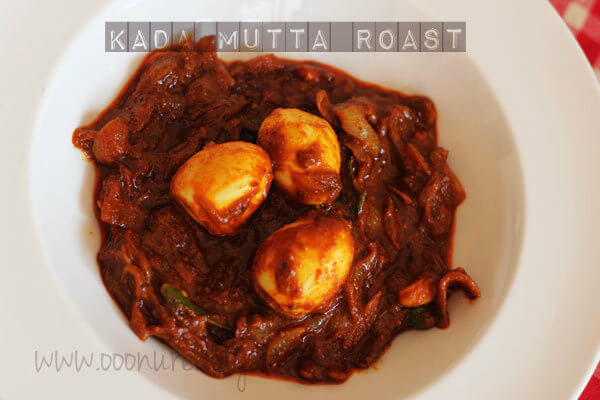 I am doing a lot of re-shoots these days and so you will soon see some old favourites with new pics. Keep guessing what they are and till we meet again, stay blessed, eat healthy.