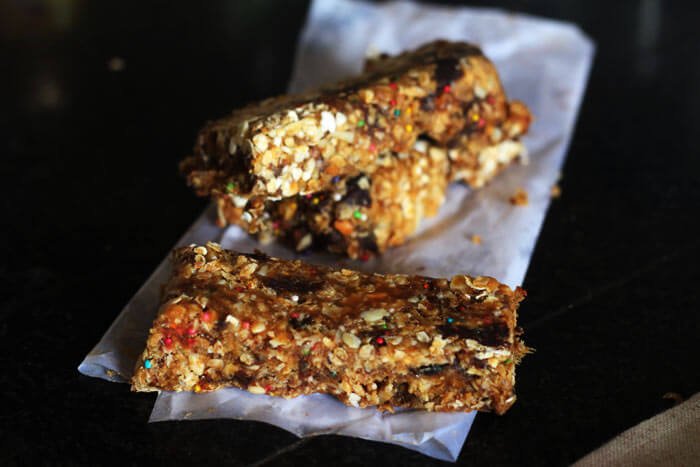 I can't imagine me hunting for healthy recipes. I know I sound crazy but desperate measures need to be sought for desperate situations – like one's health and aesthetic appeal ( read beauty conscious) :) So when hubby dear started binge eating junk food while working late and gained those extra pounds, I decided it was time to hunt for health recipes.This recipe has been enticing me for a while and I thought this would be my golden opportunity to convert all those unused packets of dates, nuts and tidbits into something healthy.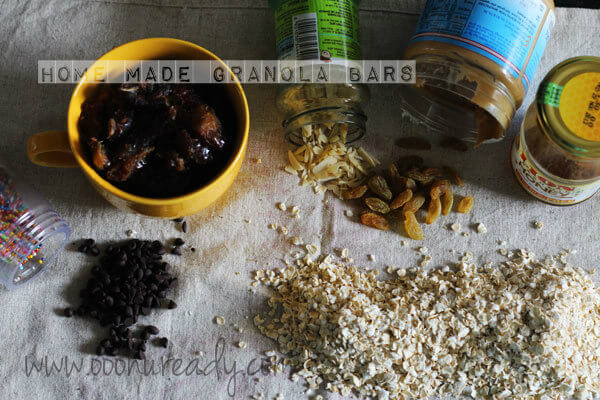 I see a lot of articles predicting the food trend of 2015 leaning to the health side. There seems to be a surge in articles of chia seeds, flax seeds, buckwheat flour, polenta and the list goes on. Frankly I used to find it impossible to skip rice but then one should always pay attention to one's body and the signals it gives out.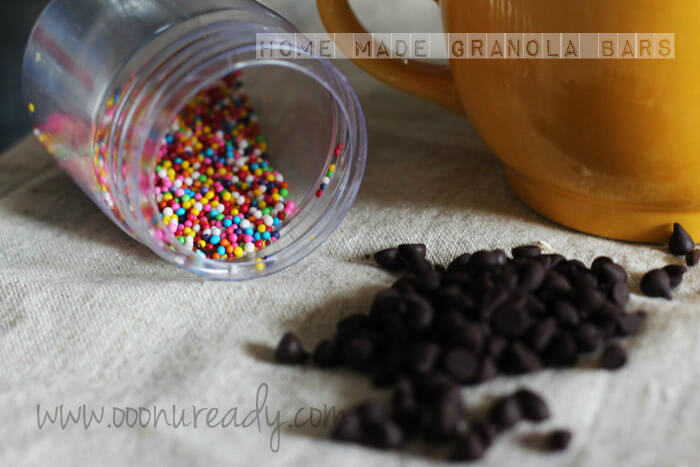 I would not say this is a totally healthy recipe but any day it beats the desi bhajjis and samosas because of the low carbs it contains. I so wish I could control my sugar intake though I am not a lover of sweets I still find sugar creeping into my diet through my tea and other snacks. I will soon post some more health recipes till then try this bar.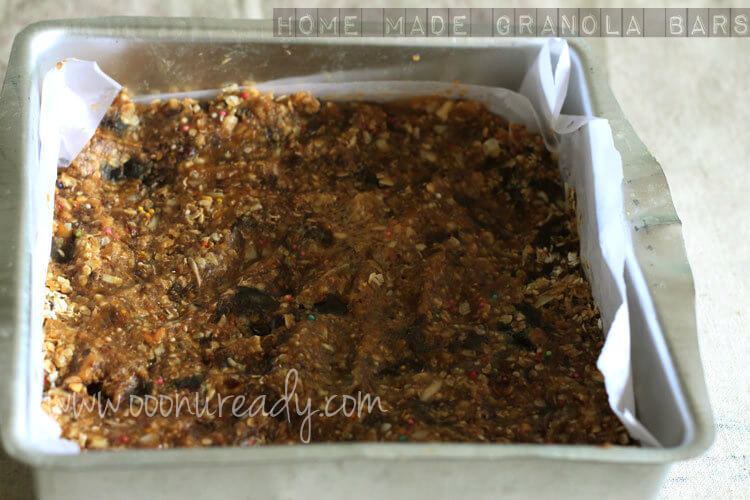 I thank everyone who has contributed to the ingredients of this granola- Manali for the peanut butter, Hubby dear for choco chips, Lion dates for giving the buy one get one free offer on honey and Quakers for luring me to purchase oats with their promotional offer also Griffith and Noel for the dates.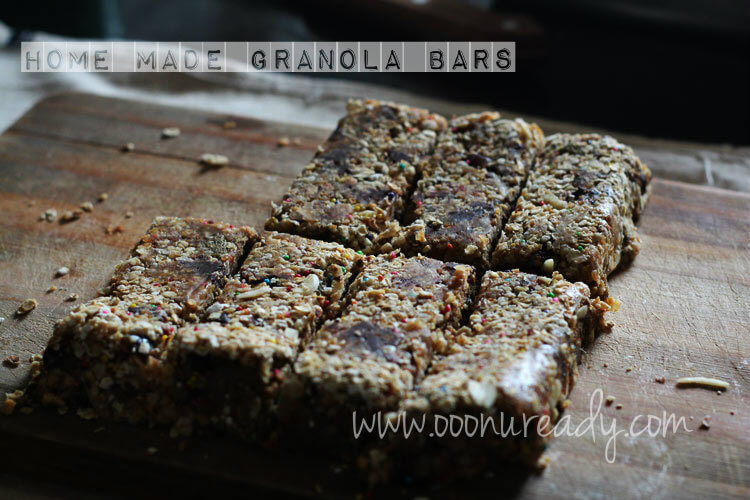 As a token of my appreciation I am going to force feed this bar the next time you guys come down :) Noel seriously you should try this. And Lakshmi, prepare some of this and carry it to work you will love this.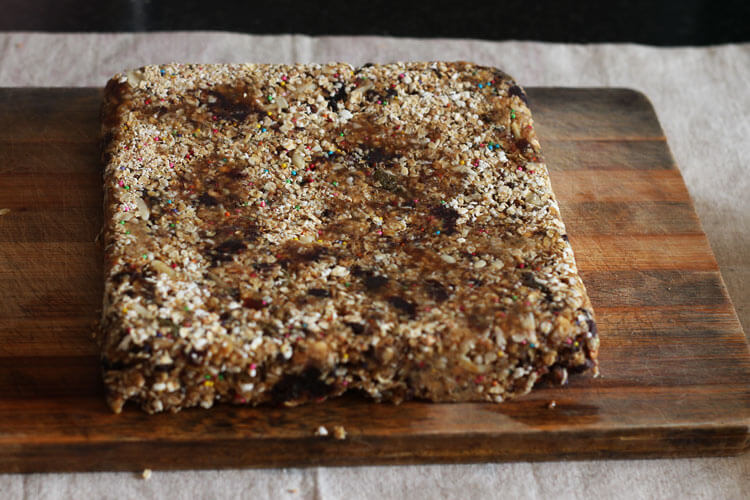 We have a new series of over night oats coming up starting next week. Meanwhile, I will get back to some nadan (ethnic Kerala) recipes because I am getting hounded by my dear friends for posting a lot of non-Keralite recipes despite this blog having a malayalee name. So stay tuned for some spicy quail egg curry in the end of this week. Till then stay blessed, eat healthy.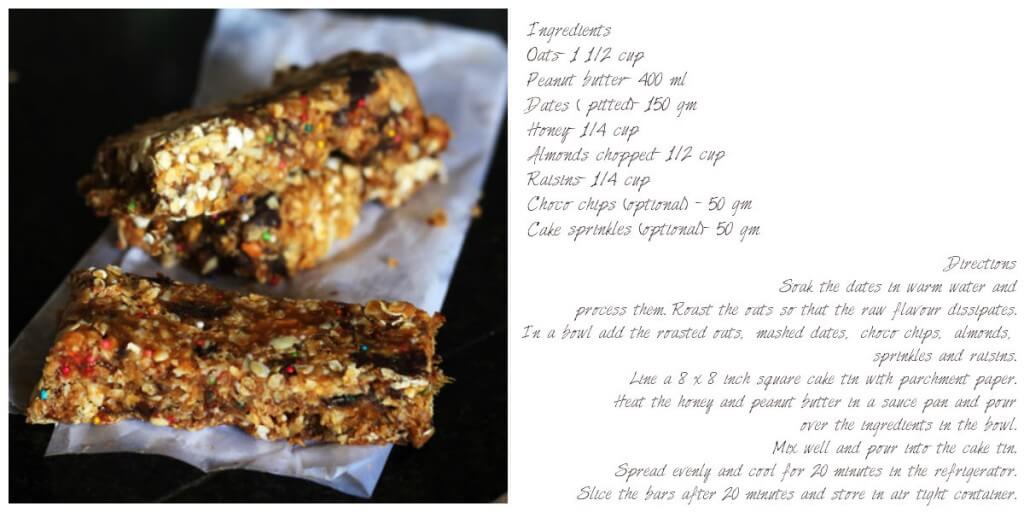 Stays longer if refrigerated.
Note: 1.Jams can be used instead of honey.
2. Juices can be added for flavour
3. Muesli, puffed rice are other options instead of oats