I know this place is bursting with recipes on sandwiches these days and there is more in my folder. It all began with my new found love for breads and then, I began making all sorts of sandwiches for every meal of the day. My hubby who loved his rotis and rice never complained after the initial trials and I took that for a yes. Frankly, I can't have rice anymore, I feel too stuffed when I have rice and with Sarah making a gravy and stir fry seems a luxury. I would rather sleep when she does which leaves me with time for one-pot meals, soups and sandwiches. This time I decided to scrap my plan for matar paneer and instead transformed the paneer into this tikka sandwich. I must admit that I get my daily dose of inspiration from m mother when it comes to sandwiches and I love the idea of converting every humble Indian curry into a sandwich filling.
I have adopted the chicken tikka masala for the paneer. So I marinated the paneer with tikka seasoning, grilled them and dunked them into a tomato sauce which dutifully got sandwiched. But if you have no patience I would say, pan sear the tikka masala marinated paneer and add it to the gravy. If you are in a hurry you can avoid the marination and pan sear directly too.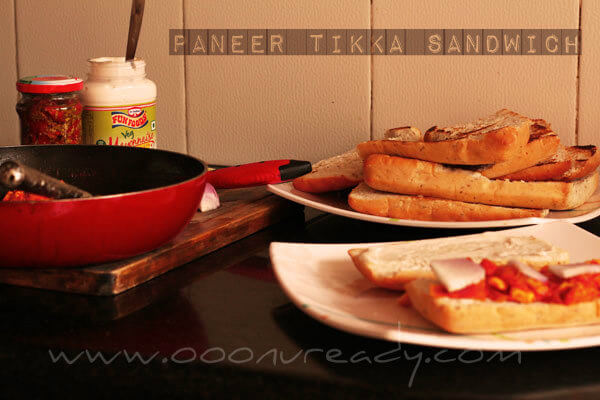 The bread you choose matters a lot here. I chose a herbed panini and I loved the basil-oregano flavour in the bread that contrasted the tangy Punjabi sauce of my tikka masala. I guess you could do this with bagels, min subs and hot dogs as well. But I would definitely vote for a multi grain or herbed panini over any other choices.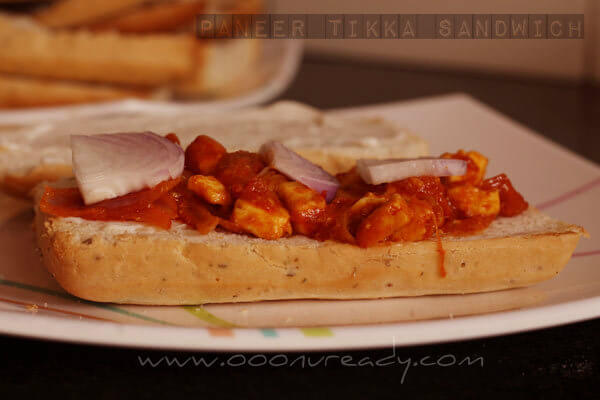 Ingredients for Paneer Tikka Sandwich
Herbed Panini- 2
Paneer- 200 g
Onions- 3
Tomatoes- 2
Tomato puree- 200 ml
Curd- 4 tbsp
Chili powder- 3 tsp
Turmeric powder- 1 tsp
Garam masala- a pinch
Kasoori methi- 1 tsp
Ginger- garlic paste- 2 tsp
Salt- to taste
Oil- 3 tbsp
Mayonnaise- liberal amount
Directions
Marinate the paneer with the ginger- garlic paste, 1/2 tsp chili powder and curd for 2- 3 hours. It would be preferable to marinate the paneer overnight in the refrigerator for better flavors. To grill the paneer in an oven, preheat the oven to 160 degrees. Spray a baking tray with oil and place the marinated paneer pieces on the tray. Grill the paneer for 10- 15 minutes by flipping both sides in between. To prepare the sauce heat oil in a pan and add 2 sliced onions. Once the onions brown add the remaining chili and turmeric powder. Saute for 2-3 minutes before adding chopped tomatoes. Now add salt and cook till the tomatoes mash. Once the tomatoes are well mashed, add the tomato puree. Bring the gravy to a boil and add the grilled paneer.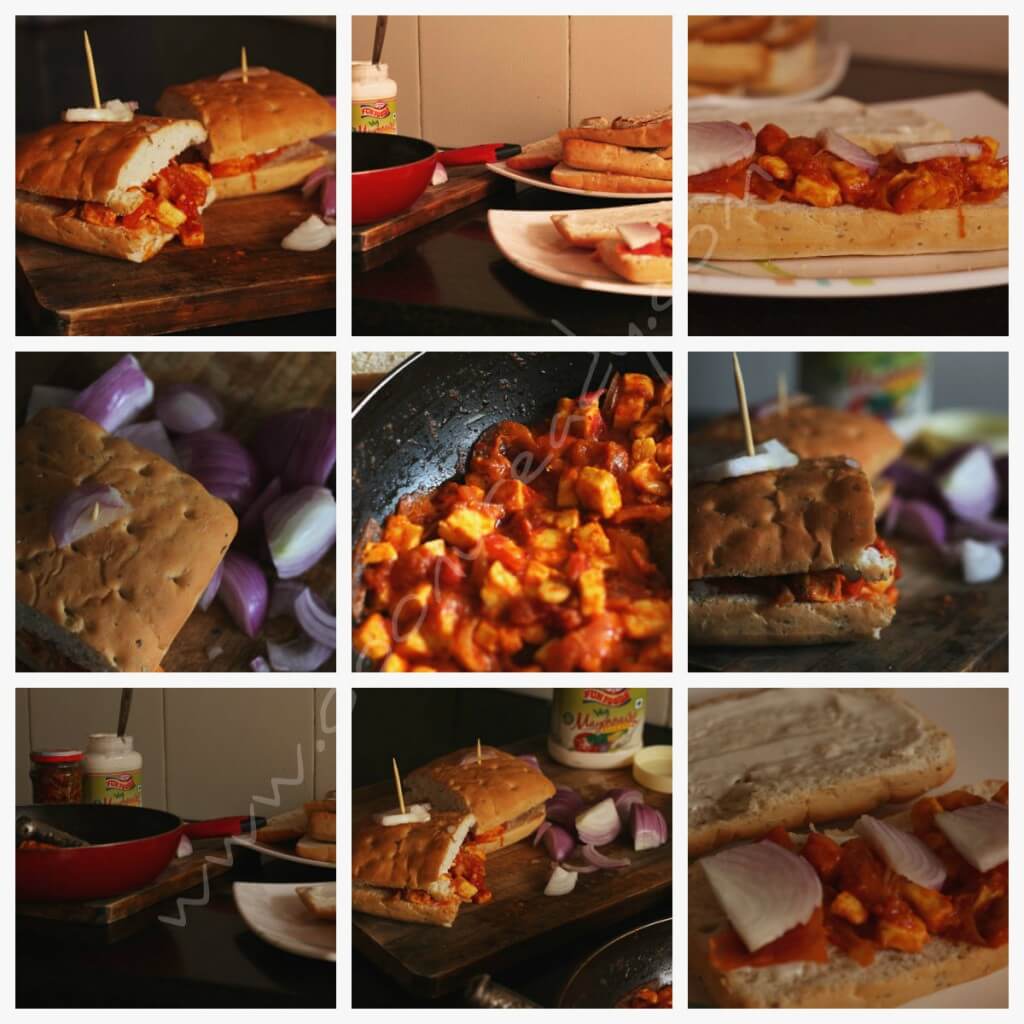 If you are doing this using the stove top method pan sear the paneer pieces with 2 tsp oil on a grill pan. This pan will give you the char grilled effect of grilling the paneer in the oven. Add the pan seared paneer to the gravy thereafter. Whichever method you choose, sprinkle some garam masala and kasoori methi after you bring the paneer tikka dunked in the gravy to boil. Garnish with coriander leaves and you are done with phase one of this sandwich preparation.
Chop some onions and if you don't mind eating raw onions. Toast the panini after slicing it into halves. This is phase two and the easiest. You can e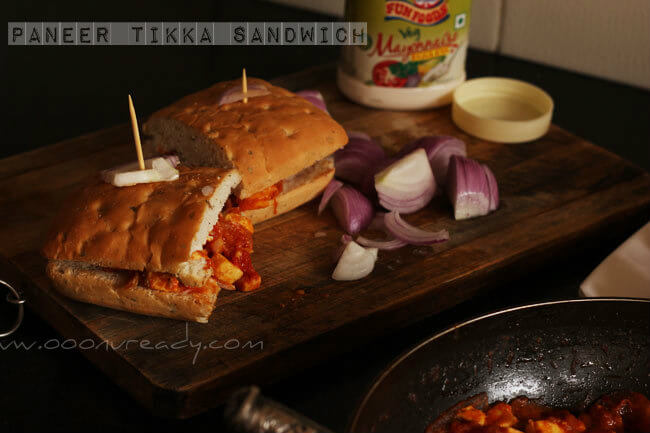 ven do it as you prepare the gravy for the tikka masala.
Now for the final phase, slather some mayo ruthlessly onto both sides of the panini and top one side with a generous portion of the paneer tikka masala. Now top the paneer tikka with some sliced onions. Sandwich the panini and slice them into the size of slider. You don't need to slice them into half though doing this actually would make your life easy and less embarrassing ( imagine trying to stuff a whole panini in front of guests :) )
I love slathering 'thoum'- the traditional Middle Eastern garlic sauce instead of mayo. It is an interesting combo try it out if you can mange to find some or make some.
Sarah, her dada and mamma are super excited today because Sarah got her first tooth and it feels super cute though my kiddo looks cranky and feverish. That means you will see more sandwiches and soups here, unless I activate some of my old posts :) till then tell me your review on this sandwich.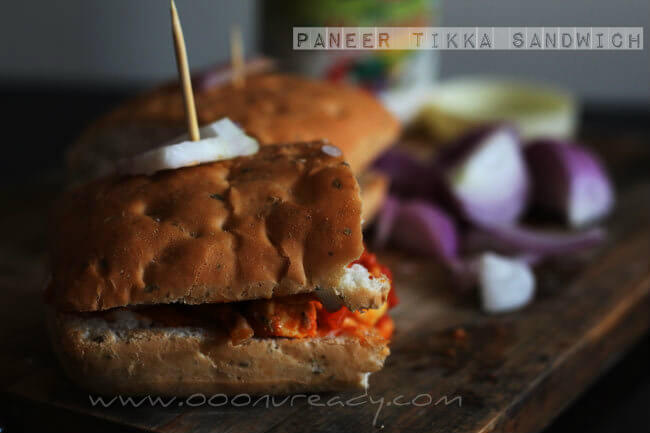 P.S : But I have managed to make some mousse to celebrate my kiddo's first tooth, will get back to you with the recipe and pics. Till then ciao ! stay blessed eat healthy.