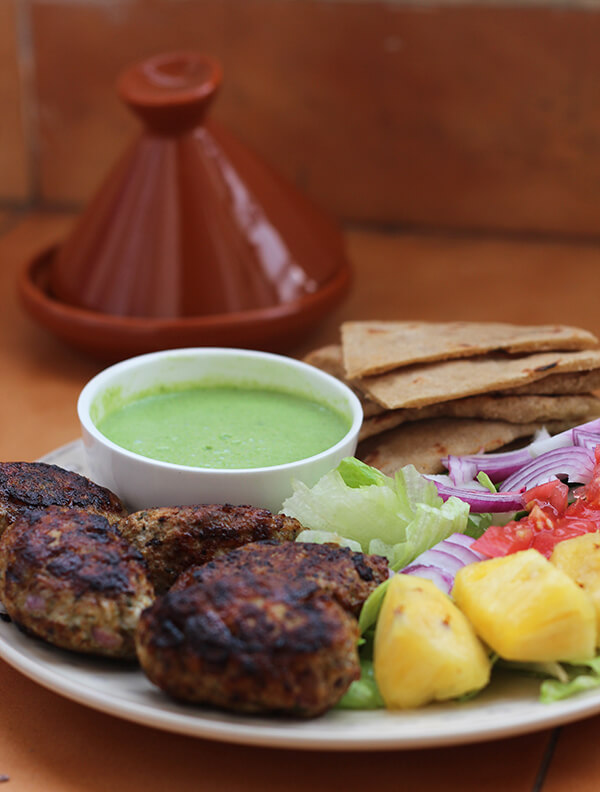 When I started doing a few shoots for a company in Bangalore, I was nervous. I knew how to do shoots in my kitchen, with my props. But I was not aware of the challenges shooting outside brought in. And that's where Aparna stepped in. Aparna never complained, she just told me which shots looked good. She helped me discover my best shots and despite blogging for 5 years I never knew my strengths in photography until Aparna told me. And I realized I was improving slow and steady. Meeting Aparna and her colleagues became part of my daily routine. I realized the were the only human being I interacted with on a daily basis (apart from Sarah and Sunoj). I love our little chats (mostly on food), our tasting sessions, our girl talks (not that we both get time for those). You know there are people who just come into your life, you think you two have nothing in common and yet you can talk to each other and know- Yeah I can bank on this person. She is just that girl. But what made us friends I guess is her passion for food, her appreciation for food and to me that moment when I decided she was on my friend's list is this episode.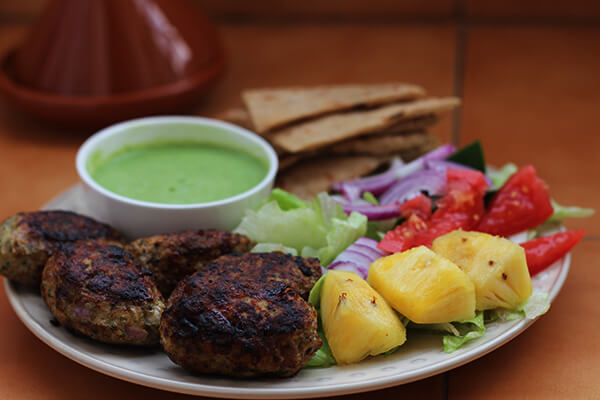 I was done with shoot and down at her office. She urged us ( all present there) to try some hummus and pita. The moment I had the pita it felt so much like the stove top pita I did. I asked her if it was stove top and she casually replied – " oh yeah I do it all the time". I had a client who once told me stove top pitas were chapathis and I was super angry that night. So I was surprised to find someone who did stove top pitas and enjoyed it thoroughly. And we became foodie-buddies. It feels nice to connect with someone who understands food, who motivates you. I admire her communication skills, the way she puts thing firmly but politely and gets work done. She was on my mind while I did this pitas yesterday. And…. I am meeting her in 4 hours :)
Aparna Rae, this one's for you…..
Ingredients for Turkish Kofte
Chicken Minced Meat- 300g
Onions- 2
Chopped Parsley- 3 tbsp
Mint leaves- 10- 15 leaves
Chopped cilantro- 5 tbsp
Cumin powder- 1 tsp
Pepper powder- 1 tsp
Cayenne Pepper- 1 tsp
Garam masala – a pinch (optional)
Lemon juice- 2 tsp
Salt- to taste
Oil- for frying
Directions
Mix all the ingredients listed above in a bowl. Wet your hands and shape the kofte into medium sized balls. You can fry them immediately. But I let them set for an hour and half in the refrigerator. Heat oil in a pan after the resting time and fry the koftes till they brown on all sides. Please maintain a low flame so that you don't burn the koftes. In order to cook them evenly it is good to cook them on medium flame initially for 2 minutes and over low flame for the remaining 5-6 minutes.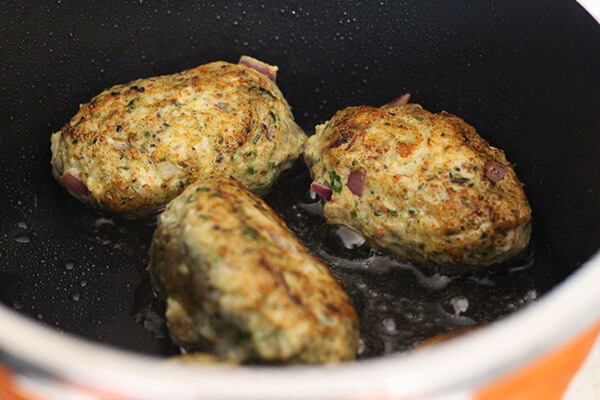 Turkish koftes might sound fancy but it is a very simple meal to do. In fact this is a perfect weekday meal because it actually can be prepared in an hour and that includes the whole wheat pita too. I do my pitas on stove top these days because the power supply in Bangalore is so unreliable these days. But you don't need to bother doing pitas because this dip and veggies can easily be paired with rotis or parathas as well. I did one batch of these Turkish koftes in the air fryer too, they tasted good but did not brown like their fried counterparts. But I found no difference when I had them for dinner. So I guess I will do them in the air fryer now onwards.
Ingredients for Whole Wheat Pitas (Recipe courtesy: vegrecipesofindia)
Whole wheat flour- 3 cups
Salt- a pinch
Sugar- a pinch
Yeast- 1/2 tbsp
Tepid water- 1 1/4 cup
Olive oil- 1 1/2 tbsp
Directions
Take half cup tepid water in a cup and add the yeast and sugar. Let it froth for 10 minutes. Meanwhile in a bowl, add the remaining ingredients, except water. Add the yeast solution and remaining warm water after 10 minutes. You ma need to reheat the water left after activating the yeast. it might go cold in ten minutes. Knead the dough and make a pliable dough. Transfer the dough to an oiled bowl and let it rest for an hour until it doubles in quantity. Now make medium sized balls out for the dough and let them rest for 5 minutes. Cover the dough with a damp cloth and start rolling them into discs after 5 minutes. Roll them all and leave them on a plate covered by a dish cloth for 5 minutes. You will notice that the pitas would have puffed a bit. Heat the skilled and cook the pitas on both sides till they puff up. If using an oven, preheat the grill at 180 degrees and grill the pitas for 5-8 minutes. You will see them puff up. Serve with the koftes and dip.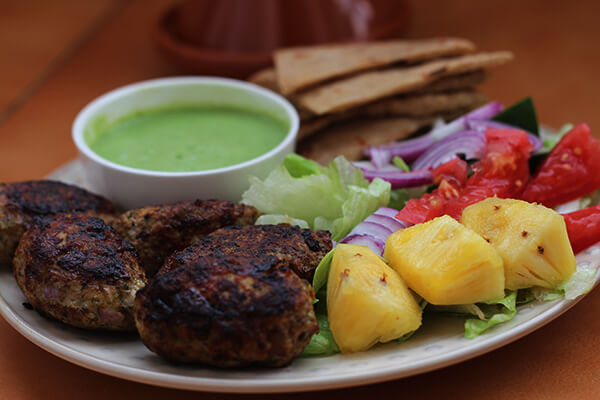 Ingredients for Mint- Cilantro Dip

Mint leaves- 1/4 cup
Chopped cilantro- 1 cup
Green chilies- 3
Garlic cloves- 4-5
Onion- 1
Curd- 2 cups
Salt- to taste
Directions
Process together, all the ingredients mentioned above and you have a creamy dip for your koftes. Three chilies was too spicy for me, so you may want to cut down on chilies if you are like me.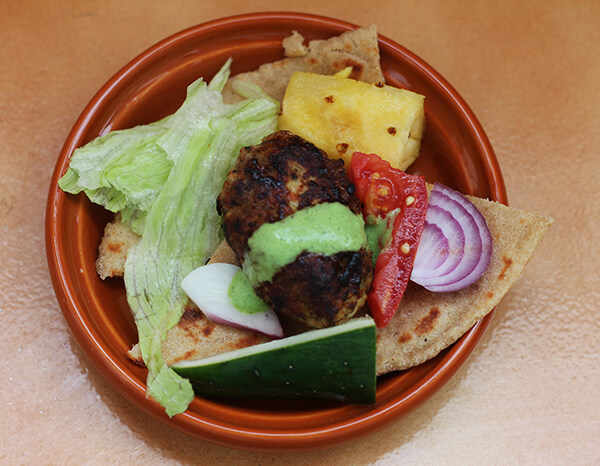 For Side Salad
Cucumber sticks- 6-8
Lettuce- 3 leaves
Tomatoes- 8 slices
Chopped onions- 2
A handful of mint leaves
Pineapple slices- 2- 5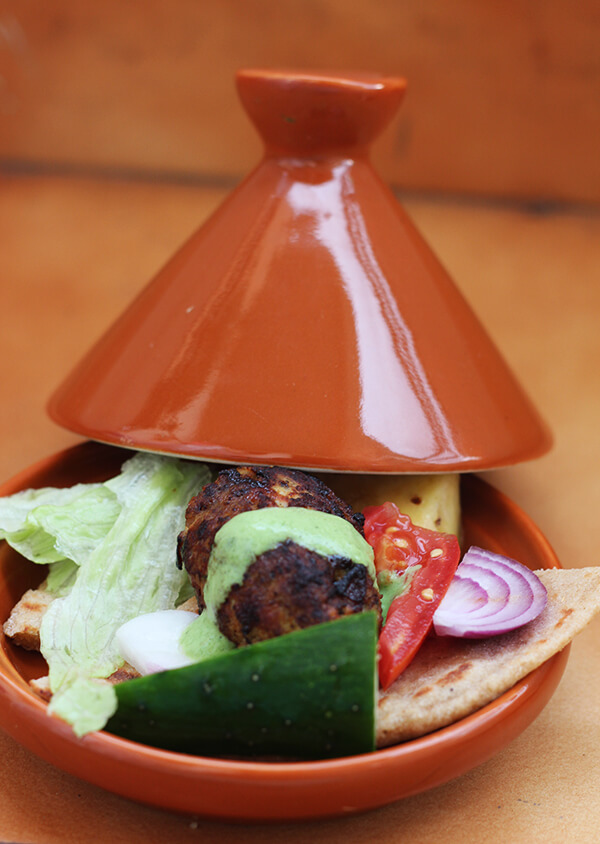 It is no fun having the koftes and pita without these veggies. I wanted parsley curls too but did not have them. They go well with this meal. Pineapple and tomatoes lend a sweetness that cuts through the spice levels of the koftes. And the right way to have this meal is to cut the pitas into halves or quarters, roll them with veggies and bit of meat and drizzle some dip. The burst of flavours when you bite into one of these pockets is amazing. So go ahead feast upon some Turkish koftes in the middle of your week.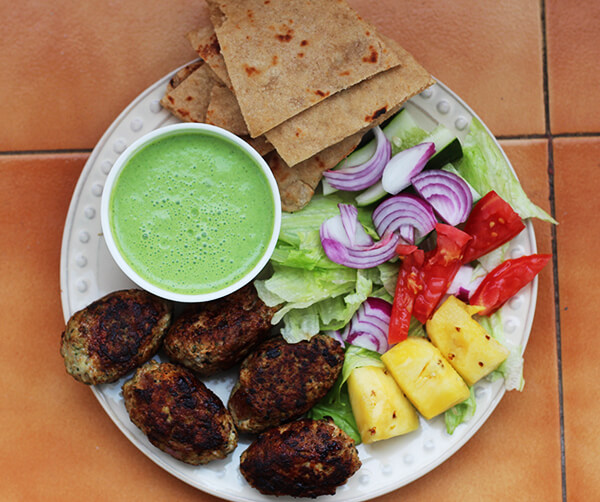 Also try some hummus or muhammara if you like Middle eastern spreads. I am yet to upload these recipes. Sarah does not let me blog these days so I have a lot to finish before this year ends. So stay tuned for more. Till we meet again stay blessed eat healthy. And here's our twitter handle for those of you are active on twitter #/ooonuready and I am on instagram too just in case you would like to follow me there https://www.instagram.com/teenasunoj/